The long read sequencing market was valued at USD 1.35 billion in 2021 and is expected to grow at a CAGR of 14.4% during the forecast period. Long-read sequencing is also called third-generation sequencing. It is a DNA sequencing technique that is being researched and can determine the nucleotide sequence of long DNA sequences between 10,000 and 100,000 base pairs at a time. It peels off the need to cut up and then amplify DNA which is generally required in other DNA sequencing techniques.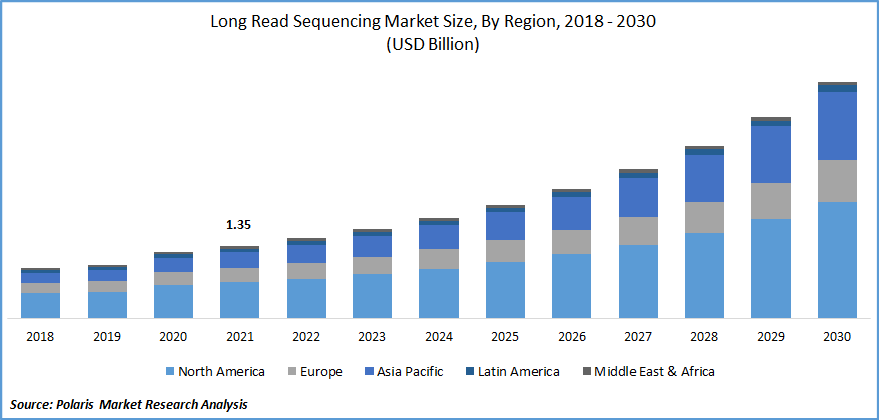 Know more about this report: Request for sample pages
It retains the information in the original DNA sample, providing proficiency to phase variants, increasing accuracy, improving detection of human genomes' structural changes, accomplishing single molecule sensitivity, and quantitating and assembling genomes de novo. As the sequencing process has proved crucial in modified medicines, it has increased awareness for long-road sequencing, increasing market growth.
Mostly the geriatric suffers from two or more chronic disorders. Chronic diseases, including Alzheimer's, cardiovascular disease, diabetes, obesity, depression, and others, play a crucial role. Cancer is generally caused by genomic lapse. Also, analysts could identify and categorize new forms of cancerous mutations with the help of long-read technology, including complex structural variants in haplotype resolution. Various long-read sequencing technologies were developed, such as Pacific Bioscience developed SMRT sequencing, one of the long red methods (PacBio).
Several research studies are arising which are supposed to create a modest rise for producers to mature new and advanced technologies and contribute to various opportunities in the long-read sequencing market, propelling the market's growth. Additionally, increasing funding by the market players for advanced equipment production is also driving the development of the long-read sequencing market.
The Covid-19 pandemic positively impacted the long-read sequencing market as it was utilized for inventions of vaccines and medicines required for the Covid-19 virus. The increased number of patients, as well as increased drug sales and production is propelling the market growth. Additionally, mandatory covid-19 testing according to rules and regulations increased the vaccine requirement leading to the development of the long-read sequencing market.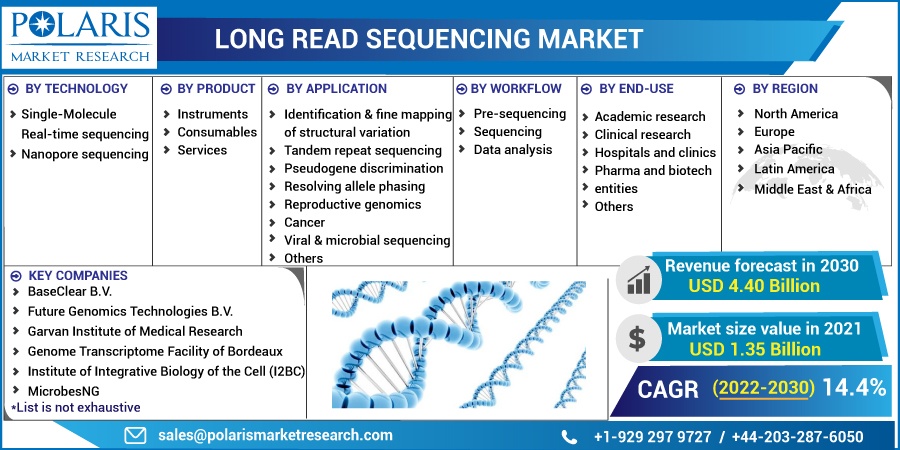 Know more about this report: Request for sample pages
Industry Dynamics
Growth Drivers
Long-read sequencing is conquering restrictions such as accuracy and throughput and mounting applications in genomics. Also, it can enhance mapping certainty, transcript isoform identification, and detection of structural variants. The native molecules such as DNA and RNA eradicate amplification, preserving base modifications.
Innovations and advancements by a key player in technologies to summit the mandate posed by the market are leading to rapid growth in the long-read sequencing market. Furthermore, the mounting number of entities facing genetic disorders has also raised the demand. Extensive utilization of long-read sequencing technologies in the clinical sector has rapidly boosted the understanding of cancer, pathogen evolution, drug resistance, and genetic diversity in complex genome regions, giving important implications for clinical care.
Long-read technologies are also used for RNA sequencing. It allows the detection of epigenetic modifications with bioinformatics interpretations. Various features are hard to detect and specify with SRS technologies, such as large rearrangements and insertions of DNA, highly polymorphic regions, repetitive regions, and other long reads span across more significant parts of the area, detecting more variants that are clinically relevant.
Report Segmentation
The market is primarily segmented based on products, applications, methods, end-use, and region.
By Technology

By Product

By Application

By Workflow

By End-Use

By Region

Single-Molecule Real-time sequencing
Nanopore sequencing

Instruments
Consumables
Services

Identification & fine mapping of structural variation
Tandem repeat sequencing
Pseudogene discrimination
Resolving allele phasing
Reproductive genomics
Cancer
Viral & microbial sequencing
Others

Pre-sequencing
Sequencing
Data analysis

Academic research
Clinical research
Hospitals and clinics
Pharma and biotech entities
Others

North America (U.S., Canada)
Europe (France, Germany, UK, Italy, Netherlands, Spain, Russia)
Asia Pacific (Japan, China, India, Malaysia, Indonesia. South Korea)
Latin America (Brazil, Mexico, Argentina)
Middle East & Africa (Saudi Arabia, UAE, Israel, South Africa)
Know more about this report: Request for sample pages
Single-Molecule Real-Time Sequencing is expected to grow fastest over the forecast
The long-read sequencing market is categorized based on technology into single-molecule real-time sequencing and Nanopore sequencing. The single-molecule real-time sequencing accounts for the largest market and is expected to grow fastest over the forecast. Many scientists exhibit using single-molecule real-time sequencing to detect methylation and other base modification.
Due to its long read length and low systematic bias, it achieves high consensus accuracy. This application is anticipated for the fastest growth of this technology. The advantage of this technology over second-generation sequencing include no requirement for DNA amplification, minimizing chemical modification during library preparation, enabling the detection of different types of epigenetic changes, and generating long reads with a mean read length of 3000 bp.
During sample preparation for SMRT, amplification is unnecessary, increasing its utilization in the research community and leading to market growth. Also, it applies to a wide range of genomic research.
Consumables is accounted for the largest market share over the forecast
The long-read sequencing market is categorized as instruments, consumables, and services based on product. The consumables segment accounts for the largest market share in 2021. Consumables are used in template preparation which converts samples such as genomics DNA, cDNA, or amplicons, into the SMRTbell library. It can be performed manually at the benchtop or by an automated liquid handling system.
It is also used for multiplexing samples to improve efficiency. Additionally, sequencing utilizes SMRT cells and SMRT sequencing reagents required for on-instrument sequencing. DNA or its fragments are sequenced using tools such as PromethION, MinION, PacBio RS System, GridION, and Sequel Systems for several applications in cancer research, human genomics, epigenetics, and transcriptome analysis. These tools improved software and computational equipment and have driven the market's growth.
Cancer is expected to hold the significant revenue share
Based on the application, the market has been segmented for several applications in the long-read sequencing market, in which the cancer segment accounted for the largest market share and is supposed to be the fastest growing segment over the forecast period. Access to a complete size spectrum of genetic variation in whole genomes, transcripts, and genes is provided by SMRT sequencing, which is helpful in cancer research.
The main application of long-read sequencing is that it is suited for elucidating allele-resolution mutation statuses and the complete structures of complicated cancer genomes. It phases genomic mutations in single-allele resolution, such as EGFR primary and secondary mutations in the H1975 lung adenocarcinoma cell line is phased by both physical and synthetic long-read sequencing.
SMART sequencing is being used in research of hepatitis C virus, hepatitis B virus, HIV, influenza, and other disease-causing microbes leading the market growth. Modern sequencing technologies are being developed, enabling the identification and characterizing of mutations in each cancer case more efficiently. Many consortiums, including ICGC and TCGA, have sequenced, analyzed, and reported on the genomic statuses specific to each cancer subtype, driving the long-read sequencing market growth.
Sequencing segment is accounted the largest growth rate
Depending upon workflow, the market is segmented into pre-sequencing, sequencing, and data analysis. The sequencing segment accounts for the most prominent long-read sequencing market share. It is a significant part of the workflow. Long-read technology allows sample preparation without the need for PCR amplification. This eliminates PCR-related bias and will enable researchers to study the genetic material as it is. This allows long-read technologies to detect methylation or other base modifications directly.
Data analysis tools are driving market growth throughout the forecast period. Major players are expanding their market presence and developing novel devices and products. Pacific Biosciences launched Sequel Systems v9.0 Software in July 2020. The SMRT Analysis Software provides an extensive set of APIs, flexible command-line options, and an easy-to-use graphical user interface.
Academic research is projected for largest market share
Depending upon end-use, the market is segmented into academic research, clinical research, hospitals and clinics, pharma and biotech entities, and others. The academic research segment accounts for the largest long-read sequencing market share due to an enormous number of biotechnology centers studying molecular biology and genome sequencing method.
Increasing utilization of sequence analysis methods in research, on-site bioinformatics classes offered by universities, and academic workshops have propelled the market. Clinical research and hospitals and clinics are expected to grow over the forecast due to an increase in technologies in clinical diagnostics.
North America is accounted for the largest market revenue
Due to top key players in North America, such as Pacific Bioscience, this region led in the long-road sequencing market. Additionally, the well-regulated framework that allows for approval and usage of genomic tests in the area drives the market in North America. Due to the increase in genomic procedures for clinical and academic use in the U.S., there is a rapid growth increase in this region.
The Asia Pacific is accounted for the fastest growing region over the forecast. Increasing penetration of major players in emerging Asian markets and rising investments in advanced diagnostic methods drive the growth of this region.
Competitive Insight
Some of the major players operating in the global market include BaseClear B.V., Future Genomics Technologies B.V., Garvan Institute of Medical Research, Genome Transcriptome Facility of Bordeaux, Institute of Integrative Biology of the Cell (I2BC), MicrobesNG, NextOmics, Oxford Nanopore Technologies Limited, Pacific Biosciences of California, Inc., Quantapore, Inc., Stratos Genomics, Inc., Takara Bio, Inc.
Long Read Sequencing Market Report Scope
| | |
| --- | --- |
| Report Attributes | Details |
| Market size value in 2021 | USD 1.35 billion |
| Revenue forecast in 2030 | USD 4.40 billion |
| CAGR | 14.4% from 2022 - 2030 |
| Base year | 2021 |
| Historical data | 2018 - 2020 |
| Forecast period | 2022 - 2030 |
| Quantitative units | Revenue in USD billion and CAGR from 2022 to 2030 |
| Segments covered | By Product, By Application, By Technology, By Workflow, By End-Use, By Region |
| Regional scope | North America, Europe, Asia Pacific, Latin America; Middle East & Africa |
| Key companies | BaseClear B.V., Future Genomics Technologies B.V., Garvan Institute of Medical Research, Genome Transcriptome Facility of Bordeaux, Institute of Integrative Biology of the Cell (I2BC), MicrobesNG, NextOmics, Oxford Nanopore Technologies Limited, Pacific Biosciences of California, Inc., Quantapore, Inc., Stratos Genomics, Inc., Takara Bio, Inc. |