The global manufactured soil market was valued at USD 7.21 billion in 2022 and is expected to grow at a CAGR of 5.7% during the forecast period.
The rapidly increasing use of soil blends as a strategic and versatile tool in the modern agriculture, landscaping, and gardening, as these soil blends allow farmers or growers to make growth media particularly tailored need and requirements of different types of plants, culture objectives, and conditions, are among the major factors propelling the global market growth. Additionally, with the growing rate of urbanization across the world, the need and adoption of innovative and advanced farming methods have grown drastically to meet the specific needs of urban farming, that enables efficient resource utilization and higher yields.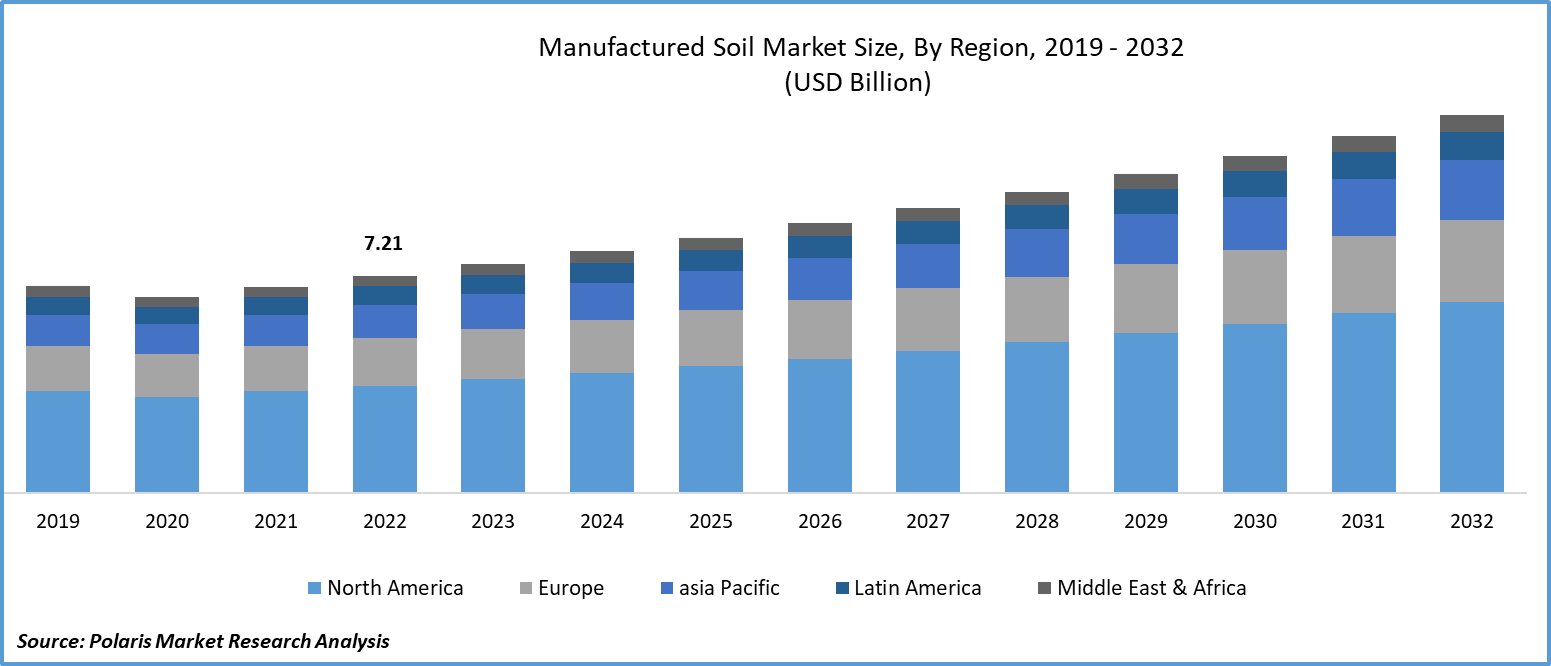 To Understand More About this Research: Request a Free Sample Report
For instance, according to the World Bank, around 55% of world's total population, which accounts for 4.4 billion inhabitants are currently living in urban areas, and the number is projected to grow further, with the urban population reaching double of its current size by the end of 2050

.
Moreover, there has been a significant push towards the adoption of sustainable agricultural practices in the recent years, that has elevated the importance of resource management and better soil health. As, manufactured soil are usually formulated with organic materials, sustainable components, and compost and also align with several eco-friendly cultivation practices, their demand among environmentally conscious consumers and growers have emerged drastically.
Emergence of deadly coronavirus across the globe led to huge disruptions in global supply chain, that largely affected the availability of raw materials used in the manufactured soil and have also impacted the global manufacturing facilities due to imposed restrictions such as lockdown, social distancing measures, and trade restrictions.
Industry Dynamics
Growth Drivers
Growing technological advancements and integration driving the market growth
The rising prevalence and proliferation for higher technological advancements and integration of advanced technologies like data-driven farming and precision agriculture, which enables soil blends to be easily customized based on the real-time data and crop requirements as well helps in minimizing waste and maximizing yields, are among the key factors expected to bode well for global manufactured soil market growth.
In the last few decades, there is a continuously growing enthusiasm for organic farming or agriculture all over the world, in order to improve the livestock cultivation and boosting growth hormones in crop, is gaining huge traction and popularity. As, the composition of soil through fertilizers, pesticides, and genetically modified organisms, directly affects their ability to support the plant growth, hence, gaining widespread traction among consumers seeking for reducing the use of such chemical-based products in soil.
Report Segmentation
The market is primarily segmented based on type, application, end user, and region.
By Type

By Application

By End User

By Region

Garden Soil

Soil Mix

Manure & Compost

Cultivation

Lawns

Commercial Development

Sports Fields

Green Spaces

Residential

Commercial

Government

North America (U.S., Canada)

Europe (France, Germany, UK, Italy, Netherlands, Spain, Russia)

Asia Pacific (Japan, China, India, Malaysia, Indonesia. South Korea)

Latin America (Brazil, Mexico, Argentina)

Middle East & Africa (Saudi Arabia, UAE, Israel, South Africa)
To Understand the Scope of this Report: Speak to Analyst
By Type Analysis
Garden soil segment accounted for the noteworthy market share in 2022
The garden soil segment accounted for the noteworthy share. The growth of the segment market can be largely attributed to their widespread use as the foundational medium for supporting healthy plant growth and cultivating plants and plays a very crucial role in determining the soil fertility, drainage, structure of the soil, moisture retention, and others.
The soil mix segment is expected to exhibit fastest growth rate over the next coming years, which is majorly driven by their surging use in various landscaping projects such as green infrastructure developments, public spaces, and national parks along with its widespread utilization in commercial horticulture including the cultivation of vegetables, fruits, and various ornamental plants in nurseries.
By Application Analysis
Cultivation segment held the significant market share in 2022
The cultivation segment held the majority market share in terms of revenue in 2022, that is mainly accelerated to ability of manufactured soil to provide fine-tune the nutrient composition, while ensuring that the plants receive required nutrients for each of growth stage. Moreover, growing incorporation of specific components like organic matter and minerals into the cultivation techniques in order to enhance the soil structure and promotes the root penetration and aeration, is further boosting the segment market growth at rapid pace.
The commercial development segment is projected to grow at highest growth rate over the course of forecast period, mainly due to growing expansion of urban areas that requires infrastructure development such as commercia buildings, public spaces, roads & highways among others coupled with the upsurge in number of sustainability initiatives that led to increased adoption of manufactured soil in green building practices.
By End User Analysis
Residential segment is expected to witness highest growth
The residential segment is expected to witness highest growth with a significant CAGR over the projected period, owing to significant increase in the need and prevalence for residential gardening and landscaping and continuously growing interest in home gardening among people all over the world. Additionally, large number of homeowners worldwide engaged in home improvement or renovation projects, also invest in landscaping and gardening, creating opportunities for the use of manufactured soils in new gardens or yard renovations and fostering the growth of the market.
For instance, more than 55% of United States residents or households engage in gardening activities and around 35% of U.S. households estimated to grow fruits, vegetable, and other foods. In the year 2021, more than 18.3 million new gardeners are estimated in the United States dominated by millennials

.
Regional Insights
North America region dominated the global market in 2022
The North America region dominated the global market. The regional market growth can be mainly accelerated to growing adoption of sustainable agriculture practices and greater demand for cultivation solutions along with the surging demand for urban environments in countries like United States and Canada, fueling the need for manufactured soils catering to requirements of diverse plant needs and limited spaces.
Asia Pacific will grow at rapid pace, on account of rapidly growing soil degradation challenges across the major countries based on farming like India, China, and Vietnam, that is pushing the need for innovative rejuvenation solutions.
Beside this, some of the leading governments in the APAC region have been the promoting the use of manufactured soils in landscaping and urban greening projects as part of their efforts to improve air quality, reduce urban heat, and develop green spaces within cities, is also likely to have a positive impact on regional market growth.
Key Market Players & Competitive Insights
The manufactured soil market is highly competitive and exhibiting significant growth, mainly due to robust presence of both regional and global market players, who are heavily investing on the expansion of the market space with the help of several business development strategies including new product launches, acquisitions & mergers, partnerships, and collaborations with local brands.
Some of the major players operating in the global market include:
B.D. White Top Soil Company Inc.

Borealis AG

Boughton Loam & Turf Management

Boxley Materials Company

ERTH Products LLC

Group Up LLC

ICL Group Ltd.

London Rock Supplies Limited

Miller Companies Inc.

Origin Enterprise PLC

Resource Management Inc.

The Scotts Miracle-Gro Company
Recent Developments
In March 2023, Biome Markers, announced about the recent updates to their BeCrop Technology, which is an ultimate tool for decoding soil biology and soil health management. The new update will give complete independence to plan, analyse, and execute various soil health projects at a time with higher efficiency and accuracy.

In December 2021, IIT-Kanpur, developed new portable soil testing equipment, that can easily detect soil health in just few seconds. The newly developed device could detect 6 soil parameters including phosphorus, clay contents, nitrogen, & potassium.
Manufactured Soil Market Report Scope
| | |
| --- | --- |
| Report Attributes | Details |
| Market size value in 2023 | USD 7.61 billion |
| Revenue forecast in 2032 | USD 12.54 billion |
| CAGR | 5.7% from 2023 – 2032 |
| Base year | 2022 |
| Historical data | 2019 – 2021 |
| Forecast period | 2023 – 2032 |
| Quantitative units | Revenue in USD billion and CAGR from 2023 to 2032 |
| Segments covered | By Type, By Application, By End User, By Region |
| Regional scope | North America, Europe, Asia Pacific, Latin America; Middle East & Africa |
| Customization | Report customization as per your requirements with respect to countries, region and segmentation. |