The global medical device cleaning market was valued at USD 16.40 billion in 2020 and is expected to grow at a CAGR of 10.0% during the forecast period. Rising prevalence of hospital-acquired infections, negligence of medical staff towards timely cleaning of medical accessories and equipment, increased focus of healthcare facilities towards disinfection and sterilization, and surge in healthcare expenditure. HAIs have been classified as per the medical device they use, such as a catheter, ventilator, catheter-related bloodstream infections.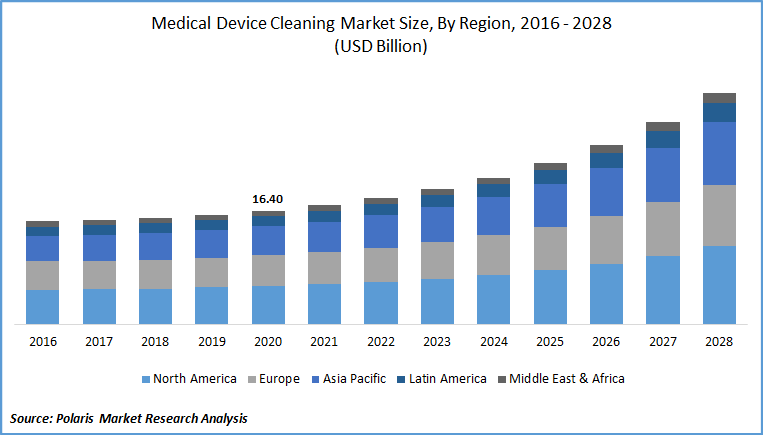 Know more about this report: request for sample pages
Diabetic patients have a high probability to develop UTIs and require consistent treatment methodology to enable effective infection control measures. Such factors exemplify clinical urgency to prevent the occurrence of site infections and adopt personal protective equipment, resulting in a significant rise in the medical device cleaning market. Moreover, a rise in cases of surgical site infections is expected to boost the medical device cleaning market growth.
It is being observed that consistent implementation of infection control and preventive measures has resulted in the decline of HAI cases and the concerning scenario is likely to improve in the upcoming years. According to the progress report published by the CDC, in 2016, there is a significant decrease in central line blood-stream infections between 2014-16. It is also being reported that there has been more than a 17% decline in surgical site infections.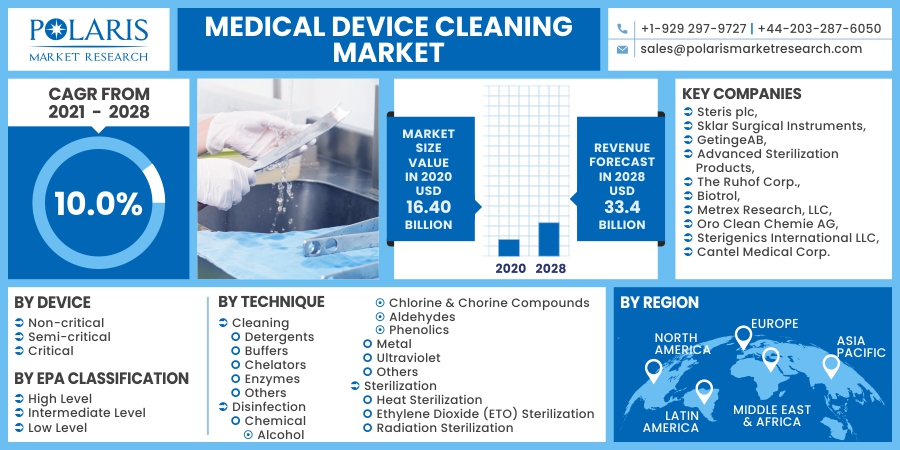 Know more about this report: request for sample pages
Medical Device Cleaning Market Report Scope
The market is primarily segmented on the basis of device, EPA classification, technique, and region.
By Device

By EPA Classification

By Technique

By Region

Non-critical
Semi-critical
Critical

High Level
Intermediate Level
Low Level

Cleaning

Detergents
Buffers
Chelators
Enzymes
Others

Disinfection

Chemical

Alcohol
Chlorine & Chorine Compounds
Aldehydes
Phenolics

Metal
Ultraviolet
Others

Sterilization

Heat Sterilization
Ethylene Dioxide (ETO) Sterilization
Radiation Sterilization

North America (U.S., Canada)
Europe (France, Germany, UK, Italy, Spain, Netherlands, Austria)
Asia Pacific (Japan, China, India, Malaysia, Indonesia, South Korea)
Latin America (Brazil, Mexico, Argentina)
Middle East & Africa (Saudi Arabia, UAE, Israel, South Africa)
Know more about this report: request for sample pages
Insight by Device
The semi-critical market segment of the accounted for the largest revenue share of the global medical device cleaning industry in 2020. These devices are exposed to mucous membranes and mostly include endoscopes and dental equipment and other accessories.
Such equipment is used to sterilize before use, mostly with heat or chemical methods, where the frequency of sterilization is high. Some of the common disinfectants used are glutaraldehyde, per-acetic acid, hydrogen peroxide, and ortho-phthaladehyde.
The critical market segment is projected to witness a lucrative growth rate over the medical device cleaning study period. Equipment in this category is sterilized before packaging with most of them are single-use products. Ethylene oxide and heat sterilization are the widely used methods in hospital settings.
One-time use equipment is usually sterilized using radiation methods. Similarly, semi-critical devices usually increase the adoption of single-use products, which has reduced the necessity of cleaning, sterilization, and disinfecting, thus, boosting the need for cleaning in the market.
Insight by Technique
In 2020, the disinfection market segment accounted for the largest share of the medical device cleaning industry. Such a high share is primarily due to excessive use of disinfectants as a cleaning media which is highly affordable.
Disinfectants used to treat are generally classified as bactericide, virucidal, and fungicidal and their selection depends on the medical equipment type. Disinfectants in association with detergents are mostly used in emerging countries, where healthcare establishments have limited financial resources.
However, the sterilization market segment of medical device cleaning industry is projected to witness the highest market growth rate over the assessment period. It includes the removal of microbes present on the medical devices. Steam and EtO sterilization methods are the commonly used sterilization methods in hospital settings.
Introduction of medical equipment made up of stainless steel, other metals, and with an anti-microbial coating to prevent the onset of microbes and limit its growth on the surface. Moreover, there is an increasing trend for dedicated central sterile services departments in healthcare facilities to optimize money and time.
Geographic Overview
The market factors responsible for the North America medical device cleaning market growth include innovation in material science to develop anti-microbial coatings on medical equipment, a strategic collaboration by key market players in the marketplace to expand its portfolio of offerings, favorable government-sponsored initiatives in the form of infection strategy, and positive reimbursement scenario. Moreover, the rise in anti-microbial resistance also enabling companies investing in the sector to devise medical device cleaning solutions to the tackle growth of microbes.
Competitive Insight
The prominent market players operating in the medical device cleaning market are Steris plc, Sklar Surgical Instruments, GetingeAB, Advanced Sterilization Products, The Ruhof Corp., Biotrol, Metrex Research, LLC, Oro Clean Chemie AG, Sterigenics International LLC, and Cantel Medical Corp.