The global medical device complaint management market was valued at USD 5.70 billion in 2020 and is expected to grow at a CAGR of 7.3% during the forecast period. The key market factors responsible for the market growth include increased market demand for automated systems, a surge in consumer complaints, and a gradual transition from paper-based systems to digital coupled with supportive government policies. The use of software-based tools aids in proper documentation. By means of this, complaint data capturing becomes easier.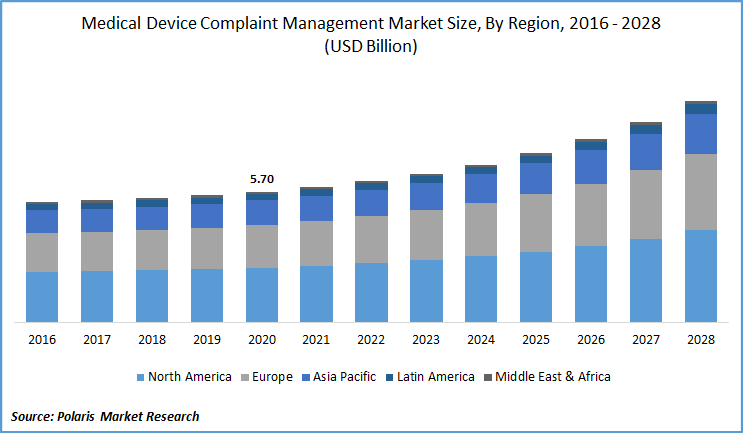 Know more about this report: request for sample pages
The software-based tool re-organizes documentation of medical device complaint management system broadly into the three-step process, namely, complaint processing, in-house investigation, and complaint resolution. The system provides advanced analytics and management reporting tools for augmented future insights. Hence, such enhanced transparency decreases delay in decision making, during complaint resolution.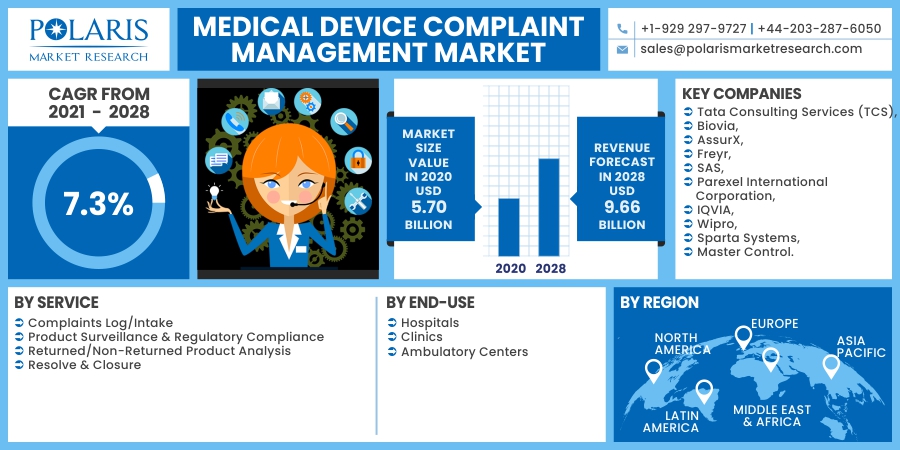 Know more about this report: request for sample pages
Medical Device Complaints Management Market Report Scope
The market is primarily segmented on the basis of service, end-use, and region.
By Service

By End-Use

By Region

Complaints Log/Intake
Product Surveillance & Regulatory Compliance
Returned/Non-Returned Product Analysis
Resolve & Closure

Hospitals
Clinics
Ambulatory Centers

North America (U.S., Canada)
Europe (France, Germany, UK, Italy, Spain, Netherlands, Austria)
Asia Pacific (Japan, China, India, Malaysia, Indonesia, South Korea)
Latin America (Brazil, Mexico, Argentina)
MEA (Saudi Arabia, UAE, Israel, South Africa)
Know more about this report: request for sample pages
Insight by Service
The product surveillance market segment accounted for the largest revenue share of medical device complaint management industry in 2020. Such a high share is attributed to the fact that, zero tolerance of the regulatory agencies towards the failures of medical devices as a consequence of potential harm, death, injury, or any other physical injury to the patients. Moreover, regulatory authorities in the market across the globe are focusing on placing stricter legislation on product surveillance to track the device's performance and compliance-related issues.
Within product surveillance, the medical device vigilance sub-segment is projected to witness the fastest growth rate the forecast period. This market growth is since FDA has made it mandatory for all medical device manufacturers to notify about the incidents of complaints regarding serious injuries or the deaths that occurred with the use of medical devices or any associated accessories and any kind of malfunctioning. It is also being stated that non-compliance with the regulatory necessity might result in hefty fines.
The complaint log market segment is projected to witness a lucrative growth of the medical device complaint management industry over the market assessment period. Logging is the initial stage in management of grievances and is considered as a gateway of mechanism for any preventive action and other post-market activities.
Complaint files are also linked with the medical device reporting event files since each complainant is needed to be assessed to determine any kind of adverse events. Moreover, a medical device manufacturer must record and track consumer complaints according to the quality system regulation as defined in the 21 CFR Part 820.
Geographic Overview
In 2020, the North America medical device complaint management market accounted for over 40% of the global market in 2020. The U.S is the largest contributor, followed by Canada. Regional factors responsible for the market growth of medical device complaint management industry include a strong regulatory policy in the form of MDR rules, increasing incidents of malfunctioning and product recalls, increasing consumer awareness among patients about the safety of the concerned product. The region has strict MDR regulations for the manufacturers, importers, and user facilities to report any kind of device-related adverse event and the associated problems to the concerned regulatory agencies.
Asia Pacific medical device complaint management market is projected to register a lucrative growth rate over the medical device complaint management study period. Market growth is attributed to the presence of big and small players in the countries, strong government push and investments towards digital initiatives in medical industry, and the collaborations and agreements of the multi-national companies with local companies to have a better understanding and cooperation to determine the market dynamics.
Competitive Insight
The prominent players operating in the medical device complaint management market are Tata Consulting Services (TCS), Biovia, AssurX, Freyr, SAS, Parexel International Corporation, IQVIA, Wipro, Sparta Systems, and Master Control.