The global medical exoskeleton market was valued at USD 203.68 million in 2021 and is expected to grow at a CAGR of 44.8% during the forecast period. Rising fundings from the public and private players for the development of this technology, increasing market demand for the product from various applications, rising need for innovative rehabilitation treatments, and rising need for wearable exoskeletons are boosting the medical exoskeleton market growth. This technology is employed in a variety of industries, including military, civilian, and rehabilitation, to improve soldiers' travel and loading capacities, to enhance an operator's load-handling capabilities, and in the medical profession to regain lost functionality and patient life. It can also be used to treat musculoskeletal diseases. It supports physical therapists in training individuals with motor nerve degeneration and cognitive-motor limitations. This technology is also used in rehabilitation, particularly inpatient training and movement.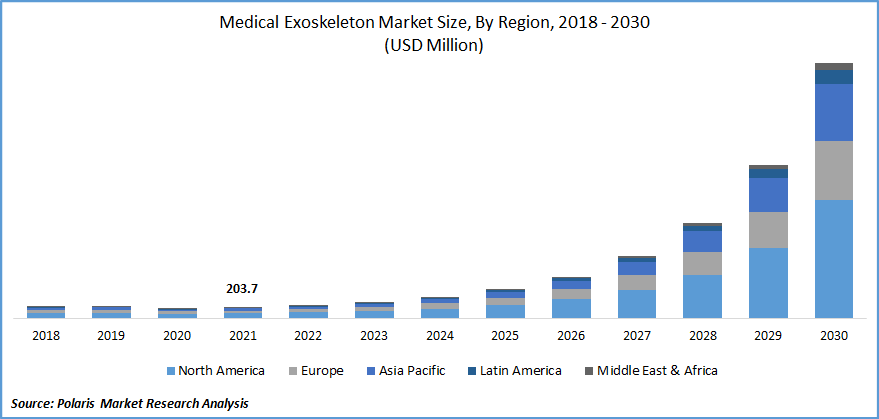 Know more about this report: request for sample pages
Further, in October 2021, a University of Michigan group is constructing a new form of lower limb exoskeleton, sponsored by USD 1.7 Mn from the National Institutes of Health (NIH), to bring robotic support to workers, the elderly, and others. One in every eight Americans has a mobility handicap, making it difficult to walk or climb stairs, but a robotic solution could be considerably less cumbersome than a bioinformatics suit. The University of Michigan team intends to create a modular, motorized exoskeleton device that might be deployed on one or more leg joints. Thus, funding is also supporting product launches.
Additionally, wearable exoskeletons are gaining popularity because of the high need for assistive technology in the medical profession, specifically to address concerns about an aging society. Other medical issues, such as aiding trauma victims, paraplegics, spinal cord injured individuals, and rehabilitation, are also important. Medical exoskeletons comprise hip and knee orthosis for rehabilitation and ankle exoskeletons for drop foot uses. Conversely, the rising need for innovative rehabilitation treatments has boosted the medical exoskeleton, propelling its expansion shortly.
In addition, manufacturers have been concentrating on developing new products in the market. This technology was designed to help amputees, people with paraplegia, and others. Exoskeleton advancements have made a significant difference in the lives of orthopedic and spinal sufferers. Stroke and spinal cord injury exoskeletons are examples of new generation exoskeletons that have helped patients get back on their feet more quickly. However, growing production costs and the increasing stringency of regulatory permissions for new product releases may limit medical exoskeleton market demand to some extent.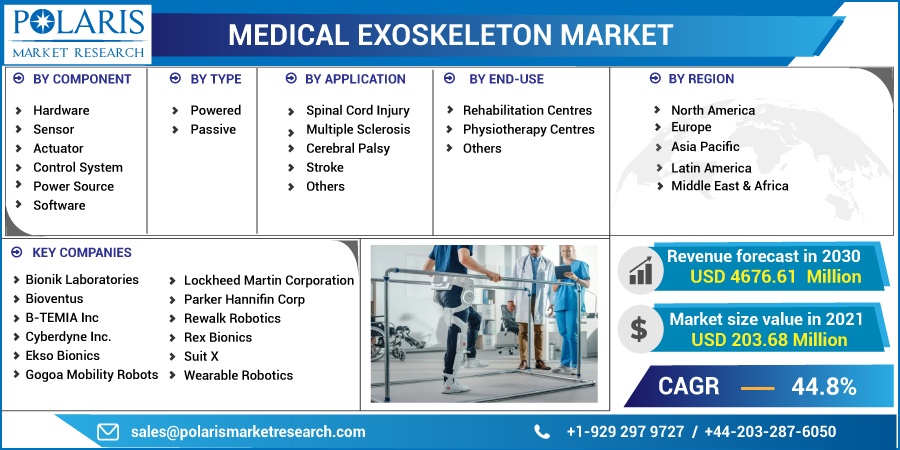 Know more about this report: request for sample pages
Industry Dynamics
Growth Drivers
The medical exoskeleton market has observed extensive developments in the last few decades, supported by factors such as the increasing insurance coverage for medical exoskeletons in several countries and the rising prevalence of orthopedic disease. Many rehabilitation institutions in many nations use assistive equipment given by government organizations, special agencies, insurance firms, and charity and non-governmental groups. Insurance companies now provide limited coverage for this technology in a number of nations.
On the other hand, companies are working on developing policies and entering into strategic collaborations and agreements with various public and commercial insurance providers to fund medical exoskeleton equipment. Additionally, as per the World Health Organization, in 2021, Musculoskeletal diseases will affect around 1.71 billion persons globally. With 568 million people, lower lumbar pain is the most common musculoskeletal disease. As per the National Institute of Health, Orthopedic problems have a documented prevalence ranging from 7.2 to 36.2 percent. Vertebrae and knee conditions accounted for 13.4 percent and 12.7 percent, respectively, of females and 13.6 and 4.8 percent of males.
Also, the increasing number of individuals suffering from lower limb disorders and their products approvals and spinal cord injuries is propelling the global medical exoskeleton market forward. In March 2021, the Thai FDA approved Cyberdyne's hybrid assistive limb (HAL) for a single joint as a medical device. According to the application, HAL for the single joint is a product for patients with limited movement in their upper and lower limbs due to muscle weakness or paralysis.
As per the National Spinal Cord Injury Statistical Center (NSCSC), the prevalence rate of spinal cord injury in the U.S. is roughly 54 instances per one million people, or roughly 17,700 new such cases every year, based on the current population size of 327 million inhabitants. The number of people with SCI in the U.S is now projected to be 288,000, with a variation of 247,000 to 358,000. Thus, the rising prevalence of various chronic diseases related to aging includes joint pain, limb disorders, spinal cord injury, and orthopedic disease, which have increased the market demand for the medical exoskeleton, boosting the market growth during the forecast period.
Report Segmentation
The market is primarily segmented based on component, type, application, end-use, and region.
By Component

By Type

By Application

By End-Use

By Region

Hardware
Sensor
Actuator
Control System
Power Source
Software

Spinal Cord Injury
Multiple Sclerosis
Cerebral Palsy
Stroke
Others

Rehabilitation Centres
Physiotherapy Centres
Others

North America (U.S., Canada)
Europe (France, Germany, UK, Italy, Spain, Netherlands, Austria)
Asia Pacific (Japan, China, India, Malaysia, Indonesia, South Korea)
Latin America (Brazil, Mexico, Argentina)
Middle East & Africa (Saudi Arabia, UAE, Israel, South Africa)
Know more about this report: request for sample pages
Insight by Type
Based on the type segment, the powered segment is expected to be the most significant revenue contributor in the global market in 2020 and is expected to retain its dominance in the foreseen period. The segment is expanding as a result of the increasing need for personal safety and productivity. Given the presence of numerous controlling functions and sensors, these technologies are widely utilized to sense tilt, speed, and motion. The growing use of powered medical exoskeletons by construction workers to move heavy objects will contribute to the segment's growth.
Geographic Overview
In terms of geography, North America had the largest revenue share in 2021. Due to the obviously increased incidence of spinal cord injuries and the region's expanding healthcare research spending. According to the National Spinal Cord Injury Statistical Center at UAB, the distribution of SCI causes has shifted dramatically between 2015 and 2018. According to researchers, as of 2019, around 17,730 new such cases are reported every year, and between 249,000 and 363,000 people are now living with SCI in the United States. Patients' increased purchasing power has resulted in greater availability of modern medical products.
Moreover, Asia-Pacific is expected to witness a high CAGR in the global market in 2021. This is due to increased awareness and the beneficial application of wearable robotics in infrastructure and industrial activities. Furthermore, an increase in the manufacture of medical exoskeletons for the defense sector is predicted to be a primary driving force in the market. China, Japan, and South Korea are expected to be the major revenue-generating economies.
Competitive Insight
Some of the major players operating in the global market include Bionik Laboratories, Bioventus, B-TEMIA Inc, Cyberdyne Inc., Ekso Bionics, Gogoa Mobility Robots, Lockheed Martin Corporation, Parker Hannifin Corp, Rewalk Robotics, Rex Bionics, Suit X, Wearable Robotics among others.
Medical Exoskeleton Market Report Scope
| | |
| --- | --- |
| Report Attributes | Details |
| Market size value in 2021 | USD 203.68 million |
| Revenue forecast in 2030 | USD 4,676.61 million |
| CAGR | 44.8% from 2022 - 2030 |
| Base year | 2021 |
| Historical data | 2018 - 2020 |
| Forecast period | 2022 - 2030 |
| Quantitative units | Revenue in USD million and CAGR from 2022 to 2030 |
| Segments covered | By Component, By Type, By Application, By End-Use, By Region |
| Regional scope | North America, Europe, Asia Pacific, Latin America, Middle East & Africa |
| Key Companies | Bionik Laboratories, Bioventus, B-TEMIA Inc, Cyberdyne Inc., Ekso Bionics, Gogoa Mobility Robots, Lockheed Martin Corporation, Parker Hannifin Corp, Rewalk Robotics, Rex Bionics, Suit X, Wearable Robotics |