The global medical image analysis software market was estimated at USD 3.08 billion in 2021 and is expected to grow at a CAGR of 7.69% during the forecast period.
One of the most significant factors accelerating the growth and demand for the market is the increasing utilization of imaging equipment due to the increased prevalence of chronic diseases. Additionally, throughout the forecast period, the global market is expected to expand due to the rapid technological developments in medical imaging systems and analytic software and the rising utilization of imaging equipment due to the increasing prevalence of chronic diseases.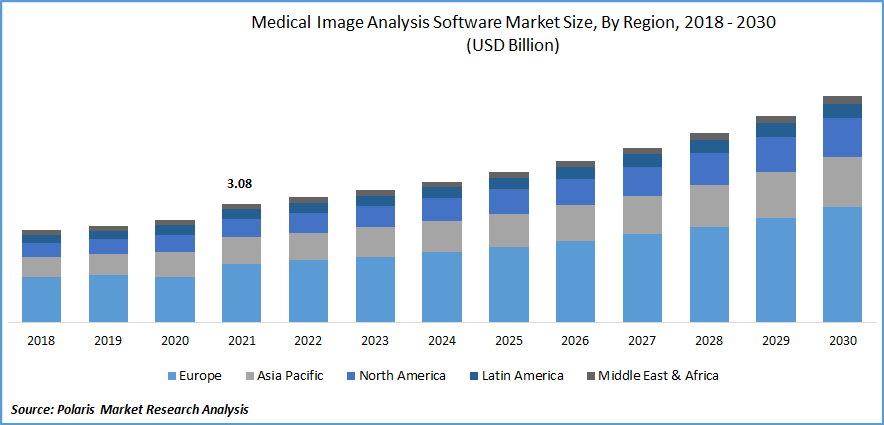 Know more about this report: Request for sample pages
The market is also expanding due to rising public and private sector investment in medical imaging and the global fusion of imaging technologies. Similarly, the increased use of imaging technology due to the rising incidence of chronic diseases is fueling market expansion throughout the forecast, as mentioned above.
The younger generation is also more attentive to these things and their physical appearance. This is another significant driver of the market expansion for medical image analysis software. The radiologist or doctor who views the medical image performs the analysis as a cognitive function. With improvements in healthcare, patients are now requesting an unprecedented number of scans. A radiologist must have exceptional competence and patience to interpret many such images.
The COVID-19 pandemic had a significant effect on the global market. Due to the value of medical imaging in diagnosing and treating severe COVID-19 infections, the medical imaging sector experienced tremendous growth during the COVID-19 pandemic. The care of patients following COVID-19 also includes medical imaging software techniques. Chest X-rays, ultrasonography, and C.T. scans are frequently performed to evaluate the severity of COVID-19 infections and find the disease's spread in the lungs. These elements contribute to an increase in worldwide market demand.
A recent study found that the volume of imaging tests (C.T., X-ray, MRI, and ultrasound) significantly decreased in 90% of U.S. and Western European imaging centers during the pandemic. While some industries saw a decline in demand, many other markets remained unaffected and offered bright prospects for expansion. The increased incidence of COVID-19 is projected to increase demand for specialist lung scan-related medical imaging software applications.
However, these numbers also started rising when elective procedures started happening again after COVID. Following the epidemic, a shift in perception and adoption of A.I. in medical imaging has been noted. Many companies have FDA-cleared AI solutions or have 510(k) applications pending that can provide a preliminary diagnostic.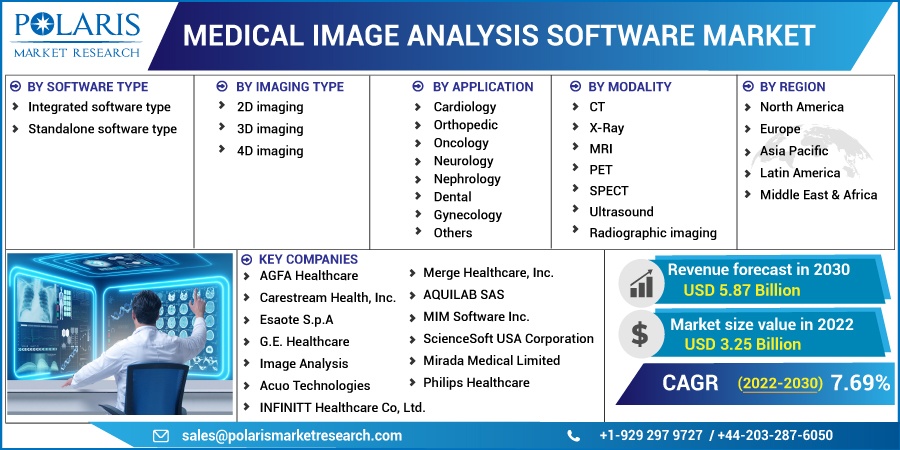 Know more about this report: Request for sample pages
Industry Dynamics
Growth Drivers
Radiation exposure for patients and medical professionals has steadily increased with the introduction of CT-guided diagnosis and intervention, including nuclear medicine-based scans and angiography. Due to this, statutory bodies have made it necessary to monitor and record patients' exposure to radiation in their medical records. In addition, it is essential to monitor how much radiation doctors are exposed to while performing their duties.
For instance, G.E. provides a program called DoseWatch. It keeps track of the radiation dose supplied to patients at a particular facility. The data can be categorized according to devices, protocols, or operators to spot dose outliers more easily. Sectra, among other programs, provides web-based dose tracking. The American College of Radiology has certified Sectra, and Sectra can send dose data from a hospital directly to its Dose Index Registry.
Report Segmentation
The market is primarily segmented based on software type, imaging type, modality, application, and region.
By Software Type

By Imaging Type

By Application

By Modality

By Region

Integrated software type
Standalone software type

2D imaging
3D imaging
4D imaging

Cardiology
Orthopedic
Oncology
Neurology
Nephrology
Dental
Gynecology
Others

CT
X-Ray
MRI
PET
SPECT
Ultrasound
Radiographic imaging
Other modalities

North America (U.S., Canada)
Europe (France, Germany, UK, Italy, Netherlands, Spain, Russia)
Asia Pacific (Japan, China, India, Malaysia, Indonesia, South Korea)
Latin America (Brazil, Mexico, Argentina)
Middle East & Africa (Saudi Arabia, U.A.E., Israel, South Africa)
Know more about this report: Request for sample pages
The Integrated software type segment is expected to witness the fastest growth.
In 2021, the integrated software type sub-part was anticipated to expand rapidly throughout the projected period in the global market. The integrated toolkit is intended to enhance the workflow for various radiological applications. For instance, the integrated image management software Philips Xcelera Cardiology Information Management offers single-point access to cutting-edge clinical applications and improves clinical workflow. Launching these solutions has helped the segment's revenue share dominate the market. The segment's expansion is expected to be further fueled by the widespread adoption of integrated systems owing to its advantages.
4D imaging accounted for the second-largest market share in 2021
It is projected that 4D imaging will dominate the industry in the upcoming years. In 2021, 4D imaging shared the largest market share was greater than 45 percent. This market segment is predicted to maintain its dominance throughout the forecast period due to technological advancements in 4D imaging technology, which enables efficient and accurate real-time viewing of the human body and removes distortion in procedures. Real-time movement is utilized in 4D imaging to produce 3-dimensional images.
Additionally, the markets for 3D and 4D imaging software solutions are anticipated to grow at lucrative rates throughout the anticipated period due to the expanding usage of these technologies. Additionally, a shift in emphasis to giving definitive therapy has led to the use of numerous computer-aided diagnosis techniques, further propelling market expansion.
The Cardiology segment is expected to witness the fastest growth
The cardiology segment is anticipated to increase at a significant CAGR over the forecast period. The sub-segment of cardiology is expected to experience the most significant market growth over the anticipated period. An expanding share of the cardiology segment market is envisioned as a consequence of rising advancements in cardiac imaging technologies. This results from an increase in the number of cardiac imaging tests due to the rising frequency of cardiac illnesses. In turn, this is expected to drive market growth.
The commercialization of software to help medical professionals obtain cardiac ultrasound or echocardiography images was approved by the U.S. FDA in February 2020. The Caption Guidance program uses artificial intelligence to help users get cardiac pictures of patients of standard diagnostic quality. It is a supplement to compatible diagnostic ultrasound instruments.
The X-Ray segment is expected to witness the fastest growth
In 2021, the X-Ray segment will hold the largest market share. It is anticipated that it will grow due to technological developments and increased use of X-rays for diagnostic purposes. Additionally, several businesses are releasing X-ray image analysis software-related items that will aid in the segment's expansion. For instance, Carestream Health introduced the DRX compass X-Ray system in February 2022. This digital radiology solution is precise, practical, and adjustable and was created to give radiologists a new level of efficiency.
The DRX compass's picture view software allows for improved cybersecurity. In line with this, in August 2021, CXR-AID, a chest-based X-ray simulation program using artificial intelligence (A.I.) developed by Fujifilm, was approved by the Pharmaceuticals and Medical Devices Agency. Chest nodules, consolidation, and pneumothorax are some of the critical aberrant findings that CXR-AID, developed using Lunit's A.I. technology, can identify from the X-ray scans.
The demand in North America is expected to witness significant growth
The global market is expected to dominate North America during the forecast period. However, the market growth in this region is driven by the rising number of patients receiving diagnostic imaging treatments nationwide. Due to established healthcare facilities and the growing need for cutting-edge healthcare systems among the aging population, it is predicted to rise at a high CAGR.
Furthermore, since newer businesses are offering solutions that offer simple image post-processing and optimization with tools to filter, the market for imaging software sees regular improvements. Companies are increasingly selling better visualization software along with imaging analysis software. For instance, in October 2021, Subtle Medical teamed with HALO Diagnostics to provide better imaging services based on its capabilities of AI-enabled imaging solutions.
At numerous locations, HALO has used SubtleMR and SubtlePET image augmentation technologies, resulting in better-quality imaging and patient experience. In addition, a Canadian business named Mireya revealed an AI-based product in January 2022 that was designed to simplify the process of scheduling patients for x-ray exams. The company claims that manual measurements and body part alignment are no longer necessary, thanks to the software and hardware combination. It is currently available as an upgrade to existing X-ray technology. As a result, this pattern in the nations of North America is fueling regional market expansion.
Competitive Insight
There are numerous significant players in the global market, such as AGFA Healthcare, Carestream Health., Esaote, G.E. Healthcare, Image Analysis, Acuo Technologies, INFINITT Healthcare, Merge Healthcare, AQUILAB, MIM Software, ScienceSoft, Mirada Medical, Philips Healthcare, Fujifilm Holding, Toshiba Medical Systems, and others.
Recent Developments
In July 2022, Subtle Medical's SubtleMR image-enhancement software was formally incorporated by Siemens Healthineers into its recently created reconstruction pipeline, Open Recon. Faster MRI sequences can benefit from SubtleMR's DL (deep learning) post-processing for denoising and more outstanding sharpness, which enhances image quality, streamlines workflow and improves patient satisfaction.
In March 2020, Philips introduced "Cloud-enabled Enterprise Imaging Informatics and Analytics Solutions" to address various workflow requirements across its imaging offerings.
Medical Image Analysis Software Market Report Scope
| | |
| --- | --- |
| Report Attributes | Details |
| Market size value in 2022 | USD 3.25 billion |
| Revenue forecast in 2030 | USD 5.87 billion |
| CAGR | 7.69% from 2022 – 2030 |
| Base year | 2021 |
| Historical data | 2018 – 2020 |
| Forecast period | 2022 – 2030 |
| Quantitative units | Revenue in USD billion and CAGR from 2022 to 2030 |
| Segments Covered | By Software Type, By Imaging Type, By Application, By Modality, and By Region |
| Regional scope | North America, Europe, Asia Pacific, Latin America; Middle East & Africa |
| Key Companies | AGFA Healthcare, Carestream Health, Inc., Esaote S.p.A, G.E. Healthcare, Image Analysis, Acuo Technologies, INFINITT Healthcare Co, Ltd., Merge Healthcare, Inc., AQUILAB SAS, MIM Software Inc., ScienceSoft USA Corporation, Mirada Medical Limited, Philips Healthcare, Fujifilm Holding Company, Toshiba Medical Systems Corporation, and others. |