The global medical tricorder market was valued at USD 2,951.5 million in 2019 and is expected to grow at a CAGR of 6.66% during 2020-2027. The growth of this market is attributed towards the notable technological advancements achieved in development of medical tricorders, growing preference for outpatient services, increasing prevalence of diabetes and cardiovascular disorders along with growing awareness among the patients. For instance, according to Vox Media, LLC March 2019 publication, in their quest to develop medical tricorder, Google Inc.'s researchers have strategically created an algorithm for deep learning that is capable of detecting diabetic retinopathy disorder with high accuracy or nearly 98% specificity as well as sensitivity score in range of about 87% to 90%.
Additionally, the ongoing COVID-19 pandemic worldwide also drives the demand for advanced medical technology such as the medical tricorder which can be deployed by any individual to check their body temperature. Moreover, the medical tricorder can even determine other key health parameters of any person such as blood pressure, breathing pace, appetite, etc. This is crucial while checking people regarding whether they are infected by the highly contagious COVID-19 disease and proactively sending them in quarantine to prevent the spread of Coronavirus disease.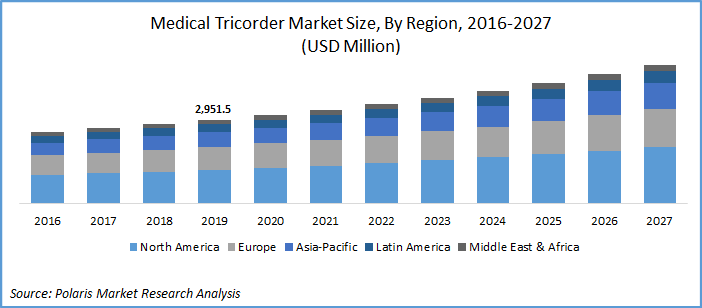 Know more about this report: request for sample pages
Industry Dynamics
Growth Drivers
The accelerating number of COVID-19 cases globally drives the demand for medical tricorder device, which can be used by any individual at their home for self-diagnosis purpose. The medical examination report generated by the medical tricorder can be transmitted digitally via smartphones to the healthcare practitioners at the healthcare facilities. This facility avoids the physical presence of the patient at the hospitals or other healthcare institutions and thereby, minimizes the chances for the spread of highly contagious COVID-19 pandemic. Moreover, the rising preference of medical diagnosis and treatment at home also boost the deployment of medical tricorder by people at home for self-diagnosis that also drives the global market growth.
In addition, the governments worldwide have also instructed people with very mild symptoms of COVID-19 to remain in home isolation. This has been done to reduce the crowding of patients at the healthcare facilities. For instance, according to the Economic Times, April 2020, publication, Health Ministry of India has issued strict guidelines for people who have extremely mild symptoms or are pre-symptomatic to COVID-19 to remain under home isolation and need not visit any nearby healthcare facility. Such an instruction also boost the demand for medical tricorder device which can be portably used by people at their home for self-diagnosis purpose.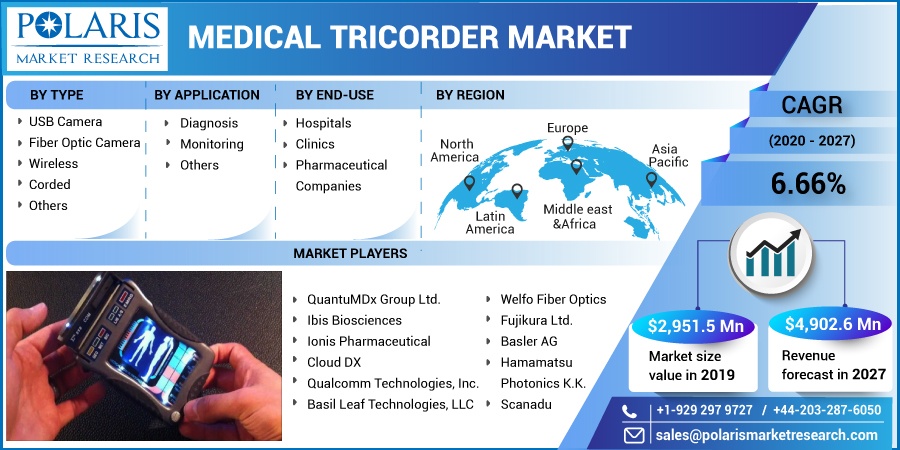 Know more about this report: request for sample pages
Furthermore, substantial funding received by the global market players for development of advanced medical devices that are closer to medical tricorder is also expected to propel market growth. For instance, according to the nextBIG Future April 2017 publication, Final Frontier Medical Devices has received approximately USD2.5 million funding to boost their research and development activities in developing the DxtER, an advanced artificial intelligence (AI)-driven engine. This AI-based engine uniquely integrates primary clinical outcomes derived from the patients with medicines that are administered to patients under emergency conditions. In addition, DxtER also comprise of several sensors that are non-invasive in nature and being used to capture key signs of body such as biological functions and body chemistry. This major clinical information is then processed in the diagnostic engine of DxtER device for making precise and quick assessments.
Medical Tricorder Market Report Scope
The market is primarily segmented on the basis of type, application, end-Use, and geographic region.
By Type

By Application

By End-Use

By Region

USB Camera
Fiber Optic Camera
Wireless
Corded
Others

Diagnosis
Monitoring
Others

Hospitals
Clinics
Pharmaceutical Companies

North America (U.S., Canada)
Europe (France, Germany, UK, Italy, Spain, Netherlands, Austria)
Asia Pacific (Japan, China, India, Malaysia, Indonesia. South Korea)
Latin America (Brazil, Mexico, Argentina)
MEA (Saudi Arabia, UAE, Israel, South Africa)
Know more about this report: request for sample pages
Insight by Type
Based upon type, the global market is categorized into USB camera, fiber optic camera, wireless, corded and others. Of all, the wireless segment held the largest share in the global market in 2019, owing to the extensive deployment of wireless medical tricorders by the end-users worldwide.
As per Independent News June 2017 publication, two team of researchers have won the prestigious Qualcomm Tricorder X Prize for development of a wireless and handheld device which is capable of diagnosing several diseases. This wireless handheld device is capable of checking the vital health parameters of the patients without performing any diagnostic test that are invasive and this device is similar to medical tricorder device shown in StarTrek television series.
Insight by Application
On the basis of application, the global market is categorized into diagnosis, monitoring and others. Of all, the diagnosis held the largest share in the global market in 2019 primarily due to the substantial diagnosis applications of medical tricorder which can be used for diagnosis of a range of diseases such as COVID-19, cancer, asthma, tuberculosis, HIV AIDS, diabetes, cardiovascular diseases (CVDs), stroke, arthritis, dementia, apart from others.
Insight by End Use
On the basis of end-use, the global medical tricorder market is segmented into hospitals, clinics and others. Of all, hospitals held the largest share in the global market in 2019 mainly driven by growing preference of healthcare professionals such as doctors, surgeons, nurses and clinicians to use portable medical tricorder for diagnosis of patients. Owing to the huge crowd of patients at hospitals amid the ongoing COVID-19 pandemic, medical tricorder is expected to be very successful in maintaining the much required safe-distancing between the healthcare providers and patients.
Moreover, the lack of up-to-date healthcare facilities such as beds in hospitals, capacity to accommodate large number of patients at the same time and simultaneously diagnosing the patients for a number of diseases also drives the demand for medical tricorders at the hospitals.
Geographic Overview
Geographically, the North America is expected to hold the dominant position in the global medical tricorder market in terms of market share which is followed by the European and Asia-Pacific regions. North America holds the dominant market share primarily driven by rise in patient pool coupled with the growing demand for enhanced technology to diagnose the patients amid COVID-19 pandemic in the region. For instance, according to the Worldometer, in August 2020 update, the region registered nearly 6.99 million COVID-19 cases with the U.S. and Canada recorded approximately 5.92 million and 0.13 million COVID-19 cases respectively. Hence, there's significant demand for medical tricorders in the region in order to facilitate home-based self-diagnosis facility for patients while minimizing the patient crowding at healthcare facilities.
Europe is expected to follow North America considering the market share and capture the second largest share of the market. The major market growth driving factors for Europe include, notable healthcare infrastructure investments, rising demand of people for home-based diagnosis and rising chronic disease across the European region. For instance, according to the King's Fund October 2019 release, the government of UK targets on investing approximately USD 3.55 billion (£2.7 billion) for development of nearly 6 National Health Service (NHS) hospitals over the period 2020 to 2025. This key investment is expected to drive the deployment of medical tricorder in healthcare facilities to proactively implement social-distancing in hospitals thereby, driving market growth in Europe.
Asia-Pacific is expected to grow the fastest with highest CAGR over the forecast period primarily attributed to growing demand for medical tricorder from developing countries such as China, India and South Korea. The rising incidence of chronic ailments such as cardiovascular diseases, increasing geriatric population, and accelerating improvement in the healthcare infrastructure facilities in the countries across the region. There's significant growth potential of emerging economies such as China and India driven by increasing government investments to improve healthcare infrastructure and growing number of chronic disease patients across the countries in the region.
Competitive Insight
Key players that are operational in the global market are focused on acquiring other market players in order to strengthen their market position. The strategic acquisitions boost the research & development capabilities of the global market players and deliver competitive advantage.
Some of the major players operating in the global market include QuantuMDx Group Ltd., Ibis Biosciences, Ionis Pharmaceutical, Cloud DX, Qualcomm Technologies, Inc., Basil Leaf Technologies, LLC, Welfo Fiber Optics, Fujikura Ltd., Basler AG, Hamamatsu Photonics K.K., and Scanadu.