The global meningitis diagnosis and treatment market size was valued at USD 112.5 million in 2017 and is anticipated to grow at a CAGR of 3.8% during the forecast period. A rare infection, Meningitis is a disorder that affects the gentle membranes known as meninges which covers spinal cord and brain. There are mainly three type of meningitis disease which include bacterial, fungal, and viral. Meningitis Infection by Bacterial can be life-threatening and can transfer between people who are in very close contact to each other. Fungal meningitis is a rare form of this disorder. It generally occurs to the individuals having weak immune system. Meningitis infection by viral infections are tends to be less lethal, it is observed that most of the individuals suffering from viral meningitis recover completely without any kind of treatment or small dosage of medications.
Anybody can be affected by such disease; however, research shows meningitis is more common adults over 55, young adults between age of 16 to 25 and children under the age of 5 years. Meningitis is more of a fatal to the individuals with medical conditions such as immune system disorders, a damaged or missing spleen, or any long-term immune disease. Outbreaks are likely to befall primarily where people live very close to each other as certain germs can spread this disease easily. Moreover, people who travel across such area are also tend to be affected with meningitis, for instance, in few parts of Africa.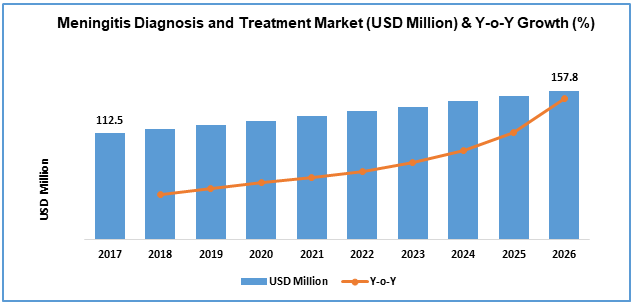 Know more about this report: request for sample pages
According to the centers for disease control and prevention (CDC), the indications of meningitis disease can appear over a few days or may appear rapidly. Generally, the symptoms appear in 3 to 7 days after infection. Some of the early indication include sensitivity to light, confusion, nausea and vomiting, and cold hands or feet and mottled skin. On the other side, later indications comprise coma and seizures. Treatments for meningitis involves admission intensive care unit or hospital.
The diagnosis for meningitis can be completed via several technologies that involves laboratory instruments such as rapid testing devices and analyzers. Rising occurrence of meningitis cases and growing demand for innovative diagnostic technology for precise diagnosis are factors expected to drive the meningitis diagnosis & treatment market growth. Additionally, increasing demand for point-of-care (PoC) services is further estimated to drive the market growth during the upcoming period as PoC services deliver high accuracy results in less time as compared to conventional methods. However, stringent regulatory framework and unawareness regarding the diagnosis are estimated to restrain the market growth.
Segment Analysis
The global meningitis diagnosis and treatment market is segmented on the basis of type, diagnostic tests, end-user, and geography. Based on type, the market is bifurcated into bacterial, fungal and viral. On the basis of type, bacterial associated disease is estimated to be the highest market sharing segment as bacterial infection is the most lethal type of meningitis disorder that generates high demand to form effective treatment. Bacterial meningitis is considered medical emergency as it is the most serious type of meningitis. Which can lead to permanent disability or death.
Similarly, on the basis of diagnostic test, the market is segmented into PCR Assay, Lateral Flow Assay, Latex Agglutination Tests, ELISA Tests, and Culture Test. Based on the diagnostic tests, PCR assay segment accounted for highest market share in terms of revenue during 2017. PCR assays provide highly precise test results in a very short time in comparison to conventional tests, with the highest sensitivity rate than others. By end-user, the market is further bifurcated as hospitals, diagnostic centers and others. High presence of multispecialty and multinational hospitals with advanced diagnosis infrastructure have bolster the revenue growth of the hospital segment by end-user.
Meningitis Diagnosis and Treatment Market Scope
By Type

By Diagnostic Test

By End-User

By Region

PCR Assay
Lateral Flow Assay
Latex Agglutination Tests
ELISA Tests
Culture Test

Hospitals
Diagnostic Centers
Others

North America (U.S., Canada)
Europe (Germany, UK, France, Italy, Spain, Belgium, Russia, Netherlands)
Asia-Pacific (China, Japan, India, Australia, Korea, Singapore, Malaysia, Indonesia, Thailand, Philippines)
Latin America (Brazil, Mexico, Argentina)
Middle East and Africa (UAE, Saudi Arabia, South Africa)
Know more about this report: request for sample pages
Regional Analysis
Geographically, the Meningitis Diagnostics and treatment Industry is segmented across North America, Europe, Asia Pacific, Latin America, and Middle East & Africa. The frequency rate of meningitis disease is highest in MEA. According to Centers for Disease Control and Prevention (CDC), approximately 60% of total meningitis affected population is currently existing in Africa, especially Sub-Saharan Africa which is also known as Meningitis Belt. However, poor patient awareness, minimal availability of advance diagnostic tests, lack of laboratory infrastructure and organizations, and low disposable income hampers the market growth in MEA.
The market for meningitis diagnosis and treatment in North America market is estimated to dominate with highest market shares in terms of revenue in 2017. High adoption rate of advanced diagnostic devices, easy obtainability of diagnostic test kits and high cases of viral meningitis are factors estimated to be growth factors of the market in North America.
Competitive Landscape
The major players operating in the industry Thermo Fisher Scientific, Inc., Fast Track Diagnostics Ltd. (FTD) – Siemens Healthineers, Bio-Rad Laboratories, Inc., IMMY, BioFire Diagnostics, Nanosphere (Luminex Corporation), Seegene Inc., Qnostics, ELITechGroup, and Abbott Laboratories. These leading players in the market are introducing innovative products in the market to cater to the consumers. Global players are entering new markets in developing regions to expand their customer base and strengthen market presence.