The global microRNA market was valued at USD 856.9 million in 2020 and is expected to grow at a CAGR of 20.1% during the forecast period. The key market factors shaping the future include emerging microRNA tools for varied disease-associated applications, the use of microRNA in prediction and identification, and as the potential candidate for biopharma companies to develop future medicines. Biopharma firms across the globe, are engaged in developing new molecules as a potential drug candidate also driving the microRNA market growth.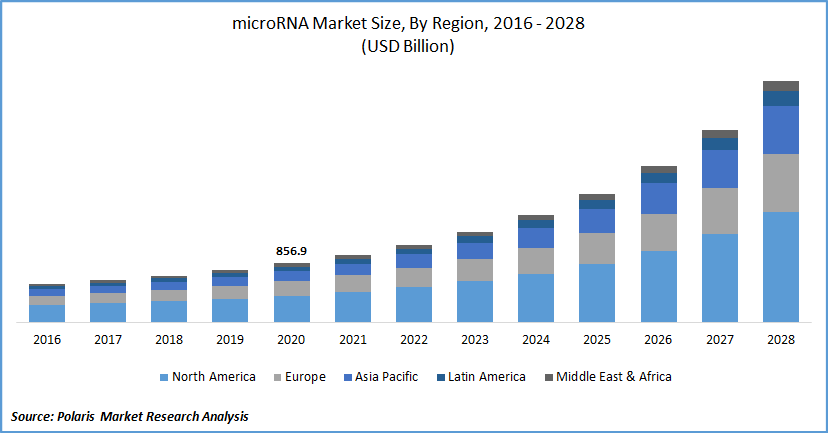 Know more about this report: request for sample pages
Several microRNA-based candidates are undergoing clinical trials such as anti-microRNA compounds and potential inhibitors, which could be employed in different potential therapeutic applications. Thus, RNA therapeutics is being considered as a booming investing area, which will have led to the development of profitable drugs.
Newly developed methods in the market include RCA-based methods, enzyme-free amplification, LAMP-based methods, DSN-based methods, and nanoparticle-based amplification. In this line, in January 2020, researchers engaged in the concerned sector have developed an isothermal amplification technique to measure the quantitative measurement of microRNA. It is being estimated that, in this system, contamination is reduced, as it is dependent on the signal amplification process, which can further improve its efficiency, as compared to other approaches.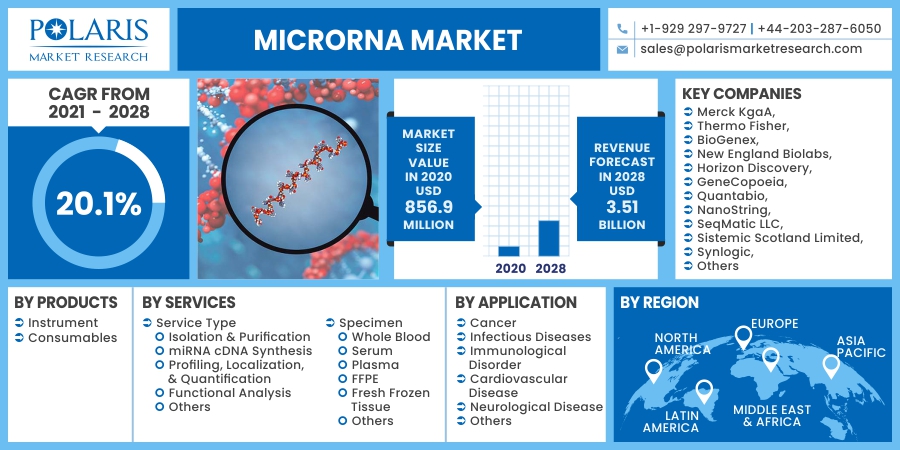 Know more about this report: request for sample pages
microRNA Market Report Scope
The market is primarily segmented on the basis of products, services, application, and region.
By Products

By Services

By Application

By Region

Service Type

Isolation & Purification
miRNA cDNA Synthesis
Profiling, Localization, & Quantification
Functional Analysis
Others

Specimen

Whole Blood
Serum
Plasma
FFPE
Fresh Frozen Tissue
Others

Cancer
Infectious Diseases
Immunological Disorder
Cardiovascular Disease
Neurological Disease
Others

North America (U.S., Canada)
Europe (France, Germany, UK, Italy, Spain, Netherlands, Austria)
Asia Pacific (Japan, China, India, Malaysia, Indonesia, South Korea)
Latin America (Brazil, Mexico, Argentina)
Middle East & Africa (Saudi Arabia, UAE, Israel, South Africa)
Know more about this report: request for sample pages
Insight by Product
The wired consumables market segment accounted for the largest revenue share, in 2020. Such a high share is attributed to the availability of a wide range of consumables in microRNA profiling such as detection kits, primers, reagents, among others.
Adoption of consumables as they are consumed quickly and are essential commodities during the procedure and are being replaced on regular basis. Some of the important market players in the industry include Thermo Fisher, NanoString, and Miltenyi Biotec.
On the basis of the instrument, the real-time PCR dominated the concerned market segment and is considered as a gold standard, when compared to other techniques to detect microRNA. It is routinely used as a reliable technique to detect microRNA expression, due to its dynamic range, high specificity, and enhanced sensitivity. It is currently being used as a broad range of research applications such as validation, functional analysis, profiling, and quantification.
NGS is projected to witness a lucrative market growth over the market study period. It is gaining popularity as a powerful tool to enable systemic studies of genes and to provide research insights for a better understanding of the disease.
NGS is also integrated with many informatics solutions, which can allow faster processing to analyze complex microRNA sequence data. In this line, CAP-miRSeq allows deep microRNA sequencing, processing, variant identification, and alignment in the microRNA codons. Moreover, it allows faster processing and allows easier downstream analysis and quality assessments.
Insight by Application
In 2020, the cancer market segment accounted for the largest share. Such a high share is primarily due to the increase in the prevalence of cancer cases, the significant importance of cancer cases in disease pathology, and concerning innovations in microRNA role in cancer diagnosis via cancer-associated genomic regions.
There are several tumor suppressor microRNAs that are usually suppressed during translation of microRNAs, which encodes for the oncogenes, inhibiting tumor formation and cancer development. Thus, microRNA dysregulation is well understood to find therapeutic action to treat different forms of cancer in the market.
microRNAs have un-protected ends which makes them prone to degradation by the ribonucleases, enabling them to express themselves for a limited period. To overcome such challenges, researchers have developed efficient delivery systems for the microRNAs.
In this line, a recently developed nanoparticle delivery system is considered to be an attractive option to deliver microRNAs. Several formulations have been employed such as naturally occurring silica dendrimers, organic-based lipid nanoparticles, and Polyamidoamine.
Geographic Overview
In 2020, the North America market accounted for more than 45% of the global microRNA market. The factors contributing to the region's market growth include the presence of key market players with research and development capabilities, established research infrastructure in terms of genomics, oncology, and proteomics, and functional in-silico tools.
Moreover, companies in the region are extensively involved in research on microRNA-based biomarkers. In this direction, in May 2020, DiamiR received approval for its patent for the microRNA-based method, to be used for monitoring brain aging. It covers methods for quantitative analysis of miRNA in blood plasma and brain blood vessels.
Competitive Insight
The prominent market players operating in the microRNA market are Merck KgaA, Thermo Fisher, BioGenex, New England Biolabs, Horizon Discovery, GeneCopoeia, Quantabio, NanoString, SeqMatic LLC, Sistemic Scotland Limited, Synlogic, QIAGEN, Miltenyi Biotec, Biodynamics Laboratory Inc., OriGene Technologies.