The global Millimeter Wave (MMW) Technology Market was valued at USD 3,343.97 Million in 2022 and is expected to grow at a CAGR of 39.6% during the forecast period. Millimeter waves, operating within the 30 GHz to 300 GHz range, are a type of radio frequency in the electromagnetic spectrum. They offer efficient transmission of large data volumes, making them highly relevant in the telecommunications industry. While fiber-optic cables are widely used for data transmission, they are expensive and installation-intensive, making millimeter wave technology an attractive alternative.

To Understand More About this Research: Request a Free Sample Report
The market for millimeter wave technology is concentrated in terms of applications and components, finding extensive use in various sectors such as telecommunications, defense, medical, and security services. The ongoing advancements in the telecommunications industry, particularly the development of next-generation technologies like 5G, are driving the adoption of millimeter waves. Given the demand for higher bandwidth in 5G, millimeter waves are expected to play a significant role in its implementation. Consequently, the millimeter wave technology market is projected to experience substantial growth in the foreseeable future.
The increasing demand for millimeter wave scanners in security applications is another factor contributing to the growth of the millimeter wave technology market. Emerging markets in the Asia Pacific, South America, and MEA regions hold potential for strong growth opportunities in this field.
The prospects for the millimeter wave technology industry appear optimistic throughout the forecast period. Several factors contribute to this positive outlook, including increased government funding for technology development and upgrades, a growing need for enhanced connectivity facilitated by millimeter wave adoption, and the alternative it offers to fiber optic cables.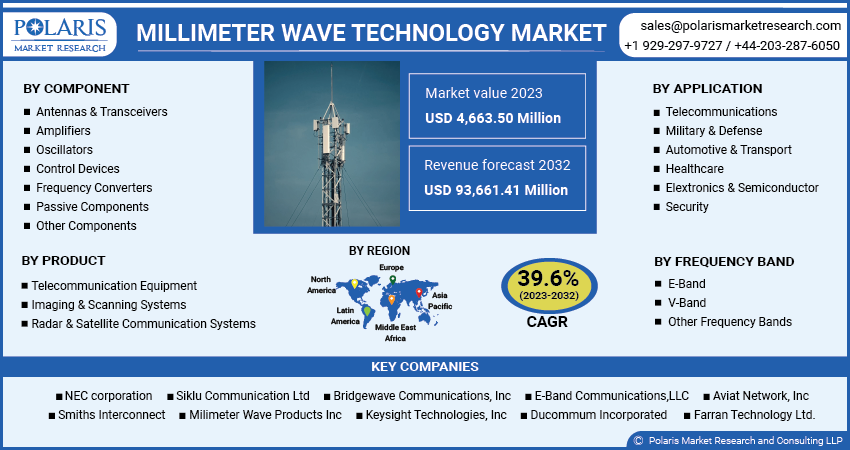 For Specific Research Requirements, Request for a Customized Report
Industry Dynamics
Growth Drivers
The demand for millimeter wave (MMW) technology has been growing steadily due to the increasing need for bandwidth-intensive applications. The rise in data generation from smartphones, wearable devices, and various segments necessitates high-speed data transfer, driving the demand for higher bandwidths. Although fiber optics technology offers expanded bandwidth and faster data transfer rates, its high cost poses a significant barrier for small and medium-sized enterprises and startups. Additionally, logistical challenges such as transportation, installation, and reliable connectivity hinder the widespread adoption of fiber optics technology.
This is where MMW technology comes into play, providing a promising alternative to fiber optic cables. MMW technology can deliver higher bandwidths and high-speed data transmission at a significantly lower cost, positively impacting the overall market and driving the adoption of MMW technology solutions.
The telecommunications sector is experiencing rapid technological advancements and is a major adopter of MMW technology. The sector's demand for high bandwidth-intensive applications drives the adoption of MMW technology due to its ability to provide higher bandwidths at a lower cost. Moreover, the military, aerospace, and security sectors increasingly utilize MMW technology for connectivity and sensing services. This adoption has led to advancements in tactical networking, security, and electronic warfare techniques across these sectors.
Report Segmentation
The market is primarily segmented based on product, component, frequency band, application and region.
By Product

By Component

By Frequency Band

By Application

By Region

Telecommunication Equipment

Imaging & Scanning Systems

Radar & Satellite Communication Systems

Antennas & Transceivers

Amplifiers

Oscillators

Control Devices

Frequency Converters

Passive Components

Other Components

E-Band

V-Band

Other Frequency Bands

Telecommunications

Military & Defense

Automotive & Transport

Healthcare

Elextronics & Semiconductor

Security

North America (U.S., Canada)

Europe (France, Germany, UK, Italy, Netherlands, Spain, Russia)

Asia Pacific (Japan, China, India, Malaysia, Indonesia, South Korea)

Latin America (Brazil, Mexico, Argentina)

Middle East & Africa (Saudi Arabia, UAE, Israel, South Africa)
To Understand the Scope of this Report: Speak to Analyst
The antennas & transceivers segment generated largest revenue in 2022
In 2022, the antennas and transceivers component segment emerged as the largest revenue generator in the millimeter wave technology market. This segment extensively utilizes millimeter wave technology, primarily driven by the growing demand in telecommunication applications. Furthermore, the increased adoption of millimeter wave technology in radar and satellite communication applications, fueled by expanding military and defense practices, contributes significantly to the segment's overall value.
The E-band segment dominated the market in 2022
In 2022, the E-band frequency segment dominated the millimeter wave technology market, capturing a market share of over 55%. This significant market share can be attributed to the widespread utilization of the E-band frequency in the telecommunications sector. The growing demand for various telecom applications, coupled with the overall expansion of the telecom industry, has contributed to the robust growth of the E-band frequency segment.
North America is expected to grow significantly during the forecast period
The millimeter wave technology market has experienced significant growth in North America, primarily driven by technological advancements and a well-established IT infrastructure in the region. The continuous progress in the telecommunication sector has played a crucial role in fueling market growth. With a large number of consumers in North America recognizing the importance of broadband connections and the convenience they offer in everyday life, there is a growing willingness to invest in higher-value fiber optic solutions.
The need to transition from traditional connectivity to 5G technology has further propelled the development of the telecommunication segment in North America, contributing to the overall market growth for millimeter wave technology. The telecommunication equipment segment in the United States has witnessed rapid expansion in recent years, and this trend is expected to continue. Millimeter wave technology provides significant benefits in various industries such as security, military & defense, and telecommunication, all of which are expanding in the US market.
A notable development in the market occurred in 2019 when NEC Corporation and Aviat Networks entered into an exclusive distribution agreement. Aviat Networks became the exclusive distributor for NEC Corporation in North America, specifically focusing on microwave and millimeter wave technology products across major verticals. This partnership has positively impacted market growth in the United States and Canada, bringing innovative solutions to the market through these organizations.
Competitive Insight
Some of the major players operating in the global market include NEC corporation, Siklu Communication Ltd., Bridgewave Communications, Inc., E-Band Communications,LLC., Aviat Network, Inc., Smiths Interconnect, Milimeter Wave Products Inc., Keysight Technologies, Inc., Ducommum Incorporated, Farran Technology Ltd.
Recent Developments
In May 2020, Siklu Communication Ltd. announced a partnership with HWPco to represent its brand in Southeast.

In June 2020, Aviat Network, Inc entered into partnership with Netronics Technology to deliver the microwave solutions in the Central Asia, North Africa and Middle East. It enables the organization to expand in the Middle East region with its WTM 4000 for ISP market.
Millimeter Wave (MMW) Technology Market Report Scope
| | |
| --- | --- |
| Report Attributes | Details |
| Market size value in 2023 | USD 4,663.50 million |
| Revenue forecast in 2032 | USD 93,661.41 million |
| CAGR | 39.6% from 2023 - 2032 |
| Base year | 2022 |
| Historical data | 2019 - 2021 |
| Forecast period | 2023 - 2032 |
| Quantitative units | Revenue in USD million and CAGR from 2023 to 2032 |
| Segments Covered | By Product, By Component, By Frequency Band, By Application, By Region |
| Regional scope | North America, Europe, Asia Pacific, Latin America; Middle East & Africa |
| Key Companies | NEC corporation, Siklu Communication Ltd., Bridgewave Communications, Inc., E-Band Communications,LLC., Aviat Network, Inc., Smiths Interconnect, Milimeter Wave Products Inc., Keysight Technologies, Inc., Ducommum Incorporated, Farran Technology Ltd. |