The global motion preservation devices market was valued at USD 1.62 billion in 2021 and is expected to grow at a CAGR of 10.6% during the forecast period.
Key factors responsible for market growth include the rise in spine-related injuries, aging population, and technological advancements in assisted devices. For instance, according to world population Prospects 2022, the percentage of people 65 and older in the world population is expected to increase from 10% in 2022 to 16% in 2050. Globally, the number of people 65 and older is expected to surpass that of children under five by the year 2050.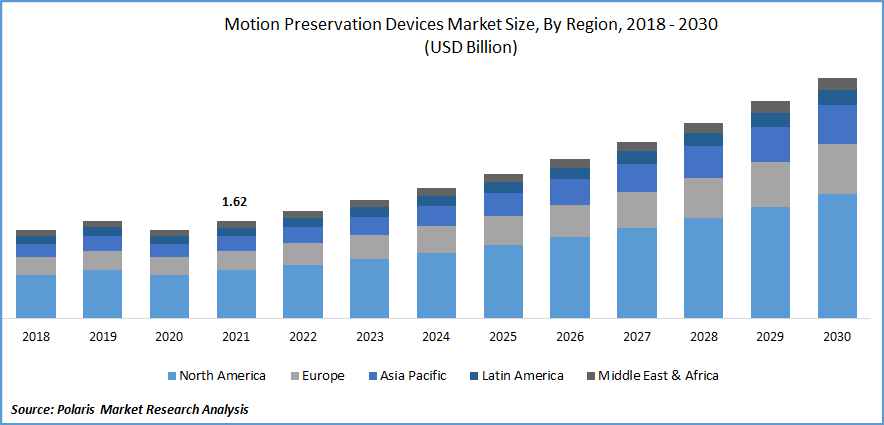 Know more about this report: Request for sample pages
Similarly, according to a 2021 publication by Chantal S. Parenteauet et al, the prevalence of diagnosed spinal degenerative illness was also 27.3% globally and increased with age. The prevalence of disc degeneration that had been diagnosed was 2.7 times greater in people who had radiography.
The high cost of surgery and the high cost of these devices are the main factors limiting the growth of the global market for motion preservation devices. In emerging economies, the bulk of the populace cannot afford it. For instance, Sara A. Davin et., al 2022 publication states that roughly 500,000 lumbar spine procedures are conducted annually in the United States, with close to 313 million surgeries performed globally.
The primary drawback of motion preservation therapy is the fusion of one or more segments, which results in modifications to the biomechanics of the spine that impede the mobility of the lumbar spine. This impacts the patient's capacity to modify the spine's position while engaging in everyday tasks like standing up from a seated position or vice versa.
The COVID-19 pandemic forced the suspension of spinal procedures because a number of ICU resources, including ventilators, personal protective equipment, and medical personnel, were diverted to COVID-19 victims. As a result, there was a significant decrease in non-emergency surgeries and treatments overall, which limited the use of motion preservation devices for spinal problems. The epidemic, according to key players, decreased income. But because governments worldwide have loosened their regulations, the market has rebounded from COVID-19.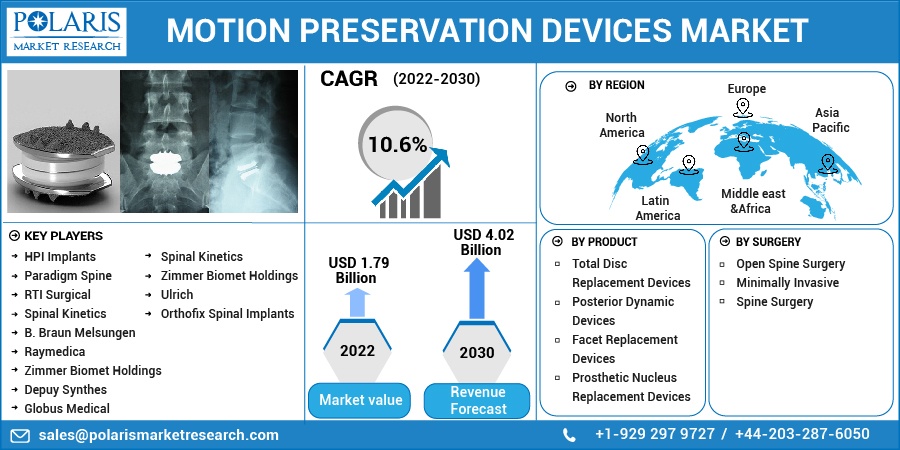 Know more about this report: Request for sample pages
Industry Dynamics
Growth Drivers
Many motion preservation devices are used as treatment alternatives or adjuncts for patients suffering from pain and loss of function caused by back issues. This, in confluence with the rising prevalence of spine problems on account of smoking, obesity, and sedentary lifestyles, represents one of the major factors driving the market. In addition, the growing geriatric population is resulting in a significant increase in the number of surgeries utilized for treating symptoms of lumbar spinal stenosis, degenerative disc disease, and facet pain from osteoarthritis.
This has a favorable impact on the need for motion preservation technology worldwide. For instance, according to a 2021 report, Northwestern University researchers have created a new injectable medication that uses "dancing molecules" to reverse paralysis and rebuild tissue after severe spinal cord damage. Tuning molecular motion to enable molecules to locate and adequately engage cellular receptors is the key to Stupp's new, ground-breaking therapy. As soon as the therapy is injected, it rapidly gels into an intricate web of nanofibers that resembles the spinal cord's extracellular matrix.
Report Segmentation
The market is primarily segmented based on product, surgery, and region.
By Product

By Surgery

By Region

Total Disc Replacement Devices
Posterior Dynamic Devices
Facet Replacement Devices
Prosthetic Nucleus Replacement Devices

Open Spine Surgery
Minimally Invasive Spine Surgery

North America (U.S., Canada)
Europe (France, Germany, UK, Italy, Netherlands, Spain, Russia)
Asia Pacific (Japan, China, India, Malaysia, Indonesia, South Korea)
Latin America (Brazil, Mexico, Argentina)
Middle East & Africa (Saudi Arabia, UAE, Israel, South Africa)
Know more about this report: Request for sample pages
Total disc replacement devices were the industry's largest market segment in 2021
The market is anticipated to increase as degenerative disc disease spreads and aging causes degeneration, which limits mobility. It involves disc replacement, which permits decompression of the spinal cord and nerve roots while maintaining natural neck movement and is typically indicated for patients with stenosis and disc herniation. With the development of total disc replacement technology, patients with complex spine injuries can receive better care.
For instance, FDA approved pro disc L Total Disc Replacement in 2020. It aims to swap out a patient's lower back's damaged intervertebral discs. This approval broadens the prodisc L prescription for usage to cover the possibility of treating up to two consecutive lumbar spinal segments from L3 to S1.
The market is also anticipated to benefit from an increase in orthopedic operations, sports injuries, and trauma-related injuries. According to the National Safety Council, damages caused by exercise equipment accounted for approximately 409,000 injuries in 2021, more than any other sports and entertainment category (NSC). Additionally, there will be about 222,086 football-related injuries in 2021.
The minimally invasive spine surgery segment will account for a higher revenue share.
The minimally invasive segment will represent a sizable share in 2021. The main factors for the rise in minimally invasive spine procedures are improvements in surgical technology, rising demand, an increase in spinal diseases, the popularity of doctor-owned ambulatory surgery clinics, and an increase in obese people.
As a result, it is anticipated that in the near future, the market will be fueled by the success of these procedures in treating spinal injuries, which also encourages quicker healing and is more affordable. For instance, the study done by the North American Spine Society (NASS) in October 2022, demonstrates that robotic and navigational aid is cost-effective for minimally invasive adult spinal deformities.
The demand in North America is expected to witness significant growth
In 2021, North America will account for a sizable percentage of the worldwide market. Businesses and the quick adoption of new technology in the area drive the market. Additionally, the area's market for spine injuries is expected to grow.
A beneficial effect on the market is anticipated from the aging American population, an increase in diabetes, cardiovascular illness, spine injuries, and the costs related to them. For instance, the National Spinal Cord Injury study estimates that in 2021, about 333 million people will be living in the United States. The annual incidence of traumatic spinal cord injury (SCI) in the U.S. indicates that there are presently around 18,000 new instances of SCI per year.
New SCI instances do not include people who passed away at the scene of the incident that caused the SCI. Additionally, a spinal cord injury has been acquired by 78% of men, who are, on average, 43 years old. The prevalence of spinal cord damage in the United States and other North American nations is therefore expected to increase demand for minimally invasive spine procedures. Consequently, ready to fuel the development of the market under study.
Competitive Insight
Key players include HPI Implants, RTI Surgical, Spinal Kinetics, B. Braun, Raymedica, Zimmer Biomet, Depuy Synthes, Spinal Kinetics, Paradigm Spine, Zimmer Biomet, Ulrich, and Orthofix Spinal.
Recent Developments
In August 2022, Vizient, Inc. stated that it had awarded a contract to Extremity Medical, LLC, a global medical device firm specializing in creating state-of-the-art implants and apparatus for the upper and lower limbs. The ground-breaking KinematX Total Wrist Arthroplasty system and the OMNI Stable AF System were included in the deal, along with all other upper and lower extremity systems offered by Extremity Medical.
Motion Preservation Devices Market Report Scope
| | |
| --- | --- |
| Report Attributes | Details |
| Market size value in 2022 | USD 1.79 billion |
| Revenue forecast in 2030 | USD 4.02 billion |
| CAGR | 10.6% from 2022 - 2030 |
| Base year | 2021 |
| Historical data | 2018 - 2020 |
| Forecast period | 2022 - 2030 |
| Quantitative units | Revenue in USD billion and CAGR from 2022 to 2030 |
| Segments Covered | By Product, By Surgery, By Region |
| Regional scope | North America, Europe, Asia Pacific, Latin America; Middle East & Africa |
| Key Companies | HPI Implants, Paradigm Spine, RTI Surgical, Spinal Kinetics, B. Braun Melsungen, Raymedica, Zimmer Biomet Holdings, Depuy Synthes, Globus Medical, Spinal Kinetics, Zimmer Biomet Holdings, Ulrich and Orthofix Spinal Implants |