The global mussel oil market was valued at USD 47.49 million in 2022 and is expected to grow at a CAGR of 5.6% during the forecast period. Nutritional supplement applications majorly drive the global market as it is an excellent source of essential fatty acids. The shift in consumer preference toward nutritious food items and premium brands has propelled the need for the product in the food industry. The burgeoning population and robust economic growth will even further boost product demand.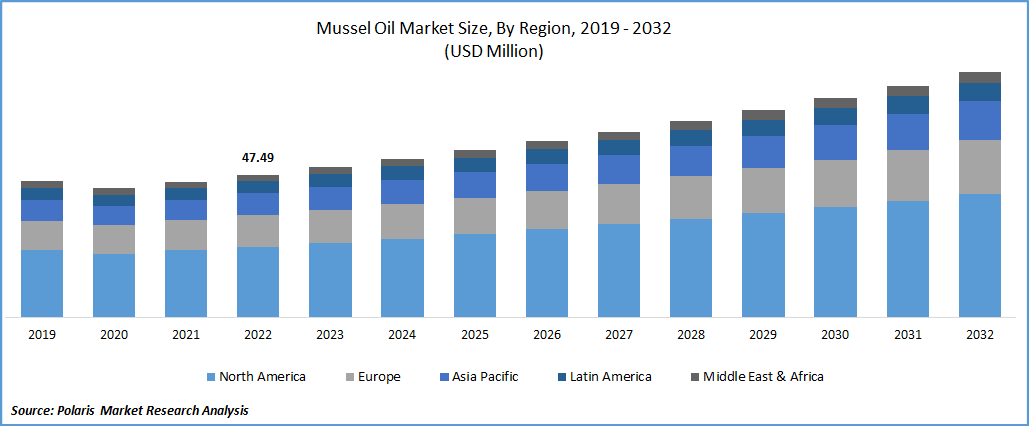 Know more about this report: Request for sample pages
Mussel oil is a novel and specialized item in the market, and the growing consciousness mainly propels its expansion among consumers about the potential health advantages of omega-3 fatty acids. With its rich concentration of omega-3s, Mussel oil has been associated with various benefits, including better cardiovascular health and cognitive function.
The industry's growth is predicted to be driven by the rise in chronic illnesses, such as autoimmune disorders, respiratory disease, diabetes, and cardiovascular diseases, as well as the increased use of nutritional supplements. Furthermore, the industry's growth is expected to be propelled by the product's emerging applications in the cosmetic industry and as pet food.
Mussel oil is renowned for its high levels of omega-3 fatty acids, which have been associated with a range of health benefits, such as improving the conditions of individuals with arthritis and asthma, reducing the risk of cognitive disorders (including cerebral palsy and ADHD), CVD, diabetes, and cancer. Osteoarthritis alone affects over 500 million people worldwide, which accounts for almost 7% of the global population. The oil is also effective in treating asthma by reducing lung inflammation. Mussels have low-fat levels and contain antioxidants, which decrease the risk of CVD and cancer. Given that CVD is the cause of death globally and cancer rates are rising worldwide, these factors are driving the industry's growth.
Mussel oil is also becoming popular as a pet food and supplement due to its various health benefits. The product is known to improve the animal's bone growth and overall health. It is rich in iron, calcium, iodine, magnesium, selenium, iron, and vitamin B12. Mussel oil is also finding its applications in the cosmetic industry. The product is known to decrease hair loss and promote hair growth. All these factors augment the development of the mussel oil market. This market is anticipated to experience growth shortly, fueled by the escalating demand for natural and organic products and the rising adoption of e-commerce platforms for distributing dietary supplements and nutraceuticals.
The industry is experiencing novel advancements expected to drive its growth in the years ahead. For instance, the biotech firm PharmaZen, secured USD 14 million in funding in 2020 to construct two new factories in Rolleston, south of Christchurch, New Zealand. PharmaZen specializes in creating nutraceuticals derived from Greenshell mussel oil, and this investment will facilitate the production of more mussel oil-based nutraceuticals.
The COVID-19 pandemic is anticipated to impede market growth due to supply chain disruptions resulting from lockdowns imposed in numerous regions worldwide. The transportation of mussel oil, a vital ingredient in various industries, has been disrupted, affecting the expansion of mussel oil-based products.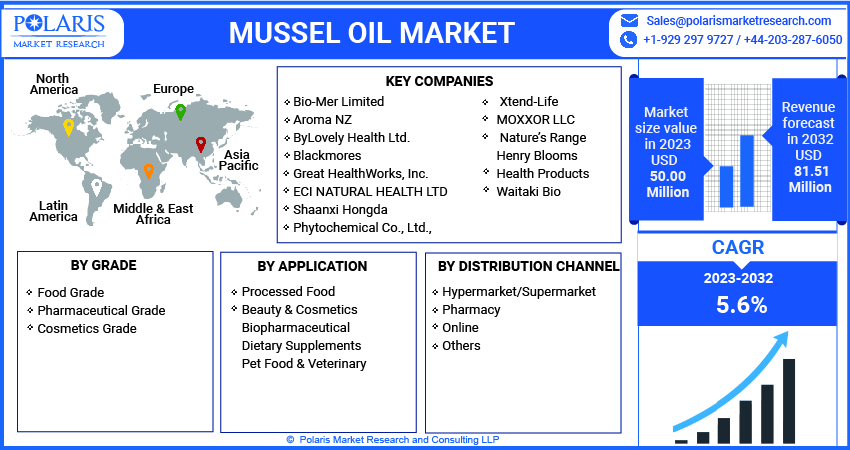 Know more about this report: Request for sample pages
Industry Dynamics
Growth Drivers
The growth of the global market is driven by factors such as increasing demand for nutritional food supplements and the increase in prolonged diseases such as cardiovascular diseases (CVD), respiratory diseases, autoimmune disorders, diabetes, and cancer, owing to the rise in the geriatric population across the globe. The increasing use of the product as pet food and cosmetics will further boost the mussel oil market growth during the forecast period.
Mussel oil has many health benefits in rheumatoid arthritis, osteoarthritis, asthma, CVD, cancer, diabetes, hypertension, and other disorders. Arthritis affects 24 million adults globally. Rheumatoid arthritis is one of the severe forms of arthritis that is seen in 1.3 million people in the U.S. alone. Asthma is one of the key health problems across the globe that affects 300 million people globally, and according to WHO, every year, 250,000 people die due to asthma. Mussel oil contains high levels of omega-3 fatty acids. Omega 3 reduces inflammation, which is useful in treating autoimmune disorders and respiratory conditions such as rheumatoid arthritis, osteoarthritis, and asthma.
It effectively lowers the risk of developing cognitive disorders such as autism, cerebral palsy, and ADHD by improving brain function during early life and during pregnancy. Omega-3s improve cardiac function by reducing blood pressure and raising good HDL cholesterol levels. It also induces apoptosis of abnormal cells, reducing the risk of developing cancer. The product's wide range of health benefits is expected to boost the mussel oil growth during the forecast period.
Many new developments have occurred in the global market in recent years. For instance, in 2019, New Zealand-based Korure announced that it was expanding its anti-inflammatory mussel oil-based product in China. The product consists of mussel oil with extra virgin oil, and it contains Omega 3, Omega 6, Vitamin A, C, and E. In 2019, Sanford announced that it was establishing a USD 13 million marine extracts center in New Zealand to produce high-end nutritional products from mussel oil extracts.
Report Segmentation
The market is primarily segmented based on grade, application, distribution channel, and region.
By Grade

By Application

By Distribution Channel

By Region

Food Grade

Pharmaceutical Grade

Cosmetics Grade

Processed Food

Beauty & Cosmetics

Biopharmaceutical

Dietary Supplements

Pet Food & Veterinary

Hypermarket/Supermarket

Pharmacy

Online

Others

North America (U.S., Canada)

Europe (France, Germany, UK, Italy, Netherlands, Spain, Russia)

Asia Pacific (Japan, China, India, Malaysia, Indonesia. South Korea)

Latin America (Brazil, Mexico, Argentina)

Middle East & Africa (Saudi Arabia, UAE, Israel, South Africa)
Know more about this report: Request for sample pages
The dietary supplement segment dominated the market in 2022
The dietary supplement segment dominated the mussel oil industry. It generated the highest revenue in 2022, as it is commonly used in dietary supplement products to boost the immune system of consumers. The therapeutic benefits of the products, such as enhanced mobility and bone, lung, and heart health, drive the market as a dietary supplement.
The high antioxidant properties of the oil will further propel the segment's growth. The biopharmaceutical segment is projected to have a high growth rate. The key component of the product aids in improving various health concerns, including osteoarthritis, rheumatoid arthritis, and asthma, and also minimizes the risk of cardiovascular disease.
The hypermarket/supermarket segment is expected to witness the largest revenue share in 2022
The hypermarket/supermarket segment dominated the mussel oil industry and generated the largest revenue in 2022. The popularity of mussel's oil as a nutritional supplement among consumers has expanded the availability of products in hyper supermarkets. The online distribution channel is anticipated to have a high growth rate during the forecast timeframe owing to the growing trend of online purchasing and selling of products globally. In addition, the increasing influence and popularity of e-commerce platforms and the availability of a more comprehensive range of products at a discounted price will further support segment growth.
The demand in Asia Pacific is expected to witness highest growth in 2022
Asia Pacific dominated the market and generated the highest revenue in 2022, owing to the increasing use of mussel oil due to the enormous health benefits of treating rheumatoid arthritis and joint-related problems. In China alone, there are 5 million people who have rheumatoid arthritis. Furthermore, the rapidly increasing cosmetics and personal care business, particularly in South Korea, is expected to drive the mussel oil demand for products in the cosmetics industry.
Europe is anticipated to be the fastest-growing region for the global market, primarily due to the increasing awareness of the health benefits of mussel oil among people in the area. The cultivation of mussels is also increasing in this region, with Spain being one of the top producers of mussels globally, with an output of over 2,00,000 tons annually.
The market in North America is growing, driven by rising demand for organic and natural skincare products. Mussel Oil is a popular ingredient in skincare formulations due to its anti-inflammatory and anti-aging properties. The market is primarily driven by the growing demand for natural and organic products and increasing awareness of the benefits of Mussel Oil in skincare. Overall, the North American Mussel Oil market is expected to continue growing in the coming years, driven by increasing consumer demand for natural and organic products and raising awareness of the benefits of Mussel Oil in skincare and other applications.
Competitive Insight
The major players working in the mussel oil market include Bio-Mer Limited, Aroma NZ, ByLovely Health Ltd., Blackmores, Great HealthWorks, Inc., ECI NATURAL HEALTH LTD, Shaanxi Hongda Phytochemical Co., Ltd., Xtend-Life, MOXXOR LLC, Nature's Range, Henry Blooms Health Products, Waitaki Bio.
Recent Developments
In December 2019, the Organization for Fish in New Zealand Sanford committed USD 13 million to construct maritime concentrates for delivering food products in New Zealand. The center will produce various products, such as Greenshell mussel powder and oil.
Mussel Oil Market Report Scope
| | |
| --- | --- |
| Report Attributes | Details |
| Market size value in 2023 | USD 50.00 million |
| Revenue forecast in 2032 | USD 81.51 million |
| CAGR | 5.6% from 2023 - 2032 |
| Base year | 2022 |
| Historical data | 2019 - 2022 |
| Forecast period | 2023 - 2032 |
| Quantitative units | Revenue in USD million and CAGR from 2023 to 2032 |
| Segments covered | By Grade, By Application, By Distribution Channel, By Region |
| Regional scope | North America, Europe, Asia Pacific, Latin America; Middle East & Africa |
| Key companies | Bio-Mer Limited, Aroma NZ, ByLovely Health Ltd., Blackmores, Great HealthWorks, Inc., ECI NATURAL HEALTH LTD, Shaanxi Hongda Phytochemical Co., Ltd., Xtend-Life, MOXXOR LLC, Nature's Range, Henry Blooms Health Products, Waitaki Bio |