The global myasthenia gravis disease treatment market was valued at USD 1.19 billion in 2022 and is expected to grow at a CAGR of 6.9% during the forecast period.
Myasthenia gravis is a persistent autoimmune neuromuscular condition that disrupts the transmission of signals between nerves and muscles. This disruption results in muscle weakness and exhaustion, predominantly impacting voluntary muscles responsible for activities such as swallowing, speech, and the control of facial expressions.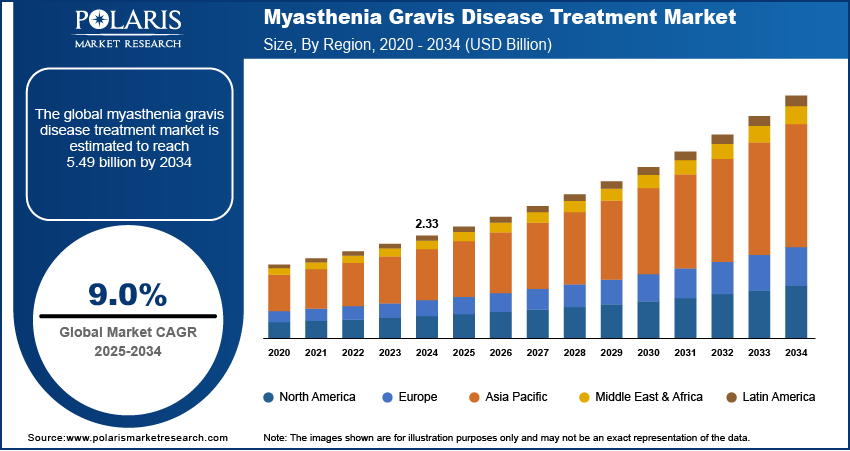 To Understand More About this Research: Request a Free Sample Report
The market for treating Myasthenia Gravis (MG) has experienced consistent growth in recent times, propelled by various factors. The rise in diagnostic rates, enhanced comprehension of the disease, and advancements in treatment choices have collectively fostered the market's expansion. Moreover, pharmaceutical enterprises have devoted resources to research and development, aiming to unveil innovative therapies characterized by enhanced effectiveness and reduced side effects. The global MG treatment market is anticipated to sustain its growth trajectory, driven by the ongoing demand for treatments that are both more efficacious and safer, notably with the advent of biologics and targeted therapies.
Myasthenia gravis treatment focuses on symptom management, muscle function improvement, and immune response suppression. It typically involves acetylcholinesterase inhibitors (e.g., pyridostigmine) to boost nerve-muscle communication, immunosuppressive medications (e.g., corticosteroids, azathioprine) to control the immune system, and, in severe cases or when medications are insufficient, therapies like plasma exchange and IVIG. Thymectomy may be advised for some patients, as the thymus is implicated in MG development.
The COVID-19 pandemic has a significant impact on the Myasthenia Gravis (MG) disease market. Myasthenia Gravis is an autoimmune neuromuscular disorder that affects the muscles and can lead to weakness and fatigue. The pandemic brought both challenges and opportunities to this market. On the one hand, the healthcare system's focus and resources were largely diverted towards managing and treating COVID-19 patients, leading to delays in the diagnosis and treatment of MG patients. Elective procedures and non-urgent medical appointments were often postponed, affecting MG patients who required regular medical interventions.
On the other hand, the pandemic accelerated the adoption of telemedicine and remote monitoring, which proved to be a valuable tool for MG patients to consult with their healthcare providers without risking exposure to the virus. Additionally, the pharmaceutical industry continued to develop new therapies for MG, providing hope for improved treatment options. Overall, the MG disease market saw disruptions but also witnessed innovation and adaptation in response to the challenges posed by the COVID-19 pandemic.
Industry Dynamics
Growth Drivers
Improvement in therapies and treatment options across the Globe will Facilitate Market Growth
The market growth of myasthenia gravis disease during the forecast period is primarily driven by the improvement in therapies and treatment options across the globe.
Myasthenia gravis (MG) results from antibodies disrupting acetylcholine receptors at nerve-muscle junctions, causing muscle weakness, especially in facial, swallowing, and limb muscles. Treatment focuses on symptom management, muscle function improvement, and immune system suppression. Options include acetylcholinesterase inhibitors (e.g., pyridostigmine), immunosuppressive drugs (like corticosteroids and azathioprine), and therapies like plasma exchange, intravenous immunoglobulin (IVIG), and thymectomy for select cases.
The myasthenia gravis disease treatment market is growing due to increased MG prevalence, better awareness and diagnostics, advanced treatment options, and expanding healthcare infrastructure, particularly in emerging markets. Pharmaceutical companies are investing in innovative therapies, including biologics, monoclonal antibodies, and targeted treatments, contributing to market growth.
Report Segmentation
The market is primarily segmented based on drug class, diagnosis, treatment, distribution channel, and region.
By Drug Class

By Diagnosis

By Treatment

By Distribution Channel

By Region

IVIg

Monoclonal Antibodies

Immunosuppressants

Cholinesterase Inhibitors

Corticosteroids

Blood Tests

Electrodiagnosis

Edrophonium Test

Online Pharmacies

Hospital Pharmacies

Retail Pharmacies

North America (U.S., Canada)

Europe (France, Germany, UK, Italy, Netherlands, Spain, Russia)

Asia Pacific (Japan, China, India, Malaysia, Indonesia, South Korea)

Latin America (Brazil, Mexico, Argentina)

Middle East & Africa (Saudi Arabia, UAE, Israel, South Africa)
To Understand the Scope of this Report: Speak to Analyst
By Drug Class Analysis
The IVIg segment held the largest revenue share in 2022
In 2022, the IVIg segment held the largest revenue share. Intravenous Immunoglobulin (IVIg) therapy involves administering immunoglobulin antibodies sourced from healthy donors intravenously. This medical procedure has been shown to effectively manage symptoms of Myasthenia Gravis (MG) by temporarily regulating the immune system. One of the key benefits of IVIg therapy is its ability to enhance muscle strength and overall neuromuscular function rapidly, especially during myasthenic crises or exacerbation periods. In such critical scenarios, IVIg therapy has become the gold standard, providing quick relief and stabilizing patients' conditions.
Moreover, IVIg is a safer alternative to other immunosuppressive medications since it avoids the long-term risks associated with extended use of steroids and other immunosuppressants. The expansion of healthcare infrastructure and improved accessibility to specialized care centers have also played a pivotal role in the growing utilization of IVIg therapy for the treatment of MG.
By Distribution Channel Analysis
The hospital pharmacies segment accounted for the highest market share in 2022
The hospital segment accounted for the highest market share in 2022, Hospital pharmacies play a crucial role in managing Myasthenia Gravis (MG) by dispensing and administering various medications, including immunosuppressants, acetylcholinesterase inhibitors, and intravenous immunoglobulin (IVIg). As the prevalence of MG continues to increase, more patients are seeking specialized medical attention in hospital settings. This has led to an expansion of the pool of diagnosed patients, who are then referred to hospital-based healthcare providers with expertise in tailored MG treatment. This influx of patients has resulted in an increased demand for medications specific to MG within hospital pharmacies.
The territory of MG treatment is also evolving, with advancements in therapeutic modalities and the introduction of novel medications, which offer more options for MG patients. As a result, hospital pharmacies are becoming increasingly central to the holistic care and management of MG patients, ensuring sustained growth and development.
Regional Insights
North America dominated the largest market in 2022
In 2022, North America dominated the largest market contributor in the myasthenia gravis disease market, with the United States foremost in revenue. Myasthenia gravis (MG) is highly prevalent in North America, making it a dominant region in the treatment market. The region's well-established healthcare infrastructure enables the diagnosis and treatment of a large number of MG cases, attracting pharmaceutical companies and researchers. Additionally, the robust healthcare reimbursement system covers many expensive MG treatments, making them more accessible to patients and encouraging timely treatment. North America's leading pharmaceutical and biotechnology companies have played a vital role in advancing MG treatments.
Asia Pacific is anticipated for the fastest growth in myasthenia gravis disease market. The expansion of the market can be attributed to several key factors, with a prominent emphasis on the escalating efforts undertaken by both governmental and private entities. These concerted endeavors are primarily directed towards the development and dissemination of efficacious treatments for neuromuscular disorders. Additionally, the market's growth trajectory is further propelled by a rising tide of awareness within the populace concerning neuromuscular ailments, spurred on by educational campaigns and information dissemination initiatives. Furthermore, the healthcare sector in this particular geographic area has witnessed substantial enhancements and innovations, contributing significantly to the overall growth of the market for myasthenia gravis disease treatments.
Key Market Players & Competitive Insights
The market is characterized by intense competition, with established players relying on advanced technology, high-quality products, and a strong brand image to drive revenue growth. These companies employ various strategies such as research and development, mergers and acquisitions, and technological innovations to expand their product portfolios and maintain a competitive edge in the market.
Some of the major players operating in the global market include:
AbbVie Inc.

Alexion Pharmaceuticals, Inc.

Bausch Health Companies Inc. (formerly Valeant Pharmaceuticals)

Bristol-Myers Squibb Company (now part of Bristol Myers Squibb)

Grifols, S.A.

Mylan N.V. (now part of Viatris Inc.)

Novartis AG

Pfizer Inc.

Regeneron Pharmaceuticals, Inc.

Roche Holdings AG (including its subsidiary, Genentech)

Takeda Pharmaceutical Company Limited

Teva Pharmaceutical Industries Ltd.
Recent Developments
In December 2021, the global immunology firm argenx, which had been dedicated to developing a therapy for generalized myasthenia gravis known as "VYVGART," made a significant announcement. They revealed that the U.S. Food and Drug Administration (FDA) had approved for the utilization of VYVGART in the treatment of generalized myasthenia gravis (gMG) among adult patients.

In In March 2021, Horizon Therapeutics plc acquired Viela Bio, Inc. in order to enhance the company's range of offerings, expand its pipeline, and strengthen its focus on medications for rare diseases.
Myasthenia Gravis Disease Treatment Market Report Scope
| | |
| --- | --- |
| Report Attributes | Details |
| Market size value in 2023 | USD 1.27 billion |
| Revenue forecast in 2032 | USD 2.32 billion |
| CAGR | 6.9% from 2023 – 2032 |
| Base year | 2022 |
| Historical data | 2019 – 2021 |
| Forecast period | 2023 – 2032 |
| Quantitative units | Revenue in USD billion and CAGR from 2023 to 2032 |
| Segments Covered | By Drug Class, By Diagnosis, By Treatment, By Distribution Channel, By Region |
| Regional scope | North America, Europe, Asia Pacific, Latin America; Middle East & Africa |
| Customization | Report customization as per your requirements with respect to countries, region and segmentation. |