The global nanocellulose market was valued at USD 344.41 million in 2022 and is expected to grow at a CAGR of 19.2% during the forecast period. Nanocellulose is a solid, lightweight material consisting of cellulose fibrils with diameters only a few nanometers wide derived from plants and other organic sources. In optimal conditions, it exhibits adhesive properties, is electrically conductive, translucent, and possesses exceptional tensile strength. The growth of the nanocellulose market in the forecast period may be challenged by factors such as the increasing need for specific instruments and machinery for material extraction and obtainment, elevated product prices, lack of standardization and regulations, and low consumer awareness.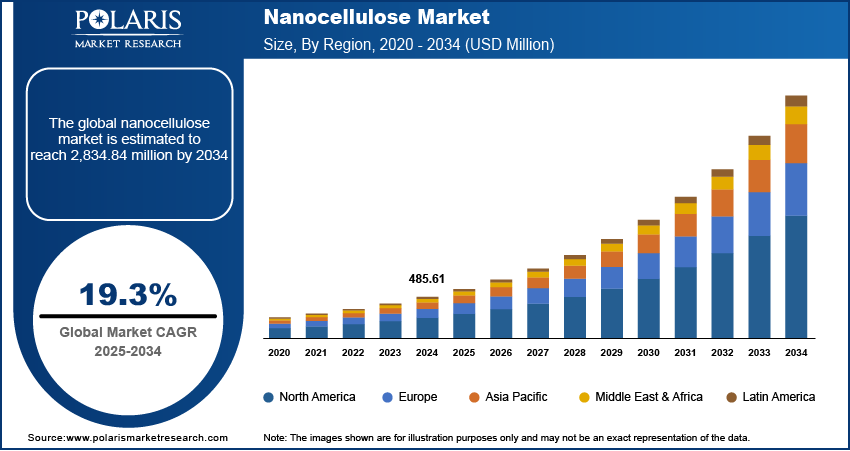 Know more about this report: Request for sample pages
The market is expected to grow significantly in the upcoming years due to the increasing demand for sustainable and renewable materials in various industries. The packaging industry is expected to remain the largest consumer of nano cellulose due to the growing demand for sustainable packaging materials. The use of nanocellulose in the paper and pulp industry is also expected to increase, as it can produce lightweight and high-strength paper products.
In addition, the use of nanocellulose in the textiles and composites industries is expected to grow significantly in the upcoming years. The healthcare industry is also likely a key growth driver for the market, as it can be used in wound dressings and drug delivery systems. Furthermore, the increasing focus on research and development activities to explore new applications of nanocellulose is expected to boost the demand for nanocellulose in the market. Developing advanced manufacturing techniques for producing nanocellulose will also likely drive the market's growth in the upcoming years.
Furthermore, the COVID-19 outbreak has significantly disrupted the growth of the industry. Due to lockdown and travel restrictions, many nations have witnessed a significant decrease in the demand for oil and gas. Moreover, construction activity restrictions have reduced the need for composite materials and cement. Consequently, several suppliers have decreased or halted production to cut inventory costs.
However, despite the disruptions caused by the pandemic, the demand for nanocellulose from the textiles and nonwoven segment has increased. This upsurge can be attributed to the growing utilization of products such as masks and sanitation tissues, which have heightened the demand from other application segments. The market for nanocellulose is experiencing rapid growth due to the increasing demand for sustainable, technologically advanced products in various industries, such as the oil and gas sector in North America, the personal care industry in Asia Pacific, and the demand for eco-friendly paints, coatings, and composites. Additionally, the growth of the healthcare sector has driven demand for bio-based materials such as antimicrobial films, bio-barriers, and other related applications.
Industry Dynamics
Growth Drivers
As per the U.S. Environmental Protection Agency, containers and packaging constitute around 28.1% of the total municipal solid waste generated in the country, with a whopping 82.2 million tons produced solely by packaging products. Most of these products end up in landfills or water bodies, as they are made of plastics, paper & boards, or metals that are not recyclable or biodegradable. The packaging industry has been adopting the concept of 'active packaging' techniques, where nanoparticles are integrated into polymers to enhance the packaging products' properties and recyclability. This innovation has increased demand for cellulosic nanomaterials, particularly in the food industry, where these new composite packaging materials have demonstrated excellent microbial contamination resistance.
Cellulose nanofibrils are regarded as a futuristic material for manufacturing textile products due to their exceptional physicochemical properties. These nanomaterials are renewable, naturally abundant, and possess excellent stiffness, high strength, chemical inertness, low coefficient of thermal expansion, and surface chemistry modifiability. As a result, textiles and nonwoven manufacturers are blending these nanofibrils with their traditional fabrics, driving the market's growth.
Report Segmentation
The market is primarily segmented based on type, application, distribution channel, raw material, and region.
By Type

By Application

By Distribution Channel

By Raw Material

By Region

Cellulose Nanofibrillated (Microfibrillated Cellulose)

Bacterial Cellulose

Cellulose Nanocrystal (Nanocrystallin Cellulose)

Others

Paper Processing

Composites & Packaging

Paints and Coatings

Oil and Gas

Biomedical & Pharmaceuticals

Electronics & Sensors

Food & Beverages

North America (U.S., Canada)

Europe (France, Germany, UK, Italy, Netherlands, Spain, Russia)

Asia Pacific (Japan, China, India, Malaysia, Indonesia. South Korea)

Latin America (Brazil, Mexico, Argentina)

Middle East & Africa (Saudi Arabia, UAE, Israel, South Africa)
Know more about this report: Request for sample pages
The Cellulose Nano fibrillated segment is expected to hold the highest market share

during forecast period
Due to its versatile applications, the Cellulose Nano fibrillated segment is anticipated to hold the highest market share during the forecast period. These nanofibrils are utilized in producing textiles and filter materials, and research is being conducted on developing CNF-based plastic materials. For instance, Daio Paper has created a CNF-sheet material that comprises around 80% w/w nanofibers, delivering performance comparable to commodity plastic. Recent advancements have demonstrated that plastic composites with CNF have increased tensile strength and flexural modulus. In particular, the NEDO project has developed a continuous process to manufacture highly durable hydrophobic, modified CNFs suitable for producing plastic resins in automotive applications. These developments have contributed to the CNF segment's rapid market growth and increased market share in the global market.
The paper processing segment is expected to hold the largest market share in 2022
The paper processing application is expected to largest market growth, primarily due to the increasing use of cellulose nanocrystals in paper and plastic-based packaging. This trend is further supported by various organizations, such as the International Organization for Standardization (ISO), TAPPI, and Canadian Standards Association (CSA), which have introduced standards for CNCs currently in development. Incorporating nano cellulose enhances the strength of plastic and paper-based packaging products, increasing its demand in the global market during the forecast period.
North America is expected to significant growth in 2022
North America has a significant growth in the nanocellulose market. The region's well-established industrial infrastructure enables the development of advanced technologies and manufacturing processes for nanocellulose. The high consumption potential in various end-use industries such as food packaging, cosmetics, personal care products, and automotive and construction sectors also contributes to the region's scope in the market.
Moreover, North America has witnessed a surge in demand for eco-friendly and sustainable products, which has led to the adoption of nanocellulose as an alternative to conventional materials. The region has also seen increasing investments and funding for research and development activities related to nanocellulose, which is expected to drive market growth further.
The APAC region (Asia-Pacific) market is also expected to experience significant growth in the coming years. Nanocellulose is a sustainable and eco-friendly material used in various industries, including packaging, composites, and electronics. Several factors are driving the growth of the market in the APAC region, including increasing government support for green technologies, rising demand for sustainable packaging materials, and growing awareness of the environmental impact of traditional materials.
Competitive Insight
Some of the major players operating in the global market include CelluForce, PInnovations, Kruger Inc., Stora Enso, Borregaard, DAICEL FINECHEM LTD., UPM., Melodea Ltd., NIPPON PAPER INDUSTRIES CO. LTD., Blue Goose Biorefineries Inc., CelluComp, VTT, Oji Holdings Corporation., BASF SE, Weidmann Holding AG, Sappi., J. RETTENMAIER & SÖHNE GmbH + Co KG, BioVision Technologies Inc., INEOS AG, Novozymes, Asahi Kasei Corporation., Triveni Interchem Private Limited (Group Of Triveni Chemicals)., among other domestic and global players.
Recent Developments
In September 2020, Celluforce declared that it had entered into a commercial contract with a multinational corporation specializing in cosmetics. This deal provided exclusive CNC supply rights to the corporation for the next decade.

In February 2020, GranBio Technologies, a subsidiary of GranBio, reported establishing a supply collaboration with Birla Carbon, an Indian company for providing biomass-based materials as a substitute for carbon black, a by-product of oil utilized in the tire and rubber sectors.
Nanocellulose Market Report Scope
| | |
| --- | --- |
| Report Attributes | Details |
| Market size value in 2023 | USD 408.26 million |
| Revenue forecast in 2032 | USD 1,989.40 million |
| CAGR | 19.2% from 2023 - 2032 |
| Base year | 2022 |
| Historical data | 2019 - 2022 |
| Forecast period | 2023 - 2032 |
| Quantitative units | Revenue in USD million and CAGR from 2023 to 2032 |
| Segments covered | By Type, By Application, By Distribution Channel, By Raw Material, By Region |
| Regional scope | North America, Europe, Asia Pacific, Latin America; Middle East & Africa |
| Key companies | CelluForce, PInnovations, Kruger Inc., Stora Enso, Borregaard, DAICEL FINECHEM LTD., UPM., Melodea Ltd., NIPPON PAPER INDUSTRIES CO. LTD., Blue Goose Biorefineries Inc., CelluComp, VTT, Oji Holdings Corporation., BASF SE, Weidmann Holding AG, Sappi., J. RETTENMAIER & SÖHNE GmbH + Co KG, BioVision Technologies Inc., INEOS AG, Novozymes, Asahi Kasei Corporation., Triveni Interchem Private Limited (Group of Triveni Chemicals) |