The global neurovascular intervention devices market was valued at USD 2.74 billion in 2020 and is expected to grow at a CAGR of 6.0% during the forecast period. The use of these devices such as embolic protection systems and microcatheters is growing due to a surge in the elderly population, rise in the incidence and prevalence of neurologic diseases.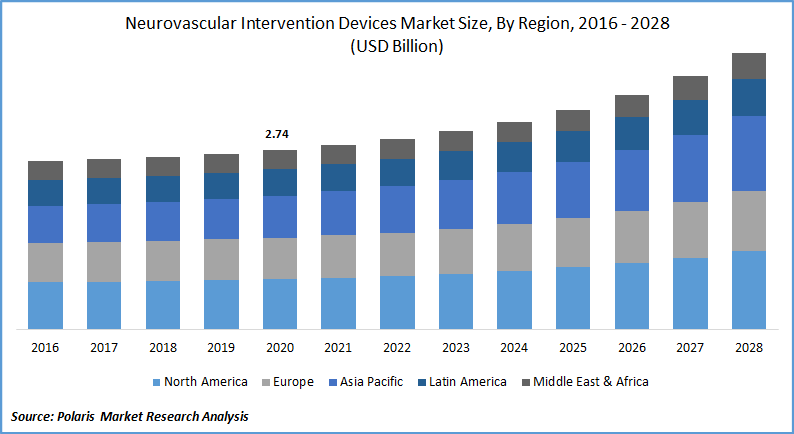 Know more about this report: request for sample pages
In addition, technical advancements, expanding healthcare infrastructure, and availability of medical reimbursements in developed countries are some of the significant factors that will possibly supplement the growth of the global market for neurovascular intervention devices during the forecasted period 2021-2028.
The rapid growth of neurovascular therapies has occurred over the last decade as a result of technological advancements with new and advanced methods used under minimally invasive conditions. The rapid advancements in the market for neurovascular intervention devices are able to meet the unmet needs of a vast population suffering from cerebrovascular disorders across the globe are driving the growth of the neurovascular intervention devices market.
Industry Dynamics
Growth Drivers
Neurological or neurovascular disorders are on the rise globally owing to the increasing geriatric population, obese population, and prevalence of high blood pressure along with an increase in smoking habits among the global population. All these factors are expected to drive the growth of the global market for neurovascular intervention devices during the forecast period.
Over 720 million people globally who are aged above 65 years in 2020 and the proportion of the aged population aged 65 will grow from a little over 9% in 2020 to nearly 16.0% by 2050. There is a widespread increase in neurology-related problems globally. Epilepsy is a common neurological disorder globally and nearly 50 million people suffer from this disease. The prevalence of cerebral aneurysms is estimated to be around 3% globally with a mean age of 50. Around 500,000 people die of brain aneurysms globally.
The increase in neurological disorders has resulted in the increasing demand for neurovascular intervention devices with many new devices entering the market in recent years. Neuroform Atlas Stent System received pre-market approval by FDA in May 2019, and it is the second aneurysm adjunctive stent approved for the treatment of intracranial and wide-neck aneurysms.
In August 2020, the same system received additional approval for use in the posterior circulation. In the same month, the company also launched its Surpass Evolve flow diverter after receiving approval from FDA for aneurysm healing. Phenox launched pRESET 5–40 and pRESET LUX 4–20 thrombectomy devices in 2020 after receiving European regulatory approval for mechanical thrombectomy in individuals with acute ischemic stroke.
In September 2020, the QuickClear all-in-one system was launched by Philips. It is a small, single-use FDA-approved device that has both an aspiration pump and a catheter that will help in the clearance of clots from peripheral veins and arteries.
COVID-19 pandemic is expected to have a short-term impact on the global market for neurovascular intervention devices during the forecast period. Most of the people who undergo these procedures are the aged population who need to be hospitalized which will increase the risk of contracting the virus and hence many non-emergency neurosurgeries are postponed worldwide.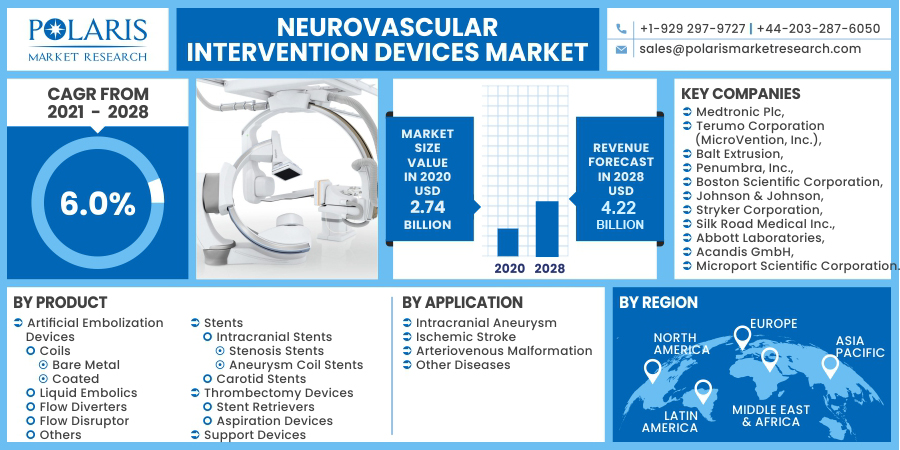 Know more about this report: request for sample pages
Neurovascular Intervention Devices Market Research Scope
The market is primarily segmented on the basis of product, application, and region.
By Product

By Application

By Region

Artificial Embolization Devices

Coils
Liquid Embolics
Flow Diverters
Flow Disruptor
Others

Stents

Intracranial Stents

Stenosis Stents
Aneurysm Coil Stents

Carotid Stents

Thrombectomy Devices

Stent Retrievers
Aspiration Devices

Support Devices

Intracranial Aneurysm
Ischemic Stroke
Arteriovenous Malformation
Other Diseases

North America (U.S., Canada)
Europe (France, Germany, Italy, Spain, UK, Netherlands, Austria)
Asia Pacific (China, India, Indonesia, Japan, Malaysia, South Korea)
Latin America (Argentina, Brazil, Mexico)
Middle East & Africa (Israel, Saudi Arabia, South Africa, UAE)
Know more about this report: request for sample pages
Insight by Product
The artificial embolization devices market segment generated the highest market revenue in 2020 and is expected to have modest growth during the forecast period, owing to technological innovations in coils and flow diverters, as well as the growth of coils for dual applications, such as arteriovenous malformation and intracranial aneurysm.
The segment is further categorized into coils, flow diverters, liquid embolics, flow disruptors, and others. Among these, the coils market segment generated the highest revenue in 2020 owing to the development of soft and smart coils.
Bare metal coils and coated coils are further categorizations under the coils segment, of which bare metal coils occupied a maximum market share in 2020. Greater compatibility, cost, and effectiveness make coated coils, the fasted growing market segment in neurovascular intervention devices industry during the forecast period.
Insight by Application
Among various applications, intracranial aneurysms generated the highest market revenue in 2020. The surge in the incidence and prevalence of intracranial aneurysms, as well as an aging population, makes the market segment the highest shareholder of neurovascular intervention devices industry for 2020.
The ischemic stroke market segment for neurovascular intervention devices is expected to rise at the fastest rate during the forecast timeframe, due to the growing patient base for ischemic stroke and increasing regulatory approvals of thrombectomy devices.
Geographic Overview
North America is the biggest market for neurovascular intervention devices and is expected to remain the same during the forecast period owing to the availability of modern healthcare facilities, favorable reimbursement environment, and increase in neurological disorders along with increasing aged population. The number of aged people living in the U.S. in 2020 is approximately 55 million which is expected to reach 80 million in 2040.
Every 1 in 26 people in the U.S. are expected to develop seizures during their lifetime and 150,000 Americans are diagnosed every year with this epilepsy that is responsible for seizures. Annually, 30,000 people in the US are diagnosed with a brain aneurysm and in total, 6.5 million populations in the US have an un-ruptured brain aneurysm.
Asia Pacific neurovascular intervention devices industry is expected to be the fastest-growing region for the global market during the forecast period. Increased spending ability among people along with increased government spending and significant burden of neurological disorders is expected to drive the growth in this region. China has the biggest stroke burden in the world.
Stroke is the leading cause of death in most of the provinces in China contributing for millions of the death the past decade. The share of the aged population in India's population is projected to be 20% of its population in 2050. Nearly 80% of epilepsy cases are diagnosed in low and middle-income countries and many countries in this region belong to this bracket.
Competitive Insight
Major players in the market for neurovascular intervention devices are investing more in research and development to develop innovative products owing to increased demand for non-invasive procedures. Companies are entering into strategic partnerships and acquisitions to increase their presence globally especially in developing economies where there is a huge potential for market growth for neurovascular intervention devices over the coming years.
Some of the key players in the neurovascular intervention devices market include Medtronic Plc, Terumo Corporation (MicroVention, Inc.), Balt Extrusion, Penumbra, Inc., Boston Scientific Corporation, Johnson & Johnson, Stryker Corporation, Silk Road Medical Inc., Abbott Laboratories, Acandis GmbH, and Microport Scientific Corporation.