The global non-PVC IV bags market was valued at USD 1.53 billion in 2020 and is expected to grow at a CAGR of 9.9% during the forecast period. The increasing reach of local manufacturing companies in the global markets, stringent regulations against the use and processing of PVC, and the growth of healthcare infrastructure in developing economies are driving the market growth for non-PVC bags.
Know more about this report: request for sample pages
The rising market demand for preventive measures against mistakes, such as incorrect dosage delivery, and rising demand for advanced containers are primary industry drivers. In addition, increasing advancement in technology in delivering high-quality services and an increase in the number of hospitals worldwide are two other factors propelling the non-PVC IV bags market forward.
Industry Dynamics
Growth Drivers
The global market for non-PVC bags is driven by the need for non-toxic material for the packaging of medicines as PVC bags, which are generally used in medical packaging, will interact with the drug. They are also difficult to dispose of. The increasing use of non-PVC bags in oncology treatment is expected to further boost the growth of the global market for non-PVC bags during the forecast period.
PVC bags are associated with toxicity as they interact with the drugs by converting them to harmful substances. DEHP will be released from PVC containers. It will interact with the medication in the IV bags, leading to various toxic side effects. This can have a harmful effect on male neonates where there is a chance of the infant's reproductive system getting compromised.
Non-PVC bags are currently used more in the areas of oncology and parenteral nutrition. These bags are made of Ethylene-Vinyl Acetate (EVA) and Polypropylene (PP) without any plasticizers. Most of the chemotherapy and other oncology drugs are prone to interact with PVC bags, and hence there is increased adoption of non-PVC bags in oncology. Cancer treatment can lead to deprivation of nutrition due to the side effects such as GI dysfunction, and ulcers and in these cases, nutrition needs to be injected intravenously.
Every year 20 million cancer cases are diagnosed globally, and in 2020 it is one of the leading causes of death, with 100 million cancer-associated deaths, and the increased mortality associated with cancer warrants proper treatment. Radiotherapy, surgical procedures, and chemotherapy are the types of cancer treatment.
Chemotherapy is a widely used form of therapy for cancer treatment. According to a study, the number of patients requiring chemotherapy will increase from 9.8 million to 15 million between 2018 and 2040. An increase in chemotherapy will increase the adoption of non-PVC bags, which will allow the global market to grow in the coming years.
COVID-19 is expected to positively impact the growth of the global market during the forecast period. Many COVID-19 infected patients require hospitalization, where bags are used to deliver medications and nutrition to the patients, which is expected to propel the growth of the market for non-PVC bags.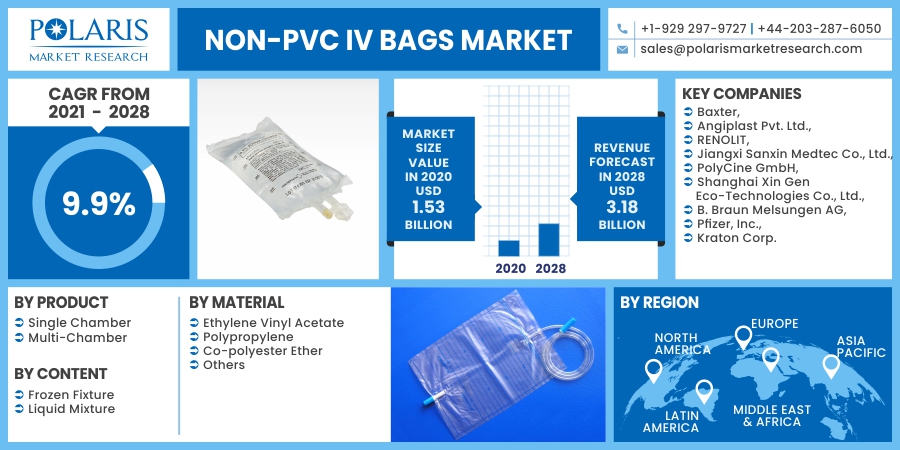 Know more about this report: request for sample pages
Non-PVC IV Bags Market Report Scope
The market is primarily segmented on the basis of product, material, content, and region.
By Product

By Material

By Content

By Region

Single Chamber
Multi-Chamber

Ethylene Vinyl Acetate
Polypropylene
Co-polyester Ether
Others

Frozen Fixture
Liquid Mixture

North America (U.S., Canada)
Europe (France, Germany, Italy, Spain, UK, Austria, Netherlands)
Asia Pacific (China, India, Indonesia, Japan, Malaysia, South Korea)
Latin America (Argentina, Brazil, Mexico)
Middle East & Africa (Israel, Saudi Arabia, South Africa, UAE)
Know more about this report: request for sample pages
Insight by Product
The single-chamber segment dominated the market for non-PVC containers and generated the highest revenue in 2020. The use of single-chamber items is steadily growing, as bags substitute many containers. Due to advantages such as ease of storage, shipping, and recycling, non-PVC products have increased the substitution of glass containers with plastic bags. Intravenous solutions such as drip bags, irrigation fluids, and sterile water are also widely used. All these factors make the wide usage of single-chamber containers.
The multi-chamber segment is expected to grow at the fastest rate during the forecast period. These containers are recommended for intravenous therapy whenever a patient requires a mixture of drugs. Multi-chamber products are made from materials commonly used in the healthcare sector for any emergency, like the non-PVC film with fast-seal and simple peel-off properties.
Furthermore, these drugs are advantageous in the pharmaceutical industry as they lower the in-effectiveness of regular containers currently available in the market. Moreover, these containers are commonly used in pharmaceuticals due to their high resilience, exceptional clarity, toughness, increased agility, thermal sealing, and reusability. All these factors help to increase the revenue of the segment during the forecast period.
Insight by Content
The liquid mixture segment dominates the market and is expected to maintain its position during the forecast period. This increase can be attributed to novel designs and the widespread usage of drips in hospitals. There is a growing market demand in blood banks for advanced containers that can withstand low temperatures and provide more protection than PVC.
Non-PVC containers used for frozen mixes have a tiny market share. At low temperatures, PVC containers tend to explode. On the other hand, Ethylene-Vinyl Acetate (EVA) has been considered a viable alternative to PVC's lower temperatures. As a result, the segment is expected to grow at the fastest pace during the forecasted period.
Geographic Overview
North America is expected to be the most prominent region for the global market for non-PVC containers in terms of revenue during the forecast period. Countries like the U.S. and Canada in this region have advanced healthcare facilities. The use of advanced materials in drug packaging is expected to be more prominent in this region.
Furthermore, the increasing occurrence of stomach cancer has increased the market for bags. For instance, the American Cancer Society estimates that there will be approximately 27,600 cases of stomach cancer in the U.S. by 2020.
Patients with stomach cancer are unable to digest food through their mouths and must therefore depend solely on total parenteral solutions for nutritional needs. This could increase the demand for infusion containers, which is anticipated to enhance the regional market for non-PVC containers.
The Asia Pacific is expected to be the fastest-growing region for the global market for non-PVC IV containers during the forecast period. The emergence of local producers who encourage international demand by selling products at low prices, increased overseas investment, and continued expansion in healthcare infrastructures, such as increased clinics, hospitals, and blood banks, are all factors influencing the non-PVC containers industry's growth.
Competitive Insight
Companies are focusing on developing advanced non-PVC IV containers by investing in research & development. The companies are looking at new materials which are non-hazardous and cost-efficient to develop new non-PVC IV containers.
Some of the major players operating in the non-PVC IV bags market include Baxter, Angiplast Pvt. Ltd., RENOLIT, Jiangxi Sanxin Medtec Co., Ltd., PolyCine GmbH, Shanghai Xin Gen Eco-Technologies Co., Ltd., B. Braun Melsungen AG, Pfizer, Inc., and Kraton Corp.
Report Scope
| | |
| --- | --- |
| Report Attributes | Details |
| Market size value in 2020 | USD 1.53 billion |
| Revenue forecast in 2028 | USD 3.18 billion |
| CAGR | 9.9% from 2021 - 2028 |
| Base year | 2020 |
| Historical data | 2016 - 2019 |
| Forecast period | 2021 - 2028 |
| Quantitative units | Revenue in USD million/billion and CAGR from 2021 to 2028 |
| Segments covered | By Product, By Material, By Content, By Region |
| Regional scope | North America Europe Asia Pacific Latin America; Middle East & Africa |
| Key Companies | Baxter, Angiplast Pvt. Ltd., RENOLIT, Jiangxi Sanxin Medtec Co., Ltd., PolyCine GmbH, Shanghai Xin Gen Eco-Technologies Co., Ltd., B. Braun Melsungen AG, Pfizer, Inc., and Kraton Corp. |