The global non-linear optical crystal market was valued at USD 4,592.74 million in 2022 and is expected to grow at a CAGR of 14.1% during the forecast period.
Nonlinear optics is a field of science that explores the interaction between light and matter under conditions where the simple superposition principle does not hold. It encompasses a range of phenomena, including harmonic generation, sum, and difference frequency generation, power-dependent complex refractive index, light-by-light scattering, and stimulated light scattering. These processes find important applications in areas such as all-optical switching, optical power limiting, manipulation of images, and image processing.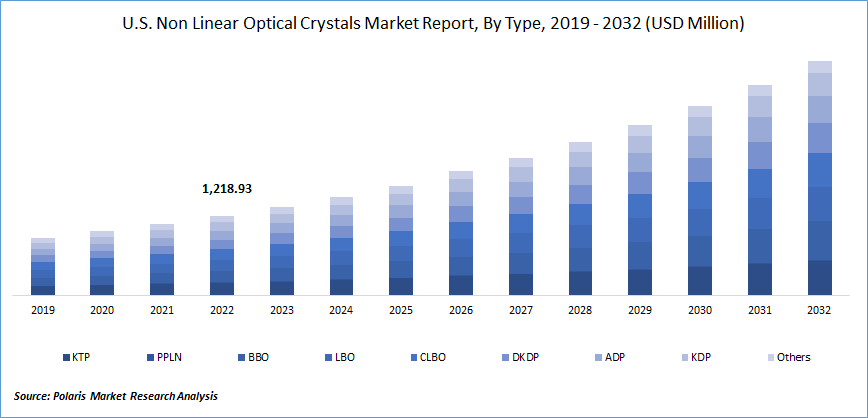 To Understand More About this Research: Request a Free Sample Report
Insulating crystals play a significant role in nonlinear optics, specifically in second-order nonlinear optical processes. These crystals must lack a center of inversion symmetry to have a nonvanishing second-order susceptibility. Consequently, the choice of crystals for such applications is constrained to specific symmetry classes. Additionally, the materials must meet a phase-matching condition for efficient second-order nonlinear optical processes to occur, imposing further requirements on their properties.
The emergence of 5G (fifth generation) and Internet of Things (IoT) technologies offer tremendous potential across various industries such as energy, agriculture, transportation, healthcare, and manufacturing. Telecommunication companies are partnering with other providers to capitalize on new market opportunities presented by these technologies. They are venturing into smart city advancements, fleet management, predictive maintenance, data collection and analysis, and blockchain applications. In addition, telecommunication companies are becoming significant over-the-top (OTT) providers, offering content and services directly to consumers.
The deployment of 5G networks enables faster and more reliable communication, paving the way for innovative applications and services. For instance, in the energy sector, 5G and IoT technologies can facilitate the monitoring and controlling of power grids, enabling efficient energy management and reducing costs. These technologies can enhance precision farming practices by providing real-time data on soil conditions, weather patterns, and crop health. In transportation, 5G and IoT can enable connected vehicles, improve road safety, optimize traffic flow, and enable autonomous driving. In healthcare, the combination of 5G and IoT can support remote patient monitoring, telemedicine services, and the development of smart healthcare systems. Moreover, these technologies can enable predictive maintenance, real-time inventory tracking, and efficient supply chain management in the manufacturing industry.
As 5G networks expand and IoT devices become more prevalent, the possibilities for leveraging these technologies will only grow. Collaborating between telecommunication companies and other providers in different sectors will drive innovation and unlock new opportunities. The convergence of communication, data, and services will transform industries and pave the way for a more connected and efficient future.
The COVID-19 pandemic has significantly impacted the nonlinear optical crystals market. The global economic slowdown, supply chain disruptions, and restrictions on manufacturing activities have affected the production and distribution of nonlinear optical crystals. Additionally, the decline in industrial and research activities during the pandemic has reduced demand for these crystals. However, as the situation improves and economic activities resume, the nonlinear optical crystals market is expected to gradually recover and witness growth in the coming years.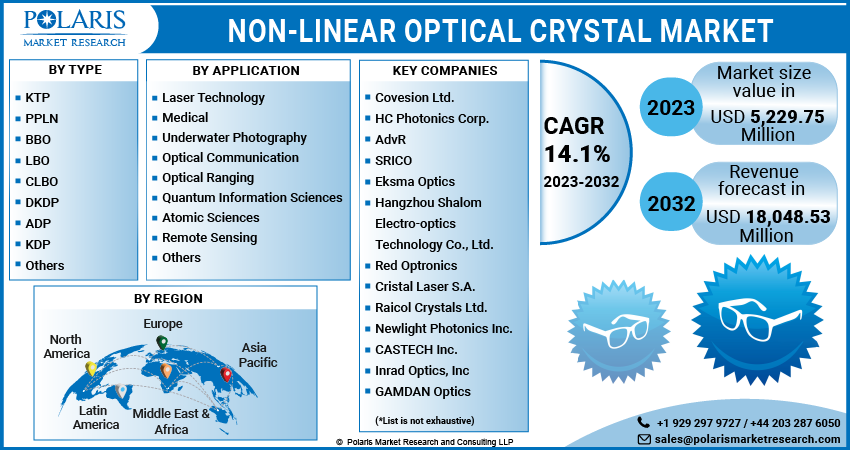 For Specific Research Requirements, Request for a Customized Report
Industry Dynamics
Growth Drivers
The telecommunication industry has been experiencing significant growth, driven by the increasing demand for faster and more reliable communication networks. The deployment of 5G technology has been a major catalyst in this growth, enabling higher data speeds, lower latency, and greater capacity for handling massive connectivity requirements. As the telecommunication industry continues to expand, there is a growing need for advanced technologies and components to support the development and enhancement of these networks.
One such component is nonlinear optical crystals, which play a crucial role in various applications within the telecommunication industry. Nonlinear optical crystals are used in devices such as frequency converters, optical switches, and amplifiers, enabling the manipulation and control of light signals. These crystals offer unique properties allowing efficient frequency conversion and optical signal processing.
With the increasing demand for high-speed data transmission, the telecommunication industry's need for nonlinear optical crystals is expected to rise. As a result, the nonlinear optical crystals market is anticipated to experience growth in tandem with the expansion of the telecommunication industry, offering lucrative opportunities for manufacturers and suppliers in this sector.
Report Segmentation
The market is primarily segmented based on type, application, and region.
By Type

By Application

By Region

KTP

PPLN

BBO

LBO

CLBO

DKDP

ADP

KDP

Others

Laser Technology

Medical

Underwater Photography

Optical Communication

Optical Ranging

Quantum Information Sciences

Atomic Sciences

Remote Sensing

Others

North America (U.S., Canada)

Europe (France, Germany, UK, Italy, Netherlands, Spain, Russia)

Asia Pacific (Japan, China, India, Malaysia, Indonesia, South Korea)

Latin America (Brazil, Mexico, Argentina)

Middle East & Africa (Saudi Arabia, UAE, Israel, South Africa)
For Specific Research Requirements: Request for Customized Report
BBO is expected to have the highest CAGR over the forecasted period.
For several reasons, BBO (Beta-Barium Borate) is expected to have the highest CAGR over the forecasted period in the market. BBO crystals possess excellent optical properties, such as a wide transparency range, high damage threshold, and large non-linear coefficients. These properties make BBO crystals highly suitable for various applications in frequency conversion, parametric amplification, and optical parametric oscillation.
BBO crystals also offer advantages like high conversion efficiency, wide temperature and angular acceptance, and low walk-off effect. These features make BBO crystals preferred over other non-linear optical crystals. Furthermore, the increasing demand for advanced optical devices and technologies, including laser systems and telecommunications, is driving the growth of the BBO market, contributing to its expected high CAGR.
The laser technology segment was the largest segment in 2022.
Laser technology emerged as the largest segment in 2022 and is expected to maintain its growth trajectory throughout the forecast period. Non-linear optical crystals play a critical role in laser systems, enabling frequency conversion, modulation, and amplification of laser radiation. These crystals exhibit high non-linear susceptibility and are utilized in various laser applications such as frequency doubling, parametric amplification, and harmonic generation. With the increasing demand for advanced laser technologies across industries such as telecommunications, medical, and research, the laser technology segment is projected to continue driving the market's growth in the coming years.
North America dominated the global market in 2022
The North American region emerged as the dominant in the market. In the U.S., the telecommunications industry had a challenging year, but signs of improvement became evident in the final quarter as major telecom stocks started performing well. Notably, all four national wireless carriers witnessed an increase in postpaid subscribers during the last reported quarter.
In Germany, stricter criteria were set for vendors supplying telecoms network equipment. The country opted not to single out China's Huawei Technologies for special treatment but instead emphasized that the same rules should apply to all vendors. This decision comes after extensive debates on whether to follow the lead of the United States and some allies in excluding Huawei, the global market leader, from 5G networks due to concerns over its ties to the Chinese government. As a result, industry players will be compelled to enhance their production efforts and comply with stricter regulations.
Competitive Insight
Some of the major players operating in the global market include Covesion Ltd., HC Photonics Corp., AdvR, SRICO, Eksma Optics, Hangzhou Shalom Electro-optics Technology Co., Ltd., Red Optronics, Cristal Laser S.A., Raicol Crystals Ltd., Newlight Photonics Inc., CASTECH Inc., Inrad Optics, Inc, GAMDAN Optics, Gooch & Housego, and WTS PHOTONICS CO., LTD
Non-Linear Optical Crystal Market Report Scope
| | |
| --- | --- |
| Report Attributes | Details |
| Market size value in 2023 | USD 5,229.75 million |
| Revenue forecast in 2032 | USD 18,048.53 million |
| CAGR | 14.1% from 2023 – 2032 |
| Base year | 2022 |
| Historical data | 2019 – 2021 |
| Forecast period | 2023 – 2032 |
| Quantitative units | Revenue in USD million and CAGR from 2023 to 2032 |
| Segments Covered | By Type, By Application, By Region |
| Regional scope | North America, Europe, Asia Pacific, Latin America; Middle East & Africa |
| Key Companies | Covesion Ltd., HC Photonics Corp., AdvR, SRICO, Eksma Optics, Hangzhou Shalom Electro-optics Technology Co., Ltd., Red Optronics, Cristal Laser S.A., Raicol Crystals Ltd., Newlight Photonics Inc., CASTECH Inc., Inrad Optics, Inc, GAMDAN Optics, Gooch & Housego, and WTS PHOTONICS CO., LTD |