The North America Smart Airport market size was valued at USD 4,038.2 million in 2019 and is anticipated to grow at a CAGR of 9.7% during the forecast period. The smart airport market is an innovation and a new step towards passenger experience. Companies are adopting IoT and digital technologies for enhancing passenger experiences. As airports are increasing the adoption of IoT and SMAC (social mobile analytics and cloud) technologies, they are improving passenger experiences including traveler loyalty. A technologically advanced airport can enhance business opportunities and can influence airlines to partner and increase aeronautical revenue for the airports. Installation of digital grid is expected to improve operational efficiencies including security capabilities, passenger services, and the exchange of real time information. It is presumed to deliver a wide range of services to the customers and build a higher level of customer experience than before. Increasing demand for real-time information is expected to propel the growth for smart airport market as it eases the burden on airport infrastructure and workforce. Modernization of old airports, introduction of new airports, development in commercial aviation, and focus on green initiatives are the key growth drivers expected to boost market for smart airports.
In North America, growing demand of automated and self-service processes, increasing demand of real time information at airports, and modernization of old airports are the key factors driving the growth of smart airports market. The aviation industry is getting concerned about the rising competition and are focusing more on customer centric approach for creating better passenger experience. The industry is focusing more on innovation and is making efforts towards cost reduction for passengers. Moreover, the increasing demand of tablets and smartphones is playing vital role in changing the outlook of smart airport market. Furthermore, digital airports are engaging passengers to drive efficiencies and receive an enhanced experience with partners and employees. Airports are expanding their infrastructure and expanding the smart airport market to give a self-service experience to passengers. Moreover, airports are focusing more on operational efficiency and changing infrastructure, expanding the terminals, and introduction of baggage self-drop system among other facilities to modernize the airports. However, vulnerability in the cyber world has a severe negative impact on the growth of this market. Cyber security threats are the major concern which may bother passengers in sharing their details with the smart airport system. Many cyber security concerns are a result of malicious actions which results in breach of confidentiality and integrity. This is primarily expected to hinder the smart airport market growth during the forecast period.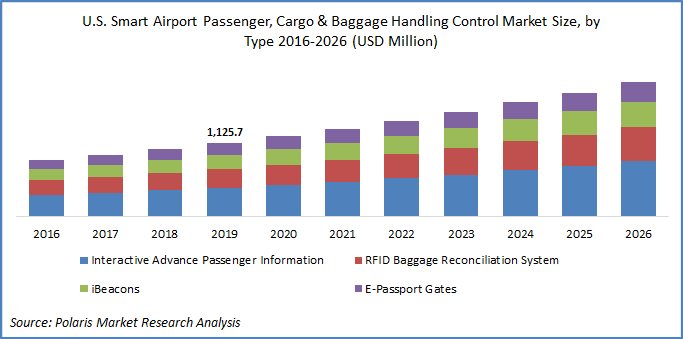 Know more about this report: request for sample pages
Modernization at the airports has begun with slot allocation management system, terminal operation management system, airport collaborative decision-making system, and ground handling management system and flight radar. All these systems are controlled by a unified interface that is used as a repository on travel information, for real-time activity streaming, and predictive monitoring platform. The unified interface is also collaborated with the retail systems located at the airports. This smart airport experience provides the customers with an end-to-end real-time communication from their homes till the time of boarding. The various growth areas in communication system technology are, adoption of wireless airports and adoption of social platforms.
The North America industry for security systems is showing medium penetration and medium growth as new security products are expanding but cyber security is behaving as a threat. The growth of security systems is expected to increase by various factors such as, new biometrics products, e-tag system and ground surveillance radar. As technology continues to grow, suppliers are also moving ahead, and airport solutions providers are moving towards more technology savvy suppliers. The key players in the smart airports market develop and offer various new technologies including security systems, communication systems, passenger, cargo & baggage handling control, air ground traffic, endpoint devices and many others. In April 2019, IBM along with Arrow Electronics launched the Smart Airport Asset Management Solution. Similarly, companies such as Honeywell International Inc, Siemens AG, Amadeus, Rockwell Collins Inc. and many others are strategically enhancing their expertise to strengthen their market presence.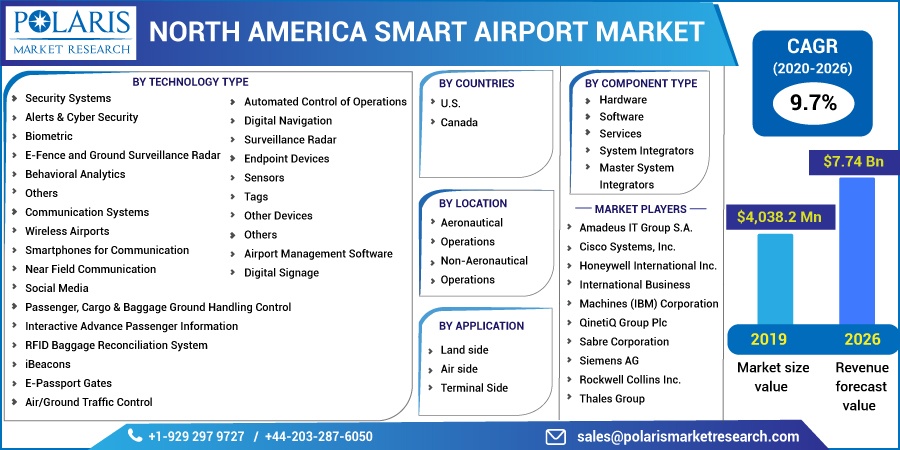 Know more about this report: request for sample pages
Smart Airport Market Report Scope
The market is primarily segmented on the basis of technology type, component, application, location and countries.
By Technology Type

By Component Type

By Application

By Location

By Countries

Security Systems

Alerts & Cyber Security
Biometric
E-Fence and Ground Surveillance Radar
Behavioral Analytics
Others

Communication Systems

Wireless Airports
Smartphones for Communication
Near Field Communication
Social Media

Passenger, Cargo & Baggage Ground Handling Control

Interactive Advance Passenger Information
RFID Baggage Reconciliation System
iBeacons
E-Passport Gates

Air/Ground Traffic Control

Automated Control of Operations
Digital Navigation
Surveillance Radar

Endpoint Devices

Sensors
Tags
Other Devices

Others

Airport Management Software
Digital Signage

Hardware
Software
Services

System Integrators
Master System Integrators

Aeronautical Operations
Non-Aeronautical Operations

Land side
Air side
Terminal Side
Know more about this report: request for sample pages
Technology Type Outlook
Based on technology type, the market is segmented into security systems, communication systems, passenger, cargo & baggage handling control, air ground traffic, endpoint devices and others. Passenger, cargo & baggage handling control is anticipated to emerge as the pre-dominant technology type over the forecast period. The penetration of passenger, cargo & baggage ground handling control is high as compared to other segments and it is anticipated to witness growth in future. As various new innovative technologies are implemented in airports such as, IoT enabled beacons, self-service kiosks, E-gates, robots for passenger query and transportation and RFID baggage tracking. These new technologies are opening growth prospect for smart airport market.
In April 2019, Arrow Electronics and IBM launched Smart Airport Asset Management solution, an airport operations solution which allows the airport operators to enhance the performance of escalators, moving walkways, baggage handling systems, and potable water cabinets.
Furthermore, various new programs are launched to strengthen the security systems and the communication systems at the smart airports. The penetration of communication is low but growth is high as rising application and digital platforms are driving the growth prospects, airports are adopting and engaging passengers through social media networks and are following customer centric approach.
Component Outlook
On the basis of component, the North America Smart Airport market is segmented into hardware, software and services. The hardware segment dominated the market in 2018, and is projected to be the dominant segment during the forecast period. However, the software segment is projected to witness a fastest growth during the forecast period. With penetration of IoT and artificial intelligence, various new technologies are being developed by the established as well as emerging players. Companies are launching new and improved software solutions with advanced technologies inbuilt.
In June 2018, Huawei launched its Smart Airport 2.0 Solution that covers a wide range of aspects such as visualized operational processes, visualized safety, visualized services, and airport IoT.
Application Outlook
On the basis of application, the North America Smart Airport market is segmented into aeronautical operations and non-aeronautical operations. Aeronautical operation is anticipated to emerge as the pre-dominant application type over the forecast period. However, globally various airports have started implementing non-aeronautical operations, such as providing parking facilities, lounges, conference rooms, and boarding and lodging facilities, by expanding their financial gain and spending as much as they could.
Country Level Outlook
North America is presumed to emerge as the pre-dominant region over the forecast period. With the emerging technologies in airport industry, airlines are adopting new and innovative products to give seamless experience to customers. The increasing focus on cost reduction and innovation have driven growth of smart airport market. The rising adoption of tablets and smart phones is resulting in providing new and innovative products, such as mobile check-in facilities, location features, traffic control, live updates are driving smart airport markets in North America. The various new trends are implemented by North America regions for enhancing customer experience and for operational productivity. U.S. airports are adopting new digital and automation technologies for providing better experiences to customer, such as RFID/NFC based baggage tracking, smart security gates, real time information, and unnamed immigration system, real time CCTV surveillance, on demand self-service, user specific offerings and system generated alerts.
In Canada, many airports are adopting Geo-location for reducing passenger traffic by providing navigation form boarding to terminal gate. Various other products such as, track and trace help passengers to track their baggage and to be connected with their luggage throughout journey.
Competitive Landscape
Companies are expanding their presence across various geographies and entering new markets in developing regions to expand their customer base and strengthen presence in the market. The companies are also introducing new innovative products in the market to cater to the growing consumer demands. The key leading players in the market include Amadeus IT Group S.A., Cisco Systems, Inc., Honeywell International Inc., International Business Machines (IBM) Corporation, QinetiQ Group Plc, Sabre Corporation, Siemens AG, Rockwell Collins Inc., Thales Group, and T Systems International GmbH among others.