The global obesity treatment market was valued at USD 14.02 billion in 2021 and is expected to grow at a CAGR of 10.1% during the forecast period.
The increased availability of weight-management programs is expanding, there is a growing need for technologically advanced weight-loss equipment, and more government initiatives are being taken to raise awareness about obesity and its adverse health effects. These factors all contribute to the growth of the global market. Additionally, expanding health and fitness trends, including gym culture, rising cosmetic issues, particularly among millennials, increased propensity for weight-loss surgery, and rising healthcare costs present prospects for market expansion.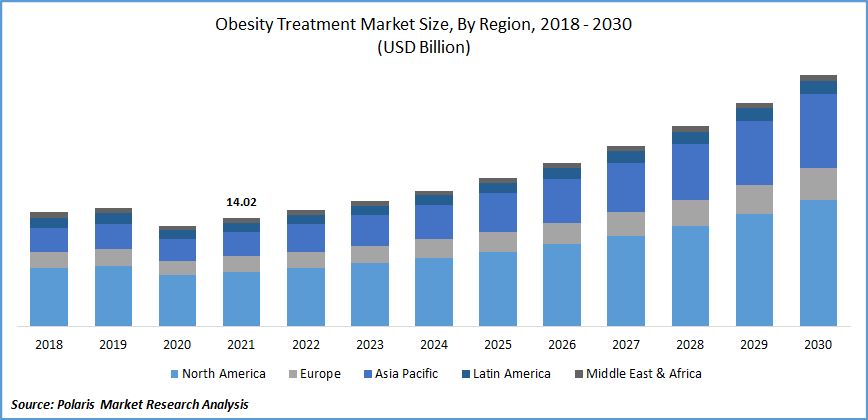 Know more about this report: Request for sample pages
A medical disease known as obesity is brought on by the body's fat cells expanding in size. This syndrome is linked to several health issues, such as diabetes, heart disease, high blood pressure, and cancer. Lack of sleep, inactivity and excessive junk food are some key contributors to obesity. A healthy diet and regular exercise are thought to be the cornerstones of the treatment of obesity. It has been demonstrated that dietary modifications, increased physical activity, and behavioral adjustments can assist in improving the situation and stop several obesity-related health problems. Doctors may recommend specialized weight-loss methods and drugs in more difficult cases. Orlistat (Xenical, Alli), phentermine-topiramate (Qsymia), semaglutide (Wegovy), and liraglutide (Saxenda) are a few of the well-known FDA-approved weight-loss medications.
Nearly every industrial and commercial establishment on the planet has been impacted by the pandemic. Due to COVID-19, some medical specialties have also seen a considerable reduction. People are less likely to attend hospitals for routine health checks and treatments for issues like obesity as a result of the movement's restrictions. Drug management and subscriptions for treating obesity have significantly decreased in recent years. To address the existing crisis, the procedures relating to weight disorders have also been delayed. However, the emergence of technology and tendencies toward sedentary work habits have fueled the overall expansion of the market for obesity treatments.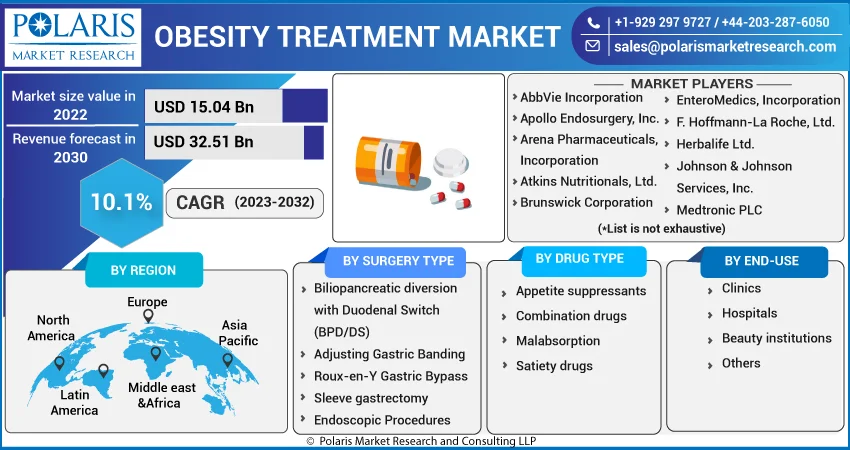 Know more about this report: Request for sample pages
Industry Dynamics
Growth Drivers
The key factors such as the increasing prevalence of chronic diseases and an obese population are boosting the market growth over the forecast period. The prevalence of obesity is rising in the United States, where it is a major chronic condition. Obesity is widespread, dangerous, and expensive. Families in America are being impacted by this epidemic, which impacts general health, healthcare expenditures, productivity, and military readiness. Type 2 diabetes, heart disease, and various malignancies can all be caused by obesity. Starting at a young age and continuing throughout life, a nutritious diet and regular exercise help individuals reach and maintain a healthy weight.
Further, according to the World Health Organization (WHO), in 2020, there were 39 million under-fives who were overweight or obese. This has led to an increase in chronic diseases such as type 2 diabetes. As per the CDC, one in ten Americans, or even more than 37 million people, have diabetes, and 90–95% of them suffer from type 2 diabetes. The majority of persons with type 2 diabetes are over the age of 45, but it is also more common in adolescents, teenagers, and early adulthood. Therefore, these factors are bolstering the market growth over the forecast period.
Report Segmentation
The market is primarily segmented based on surgery type, drug type, end-use, and region.
By Surgery Type

By Drug Type

By End-Use

By Region

Biliopancreatic diversion with Duodenal Switch (BPD/DS)
Adjusting Gastric Banding
Roux-en-Y Gastric Bypass
Sleeve gastrectomy
Endoscopic Procedures

Appetite suppressants
Combination drugs
Malabsorption
Satiety drugs

Clinics
Hospitals
Beauty institutions
Others

North America (U.S., Canada)
Europe (France, Germany, UK, Italy, Netherlands, Spain, Russia)
Asia Pacific (Japan, China, India, Malaysia, Indonesia. South Korea)
Latin America (Brazil, Mexico, Argentina)
Middle East & Africa (Saudi Arabia, UAE, Israel, South Africa)
Know more about this report: Request for sample pages
Roux-en-Y gastric bypass (RYGB) is expected to witness the fastest growth
The Roux-en-Y gastric bypass (RYGB) technique is still one of the best ways to lose weight, with an average excess weight loss of about 70% after a year. Several variables, including numerous government activities surrounding overweight issues, technology developments in the medical field, and the commercially simple availability of weight management treatments, are driving the market.
Introducing innovative technologies and treatments with minimal side effects is a major focus for many businesses. Additionally, researchers have been attempting to rewire white blood cells to behave more like brown fat cells. Fat cells are referred to as "being" in this idea. If they are successful, they may be able to create a therapy that can speed up the body's fat-burning process.
In particular, the first portion of the small intestine can be bypassed during a gastric bypass treatment. This procedure may also result in a smaller stomach. The body can no longer absorb as readily as many nutrients, and thus. At the same time, this operation is typically more effective than restrictive surgeries, and there is a significant danger of vitamin and mineral deficiencies. If a patient has a body mass index of 40 or more, or less than 40 if they also have other health problems, a doctor may advise surgery. One benefit of this treatment is less discomfort, fewer scars, and a lower chance of infection or hernia. Another benefit is that the hospital stay is shorter. Bariatric surgery is typically performed laparoscopically or through a small incision.
The appetite suppressants segment industry accounted for the highest market share in 2021
Supplements called appetite suppressants to operate by suppressing hunger, which leads to less food consumption and aids in weight loss. Only the medication orlistat might be taken into consideration. One of the drugs suggested by doctors to aid with weight loss is orlistat (Xenical). However, doctors only recommend this medication when dietary changes and exercise have failed to help a patient lose weight, and the patient's weight poses a serious risk to their health. People should combine their medication with a low-calorie diet. Orlistat cannot replace a lifestyle change. It has several adverse effects, including headaches and gastrointestinal issues like greasy stools and irregular urination.
The demand in North America is expected to witness significant growth
The easy accessibility of minimally invasive procedures, rising investments in technology advancements, and an increase in R&D activities are the main drivers fueling the market expansion in North America. For instance, in June 2021, the US Food and Drug Administration (FDA) authorized Wegovy for the management of chronic weight, according to a Novo Nordisk announcement. In people who are obese or overweight and have at least one condition related to weight, Segovia is recommended as a supplement to diet and exercise for managing chronic weight. The primary drivers of the market expansion in this region include factors like the rising prevalence of obesity and chronic diseases, expanding people's awareness of healthy eating and lifestyles, an increase in the number of exercise facilities, and increases in disposable income.
Further, growing medical tourism, improved healthcare infrastructure, and increased awareness of the harmful health effects of obesity are all expected to boost market expansion in the Asia-Pacific region. The Asia-Pacific region offers tremendous expansion potential for business players. Additionally, this region can give market players the chance to launch high-end, calorie-efficient products. To increase their customer base and extend their geographic reach, manufacturers are focusing on expanding their business in this sector. Brazil, for example, is expected to provide an attractive market potential for weight reduction and weight management diets throughout the forecast period because of the high prevalence of obesity in this region.
Competitive Insight
Some major players operating in the global market include AbbVie Incorporation, Apollo Endosurgery, Inc., Arena Pharmaceuticals, Incorporation, Atkins Nutritionals, Ltd., Brunswick Corporation, C.H. Boehringer Sohn AG & Ko. KG, EnteroMedics, Incorporation, F. Hoffmann-La Roche, Ltd., Herbalife Ltd., Johnson & Johnson Services, Inc., Medtronic PLC, Novo Nordisk A/S, NutriSystem, Incorporation, Olympus Corporation, Orexigen Therapeutics, Inc., Pfizer Incorporation, Technogym SpA, USGI Medical, Inc., and Vivus, Inc.
Recent Developments
In February 2020, Alvogen introduced Qsymia (phentermine and topiramate elongated) in the Republic of Korea, according to a VIVUS, Inc. announcement. The people with at least one weight-related health emergency, such as high blood pressure, or high cholesterol, Qsymia has been licensed for use in the US as an addition to a reduced-calorie diet and increased amount of exercise.
Obesity Treatment Market Report Scope
| | |
| --- | --- |
| Report Attributes | Details |
| Market size value in 2022 | USD 15.04 billion |
| Revenue forecast in 2030 | USD 32.51 billion |
| CAGR | 10.1 % from 2022 - 2030 |
| Base year | 2021 |
| Historical data | 2018 - 2020 |
| Forecast period | 2022 - 2030 |
| Quantitative units | Revenue in USD billion and CAGR from 2022 to 2030 |
| Segments Covered | By Surgery Type, By Drug Type, By End-Use, By Region |
| Regional scope | North America, Europe, Asia Pacific, Latin America; Middle East & Africa |
| Key Companies | AbbVie Incorporation, Apollo Endosurgery, Inc., Arena Pharmaceuticals, Incorporation, Atkins Nutritionals, Ltd., Brunswick Corporation, C.H. Boehringer Sohn AG & Ko. KG, EnteroMedics, Incorporation, F. Hoffmann-La Roche, Ltd., Herbalife Ltd., Johnson & Johnson Services, Inc., Medtronic PLC, Novo Nordisk A/S, NutriSystem, Incorporation, Olympus Corporation, Orexigen Therapeutics, Inc., Pfizer Incorporation, Technogym SpA, USGI Medical, Inc., and Vivus, Inc |