The global omics lab services market was valued at USD 69.93 billion in 2022 and is expected to grow at a CAGR of 13.4% during the forecast period.
The market for omics lab services is expanding as a result of factors including rising customer demand and adoption of the services as well as rising company participation. The Omics Lab for Health and Human Performance will conduct various nucleotide-based omics analyses on a range of species, including humans, plants, and animals. For the assessment of immunity in harsh environments, research is also concentrating on molecular biology and omics-based methods.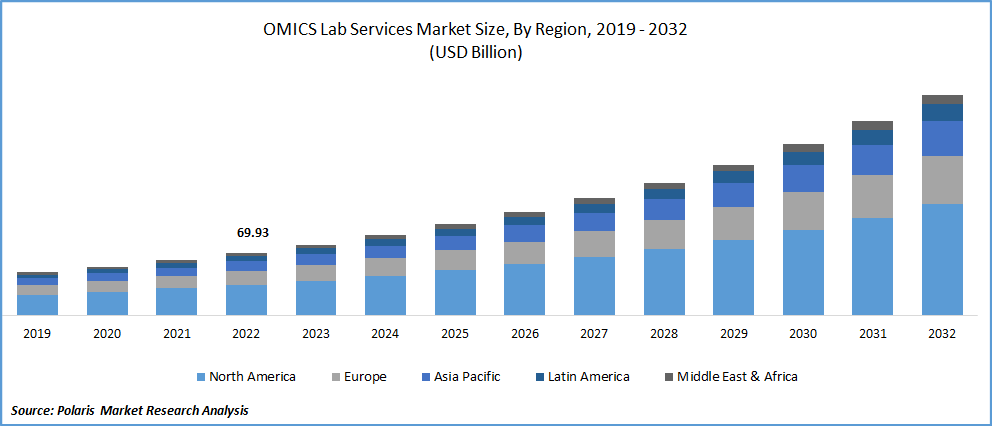 Know more about this report: Request for sample pages
The clinical use of this data pool is anticipated to revolutionize the healthcare system by making it possible to provide patients with illness management strategies that are more precise, efficient, and trustworthy. Although clinical application of genomic information is still in its infancy, efforts are being made by the business and healthcare sectors to successfully integrate genetic information into clinical procedures.
The growing interest and uses of multi-omics in health care. The human genome and how specific genes and their variations may increase a person's risk of developing a particular ailment or disease will continue to be better understood as a result of this strategy. For instance, the "Exploring Multiomics Biomarkers for Urolithiasis" clinical trial study by Chinese University of Hong Kong, is still in the recruiting phase.
The importance and applicability of genomics in healthcare have been highlighted by the COVID-19 pandemic. A sizable number of players are working to sell diagnostic and serological tests for COVID-19 testing & screening, directly to consumers, amid the pandemic. The company's website is normally where customers may immediately purchase these tests.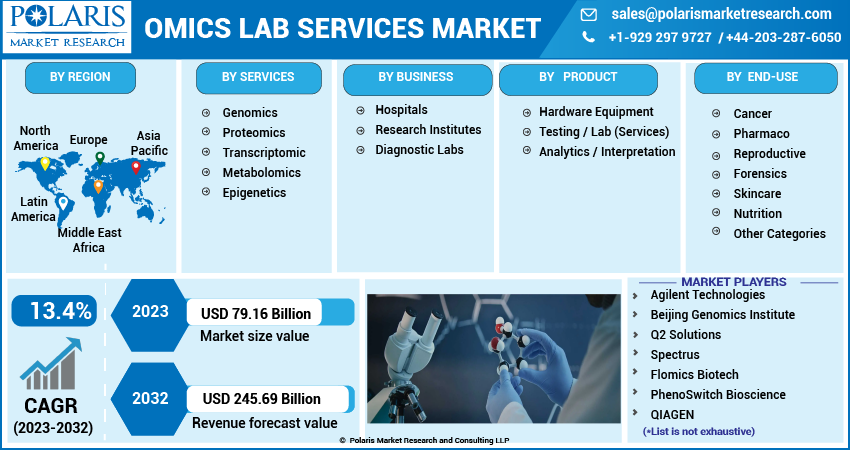 For Specific Research Requirements, Request for a Customized Report
Industry Dynamics
Growth Drivers
The increased realization of the potential of omics in human illness management and other nonconventional applications has fueled the implementation of omics data. This has increased business competitiveness to use already accessible genetic information to create new products and technology.
Advanced laboratory analytics promote the development of precision and individualized medicine, which has an impact beyond the basics of patient care. According to research by Labcompare, this procedure now only requires a few days due to the development of next-generation sequencing and associated technologies, and it has been determined that about 6,000 genes are responsible for about 7,000 illnesses. Genomic laboratories are assisting doctors in combining genetic data with other information and resources to present a more thorough perspective of an individual's health profile due to the increasingly sophisticated technologies at their disposal.
Report Segmentation
The market is primarily segmented based on services, business, products, end-use and region.
By Services

By Business

By Product

By End-Use

By Region

Genomics
Proteomics
Transcriptomic
Metabolomics
Epigenetics

Hospitals
Research Institutes
Diagnostic Labs

Hardware Equipment
Testing / Lab (Services)
Analytics / Interpretation

Cancer
Pharmaco
Reproductive
Forensics
Skincare
Nutrition
Other Categories

North America (U.S., Canada)
Europe (France, Germany, UK, Italy, Netherlands, Spain, Russia)
Asia Pacific (Japan, China, India, Malaysia, Indonesia, South Korea)
Latin America (Brazil, Mexico, Argentina)
Middle East & Africa (Saudi Arabia, UAE, Israel, South Africa)
Know more about this report: Request for sample pages
Proteomics is predicted to dominate the industry's market segment.
Proteomics will lead the market in 2022. The primary expansion of the market is attributable to the high frequency of technologies for identifying and quantifying the entire protein composition of a cell, tissue, or organism.
Proteomics-based technologies are used in a variety of research settings, including the identification of various diagnostic markers, and vaccine candidates, understanding of pathogenicity processes, changing expression patterns in response to different signals, and interpretation of functional protein pathways in various disorders. Additionally beneficial to the market growth is the protein research going on to cure cancer patients. According to a study by Wei Liu et al., published in March 2022, "Deep proteome profiling accelerates entire proteome characterization and drug discovery for esophageal squamous cell cancer."
Diagnostic labs segment will lead the market
Diagnostic labs will be the market leader in 2022, accounting for major revenue. Increased testing and the availability of resources for conducting tests are the primary causes of the market expansion. Improved hospital reliance on diagnostic laboratories for testing and evaluation is contributing to the segment's increased growth.
The expansion of the diagnostic laboratory market is anticipated to be aided by rising demand for inexpensive services, increased awareness of personalized medicine, and technological improvements. For instance, The UCSF Clinical Cancer Genomics Laboratory, managed by James Grenert, MD, PhD, provides SOC & in-class molecular testing for cancer patients.
Another key factor projected to propel the segment growth is the increase in government initiatives to provide various amenities, such as reimbursement for diagnostic tests. As part of the integration of many clinical tests, including microbiology testing, several diagnostic laboratories are collaborating with healthcare organizations.
Hardware equipment sector is driven by Miniaturization of the instruments.
The segment growth is anticipated to be accelerated by the miniaturization of the devices utilized in genomic applications. The development of point-of-care diagnostics benefits from the specificity, sensitivity, and automation provided by tiny devices. Additionally, future implementation of these devices will largely depend on how well a human and a microchip can communicate with one another.
Cancer segment will account for a higher share of the market.
The segment has grown primarily as a result of the revolutionary integrative meta-analysis technique, which integrates the results of genome, proteome, and metabolomics studies. Cancer is becoming the leading cause of death for many people globally due to its rapid rise in both morbidity and mortality. The overall incidence of cancer and 18.4% of the overall cancer mortality are two of them.
Due to the development of new technologies, such as cancer stage analysis with multi-omics data, the market is growing significantly. Accurate cancer staging is necessary for doctors to develop appropriate treatment plans for their patients. For instance, the lung cancer diagnosis model is based on the forest algorithm, as per the research published by Wei Li released, in 2022. In the microbiome, & transcriptome fusion groups, the accuracy of lung cancer stage analysis is reviewed, & the model's effectiveness is assessed using metrics like ACC, recall, & precision.
The demand in North America is expected to witness significant growth
North America will account for significant revenue in 2022. Due to its high accuracy, sensitivity, and specificity, genetic testing is one of the main factors propelling market expansion.
The rise in genetic illnesses, the demand for personalized medicine, and the accessibility of cutting-edge diagnostic techniques are the main drivers of the regional omics lab services market expansion. According to the Konrad J. Karczewski research paper published in 2018, claims that in North America, Mendelian disorders are thought to be responsible for 20% of baby fatalities and 10% of pediatric hospital admissions. Clinicians and families with Mendelian disease patients frequently use exome and genome sequencing to identify the disease's causal mutations.
Additionally, the rising prevalence of chronic diseases including diabetes, cancer, rheumatoid arthritis, Alzheimer's disease, and other neurological disorders can be linked to the region's expansion.
Competitive Insight
Some of the major players operating in the global market include Agilent Technologies, Beijing Genomics, Q2 Solutions, Flomics Biotech, PhenoSwitch Bioscience, QIAGEN; Quest Diagnostics, Thermo Fisher, and Illumina.
Recent Developments
On October 2022, Illumina and AstraZeneca began a strategic research collaboration with Hasten Drug Target Discovery. To find prospective medications based on human omics insights, the cooperation will assess whether a combined framework of these technologies may boost target discovery's yield and confidence.
Omics Lab Services Market Report Scope
| | |
| --- | --- |
| Report Attributes | Details |
| Market size value in 2023 | USD 79.16 billion |
| Revenue forecast in 2032 | USD 245.69 billion |
| CAGR | 13.4% from 2023 - 2032 |
| Base year | 2022 |
| Historical data | 2019 - 2021 |
| Forecast period | 2023 - 2032 |
| Quantitative units | Revenue in USD billion and CAGR from 2023 to 2032 |
| Segments Covered | By Services, By Business, By Product, By End-Use, By Region |
| Regional scope | North America, Europe, Asia Pacific, Latin America; Middle East & Africa |
| Key Companies | Agilent Technologies, Beijing Genomics Institute, Q2 Solutions, Spectrus, Flomics Biotech, PhenoSwitch Bioscience, QIAGEN; Quest Diagnostics Incorporated, Thermo Fisher Scientific, and Illumina. |