The global online event ticketing market was valued at USD 143.92 billion in 2021 and is expected to grow at a CAGR of 5.0% during the forecast period. Significant factors fueling the growth of the online event ticketing market include the increased use of apps in mobile phones to high internet penetration to book movies and live event tickets online. For instance, as per the International Telecommunication Union (ITU), in 2019, around 57.0% of the world population are using the internet. Besides, the emerging countries are also more involved in using smartphones with mobile internet, leading to an increase in awareness for online ticketing at home. In 2020, in Europe and Central Asia, around 86.0% of the population will be using the internet.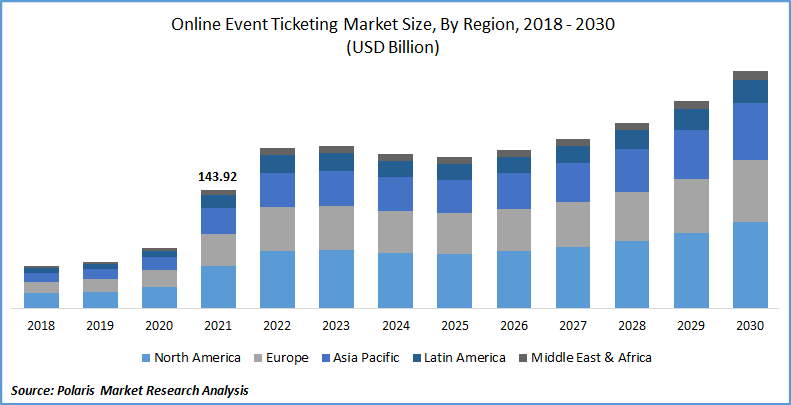 Know more about this report: request for sample pages
Also, it is 35.0% in South Asia, and in East Asia-Pacific, it is 70.0%. Furthermore, offering promotions and discounts on purchasing an online ticket would propel the online event ticketing market forward during the projection period. Furthermore, the rising use of online ticketing due to its convenience, ease, and speed of booking and an increase in the development of user-friendly apps for Android and iOS to support hassle-free online ticket purchases is likely to propel the online event ticketing market forward. Since service fees are included in major online event ticketing systems, they are paid platforms or applications. The majority of platforms charge a fee per ticket in addition to a portion of the ticket price. Many entertainment companies have legacy infrastructure that adds extra costs, forcing them to charge hefty fees to stay in business. In addition to ticketing fees, credit card processing fees must be paid if credit cards are utilized.
Moreover, most ticketing systems charge the ticket buyer credit card processing and ticket convenience costs. Approximately 85% of event organizers pass these costs on to the attendees. Currently, most ticket purchasers are asked to pay a service fee in addition to the price of the ticket. In addition, as different ticketing businesses offer varying pricing points, the payment structure and costs are important factors to consider when choosing a ticketing platform. Event planners, for example, offer reasonable ticketing software and even a free trial to ensure that their customers get all they need and more with no strings attached. As a result of the COVID-19 outbreak, most airlines have raised their ticket rates. However, a lack of price regulation and ticket price instability might hinder online event ticketing market expansion.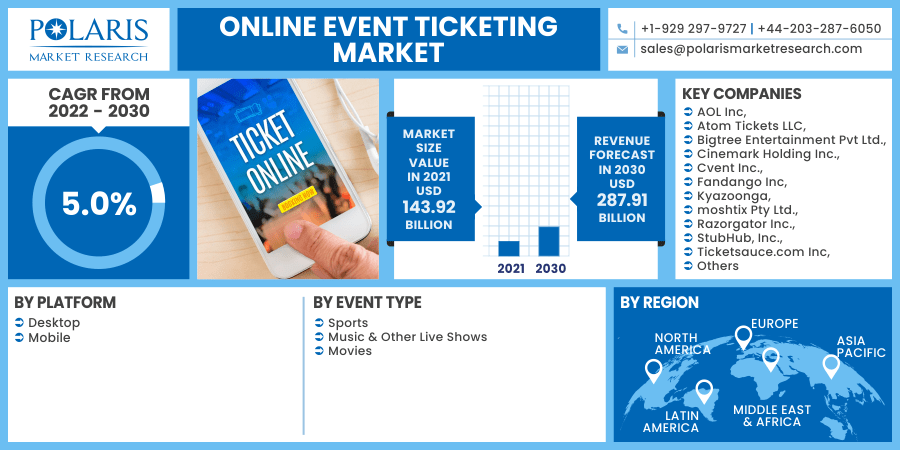 Know more about this report: request for sample pages
Industry Dynamics
Growth Drivers
The market has observed extensive developments in the last few decades supported by various factors such growing focus of paperless transactions and rising disposable incomes. According to the World Bank Data, in 2019, the net national income per capita was around USD9,446. Besides, as per the Office for National Statistics, When comparing 2018 to 2019, the UK's gross disposable household income (GDHI) per head increased by 2.5 percent; Scotland and Northern Ireland outperformed this with 2.8 percent and 2.6 percent, respectively, while England grew at the same rate as the rest of the UK and Wales rose by 1.1 percent. Thus, the rising disposable income and awareness among people have increased the market demand for online event ticketing, boosting the market growth during the forecast period.
Further, the cumulative negative impacts of pollution on the ecosystem have prompted governments all over the world to concentrate on reducing pollution and deforestation. As a result, governments worldwide have been driven to support digital transactions to limit paper use and save forests. For monetary transactions, many banking institutions and telecom service providers have embraced online platforms. As a result of the increased acceptance of paperless transactions, online movie ticketing service providers will generate e-tickets issued through email or text message.
The popularity of the internet has risen dramatically, and as a response, many businesses have worked hard to establish new methods for interacting with clients. E-tickets were created to give a wide range of uses by provider services, ranging from e-shopping coupons to concert or sporting event tickets. It is expected that e-tickets will continue to rise during the forecast period.
Report Segmentation
The market is primarily segmented based on platform, event type, and region.
By Platform

By Event Type

By Region

Sports
Music & Other Live Shows
Movies

North America (U.S., Canada)
Europe (France, Germany, UK, Italy, Spain, Netherlands, Austria)
Asia Pacific (Japan, China, India, Malaysia, Indonesia. South Korea)
Latin America (Brazil, Mexico, Argentina)
Middle East & Africa (Saudi Arabia, UAE, Israel, South Africa)
Know more about this report: request for sample pages
Insight by Event Type
Based on the event type segment, the sports segment is expected to be the most significant revenue contributor in the global market in 2021 and is expected to retain its dominance in the foreseen period. Increased sports viewing has resulted in increased online ticketing sales for sporting events. The National Football League (NFL), the FIFA World Cup, the Olympics Games, the ICC Cricket World Cup, and the Premier League (PL) are popular sporting competitions.
There's a lot of competition among online ticket sellers to get the rights to sell these tickets from the concerned parent organizations. Over the projected period, movie tickets purchased through online platforms are expected to grow fastest. If a movie is expected to be sold out due to the rising popularity, moviegoers are more inclined to buy tickets online than at a box office or self-serve kiosk. Furthermore, as consumers prefer digital recording and projecting technology to analog movie screens, sophisticated technologies deployed to cinemas such as 3D screens are becoming more popular.
Geographic Overview
In terms of geography, North America had the highest share in 2021. This dominance is attributable to higher per capita income and increased Internet penetration in countries like the United States and Canada. For instance, according to the World Bank, in 2019, 56.7% of the global population is several individuals using the internet. In Canada, it is 97.0% of the population, and in the United States, it is 89.0% of the population.
Besides, due to the ease and accessibility of purchasing movie tickets, mobile movie ticketing services are likely to become an important revenue-generating market in North America throughout the forecast period. The United States is expected to develop significantly in the coming years due to a growing number of tech-savvy people with increasing disposable incomes. Furthermore, because Hollywood is a well-known entertainment business in the United States, there is a bigger market demand for convenient ticket purchasing options. The market demand for internet ticketing in the country has increased due to the rising internet penetration and others.
Moreover, Asia-Pacific is expected to witness a high CAGR in the global market in 2021. This increases as disposable income rises, smartphone adoption rises, internet access improves, and urbanization rises. Digital 3D theatre screens in the countries climbed from 62,608 in 2018 to 73,314 in 2019, according to the MPAA, making it the highest in the world. This reflects the region's high degree of technology breakthroughs, helping boost market demand.
The number of online event tickets sellers is steadily increasing. For example, Amazon's mobile app and Amazon's mobile website both included a new movie ticket' option in November 2019. In collaboration with BookMyShow, the digital giant debuted the new ticketing function exclusively in India. Market demand is also projected to be boosted by government initiatives. Thailand's 4.0 policy aims to shift the economy from traditional industries toward innovative, digital transformations. A key theme is the "cashless society." These factors are boosting the segmental market growth.
Competitive Insight
Some of the major players operating in the global market include AOL Inc, Atom Tickets LLC, Bigtree Entertainment Pvt Ltd., Cinemark Holding Inc., Cvent Inc., Fandango Inc, Kyazoonga, moshtix Pty Ltd., Razorgator Inc., StubHub, Inc., Ticketmaster Entertainment LLC, Ticketsauce.com Inc, TickPick LLC among others.
Online Event Ticketing Market Report Scope
| | |
| --- | --- |
| Report Attributes | Details |
| Market size value in 2021 | USD 143.92 billion |
| Revenue forecast in 2030 | USD 287.91 billion |
| CAGR | 5.0% from 2022 - 2030 |
| Base year | 2021 |
| Historical data | 2018 - 2020 |
| Forecast period | 2022 - 2030 |
| Quantitative units | Revenue in USD billion and CAGR from 2022 to 2030 |
| Segments covered | By Platform, By Event Type, By Region |
| Regional scope | North America, Europe, Asia Pacific, Latin America, Middle East & Africa |
| Key Companies | AOL Inc, Atom Tickets LLC, Bigtree Entertainment Pvt Ltd., Cinemark Holding Inc., Cvent Inc., Fandango Inc, Kyazoonga, moshtix Pty Ltd., Razorgator Inc., StubHub, Inc., Ticketmaster Entertainment LLC, Ticketsauce.com Inc, TickPick LLC |