The global online on-demand laundry service market was valued at USD 20.27 billion in 2021 and is expected to grow at a CAGR of 30.6% during the forecast period. Online on-demand laundry services have established themselves as essential components of the service sector. Mobile applications that are available on demand make washing more efficient, effective, and practical.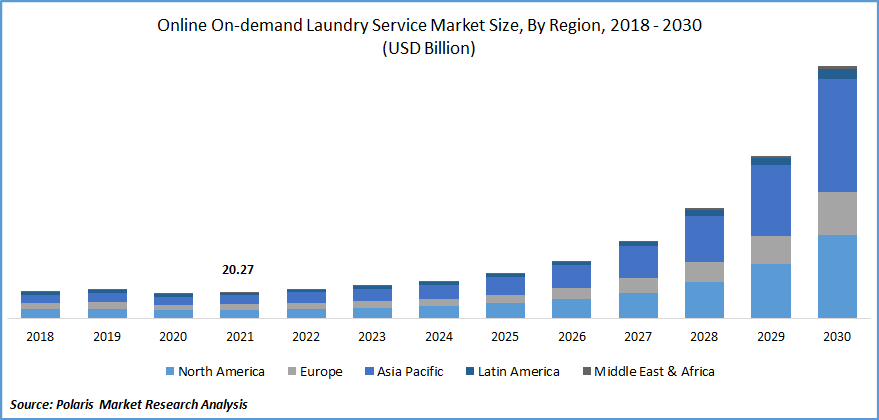 Know more about this report: Request for sample pages
These applications allow users to do anything from schedule pickups to leaving reviews. Consumer behavior is one of the most recent changes that has transformed traditional washing into an on-demand industry. Customers appear to be entirely satisfied with the strategy. Customers want a handy facility that allows for simple booking, pickup, delivery to their home, and tracking of updates. More employees must be hired by business owners.
The industry for online facilities is growing as a result of consumers' growing awareness of the need for eco-friendly washing detergents, their rising demand for them, and their advocacy for a safe and healthy lifestyle. The majority of traditional detergents are laden with dangerous ingredients.
Consequently, it could cause a negative response in the body. So, the need for organic washing detergent appears. Natural components clean the clothing, while organic washing detergent is free of harsh chemicals. The organic ingredients are friendly not just on the skin but also on the garments.
The natural, seed-shaped Grab Green Organic 3-in-1 detergent capsules may be inserted flawlessly into the washing to give your garments a wonderful clean. To get rid of stains & brighten the clothes, the dishwashing pods are created using an excellent detergent. The major purpose of these detergents is to prolong the life of the cloth.
The industry for natural laundry products is expected to expand due to the increased prevalence of skin allergies. A disease known as contact dermatitis, which manifests as just a red, itchy rash that really can spread to certain places like the armpits and groin, is brought on by hazardous detergents.
When someone is exposed to detergent once or more, they may first become sensitive to it. Through the use of cutting-edge equipment, consumers are also reducing the amount of water used for cleaning and washing their clothes.
The majority of consumers have initiated using various online facilities since the COVID-19 pandemic outbreak. Even everyday tasks like shopping for groceries, reading the news, and buying household goods are now done using a variety of mobile applications. People really want to access the facility with a click since they are getting more and more computer aware. One such common mix that includes goods and services is the online on-demand laundry service market. The growing use of cellphones and the numerous facilities provided by online washing companies, which would reduce customer bother and save time, have a big impact.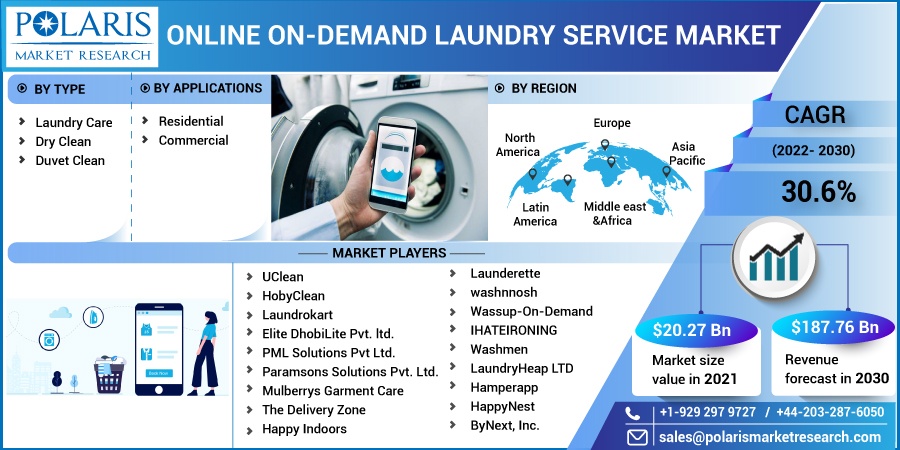 Know more about this report: Request for sample pages
Industry Dynamics
Growth Drivers
Urbanization, an increase in the working population, and their desire for a fulfilling lifestyle are expected to be key factors in the online on-demand laundry service market's growth. The global smartphone market is anticipated to grow by 6.85 % to $ 493.13 billion throughout the aforementioned time period, driving up the industry demand.
The majority of conventional detergents are packed with chemicals that hurt the human body & shorten the life of fabrics. As a result, consumers now favor organic and eco-friendly detergents. Online washing service companies assert that they only use natural, safe detergents, which will hasten their growth.
The advantages that these facilities will provide to the public, such as avoiding the inconvenience of maintaining a washer machine at home, decreasing the work and time needed to provide pickup and delivery facility, and lowering household water use, will even have an influence on the online on-demand laundry service market. As a result, it offers clients a time- and money-saving option.
One of the major online on-demand laundry service market trends driving the market growth is the adoption of technologies to automate washing and delivery operations. Most suppliers make the astounding turnaround time claim of 24 hours for washing and delivery of the clothing. The providers are making use of technology to increase efficiency.
For instance, Cleanly's technology enables it to sort clothing autonomously at fulfillment facilities. Customers may easily submit personal requests or resolve any issues using applications. Through a dashboard, the program assists the cleaners in collecting, classifying, and labeling the changes. This program, which was created in-house, aids in achieving a 24-hour turnaround.
Report Segmentation
The market is primarily segmented based on type, application, and region.
By Type

By Applications

By Region

Laundry Care
Dry Clean
Duvet Clean

North America (U.S., Canada)
Europe (France, Germany, UK, Italy, Netherlands, Spain, Russia)
Asia Pacific (Japan, China, India, Malaysia, Indonesia. South Korea)
Latin America (Brazil, Mexico, Argentina)
·Middle East & Africa (Saudi Arabia, UAE, Israel, South Africa)
Know more about this report: Request for sample pages
Laundry Care services accounted for the largest market share in 2021
In terms of service, the laundry care market is anticipated to be in a dominating position in 2021. The category is expanding as a result of improving personal hygiene awareness and a rapidly growing working-class population.
Additionally, rising public awareness is accelerating market expansion. For instance, the Water Sense Labels service uses around 20% less water than traditional washing, according to the US Environmental Protection Agency.
Commercial is expected to witness fastest growth
Commercial applications dominated the market all throughout the research. The growing demand for these services, mostly in the tourism and hotel sectors, is the main element affecting the rise of the commercial market. New openings & the growth of restaurants and hotels benefit the hospitality sector globally. Additionally, one of the largest sources of revenue for the commercial sector comes from hospitals.
The demand in North America continent is expected to witness significant growth
North America is the dominant region in the market. The market growth is anticipated to be boosted by the growing number of businesses in the area embracing technology-driven administration. Additionally, the high standard of living that Americans and Canadians enjoy is a major driver of market expansion.
Additionally, because the US is a technologically advanced nation, US-based service providers use cutting-edge dry-cleaning equipment and technology. Europe is also anticipated to provide the second-largest share of revenues to the worldwide market.
Competitive Insight
Some of the major players operating in the global market include UClean, HobyClean, Laundrokart, Elite DhobiLite Pvt. ltd., PML Solutions Pvt Ltd., Paramsons Solutions Pvt. Ltd., Mulberrys Garment Care, The Delivery Zone, Happy Indoors, Launderette, Washnnosh, Wassup-On-Demand, IHATEIRONING, Washmen, LaundryHeap LTD, Hamperapp, HappyNest, and ByNext, Inc.
Recent Developments
A start-up from Chennai called Wassup Laundry has revolutionised the laundry industry by introducing waterless washing. The business has launched Qlnz technology, which was developed in collaboration with Aeronero Solutions Pvt. ltd. and uses humid air instead of water to wash garments. Condensation is the process by which air is changed into water and subsequently utilised, saving 30 litres of water every wash.
Since initially solely providing linens, Laundryheap has expanded its relationship with UnderTheDoormat to include both laundry and dry cleaning. Due to the complimentary nature of the parties' services, this agreement will be profitable for both parties equally. Members will also receive extra savings when using the services.
Alliance Laundry Systems acquired the laundry divisional assets of Gulf States Machinery Co. in July 2021 and subsequently increased its direct network infrastructure. The purchase follows the company's primary distribution partners' impressive performances, proving the effectiveness of the company's strategy of picking excellent businesses in developing markets.
United Steelworkers (USW) and Alliance Laundry Systems (ALS) struck a contract agreement in December 2021. The 1750 hourly team members in Ripon and Manitowoc are covered under the new five-year contract. As well as cost of living adjustments during the course of the contract, it offers a 2.5% yearly wage increase. For team members, benefits related to vacation and health and wellness will also be increased.
Alsco unveiled the New and Enhanced Ecosafe Washer in October 2020. This is the best water-based equipment washer available. In the Ecosafe washer, a procedure called bioremediation converts grease and oil in carbon dioxide and water.
Online On-demand Laundry Service Market Report Scope
| | |
| --- | --- |
| Report Attributes | Details |
| Market size value in 2021 | USD 20.27 billion |
| Revenue forecast in 2030 | USD 187.76 billion |
| CAGR | 30.6 % from 2022 – 2030 |
| Base year | 2021 |
| Historical data | 2018 - 2021 |
| Forecast period | 2022 - 2030 |
| Quantitative units | Revenue in USD million/billion and CAGR from 2022 to 2030 |
| Segments covered | By Type, By Application, By Region |
| Regional scope | North America, Europe, Asia Pacific, Latin America; Middle East & Africa |
| Key companies | UClean, HobyClean, Laundrokart, Elite DhobiLite Pvt. ltd., PML Solutions Pvt Ltd., and Paramsons Solutions Pvt. Ltd., Mulberrys Garment Care, The Delivery Zone, Happy Indoors, Launderette, washnnosh, Wassup-On-Demand, IHATEIRONING, Washmen, LaundryHeap LTD, Hamperapp, HappyNest, and ByNext, Inc. |