The global organoids and spheroids market was valued at USD 485.7 million in 2020 and is expected to grow at a CAGR of 22.8% during the forecast period. Both organoids and spheroids are the 3D shaped cultured cell structures. Spheroids are usually formed via cancer cell lines, floating freely as small cell aggregates in the attachment plates, while organoids are generated from stem cells enclosed within the ECM hydrogel matrix, such as Matrigel.
Organoids are the complex assembly of organ-specific cells, mainly originated from the bladder, liver, and stomach. These are made up of stem or progenitor cells, which can self-assemble themselves when provided with a scaffolding environment, from which they grow into microscopic versions of the host organ and are suitable for 3D cell studies. Spheroids are derived from tumor tissues, mammary glands, hepatocytes, and embryoid bodies, contrary to organoids, which do not require scaffolding to assemble themselves into 3D cultures.
Key market factors responsible for their market growth include innovations in the high throughput cell culture systems, industry-academia collaborations, and adequate research funding in medical science. Scientists using such systems for the identification and testing of promising future medications. With the ongoing pandemic of COVID-19 in the market, which affected mostly the developed economies, the companies in the market are engaged in the development of the COVID-19 vaccine. For instance, companies such as Agilent Technologies (Seahorse XFe96 Spheroid Microplates) and Corning Incorporated (HTS transwell tissue culture systems) have developed 3D cell culture spheroid microplates for 3D cell culture.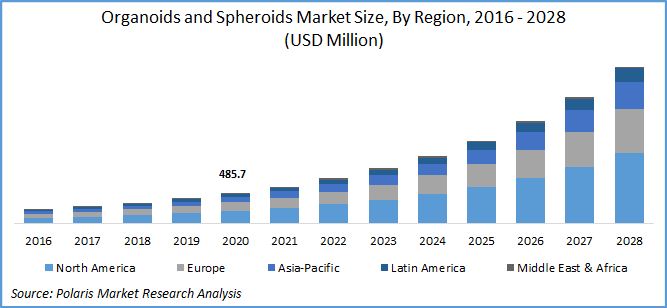 Know more about this report: request for sample pages
Industry Dynamics
Growth Drivers
Advancements in 3D spheroid technology are driving the market for organoids and spheroids at a significant rate. Recently, the research group led by Qing-Hua Lu published an article in the National Science Review about the novel culturing method of the 3D multi-cellular spheroids on the durable super-amphiphilic surface (SSAS). It exhibited long term mechanical and durable properties, and such robust SSAS could be utilized in the upward culture of the 3D cell spheroids.
Cultrex organoid progenitor cells manufactured by AMS Biotechnology could be optimized for the varied sets of extra-cellular matrices. It facilitates researchers in providing direction to cell activities by controlling the culture media micro-environment. The company's product, spheroid proliferation, and invasion assays stimulate the development of cohesive spheroids even in low adhesion culture environments.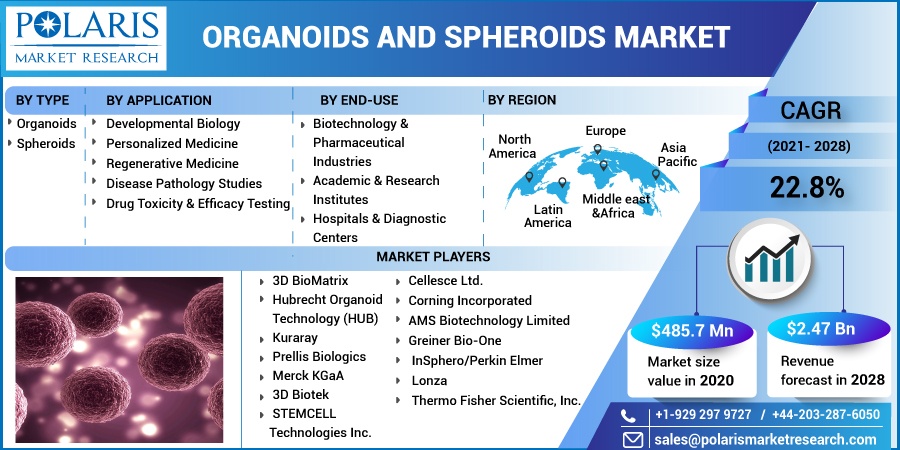 Know more about this report: request for sample pages
Spheroids prepared by such a technique were embedded into an invasion matrix and are employed as models for cell invasion from tumor-specific spheroids. Researchers in the market also developed 3D tri-culture models by the addition of mesenchymal stem and vascular cells to such spheroids. This exercise led to the development of predictive in-vitro models, which exhibits morphologies similar to xenografts. Such research and industry events have propelled the adoption of these products in the market.
Organoids and Spheroids Market Report Scope
The market is primarily segmented on the basis of type, application, end-use, and region.
By Type

By Application

By End-Use

By Region

Developmental Biology
Personalized Medicine
Regenerative Medicine
Disease Pathology Studies
Drug Toxicity & Efficacy Testing

Biotechnology & Pharmaceutical Industries
Academic & Research Institutes
Hospitals & Diagnostic Centers

North America (U.S., Canada)
Europe (France, Germany, UK, Italy, Spain, Netherlands, Austria)
Asia Pacific (Japan, China, India, Malaysia, Indonesia, South Korea)
Latin America (Brazil, Mexico, Argentina)
Middle East & Africa (Saudi Arabia, UAE, Israel, South Africa)
Know more about this report: request for sample pages
Insight by Type
Based on the type, the global organoids and spheroids market is categorized into organoids and spheroids. In 2020, the spheroids market segment accounted for the largest revenue share. The high demand for such cell culture and its varied applicability in drug discovery, cancer biology, and in-vitro toxicology studies were its key segment drivers. Spheroids have a similar development pattern as that of cancer cells and could be re-cultured to produce similar cell copies, counted, morphologically measured through instruments. The MCTS model is the most adopted 3D cell culture system in the market. Researchers at the University of Pittsburgh, in April 2020, demonstrated the usage of MCTS in pre-clinical cancer studies. It concluded that MCTS utilization in cancer screening can be used as a better assessment tool for drug responses, as the success rate of oncology clinical trials is low, at 3.4%.
Insight by Application
The development biology market segment held a major revenue share in the global organoids and spheroids market, in 2020. This high revenue share is due to the rising use of such culture systems in human developmental biology. Organoids are derived from the induced pluripotent stem cells (iPSCs), and embryonic stem cells, which are beneficial in the study of embryonic development, homeostasis, and pedigree analysis. These models are already being in use for studying the development processes of the brain, stomach, and pancreas through induction of bone morphogenetic protein, fibroblast growth factors, and WNT signaling pathways.
The regenerative medicine market segment is projected to exhibit the fastest growth rate over the forecast period. Medical advances in organ transplantation surgeries to replace malfunctioning or diseased organs and tissues is the major market forecast growth instigator. For example, the U.S.-based nanomaterial company, Xanofi, has already introduced XanoMATRIX surfaces for culturing mesenchymal cells to be used in regenerative medicine.
Geographic Overview
In 2020, the North American market dominated the organoids and spheroids industry with the largest revenue share of over 40%. The key significant factor responsible for the segment's growth is the adoption of organoid-based research models in both U.S. and Canadian biotechnology sectors. These 3D models helped researchers in containing limitations of the 2D culture platforms, as 3D spheroids offer a more conducive micro-environment, which mimics properties of human tissues, to yield predictive results.
Moreover, the presence of a positive funding scenario also supported the region's intellectual capability. For instance, in February 2020, a study was conducted by the American Association for the Study of Liver Diseases (AASLD) regarding the innovations in the organoid technology for hepatology. The study was also supported by the North American Society of Gastroenterology Hepatology and Nutrition (NASPGHAN) Foundation, and Cincinnati Children's Research Foundation.
Asia Pacific market is anticipated to exhibit a lucrative growth rate over the study period. The anticipated growth is due to strides in medical innovations, particularly in the stem research field, supported by key partnerships in the market. In March 2020, Japan-based, Nichirei Biosciences and UPM signed a partnership agreement to provide the latter's cultural products in Japan. The agreement enabled the availability of key raw materials required for the organoid culture.
Competitive Insight
Some of the major players operating the market include 3D BioMatrix, Hubrecht Organoid Technology (HUB), Kuraray, Prellis Biologics, Merck KGaA, 3D Biotek, STEMCELL Technologies Inc., Cellesce Ltd., Corning Incorporated, AMS Biotechnology Limited, Greiner Bio-One, InSphero/Perkin Elmer, Lonza, and Thermo Fisher Scientific, Inc.