The global OTR tires market was valued at USD 30105.2 million in 2021 and is expected to grow at a CAGR of 5.0% during the forecast period.Globalization has significantly impacted emerging countries, leading to substantial growth in infrastructure construction. Infrastructure development encompasses various elements such as expanding transportation networks, substantial investments in roads, bridges, and tunnels to improve commuting, an enhanced supply chain network to facilitate trade, expanding manufacturing industries, and the construction of buildings.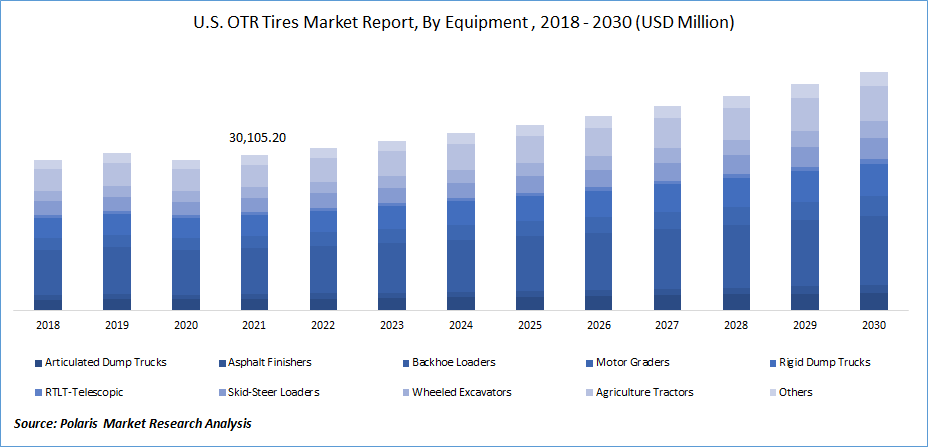 To Understand More About this Research: Request a Free Sample Report
Driven by high labor costs and the need for improved productivity and resource utilization, there is a growing demand for advanced machinery, particularly in the construction and mining sectors. According to the Global Infrastructure Outlook, investments in infrastructure development were valued at USD 2.8 trillion in 2021, with an expected investment demand of USD 3.2 trillion. This surge in infrastructure investments, driven by both private sector and government initiatives, is expected to fuel the demand for construction and mining equipment.
OTR (Off-The-Road) tires play a crucial role in various commercial vehicles used in construction, agriculture, mining, and industry. These tires are specifically designed and modified to operate in challenging conditions, including high load-bearing capacities, uneven surfaces, varying weather conditions, and the need for optimal traction. OTR tires' material compositions, tread patterns, and other properties vary depending on the specific vehicle type and requirements. OTR tires' design, manufacturing, and testing involve extensive research and development processes to meet industry needs and standards.
The production of OTR tires involves specialized large press machines where vulcanization and curing occur. The cost of raw materials and the specialized machinery required for manufacturing OTR tires are significant. As a result, market participants need to invest heavily in research and development to keep up with industry demands. Construction and mining equipment require OTR tires that can bear heavy loads, possess a robust design, and provide excellent traction. On the other hand, agriculture equipment requires a variety of tires, including those designed for tractors.
OTR tires' usage patterns and conditions determine whether they need to be retreaded or replaced. Tire sizes vary based on the application and terrain, necessitating the development and testing of a wide range of tire sizes. Customizations, a broad product variety, technological advancements, and fluctuations in demand all contribute to increased research and development expenditures in the OTR tire market. Due to higher research expenses, manufacturers often focus on improving their existing product lines, which can limit the growth of newer divisions within the OTR tire market.
Industry Dynamics
Growth Drivers
The market is witnessing significant product launches featuring innovative advancements and major players' establishment of tire recycling plants. In March 2021, Goodyear introduced the EV-4M Port Handler, a tire designed with a range of notable features. These include a strong bead bundle, side inserts, a reinforced wedge, and a durable casing, improving efficiency, treadwear, stability, durability, comfort, and operational efficiency. The new EV-4M Port Handler tire is compatible with various equipment types, such as container handlers, stackers, carriers, and sprinter carriers, available in the new 450/95R25 sizes.
In February 2021, Michelin announced its collaboration with Environ, a Swedish firm, to establish a tire recycling plant in Chile's Antofagasta region. This facility aims to recycle approximately 30,000 tons of earthmover tires annually. As a result of the recycling process, Michelin produces reusable substances like carbon black. These initiatives contribute to sustainability efforts within the market and foster environmental responsibility.
These product launches with innovative features and the establishment of tire recycling plants reflect the commitment of major players to advancements in the industry. They introduce enhanced products to meet customers' evolving needs and promote environmentally friendly practices. These factors are expected to drive market growth during the forecast period, attracting customers seeking improved performance, sustainability, and eco-friendly solutions.
Report Segmentation
The market is primarily segmented based on equipment, application, construction, process, and region.
By Equipment

By Application

By Construction

By Process

By Region

Articulated Dump Trucks

Asphalt Finishers

Backhoe Loaders

Crawler Dozer

Crawler Excavators

Crawler Loaders

Mini Excavators

Motor Graders

Rigid Dump Trucks

RTLT-Telescopic

Skid-Steer Loaders

Wheeled Excavators

Agriculture Tractors

Others

Agriculture

Construction

Material handling

Mining

Others

Solid

Radial

Belted Bias Tire

Bias Tire

Non-Pneumatic Tire

North America (U.S., Canada)

Europe (France, Germany, UK, Italy, Netherlands, Spain, Russia)

Asia Pacific (Japan, China, India, Malaysia, Indonesia, South Korea)

Latin America (Brazil, Mexico, Argentina)

Middle East & Africa (Saudi Arabia, UAE, Israel, South Africa)
To Understand the Scope of this Report: Speak to Analyst
The solid segment is projected to hold the largest share in 2022
In 2022, the solid segment was expected to dominate the OTR (Off-The-Road) tires market, capturing the largest market share. This projection can be attributed to the increasing demand for solid tires in various applications such as construction, mining, agriculture, and industrial sectors.
Solid tires offer advantages such as durability, puncture resistance, and enhanced stability, making them suitable for rugged terrains and heavy-duty operations. Additionally, the growing focus on reducing downtime and improving operational efficiency drives the adoption of solid tires. With their superior performance and reliability, the solid tire segment is positioned to maintain its market leadership in 2022.
Asia Pacific witnessed a highest CAGR in the market in 2022
Asia Pacific witnessed a high CAGR in the market in 2022. Infrastructure projects are expected to expand as they are important to increasing connectivity and encouraging long-term growth. The need for residential buildings has increased recently due to population expansion and migration to large cities. According to the Asian Development Bank, Asia-Pacific countries must invest USD 1.7 trillion annually in infrastructure development between now and 2032 to meet infrastructural development needs. These factors are predicted to increase demand for construction equipment and positively impact OTR tires.
Further, emerging economies like China and India are driving the mining market in this region. In recent years, the mining industries in India and China have expanded significantly. According to the Indian Brand Equity Foundation, India will be the world's second-largest coal producer in 2021 and the world's second-largest producer of crude steel in 2021. Because these countries are densely populated, local demand for metals and minerals is substantial.
As a result, these countries' mining investments have expanded dramatically. Due to the modest field sizes and reliance on seasonal rains for irrigation, mechanical farming is not widely employed in this region, unlike in the West. Therefore, this region's agricultural OTR tires market is underserved compared to the West. The increased use of irrigation for agriculture and rising per capita income would improve the need for agriculture equipment and, by extension, OTR tire in this region.
Competitive Insight
Some of the major players operating in the global market include Bridgestone Corporation, Ceat, Continental AG, Double Coin Tire Group Ltd, Goodyear Tires, Hankook Tire, Michelin, MRF, Nokian, Pirelli, Sumitomo, Techking Tires Ltd, Titan International, Inc., Trelleborg AB, and Yokohama
Recent Developments
In November 2020, Goodyear introduced the RH-4A+ tire for haulage. These tires are specifically designed to optimize footprint pressure, resulting in extended hours of use before removal becomes necessary.

In August 2020, GRI launched the Grip Ex Snow tire as a new addition to their OTR tire lineup. This tire is specifically engineered to deliver a strong grip and high traction in deep snow conditions. It guarantees exceptional performance even in low temperatures and offers an extended tire lifespan, ensuring durability and longevity in challenging winter environments.
OTR Tires Market Report Scope
| | |
| --- | --- |
| Report Attributes | Details |
| Market size value in 2022 | USD 31459.934 million |
| Revenue forecast in 2030 | USD 46,701.06 million |
| CAGR | 5.0% from 2023 – 2030 |
| Base year | 2022 |
| Historical data | 2018 – 2021 |
| Forecast period | 2023 – 2030 |
| Quantitative units | Volume in Thousand Tons, Revenue in USD million, and CAGR from 2023 to 2030 |
| Segments Covered | By Equipment, By Application, By Construction, By Process, By Region |
| Regional scope | North America, Europe, Asia Pacific, Latin America; Middle East & Africa |
| Key Companies | Bridgestone Corporation, Ceat, Continental AG, Double Coin Tire Group Ltd, Goodyear Tires, Hankook Tire, Michelin, MRF, Nokian, Pirelli, Sumitomo, Techking Tires Ltd, Titan International, Inc., Trelleborg AB, and Yokohama |