The global particle counters market was valued at USD 468.3 million in 2021 and is expected to grow at a CAGR of 10.15% during the forecast period.
Particle counters are a crucial tool for calculating the air quality index because they track the number of particles in the surrounding air, including pollutants, moisture, soot particles, and other impurities. A particle counter is a crucial technique for evaluating and monitoring the indoor environment in clean rooms and workspaces, as well as for locating any potential airborne particles of a particular size. They are widely used in various sectors, including electronics, food, medicines, and healthcare. The market is anticipated to grow as concerns about indoor pollution in enclosed spaces increase.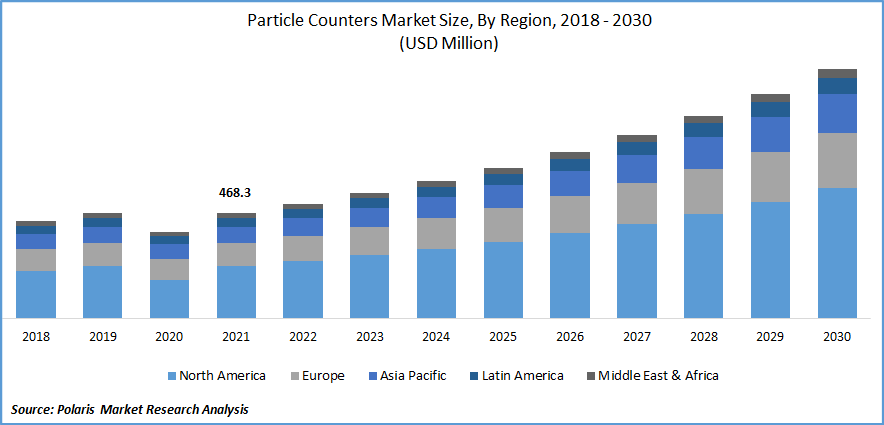 Know more about this report: Request for sample pages
The rising indoor air pollution has increased the demand for particle counters devices, driving the market growth over the forecast period. The World Health Organization estimates that 3.2 million people per year pass away due to indoor air pollution in homes. In addition, worries concerning particle concentration have increased due to uncertainties about the spread of coronavirus through airborne particles, which is projected to raise demand for particle countermeasures.
The COVID-19 pandemic has accelerated medical research and development while putting more pressure on pharmaceutical firms and clinical labs. The initial effects of the COVID-19 pandemic are still various, even though it is still changing the development of many businesses. While some industries' demand will decline, others will remain stable and show promising development potential due to the unanticipated COVID-19 outbreak, which has increased their use in drug research, pharma-biopharma manufacturing, and medical device manufacturing.
However, various associated industrial applications of desired products have been documented with limited use of particle counters owing to supply chain problems in the aerospace and automotive industries and regulation relaxation in the pollution measuring and bulk manufacturing sectors.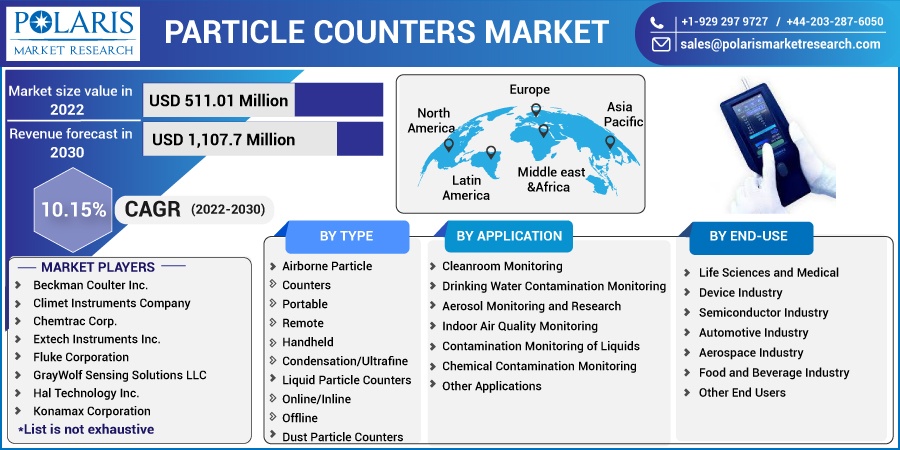 Know more about this report: Request for sample pages
Industry Dynamics
Growth Drivers
The rapidly increasing use of particle counters and the development of particle counters by significant players are boosting the market growth over the forecast period. For instance, in October 2022, "Triplett Model EPC600 Environmental Particle Counter", a tool designed for indoor air quality (IAQ) testing in critical applications such as cleanrooms, operating rooms, data centers, optics, semiconductor fabrication, and pharmaceutical manufacturing, has been introduced by Triplett Test Equipment.
Further, various government regulations for measuring air quality are boosting product demand. Numerous quality certifications, including ISO inspections and the National Safety and Quality Health Requirements (NSQHS), have become necessary due to the rising demand for certified products to guarantee that production procedures and products adhere to the highest standards. The requirement to maintain a sterile and contamination-free environment has led to increased use of cleanrooms and monitored working spaces in the production of healthcare products.
Additionally, constant monitoring has been required throughout the pharmaceutical manufacturing process due to the possibility of adverse medication reactions. The use of particle counters in manufacturing and R&D has increased the need for efficient monitoring to maintain product safety and quality levels.
Report Segmentation
The market is primarily segmented based on type, end-use, application, and region.
By Type

By Application

By End-Use

By Region

Airborne Particle Counters

Portable
Remote
Handheld
Condensation/Ultrafine

Liquid Particle Counters
Dust Particle Counters
Others

Cleanroom Monitoring
Drinking Water Contamination Monitoring
Aerosol Monitoring and Research
Indoor Air Quality Monitoring
Contamination Monitoring of Liquids
Chemical Contamination Monitoring
Other Applications

Life Sciences and Medical Device Industry
Semiconductor Industry
Automotive Industry
Aerospace Industry
Food and Beverage Industry
Other End Users

North America (U.S., Canada)
Europe (France, Germany, UK, Italy, Netherlands, Spain, Russia)
Asia Pacific (Japan, China, India, Malaysia, Indonesia, South Korea)
Latin America (Brazil, Mexico, Argentina)
Middle East & Africa (Saudi Arabia, UAE, Israel, South Africa)
Know more about this report: Request for sample pages
The portable particle detector segment is expected to witness the fastest growth in 2021
Portable particle counters offer real-time cleanroom particle counting in dependable, user-friendly equipment. The segment is expected to develop significantly over other types due to its many advantages, including spot checking, measuring indoor air quality, and being very versatile in their utilization. Due to new incoming products and partnerships/collaborations between the industries, the portable counter is anticipated to exhibit a substantial growth rate in the particle counter. For instance, in May 202, TSI Inc., a manufacturer of particle counters and a pollution control business that also deals with portable particle counters, purchased Validair's newly created company as a distributor for Ireland.
Additionally, in September 2021, TSI unveiled a complete solution for monitoring ultrafine particles. This product involves the assessment of particle size distribution (PSD), particle number (PN) saturation, and ultrafine particle testing. The portable segment, which fuels market expansion during the projection period, is thus anticipated to benefit from the abovementioned aspects.
The life sciences and Medical industry segment accounted for the highest market share in 2021
Particle counters for airborne particles are instruments used to measure the amount of airborne particulate. The necessity for safety and quality standards in medical device manufacturing has expanded with the introduction of various implantable and dispersible equipment and small components such as nano pen needles and microinjections. Additionally essential to ensuring the marketability of medical devices is regulatory compliance. As a quality control component, companies are investing in air cleaners with high-efficiency particle air filters for their cleanrooms. Increased R&D and manufacturing efforts in the medical device industry are projected to support the growth of this end-user segment, given the requirement for contamination control in working environments.
Airborne particle counters are typically used to regulate the air quality in buildings and evaluate for regulatory requirements defined based on industry or governmental regulations. They give users the ease of assessing the sample's airborne contaminants. In a controlled environment like a processing facility or a pharmaceutical research laboratory, they help set the air's quality. Consistent laboratory conditions are maintained, and personnel safety is confirmed by regulating airborne particles. Pharmaceutical particle counters support the maintenance of ideal conditions for successful pharmaceutical product development and production.
Liquid particle counters are expected to hold a significant revenue share.
The liquid particle counters are used to keep track of a wide range of liquids, including lubricants, hydraulic fluids, medications, and water. Increasing use of these particulate counters in the pharmaceutical industry for contaminant assessment of pharmaceutical injectables and monitoring equipment of water used to create pharmaceutical goods is anticipated to drive the segment's expansion. Also, in July 2022, The Ultra DI 20 Plus was introduced by Particle Measuring Systems to monitor pollution in ultrapure water operations. The manufacturing sensitivity and dependability of Particle Measuring Systems' Ultra DI family of instruments is the foundation for Ultra DI 20 Plus. These factors are assisting the market is growing.
The demand in North America is expected to witness significant growth.
Due to rising investments in pharmaceutical and biopharmaceutical research and development, as well as new product approvals and launches, North America is anticipated to dominate the market. The Pharmaceutical Researchers and Manufacturers of America (PhRMA) estimates that the United States spends the most on R&D, accounting for around 58% of global spending. In 2020, the entire US biopharmaceutical industry was expected to have spent 122 billion USD on R&D. The biopharmaceutical business, compared to all other manufacturing industries, spends, on average, six times as much on R&D as a percentage of revenue.
Additionally, the innovations being introduced as products aid in market expansion. In February 2021, Phizzle announced the release of its EDGMaker Digital Air Series, the industry's first software product that enables remote control of multiple vendor particle counters in scientific information applications like pharmaceutical manufacture. As a result, given the variables above, it is expected that the studied market would expand throughout the projection period in North America.
The Asia Pacific is anticipated to have the fastest growth rate. This is attributable to the ongoing rise in investments made by businesses in the area to strengthen their market position. Most main players also go to this area to offer their goods in the rapidly expanding and undeveloped market. This is due to manufacturing expansion in nations like China, India, Japan, and Korea.
The Middle East, Africa, and Latin America are also anticipated significant development regions for the particle counting system market. This is attributable to the region's cheap labor cost and the presence of capital-intensive businesses. Additionally, enterprises are refocusing on emerging nations, so there will likely be some slight turbulence in this area in the ensuing years. Due to the worldwide halt in all activities, including those requiring copy machines, the continuing COVID-19 pandemic is predicted to impact the market significantly. Additionally, with greater use in the pharmaceutical industry and other areas, the need for medical devices will continue to advance.
Competitive Insight
Some of the major players operating in the global market include Beckman Coulter, Climet Instruments, Chemtrac Corp., Extech Instruments, Fluke Corporation, GrayWolf Sensing Solutions, Hal Technology, Konamax Corporation, Lighthouse Worldwide Solutions, Met One Instruments, Particle Measuring Systems, PCE Instruments, Palas, PAMAS, Particle Plus Corp., RION, Setra Systems, TSI Inc., and Veltek Associates.
Recent Developments
In March 2022, Smart Sensor Devices introduced the HibouAir CO2 Sensor Indoor Air Quality Monitor. This wireless device is simple to install. End users can access the information from anywhere using the HibouAir membership web portal and mobile app.
In September 2020, MET ONE 3400+ portable air particle monitor for cleanroom conformance was introduced by Beckman Coulter Life Sciences. By allowing customers to integrate existing standard operating procedures (SOP), regular pollution monitoring patterns, and testing configurations into the counter, the new particle counter can help to eliminate human error and enhance the integrity of data.
Particle Counters Market Report Scope
| | |
| --- | --- |
| Report Attributes | Details |
| Market size value in 2022 | USD 511.01 million |
| Revenue forecast in 2030 | USD 1,107.7 million |
| CAGR | 10.15% from 2022 - 2030 |
| Base year | 2021 |
| Historical data | 2018 - 2020 |
| Forecast period | 2022 - 2030 |
| Quantitative units | Revenue in USD million and CAGR from 2022 to 2030 |
| Segments Covered | By Type, By End-Use, By Application, By Region |
| Regional scope | North America, Europe, Asia Pacific, Latin America; Middle East & Africa |
| Key Companies | Beckman Coulter Inc., Climet Instruments Company, Chemtrac Corp., Extech Instruments Inc., Fluke Corporation, GrayWolf Sensing Solutions LLC, Hal Technology Inc., Konamax Corporation, Lighthouse Worldwide Solutions, Met One Instruments, Inc., Particle Measuring Systems, PCE Instruments, Palas GmbH, PAMAS GmbH, Particle Plus Corp., RION Co., Ltd., Setra Systems Inc., TSI Inc., and Veltek Associates Inc. |