The global patient handling equipment market was valued at USD 10.50 billion in 2022 and is expected to grow at a CAGR of 5.57% during the forecast period. Government organizations' increased emphasis on manual handling regulations and guidelines, along with the adoption of safety guidelines, are predicted to create lucrative growth possibilities for this market. Regulations established by government agencies, such as the lifting equation with Recommended Weight Limit (RWL) by the National Institute of Occupational Safety & Health (NIOSH), for instance, guarantee the proper handling of patients and reduce the possibility of carer injuries. The use of patient handling equipment is also expected to rise as a result of regulations issued by the Centers for Disease Control and Prevention, the Workplace Safety and Health Council, the Manual Handling Code of Practice, and the European Agency for Safety & Health at Work (EU-OSHA).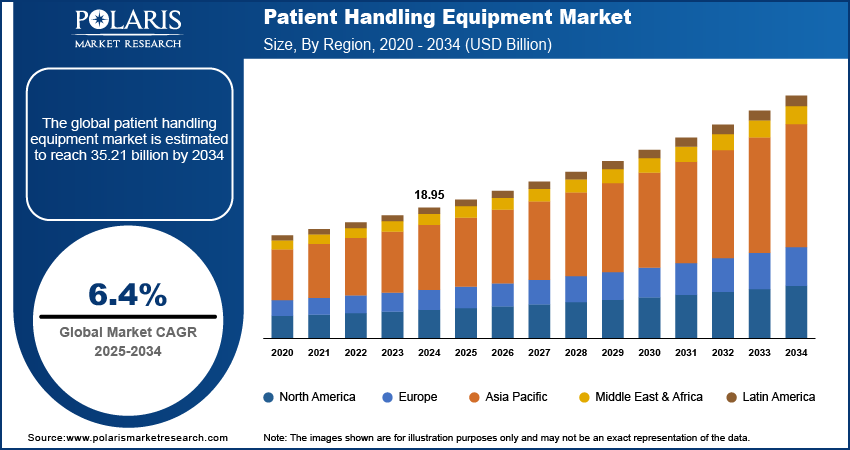 Know more about this report: Request for sample pages
Additionally, it is expected that over the course of the forecast period, the market for patient handling devices will be driven by the rising prevalence of disabilities and an increase in the geriatric population. For instance, based on estimates from the World Health Organization from 2021 the estimated worldwide burden of disease by 2021 should encompass roughly 1.18 million patients annually who are expected to experience some form of disability, and approximately 1.43 million patients annually by 2031. Growth is anticipated to be fueled in the near future by the introduction of technologically sophisticated and secure products that are simple to use and avoid MSDs in carers.
The majority of nations' ageing populations are a factor in the expansion of the market for patient handling tools. Due to their greater risk of contracting chronic and other diseases, older people make up a larger proportion of hospital admissions, which increases the demand for patient handling equipment. The World Health Organization estimates that 1 billion individuals worldwide will be 65 years of age or older in 2020. By 2030, the number is projected to reach 1.4 billion, and by 2050, 2.1 billion. Therefore, it is expected that during the forecast period, a rise in the geriatric population will raise demand for patient handling equipment.
The inconvenience brought on by wheelchairs and other patient management equipment is probably going to be a significant barrier to the market's expansion for this type of equipment. Physical obstacles for wheelchair users include unpaved areas, unsuitable weather, and challenging topography. For instance, the physical environment may limit how and where patients can move, according to the American Nurses Association (ANA). According to projections, this situation will hinder the market's expansion for patient handling tools.
A major development in the patient-handling equipment market is the creation of intelligent wheelchairs. A power wheelchair that is equipped with sensors, cameras, and a computer-based system as its primary processing device is referred to as a smart wheelchair. In order to reduce the need for human contact, major organizations and researchers are focusing on smart wheelchairs that include sensors and intelligence.
The COVID-19 epidemic increased demand for patient care supplies. Most COVID-19 patients have minor to moderate symptoms and recover at home, but a few require medical attention. Currently, many sectors' overall growth is being severely constrained. Hospitality, oil and petroleum, and aviation all experienced a decline in sales, whereas healthcare, pharmaceuticals, and biotechnology seized the opportunity to supply as many institutions and patients as possible. In order to deliver efficient treatment and care, there has been a significant increase in demand for patient handling systems as a consequence of the pandemic. The CDC reports that in January 2021, 69.8 out of every 100,000 people aged 65 and over were hospitalized.
Additionally, the market for patient handling equipment will expand as a result of the increasing demand for healthcare services. Around the globe, more and more laws are being passed by governments to shorten and reduce the cost of medical procedures. The need for equipment used to handle patients in those settings, such as patient transfer devices, mobility devices, and medical beds, will increase in the coming years as the demand for home care rises.
Industry Dynamics
Growth Drivers
Over time, there has been a steady increase in the population of those 60 and older. Elderly people are more likely to sustain fall-related injuries, which can result in a variety of functional disabilities and a reliance on mobility aids. The World Health Organization (WHO) predicts that by 2030, one in six individuals will be 60 years of age or older. Therefore, a significant increase in the number of elderly people worldwide will increase the demand for patient handling tools.
Patient handling equipment is spreading more widely as the global community of people with disabilities grows. In 2019, the World Health Organization estimates that 15% of the global population is disabled, with 2% to 4% of that group experiencing functioning issues. The rapid spread of chronic illnesses is contributing to an increase in the population of handicapped individuals. Patient handling equipment is necessary for disabled people to complete their daily duties. Due to an increase in the prevalence of disabilities, the market for patient handling equipment is anticipated to expand considerably.
Report Segmentation
The market is primarily segmented based on product type, end-use, and region.
By Product

By Type

By End-use

By Region

Wheelchair and scooters.

Medical Beds

Mechanical

Non- Mechanical

Bariatric Care

Fall Prevention

Critical Care

Wound Care

Home Care

Hospital

Elderly Care

North America (U.S., Canada)

Europe (France, Germany, UK, Italy, Netherlands, Spain, Russia)

Asia Pacific (Japan, China, India, Malaysia, Indonesia. South Korea)

Latin America (Brazil, Mexico, Argentina)

Middle East & Africa (Saudi Arabia, UAE, Israel, South Africa)
Know more about this report: Request for sample pages
In 2022, the medical beds segment has dominated the market, accounting for the largest market share.
In 2022, medical beds had a sizable market percentage. The increased use of handling equipment in hospitals, home care settings, nursing homes, trauma centers, and long-term acute care facilities is responsible for this rise. Additionally, modern medical beds with features like bed frames, adjustable angles, and support surfaces for comfort and freedom of movement are changing people's preferences away from conventional beds and increasing demand. One of the main features of advanced beds that is expected to increase demand in the near future is the electric backrest. Other advantages include friction and shear reduction, battery backup, easy assembly and disassembly, and easy assembly.
The hospital segment will account for a higher share of the market during forecast period
Due to the increasing adoption rate of patient handling equipment for the medical safety of patients and caregivers, hospitals dominated the end-use sector. The element causing market growth is also the increased application of safety regulations and pressure from governmental authorities to adhere to these regulations.
For instance, to enhance patient health in the UK, the National Patient Safety Agency keeps track of patient safety incidents in hospital settings. Additionally, it is anticipated that spending on healthcare infrastructure improvement to provide better services and facilities will fuel market expansion over the forecast time.
The demand in Europe is expected to witness significant growth during forthcoming years
In terms of income, Europe accounted for a sizeable portion of the patient handling equipment market in 2022. This is due to the availability of numerous healthcare facilities, the presence of skilled professionals, the desire for better services, and supportive regulations for patient safety.
While North America is predicted to expand at a healthy rate because of the rising demand for home care devices, the growing geriatric population, and government support for infrastructure and healthcare facility improvement. Additionally, during the projected time, the rate of musculoskeletal disorders (MSDs) in this region is expected to rise.
Competitive Insight
The Getinge Group, Guldmann, Inc., Stiegelmeyer, Inc., Benmor Medical Ltd., Sidhil, Ltd., ArjoHuntleigh, Inc., Etac Ltd., Joerns Healthcare, Inc., Handicare, Inc., Mangar International Ltd., Linet Americas, Inc., and Prism Medical Ltd. are a few notable companies in the patient handling equipment market.
Recent Developments
Invacare had previously revealed the release of the AVIVA FX power wheelchair in March 2020. Best-in-class design, technology, and efficiency are promised by the AVIVA brand, which has a distinctive appearance and feel. Current front-wheel drive users will have access to a high-performance chair that offers a significant improvement in front-wheel drive power mobility with the AVIVA FX Power Wheelchair.
Patient Handling Equipment Market Report Scope
| | |
| --- | --- |
| Report Attributes | Details |
| Market size value in 2023 | USD 10.83 billion |
| Revenue forecast in 2032 | USD 17.64 billion |
| CAGR | 5.57% from 2023 - 2032 |
| Base year | 2022 |
| Historical data | 2019 - 2021 |
| Forecast period | 2023 - 2032 |
| Quantitative units | Revenue in USD billion and CAGR from 2023 to 2032 |
| Segments covered | By Product, By Type, By End-use, By Region |
| Regional scope | North America, Europe, Asia Pacific, Latin America; Middle East & Africa |
| Key companies | The Getinge Group, Guldmann, Inc., Stiegelmeyer, Inc., Benmor Medical Ltd., Sidhil, Ltd., ArjoHuntleigh, Inc., Etac Ltd., Joerns Healthcare, Inc., Handicare, Inc., Mangar International Ltd., Linet Americas, Inc., and Prism Medical Ltd |