The global pet wearable market was valued at USD 1,665.27 million in 2019 and is expected to grow at a CAGR of 11.61% during the forecast period. The pivotal factors contributing to the market growth are surge in pet ownership, innovations and significant investments in pet tracking technologies, rise in owner's awareness about its pet mental and physical fitness, and growing expenditure on pets/animals with rising disposable income. Moreover, smart phone connectivity, pet obesity issues and pet insurance are contributed to the market growth.
As per statistics published by the National Pet Owners Survey, conducted by the U.S. based American Pet Products Association (APPA), more than 68 per cent of the U.S. families have pet in 2017–2018. In 2017, it was estimated that cumulative expenditure on pets stood at about USD 69.4 billion. This expenditure is continuously rising year by year and expected to follow same trend over the forecast period.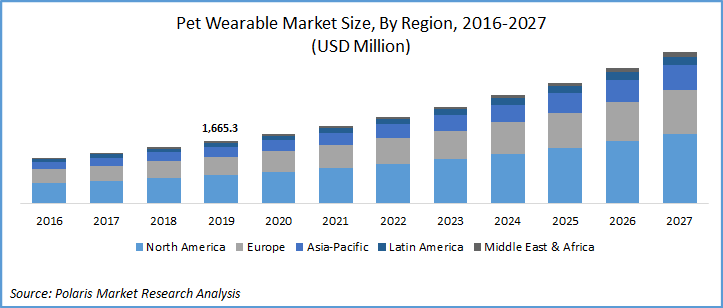 Know more about this report: request for sample pages
However, the global market is curtailed with few supply and demand factors such as privacy issues, lack of regulatory framework as proposed by pet well-wisher associations such as PETA, short shelf-life of batteries, data misuse, and operational limitations among the concerned pet owners. The major driving factors of the market include growing adoption of pets in households, and growing awareness regarding pet fitness.
Growing penetration of mobile devices coupled with increasing awareness regarding pet care would further accelerate market growth. Increase in disposable income, and improving living standards are factors supporting market growth. Other factors driving the growth of this market include increasing need of monitoring pets for medical reasons, and tracking of endangered species. The increasing advancements in technologies, growing use of mapping software, and rising adoption of IOT further supplement the growth of this market. Expansion of established companies into emerging economies and increase sales of pet wearable through online channels would provide numerous growth opportunities in the market.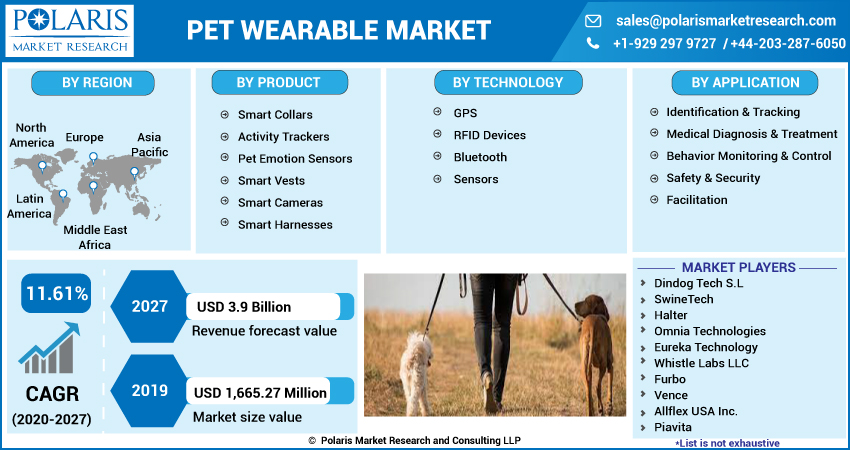 Know more about this report: request for sample pages
Pet Wearable Market Report Scope
By Product

By Technology

By Application

By Region

Smart Collars
Activity Trackers
Pet Emotion Sensors
Smart Vests
Smart Cameras
Smart Harnesses

GPS
RFID Devices
Bluetooth
Sensors

Identification & Tracking
Medical Diagnosis & Treatment
Behavior Monitoring & Control
Safety & Security
Facilitation

North America (U.S., Canada)
Europe (France, Germany, UK, Italy, Spain, Netherlands, Austria)
Asia Pacific (Japan, China, India, Malaysia, Indonesia. South Korea)
Latin America (Brazil, Mexico, Argentina)
MEA (Saudi Arabia, UAE, Israel, South Africa)
Know more about this report: request for sample pages
Insight by Product
Based on the product, the market is categorized into smart collars, activity trackers, pet emotion sensors, smart vests, smart cameras, and smart harnesses. In 2020, the smart collar product segment accounted for the largest share and is projected to retain its dominance over the study time frame. The factors such as herd management among livestock keepers, pet health monitoring, and location tracking are boosting the segment's growth. Smart collar is the device which connects wirelessly to the pet owner's/livestock keeper smartphones to provide keep check on fitness, health, training, food behaviors. The hectic lifestyle and long working hours of individuals is paving way for smart connected pet collars for real time insights of their pets/livestock.
Insight by Technology
Based on the technology, the global pet wearable market is bifurcated into a GPS, RFID devices, Bluetooth, and sensors. In 2020, RFID segment accounted for the largest share, among all. The high adoption and popularity is owing to the rising cases of pet thefts, and are also useful is tacking the location of pets/livestock, if they separated with herd. In 2018 alone, there were around 1,849 dog thefts in the UK, representing an increase of more than 20 percent increase, over 2015.
The GPS based technology segment is projected to register the highest growth rate. The segment is expected to have maximum share in the forecast scenario, owing to its high efficiency and two-way communication. Moreover, advent of 5G communication networks and its low cost boots its adoption among pet owner's.
Insight by Application
On the basis of application, the global market is categorized into identification & tracking, behavior monitoring & control, safety & security, medical diagnosis & treatment, and facilitation. In 2020, the identification and tracking segment accounted for the largest share among all and is likely to maintain its dominance over the study period. According to the statistics published by Humane, each year in the U.S. more than 10 million cats and dogs are stolen, which requires pet tracking, ultimately driving segment growth.
Medical diagnosis and treatment segment is projected to register highest growth rate, owing to pet owners and livestock keepers concern towards the health of their pets for on time diagnosis and medical treatment.
Geographic Overview
Geographically, the pet wearable market is segregated as North America, Asia Pacific, Europe, South America, and MEA. North America is the largest regional revenue contributor followed by Europe and the Asia Pacific region. The increasing trend of pet adoption, feedstock health concerns, rising per capita expenditure of pet owners, presence of innovative companies, talent pool to develop market related apps, and the adoption tech savvy products and services by the pet owners in the country are the significant factors boosting the region's market growth. Moreover, several dedicated pet care associations, rising penetration of pet insurance in the country and significant investments in the market related start-ups also boosting the sale these wearables.
Asia Pacific region is anticipated to be the fastest growing regional market over the study period. South Korea, Japan, China, South Korea are technologically sound countries with full proof communication network. South Korea and China have significant dog meat eating population, which resulted in theft of pet dogs. Such activities had boosted the sale of veterinary wearables with interference from respective governments. In line with this, South Korean government started a campaign "dog not for eating", to contain such heinous activities.
Competitive Insight
The global market is mix of big, mid players and more and more emerging start-ups. The prominent players operating are Dindog Tech S.L, SwineTech, Halter, Omnia Technologies, Eureka Technology, Whistle Labs LLC, Furbo, Vence, Allflex USA Inc., Piavita, Wagr, PetPace, Invoxia, Pawbo Inc., Avid Identification Systems, Inc., GIBI Technologies, Dog Tracker Nano, Jiobit, Garmin, Petzilla, Petcube, Datamars Inc., FitBark, Intervet Inc., Invisible Fence, Konectera Inc., Tractive GmbH, Link AKC, Motorola, Nuzzle, Num'Axes /EYENIMAL, KYON, Scollar, Doctra, Petnet, Trovan Ltd., and Felcana.
The companies in the marketplace are involved in gaining market traction through product innovation with investor funding. For instance, recently in June 2020, Barcelona based pet wearables manufacturer raised EUR 500K in its second series of funding through its current partners. Previously, in January 2020, the Japan based start-up Inupathy, developed a dog harness, which enables dog owners with color coded signals, representing emotional state of dog. On the basis of heart rate variance analysis, the harness will show different colors, depicting different 5 different emotions of dog.