The global pilates & yoga studios market was valued at USD 142.39 billion in 2022 and is expected to grow at a CAGR of 11.5% during the forecast period.
The awareness of the benefits of pilates and yoga has been spreading globally. As people become more conscious of health and wellness, the demand for pilates and yoga studios is growing worldwide. For example, in December 2021, Mycore, a brand-new Pilates and Yoga Studio, opened its doors in Dubai Science Park. The core-strengthening facility launched Pilates and Yoga programs for health-conscious individuals. Also, franchising and the presence of international fitness brands have facilitated the geographical expansion of studios. Established fitness chains, including those specializing in pilates and yoga, have expanded their operations to different countries and regions. Pilates and yoga have been embraced and integrated into the wellness practices of various cultures. This is heightening the demand for studios throughout many corners of the world and improving the market's development.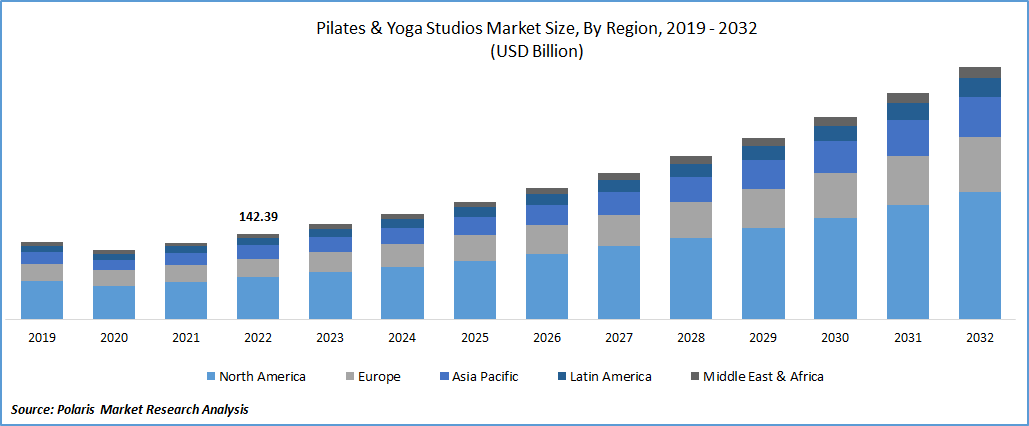 To Understand More About this Research: Request a Free Sample Report
Several pilates and yoga studios had to temporarily close their doors due to lockdown measures and restrictions imposed to contain the spread of the virus. This led to a disruption in operations, class cancellations, and a loss of revenue for studio owners and instructors. Also, the pandemic reduced attendance at physical studio locations due to concerns about infection risks and restrictions on public gatherings. This decline in in-person participation decreased revenue for many pilates and yoga studios, especially those heavily reliant on physical attendance for their business model. For example, the studio certainly suffered a major blow in terms of revenue during a pandemic, as one of the owners of a yoga and pilates school reported that they had roughly 100 members, or about one-third of members, cancel, and many more went on freeze or placed their account on pause.
Whereas to adapt to the restrictions and social distancing measures, many pilates and yoga studios transitioned to offering online classes. Virtual platforms and video streaming services became crucial for studios to continue serving their clients remotely. Online courses allowed individuals to practice pilates and yoga from the comfort of their homes, ensuring the continuity of their fitness routines. The pandemic accelerated the digital transformation of the fitness industry, including pilates and yoga studios. Studios adopted technology solutions such as online booking systems, virtual class platforms, and digital marketing strategies to stay connected with their clients and expand their reach.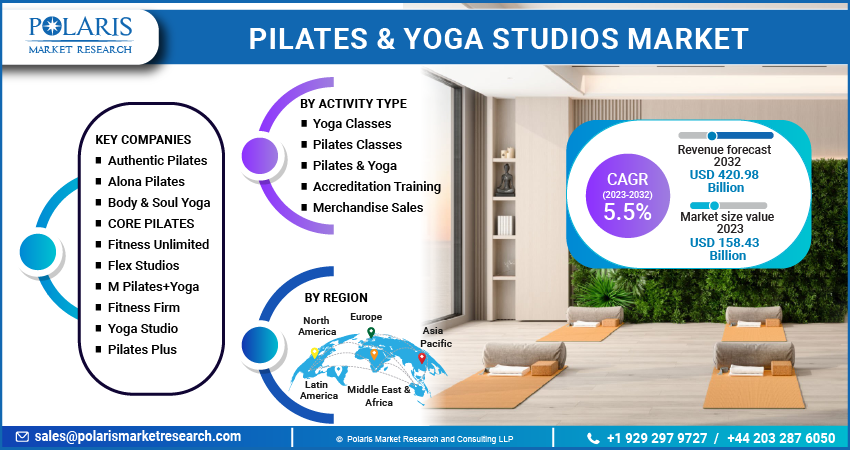 For Specific Research Requirements, Speak With Research Analyst
Industry Dynamics
Growth Drivers
Expanding fitness industry drives the market
Expanding the fitness industry is one of the primary factors likely to boom the market's expansion worldwide. The overall fitness industry has been experiencing steady growth. People realize regular exercise and fitness activities are essential for general well-being and disease prevention. This increased awareness has increased the demand for fitness services and facilities. For instance, about 39% of people in the United States are gym members. In the US, there are nearly 32,270 health and fitness facilities. In addition, approximately 64.19 million Americans belong to a fitness club or gym. The demand for fitness services and facilities has increased, creating opportunities for pilates and yoga studios to expand and cater to the growing pilates & yoga studios market. The increasing emphasis on health, the benefits of these practices, personalization, and advancements in technology are expected to continue driving the market in the foreseeable future globally.
Growing awareness about the importance of physical fitness, mental well-being, and a balanced lifestyle has increased the popularity of activities like pilates and yoga. People are becoming more conscious of the need to maintain good health. Yoga has progressively become one of the most popular fitness trends across many countries due to its remarkable health benefits. As people become more conscious of their overall well-being, there is a shift towards holistic approaches to health. Pilates and yoga offer a wide range of health benefits widely acknowledged and supported by scientific research. This has created a demand for dedicated spaces like Pilates and yoga studios. Consequently, this factor is bolstering the growth of the market worldwide.
Report Segmentation
The market is primarily segmented based activity type, and region.
By Activity Type

By Region

Yoga Classes

Pilates Classes

Pilates & Yoga Accreditation Training

Merchandise Sales

North America (U.S., Canada)

Europe (France, Germany, UK, Italy, Netherlands, Spain, Russia)

Asia Pacific (Japan, China, India, Malaysia, Indonesia. South Korea)

Latin America (Brazil, Mexico, Argentina)

Middle East & Africa (Saudi Arabia, UAE, Israel, South Africa)
For Specific Research Requirements: Request for Customized Report
By Activity Type
Yoga classes segment held largest market share in 2022
The yoga classes segment is gaining huge popularity and accounting for the largest share of the global revenue in 2022 as Yoga is significantly revolutionizing the overall fitness industry. Yoga has gained immense popularity worldwide and has become a mainstream fitness activity. For instance, Yoga is frequently practiced by about 300 million individuals worldwide. Its origins in ancient Indian traditions and its emphasis on physical exercise, mindfulness, and spiritual well-being have resonated with people from diverse cultures and backgrounds.
The universal appeal of Yoga has contributed to its prominence within the global market. The classes offer a wide range of practices and styles that cater to different preferences and fitness levels. From gentle and restorative Yoga to more dynamic and challenging forms, individuals can choose classes that suit their needs and goals. This versatility and adaptability make Yoga accessible to a broader audience, increasing participation and driving the demand for yoga classes within studios.
Furthermore, Yoga classes provide a sense of community and social connection. Studios often foster a supportive and inclusive environment, encouraging individuals to connect with like-minded individuals, build relationships, and participate in group activities. This community aspect adds value to the yoga experience and contributes to the growth of the yoga classes segment within pilates and yoga studios.
Regional Analysis
Asia Pacific is anticipated to account the largest share in the global market during projected period
The Asia Pacific region is expected to lead the global market during the forecast period. Yoga has many different forms that originated in Asia, particularly in India, where it is deeply ingrained in the lifestyles and traditions of many countries in the region due to its rich cultural heritage. As a result, the demand for yoga studios and classes is high. According to Indian Ayurveda, yoga helps to maintain balance in the three elements. The importance of yoga in this region has contributed to the growth of the industry, with businesses reporting significant profits. For example, Adidas reported a 30% rise in their yoga sales and accessories segment in India, aligning with yoga fashion trends.
In 2022, North America held a significant global market share due to fitness trends, disposable income, established fitness industry infrastructure, and wellness tourism. The rising awareness of the importance of physical fitness and overall well-being, including addressing obesity, contributes to the market's growth. Obesity is a global health concern, and many people who are overweight or obese are seeking ways to manage their weight and improve their overall health. In the US, about 40% of people aged 20 or older are obese, and 71.6% are overweight. As a result, more people are turning to Pilates and yoga studios to support their weight loss and fitness goals, further expanding the market's development.
Competitive Insight
The Crowdsourced Testing market is fragmented and is anticipated to witness competition due to several players' presence. Major service providers in the market are constantly upgrading their technologies to stay ahead of the competition and to ensure efficiency, integrity, and safety. These players focus on partnership, product upgrades, and collaboration to gain a competitive edge over their peers and capture a significant market share.
Some of the major players operating in the global market include:
Authentic Pilates

Alona Pilates

Body & Soul Yoga

CORE PILATES

Fitness Unlimited

Flex Studios

M Pilates+Yoga

Fitness Firm Yoga Studio

Pilates Plus
Recent Developments
In April 2023, to introduce it's quickly expanding fitness movement to the Singapore market, Australian fitness business STRONG Pilates announced to partner with the "Yoga Movement". The cooperation will result in the opening of 11 new STRONG Pilates studios around Singapore over three to four years. With the addition of Singapore, STRONG's global studio count will reach 43 after its recent growth into the UK and Australia.

In January 2023, Fairmount's involvement in small-group exercise was aided by Lumos Yoga & Barre. With a second site, Green Street's yoga and barre studio has taken a significant step forward. Some of Lumos's well-liked movement classes, such as yoga flow, yoga sculpt, barre, and lunchtime and express sessions, are available at the Parrish Street facility. The new location has offered chair yoga and springboard Pilates to the Lumos community.
Pilates & Yoga Studios Market Report Scope
| | |
| --- | --- |
| Report Attributes | Details |
| Market size value in 2023 | USD 158.43 billion |
| Revenue forecast in 2032 | USD 420.98 billion |
| CAGR | 11.5% from 2023 – 2032 |
| Base year | 2022 |
| Historical data | 2019– 2021 |
| Forecast period | 2023– 2032 |
| Quantitative units | Revenue in USD billion and CAGR from 2023 to 2032 |
| Segments covered | By Activity Type, By Region |
| Regional scope | North America, Europe, Asia Pacific, Latin America; Middle East & Africa |
| Customization | Report customization as per your requirements with respect to countries, region and segmentation. |