The global yoga and exercise mats market was valued at USD 9.52 billion in 2021 and is expected to grow at a CAGR of 3.1% during the forecast period. The global market for the product has rapidly grown. The market is expanding primarily because of increased disposable income and the number of people participating in exercise. These people often choose comfy products to practice on, and when their discretionary money rises, they can buy exercise apparel.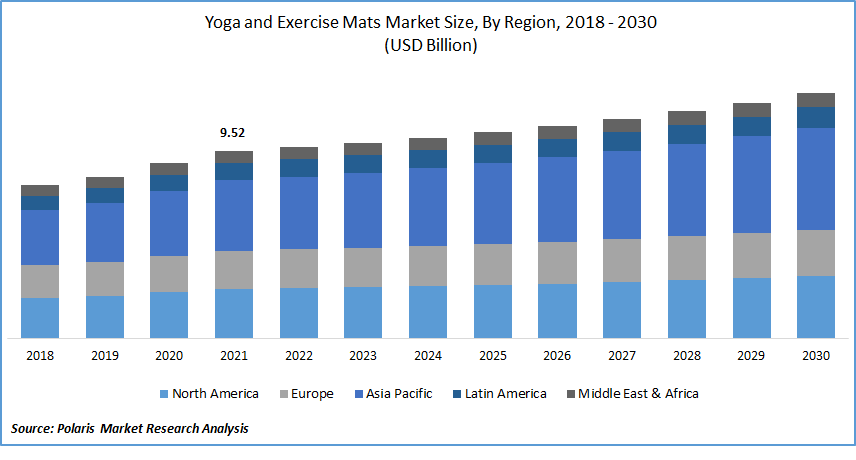 Know more about this report: Request for sample pages
In addition, people have started engaging in exercise due to growing health consciousness among working professionals due to changing lifestyles and increased work stress. As a result, more people are using the product. To draw clients, who are the products' primary consumers, the key market players are also introducing products with improved comfort and vibrant colors.
The products are made mainly to prevent hands and feet from slipping while performing asanas. Hatha and meditation yoga were traditionally practiced on bare ground, ideally with a rug made of deer or tiger leather. Modern products are made of plastic, rubber, and occasionally other materials like hessian and cork, balancing price, comfort, grip, and weight. According to some, the products is one of the most pervasive representations of exercise's commercialization.
COVID-19 has impacted the market. Both individuals' and businesses' lives were profoundly affected. Nearly all countries and regions, their economic performance, and the distribution networks of all industries have been impacted by COVID-19 directly and indirectly. The epidemic has, nevertheless, positively impacted the health sector and businesses that are tied to it. The market for exercise equipment and medical supplies includes the product sector. The pandemic has not adversely affected the world market for the product.
Nowadays, people are more creative and include gyming regimens. Following some consumer psychologists, customers worldwide have been purchasing based on three needs: protection, entertainment, and connection. Additionally, the global market for the product is anticipated to continue growing long after the epidemic has passed, primarily due to the growing awareness of a healthy lifestyle among individuals worldwide. This will drive the market during the forecast period.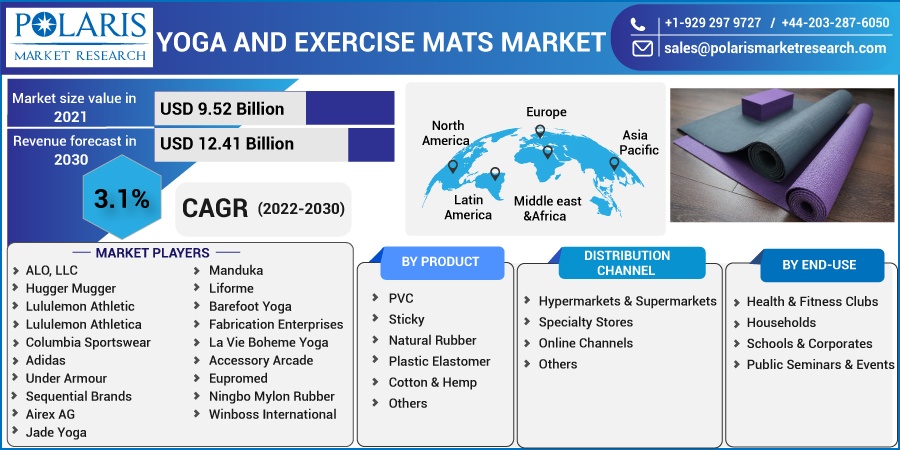 Know more about this report: Request for sample pages
Industry Dynamics
Growth Drivers
Poor lifestyle choices, such as obesity, inactivity, and a poor diet, lead to an unsustainable burden of chronic diseases that differs by region, race, wealth, education, and sex. In order to address population health and lifestyle behaviors and reduce health inequities and chronic disease, the government is crucial.
The role of the government includes monitoring, research, programming, access to healthcare, quality control, and recommendations for food and exercise (PA). Some people favor personal choice and perceive the government as patronizing. However, there is a chance to combine several strategies if the government collaborates across sectors and involves the business sector.
Additionally, it is anticipated that an increase in seminars and events focused on spiritual practices and dharmic traditions, whether online coaching or in-person coaching, will increase the demand for the mats. Additionally, as the world's population becomes more affluent, more people join fitness clubs, raising demand. However, fluctuating raw material prices are anticipated to impede production and limit the exercise products growth.
Report Segmentation
The market is primarily segmented based on service type, distribution channel, end-user, and region.
By Product

By Distribution Channel

By End-Use

By Region

PVC
Sticky
Natural Rubber
Plastic Elastomer
Cotton & Hemp
Others

Hypermarkets & Supermarkets
Specialty Stores
Online Channels
Others

Health & Fitness Clubs
Households
Schools & Corporates
Public Seminars & Events

North America (U.S., Canada)
Europe (France, Germany, Uk, Italy, Netherlands, Spain, Russia)
Asia Pacific (Japan, China, India, Malaysia, Indonesia, South Korea)
Latin America (Brazil, Mexico, Argentina)
Middle East & Africa (Saudi Arabia, UAE, Israel, South Africa)
Know more about this report: Request for sample pages
The PVC segment is expected to witness the fastest growth.
In 2021, the PVC segment accounted for the largest yoga and exercise mats market share. PVC mats have been the most popular among consumers because of their low cost and wide availability. However, due to its eco-friendliness and a rise in consumer preference for the mats made from natural materials, the cotton/jute segment is anticipated to develop at the most significant CAGR throughout its projected period. It has several advantages over other polymers, including affordability, flexibility, and durability. It is also simple to wash. Due to their numerous benefits, PVC will lead the industry growth in the forecast period.
Online Channels accounted for the second-largest market share in 2021
Online channels are growing significantly owing to the internet's and smartphones' increasing penetration. The key reasons for the growth of online shopping are that it offers assistance with 24*7 hour availability, a great variety of options, and the ability to compare prices. In addition, most vendors have an online site from which consumers can order mats per their requirements.
In addition, a growing number of specialised online merchants are anticipated to support the expansion of the industry, including YogaOutlet.com, Walmart, and Amazon. However, workout equipment was in high demand due to the COVID-19-imposed closure of health clubs and gyms. It has increased the demand for fitness mats and the growth of e-commerce distribution channels.
Households segment is expected to witness the fastest growth
A household segment is expected for the largest revenue share in yoga and exercise mats market. Due to growing public awareness of the health advantages of yoga practice, the household segment is predicted to have a significant revenue share over the forecast period. Developing a non-toxic mat devoid of dangerous chemicals has further boosted its popularity.
For example, MevoFit announced the release of the "MevoFit Cork Yoga Mat", in 2021. This mat is made of 100% organic cork and natural TPE. The mat is 100% non-toxic, suitable at 72 x 24 inches, and free of glue, PVC, and dangerous substances. The natural cork material and TPE padding in MevoFit's cork mats provide users with a smooth, non-slip surface that provides an outstanding grip. A mat bag and carry strap are included to make the mat portable for home practices.
The demand in Asia-pacific is expected to witness significant growth
The mats sales are anticipated to grow at the most significant CAGR in Asia-Pacific throughout the forecast period. Mats demand in the region is increasing because of yoga practitioners, government and fitness club activities to promote yoga related activities. The market for the mats in the area is driven by government programmes supporting promotion of a healthy lifestyle through yoga in nations like India.
For instance, the Central Council for Research in Yoga and Naturopathy (CCRYN) opened 8 Yoga OPDs in the government sponsored hospitals to encourage the practice of yoga. Additionally, state governments and NGOs financially support by holding national and international seminars to promote the art. The rising health consciousness also fuels the popularity of yoga about maintaining a fit physique and a healthy body. These elements have a role in the growing mats market as people's awareness of their health increases.
Competitive Insight
There are several major players in the global market, such as ALO, LLC, Hugger Mugger, Lululemon Athletic, Lululemon Athletica, Columbia Sportswear, Adidas, Under Armour, Sequential Brands, Airex AG, Jade Yoga, Manduka, Liforme, Barefoot Yoga, Fabrication Enterprises, La Vie Boheme Yoga, Accessory Arcade, Eupromed, Ningbo Mylon Rubber, and Winboss International.
Recent Developments
In December 2020, Jade Yoga offers a wide range of the mats. The Outdoor-Loving-Yogi Organic Cotton Mysore Yoga Rug, Classic Yogi-Harmony, and Beginner Yogi-Level One are a few of the newly released goods.
Furthermore, In January 2020, Target developed the "All in Motion" clothing brand to provide clients with a practical form of exercise, which sells a range of items such as leggings, hand weights, exercise mats, and other things.
Yoga and Exercise Mats Market Report Scope
| | |
| --- | --- |
| Report Attributes | Details |
| Market size value in 2021 | USD 9.52 billion |
| Revenue forecast in 2030 | USD 12.41 billion |
| CAGR | 3.1% from 2022 - 2030 |
| Base year | 2021 |
| Historical data | 2018 - 2020 |
| Forecast period | 2022 - 2030 |
| Quantitative units | Revenue in USD billion and CAGR from 2022 to 2030 |
| Segments Covered | By Product, By Distribution Channel, By End-Use, By Region |
| Regional scope | North America, Europe, Asia Pacific, Latin America; Middle East & Africa |
| Key Companies | ALO, LLC, Hugger Mugger, Lululemon Athletic, Lululemon Athletica, Columbia Sportswear, Adidas, Under Armour, Sequential Brands, Airex AG, Jade Yoga, Manduka, Liforme, Barefoot Yoga, Fabrication Enterprises, La Vie Boheme Yoga, Accessory Arcade, Eupromed, Ningbo Mylon Rubber, and Winboss International. |