The global pine-derived chemicals market was valued at USD 5.31 billion in 2021 and is expected to grow at a CAGR of 4.56% during the forecast period.
Growing environmental concerns will primarily drive the demand for pine-based compounds. In addition, there is rising demand from the vehicle sector, particularly in Europe. The increased use of pine-derived compounds in the personal care business is increasing total sales. The biofuel business and biotechnology breakthroughs are also important drivers.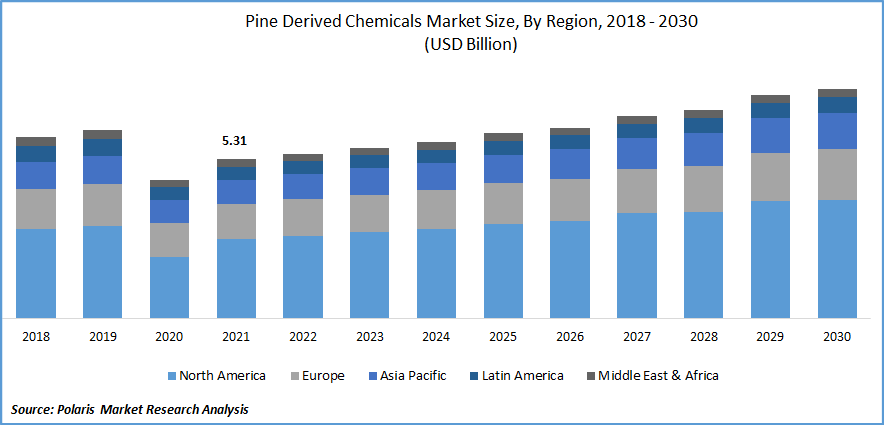 Know more about this report: Request for sample pages
Pine tree compounds are derived from the pine tree. These compounds are among a class of renewable elements found in nature. The final product of the wood carbonization distillation is frequently pine-derived chemicals. Tall oil is created by combining a black liquor skimming process with acid.
Furthermore, the rising use of derived chemicals in the production of fragrances for soap, household cleaners, & perfumes is likely to drive demand in the future years. Pine chemicals are used in the production of tires in the car sector. As a result, rising demand for tires in the automotive industry is expected to create new growth prospects in the global market.
The world economy suffered greatly because of the COVID-19 epidemic, and recovery would be unequal. Though the pandemic had no direct influence on the market for chemicals generated from pine, the isolation regulations caused short-term supply disruption and sustained trade restrictions that hampered final product manufacturers and hampered domestic/local participants in the industry.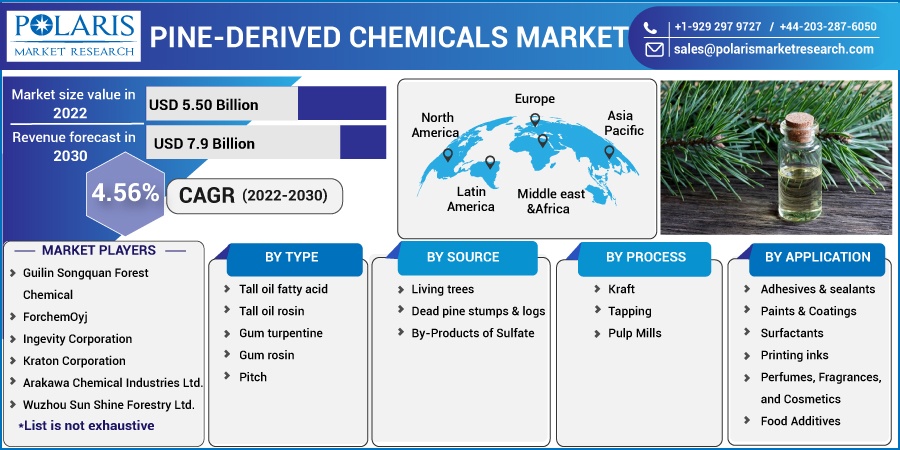 Know more about this report: Request for sample pages
Industry Dynamics
Growth Drivers
Because of their performance and ease of use, hot melt adhesives are increasing faster than solvent- or waterborne adhesives. Formulators now have access to new polymer and tackifier technologies, allowing them to create adhesives that may be used in applications other than classic paper and non-woven bonding. Hot melts will expand due to new applications in publishing, graphics, electronics, and semi-structural applications. These products contain no detectable VOCs, are recyclable, and are easier to use.
Rosin resins are particularly suited for these novel systems due to their compatibility with polymers used in aqueous adhesives. New waterborne resins will be developed to tackle the problem as new or modified polymers are launched. Waterborne adhesive resins can be purchased as dispersions or plain. Some pine compounds are employed in radiation-cured systems; however, this accounts for a minor portion of total demand. In radiation-cured acrylic adhesives, pine compounds such as rosin ester and terpene phenolic resins have been employed.
Report Segmentation
The market is primarily segmented based on type, source, process, application, and region.
By Type

By Source

By Process

By Application

By Region

Tall oil fatty acid
Tall oil rosin
Gum turpentine
Gum rosin
Pitch

Living trees
Dead pine stumps & logs
By-Products of Sulfate

Adhesives & sealants
Paints & Coatings
Surfactants
Printing inks
Perfumes, Fragrances, and Cosmetics
Food Additives
Others

North America (U.S., Canada)
Europe (France, Germany, UK, Italy, Netherlands, Spain, Russia)
Asia Pacific (Japan, China, India, Malaysia, Indonesia, South Korea)
Latin America (Brazil, Mexico, Argentina)
Middle East & Africa (Saudi Arabia, UAE, Israel, South Africa)
Know more about this report: Request for sample pages
Tall oil fatty acid (TOFA) is the dominating segment by Type in 2021
The rising usage of crude tall oil as a multi-purpose substance that extends the life of wood-based raw materials has pushed its demand in the sector. It is a non-food competitive feedstock that is not depending on land. The expanding number of new crude tall oil biorefineries is expected to stimulate demand for tall oil.
In the next years, rising demand for naturally derived fatty acid-based biofuels may open up new business pathways for the total tall oil fatty acid industry. Several wealthy countries encourage the use of bio-based fuels in order to reduce greenhouse gas emissions while also conserving fossil fuel stocks. Acceptance of biofuel in all nations may take decades due to differing economic situations. Because the product is mostly obtained from coniferous trees, substitute goods in developing nations may have a detrimental influence on the worldwide tall oil fatty acid market. In these nations, oleochemicals derived from palm kernel, palm, and coconut oil are extensively utilized in soap production.
Adhesive and sealants is the second largest category by application after paints & coatings
Rosin and its derivatives will be in high demand in the adhesives industry during the next few years. Printing ink and paper size demand is predicted to be flat. As living standards and disposable incomes rise in emerging nations, adhesive demand is predicted to rise quickly. Adhesive demand closely tracks Gross Domestic Product in developed nations (GDP).
Growth of printing ink has decoupled from GDP as alternative media outlets such as the Internet and new manufacturing processes lower demand. Rosin usage in paper size will continue to fall slowly as the industry transitions to non-rosin sizing methods and higher-quality printing, which necessitates more efficient sizes. China is an exception, where paper size volumes will grow owing to overall demand.
By source, Sulfate products account for largest market share
Based on sulfate products, sulfate processing is widely used to derive pine wood pulp. This is primarily used to extract pine chemicals. CTO and CST are the two main products obtained from this process. These products have wide applications in the end-use industry.
Kraft is the largest category by process
Kraft pulping is often considered the most important method of obtaining lignin from lignocellulosic biomass. Furthermore, the sulfur and caustic content are recycled, resulting in enhanced process economics. However, lignin generated by the kraft process has a low heating value and produces more toxic gases than coal.
Kraft pulping is the most frequent type of chemical pulping, accounting for 80% of the overall chemical pulping business. Kraft pulping is the digestion of wood chips in "white liquor" at high temperatures and pressures. Spent cooking liquor and pulp water are mixed to form black liquor, condensed to about 55% solids in an evaporator system. The black liquid is then concentrated to about 65% solids.
The demand in North America is the largest, followed by Europe
North America is the largest market share in 2021, followed by Europe and Asia Pacific. The global influence of the pine chemical business affects a broad range of society. Pine-based products form clean raw materials & are suppliers of precursor chemicals.
North America has emerged as the dominating market for pine-derived chemicals due to the presence of numerous key companies. Because of rising demand for pine-derived compounds, Asia-Pacific is expected to be the fastest-growing area. The climate in the area is also excellent for pine growing. The operational benefits of pine-derived chemicals, as well as increased industrialization and its broad range of uses, are boosting demand for them. The availability of pine trees in the region and rising demand from the United States are boosting the industry in North America.
Despite China holding the maximum number of tappers of nearly 0.2 million, the region holds a relatively lesser share than Europe and North America. Since 2006, China has seen a fall in gum rosin exports, with labor costs being one of the primary causes. The wage for manual pine tree tapping in China has risen dramatically in recent years. With decreasing Chinese gum rosin output, the only product that can cover the hole is the hydrocarbon resin volume, which has remained consistent for years. Industrial goods derived from pine compounds, such as crude tall oil (CTO), can encompass a wide range of commodities, from tall oil fatty acids (TOFAs) to terpenes found in scents and cleansers used in ordinary domestic chores.
Competitive Insight
In nature, the worldwide pine-derived chemicals sector is both fragmented and centralized. The top five businesses control the worldwide pine-based chemicals industry, with the remainder held by mid-sized and small regional competitors. The existence of several large-scale firms makes the industry very competitive, yet large-sized companies do dominate internationally.
Some of the major players operating in the global market include Florachem, Foreverest Resources., Eastman Chemical, Forest Chemical, ForchemOyj, Ingevity Corporation, Kraton Corp., Arakawa Chemical, Wuzhou Sun Shine, and Harima Chemicals
Recent Developments
In 2022, DCL Corporation partnered with Chemiplas, Australia, to become DCL Corporation's only distributor in Australia and New Zealand.
In 2021, Eastman Chemical signed a formal agreement to sell its adhesives resins business segment to the Synthomer for USD 1 Bn in cash.
In 2021, Kraton Corp., a leading worldwide sustainable manufacturer of specialty polymers and high-value bio-based products generated from pine wood pulping by-products, announced a formal merger agreement with DL Chemical.
Pine-Derived Chemicals Market Report Scope
| | |
| --- | --- |
| Report Attributes | Details |
| Market size value in 2022 | USD 5.50 billion |
| Revenue forecast in 2030 | USD 7.9 billion |
| CAGR | 4.56% from 2022 – 2030 |
| Base year | 2021 |
| Historical data | 2018 – 2020 |
| Forecast period | 2022 – 2030 |
| Quantitative units | Revenue in USD billion and CAGR from 2022 to 2030 |
| Segments Covered | By Type, By Process, By Source, By Application, By Region |
| Regional scope | North America, Europe, Asia Pacific, Latin America; Middle East & Africa |
| Key Companies | Guilin Songquan Forest Chemical, ForchemOyj, Ingevity Corporation, Kraton Corporation, Arakawa Chemical Industries Ltd., Wuzhou Sun Shine Forestry Ltd. |