The global pizza oven market was valued at USD 1,761.79 million in 2022 and is expected to grow at a CAGR of 6.0% during the forecast period. The popularity of pizza worldwide has contributed significantly to the rising demand for pizza ovens, particularly in the fast-casual dining industry. Customers can choose from a wide range of unique and customizable toppings, which has attracted a diverse consumer base. To meet the increasing demand for pizza, businesses need efficient appliances, leading to a surge in demand for pizza ovens. Additionally, the market for pizza ovens has expanded due to the diversity in pizza options, with businesses striving to offer their customers an extensive range of choices.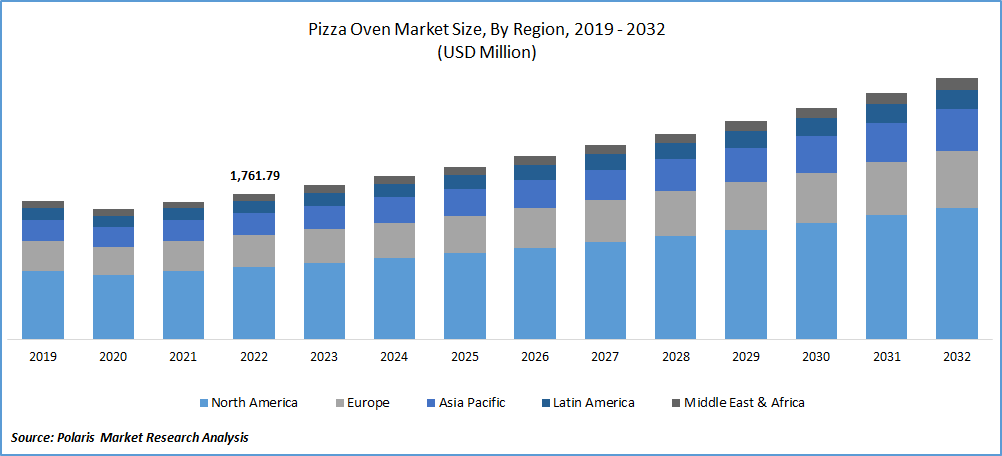 To Understand More About this Research: Request a Free Sample Report
The COVID-19 pandemic has significantly impacted the pizza oven market, causing disruptions in the global supply chain and challenges related to logistics, transportation, and labor availability. The demand for commercial pizza ovens decreased with the closure of restaurants and dining establishments. However, the pandemic had contrasting effects on the market. The closure of dine-in restaurants led to reduced demand for commercial pizza ovens, whereas the trend of home cooking and the increased number of people preparing meals at home resulted in a higher demand for pizza ovens for personal use.
Industry Dynamics
Growth Drivers
The market is also benefiting from the increasing popularity of pizza, particularly driven by the rise in online food ordering services. This trend has created a significant demand for pizza ovens as more consumers order pizzas for delivery or takeout. Moreover, a notable trend in the current market is the emphasis on providing customized solutions. Commercial kitchens have diverse pizza oven requirements, including size, fuel type, ease of cleaning, grill size, number of burners, regulation options, affordability, custom heat settings, and timers. To meet these specific needs, market players offer tailored and personalized products that incorporate the necessary features, giving them a competitive edge. Pizza oven manufacturers can cater to various preferences and requirements, driving the market's growth.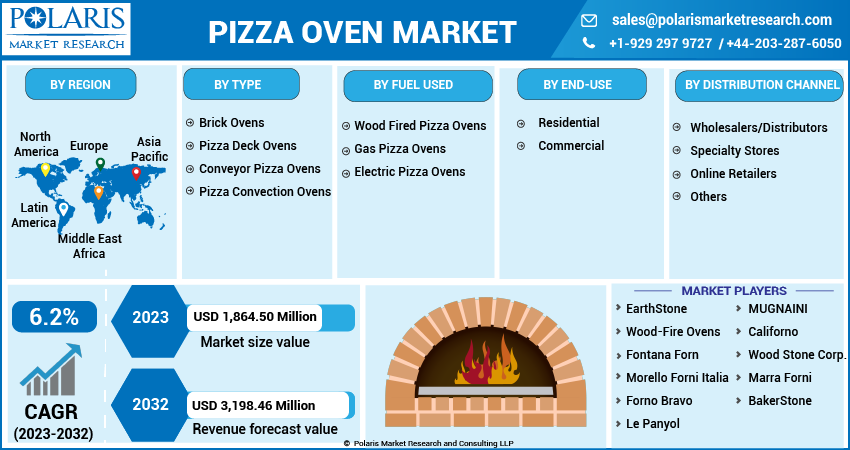 For Specific Research Requirements, Request for a Customized Report
Report Segmentation
The market is primarily segmented based on by type, fuel used, end-use, distribution channel, and region.
By Type

By Fuel Used

By End-Use

By Distribution Channel

By Region

Brick Ovens

Pizza Deck Ovens

Conveyor Pizza Ovens

Pizza Convection Ovens

Wood Fired Pizza Ovens

Gas Pizza Ovens

Electric Pizza Ovens

Wholesalers/Distributors

Specialty Stores

Online Retailers

Others

North America (U.S., Canada)

Europe (France, Germany, UK, Italy, Netherlands, Spain, Russia)

Asia Pacific (Japan, China, India, Malaysia, Indonesia. South Korea)

Latin America (Brazil, Mexico, Argentina)

Middle East & Africa (Saudi Arabia, UAE, Israel, South Africa)
To Understand the Scope of this Report: Speak to Analyst
Pizza convection ovens segment accounted for the largest market share in 2022
The pizza convection ovens segment accounted for the largest market share. The growth in demand for pizza ovens can be attributed to the global popularity of pizzas, which has created a robust market for these appliances. Apart from cooking pizzas to perfection, these ovens can also be utilized for preparing a wide range of other foods, including baked goods and roasted meats. This versatility makes them highly desirable in commercial kitchens, as they offer multifunctional capabilities and the ability to diversify menu options.
Pizza deck ovens witnessed steady growth. This segment of pizza ovens offers high versatility, allowing for the cooking of a wide variety of dishes beyond pizzas. Commercial kitchens find these ovens valuable due to their ability to cater to diverse menu options. One of the key advantages of pizza deck ovens is their cooking process, which involves slower and more even heat distribution. This characteristic ensures that pizzas are cooked to perfection, with a crispy crust and evenly cooked toppings. The precise and controlled heat distribution in deck ovens contributes to the consistent quality of the final product, making them a preferred choice for professional chefs and pizzerias.
Specialty store segment garnered largest share in 2022
The specialty store segment held the largest revenue share. These stores' knowledgeable and well-trained personnel possess in-depth knowledge about pizza ovens and can provide valuable guidance to customers. They understand customers' individual needs, preferences, and budget constraints, enabling them to recommend the most suitable pizza oven for each customer's specific requirements. Furthermore, specialty store staff can offer valuable insights into the proper use, maintenance, and installation of pizza ovens. They can provide detailed instructions and tips on maximizing the oven's performance, ensuring customers can achieve the best possible results when cooking pizzas or other dishes.
The online segment witnessed steady growth. One of the key factors driving the growth of online retailers is the convenience they offer consumers. Online channels provide several advantages, including significant discounts, a wide range of products available in one location, user-friendly payment options, and doorstep delivery. These conveniences have made online shopping appealing for consumers looking to purchase pizza ovens.
Wood fired pizza segment garnered largest revenue share in 2022
The wood-fired pizza segment held the largest revenue share. The appeal of wood-fired pizza ovens lies in their ability to create authentic, artisanal-style pizzas with a distinct flavor profile that appeals to a wide range of consumers. As a result, wood-fired ovens have gained popularity in various culinary settings, including restaurants, pizzerias, and even home kitchens.
In addition to the smoky flavor, wood-fired pizza ovens also contribute to the overall texture and quality of the pizza. The intense heat generated by burning wood in the oven results in a quick and even cooking process. This leads to a crispy and slightly charred crust that many pizza lovers favor. The combination of the smoky flavor and the unique texture enhances the overall taste experience of the pizza.
Electric Pizza witnessed a significant growth rate. Electric pizza ovens also offer versatility in terms of placement and installation. They can be easily integrated into existing kitchen setups and require minimal space. The absence of venting or exhaust systems provides flexibility in positioning the oven within the kitchen layout. Furthermore, electric ovens are energy-efficient and offer precise temperature control, allowing chefs to maintain consistent cooking conditions for their pizzas. This control over temperature helps achieve desired crust textures and even cooking throughout the pizza.
Europe dominated the global market in 2022
Europe region dominated the global market with considerable market share. European manufacturers have a rich heritage and generations of experience designing and building pizza ovens. This expertise has been passed down through the years, developing high-quality, durable, and reliable products. European pizza ovens are renowned for their superior craftsmanship, attention to detail, and ability to meet diverse customer needs. The manufacturers' commitment to producing top-notch pizza ovens has helped them establish a strong reputation in the market.
APAC registered a robust growth rate. The region has experienced remarkable economic growth in recent years, leading to higher disposable incomes among the population. As a result, more people can afford luxury and lifestyle products, including pizza ovens. The rising purchasing power of consumers has fueled the demand for pizza ovens in residential settings as individuals seek to enjoy the convenience of baking their pizzas at home.
Urbanization has also played a significant role in the region's market growth. The expansion of cities and urban areas has led to changes in lifestyle and eating habits, with an increasing preference for Western-style foods, including pizzas. As urban areas become more densely populated, the demand for consumer goods, such as pizza ovens, has risen accordingly.
Competitive Insight
Some of the major players operating in the global market include EarthStone Wood-Fire Ovens, Fontana Forn, Morello Forni Italia, Forno Bravo, Le Panyol, MUGNAINI, Californo, Wood Stone Corp., Marra Forni, and BakerStone.
Recent Developments
In July 2021, Wood Stone Corporation introduced the Fire Deck Automatic 9660 Oven, specifically designed to cater to the needs of Fast Casual Pizza operators. This oven is built with a focus on efficiency and user-friendly features to enhance the pizza-making process.
Pizza Ovens Market Report Scope
| | |
| --- | --- |
| Report Attributes | Details |
| Market size value in 2023 | USD 1,864.50 million |
| Revenue forecast in 2032 | USD 3,198.46 million |
| CAGR | 6.2% from 2023 – 2032 |
| Base year | 2022 |
| Historical data | 2019 – 2021 |
| Forecast period | 2023 – 2032 |
| Quantitative units | Revenue in USD million and CAGR from 2023 to 2032 |
| Segments covered | By Type, By Fuel Used, By End Use, By Distribution Channel, By Region |
| Regional scope | North America, Europe, Asia Pacific, Latin America; Middle East & Africa |
| Key companies | EarthStone Wood-Fire Ovens, Fontana Forn, Morello Forni Italia, Forno Bravo, Le Panyol, MUGNAINI, Californo, Wood Stone Corp., Marra Forni, and BakerStone |