The global platelet aggregation devices market was valued at USD 361.7 million in 2019 and is expected to grow at a CAGR of 20.1% from 2020-2027. The increasing consumer awareness for platelet screening for the identification of Dengue and HIV, increasing patient population undergoing antiplatelet therapy, increasing geriatric population associated with growing incidences of target diseases, and advancements in the devices are driving the demand for platelet aggregation devices.
The platelet function testing is transitioned from diagnostic tool for heritable diseases to therapeutics with increased adoption of antiplatelet therapy and increasing platelet reactivity in thrombotic diseases and therapy. Many point-of-care testing devices for assessing platelet function, such as PFA-100, Innovance PFA-200, VerifyNow System, Multiplate analyzer, Platelet Works, Impact and Impact-R were now become available for the use in critical clinical conditions and in general laboratories. Light transmission platelet aggregometry (LTA) is the first step in the diagnosis of platelet disorders. Flow cytometry, lumi-aggregometry, platelet function analyzer- PFA-100 are used for second line diagnosis for the confirmation of results from LTA.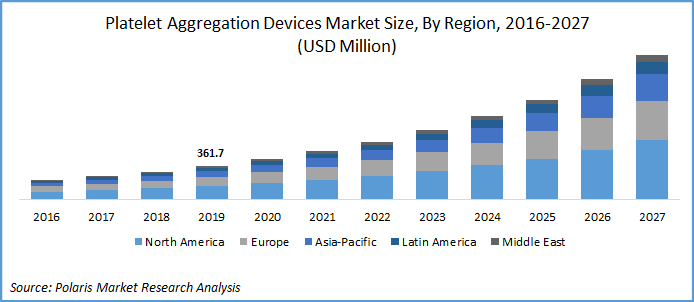 Know more about this report: request for sample pages
Industry Dynamics
Growth Drivers
The continuous increase in the cardiovascular diseases, HIV, Dengue, Malaria and leukemia is leading to huge demand for the platelet function testing. According to the Center for Disease and Control (CDC), Dengue is the endemic in more than 100 countries in APAC, Americas, Africa, and the Caribbean nations. An average of 75 million dengue infections occurs every year in the world. It is estimated that more than 200 million people were affected with malaria worldwide in 2017. The risk of malaria is high in poor, tropical and sub-tropical areas of the world. As of 2017, approximately 35 to 40 million people are living with HIV in the world and about 40 per cent of patients are un-diagnosed. Hence, there is an increasing demand for platelet function tests for diagnosis of these diseases.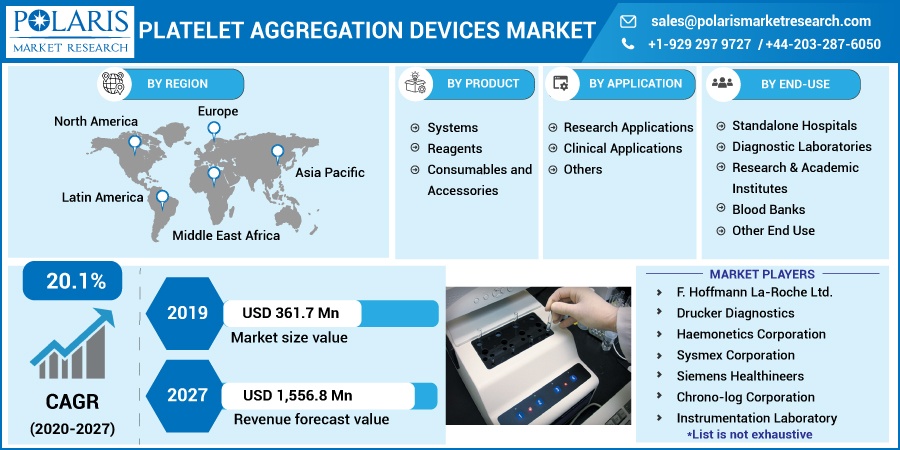 Know more about this report: request for sample pages
Heart diseases are the leading cause of death in Americas. According to CDC, each year 610,000 people die of heart disease in the US. Coronary heart disease accounts for more than 370,000 deaths annually in the US. About 735,000 Americans have heart attack annually, in which 525,000 people have first heart attack and 210,000 have recurrent heart attack. Anti-platelet therapy is widely used treatment to reduce the risk of major cardiovascular events in patients with cardiovascular diseases. High residual reactivity of platelets in patients on anti-platelet therapies results in thrombo-embolic complications. Platelet functions tests are required to monitor the anti-platelet therapies to avoid such complications. This will drive the growth of platelet aggregation devices market.
Challenges
The market has been associated with many limitations and drawbacks. The high cost of devices, procedural limitations, and lack of well trained and skilled professionals are few notable ones. The specialized platelet aggregometers are generally very expensive. The cost of the advanced platelet aggregometers ranges between USD 10,000 to 20,000 based on the features offered. This will further increase with associated reagents, accessories & consumables expenses and maintenance charges. Hence, the affordability is difficult for small and mid-level hospitals and diagnostic laboratories.
Platelet Aggregation Devices Market Report Scope
The market is primarily segmented on the basis of product, by application, by end-use, and geographic region.
By Product

By Application

By end-use

By Region

Systems
Reagents
Consumables and Accessories

Research Applications
Clinical Applications
Others

Standalone Hospitals
Diagnostic Laboratories
Research & Academic Institutes
Blood Banks
Other End Use

North America (U.S., Canada)
Europe (France, Germany, UK, Italy, Spain, Netherlands, Austria)
Asia Pacific (Japan, China, India, Malaysia, Indonesia. South Korea)
Latin America (Brazil, Mexico, Argentina)
MEA (Saudi Arabia, UAE, Israel, South Africa)
Know more about this report: request for sample pages
Insight by Product
Based upon the product, the global market is categorized into systems, reagents, and consumables & reagents. In 2019, the reagents accounted for the largest share in the global market, however, this dominance is challenged by the increasing adoption of automated analyzers. Platelet aggregation devices usually include aggregometers, flow cytometry, platelet function analyzers, and platelet function centrifuge (PFC). Aggregometers accounts the majority of share within the segment.
There are various types of aggregometers based on the difference in methodologies such as impedance whole blood aggregometry, light transmission aggregometry (LTA), lumi-aggregometry and flow- cytometry. Among these LTA is gold standard method for assessing platelet function. LTA is the most widely used diagnostic test for monitoring platelet function disorders and antiplatelet therapies.
The number of speciality laboratories and hospitals in developing countries is increasing. The increasing investments on healthcare infrastructure is resulting in the growing adoption specialized in advanced platelet aggregation systems in laboratories and hospitals. The demand for platelet aggregation systems are increasing in academic and pharmaceutical companies due the increasing number research studies to know the mechanisms involved in the interaction of platelets with vascular surfaces, evaluation and screening of anti-thrombotic factors to know new targets for anti-platelet drugs.
Insight by End Use
On the basis of end use, the global market is categorized into standalone hospitals, diagnostic laboratories, research and academic institutes, blood banks, and other end users. In 2019, the standalone hospitals segment accounted for the largest share and expected to maintain its dominance over the forecast period. This high share is due to increasing number of hospitals in developing countries, growing public and private investments for development and modernization of healthcare infrastructure, increasing application of platelet function tests in the evaluation of pre-and perioperative hemostasis and in transfusion medicine.
Screening tests such as Visco-elastometry (or Thrombo-elastometry), designed to determine the strength of a blood clot, in the hospital's clinical laboratory. Moreover, increasing awareness about the benefits of platelet function tests and technological advancements of platelet aggregation devices by the physicians, increasing adoption of advanced platelet aggregation devices by the hospitals, increasing number of surgical procedures are driving the demand for these devices in hospitals.
Geographic Overview
Geographically, the global market is bifurcated into North America, Europe, Asia Pacific, Latin America, and Middle East & Africa (MEA). North America region is the largest revenue contributor followed by Europe and the Asia Pacific region. In 2019, the North America region accounted for more than 40% of the global market.
North America dominates global platelet aggregation devices market followed by EMEA. US is the major contributor for the largest share in the region. The U.S. is an attractive target for the companies engaged in the development, manufacture, and distribution of platelet aggregation device. Majority of leading manufacturers are present in the region.
The increasing prevalence of target diseases such as cardiovascular, orthopedic, urological, and bleeding disorders, increasing number of surgeries, technological advancements in platelet aggregometers, increasing investments on healthcare infrastructure are driving the growth of the market. However, unfavorable healthcare reforms in the US, reduction of reimbursement for platelet aggregation tests, continued pressure to increase utilization of existing equipment, limited number of reference laboratories offering platelet aggregation tests across the U.S. are deterring the market growth. Despite these limitations the market is estimated to witness significant growth during the forecast period.
APAC is the lucrative market for the global market. The market growth in this region is attributed to the growing number of pediatric population coupled with increasing risk of target diseases, increasing demand for platelet screening programs for diagnosis of HIV and epidemic diseases such as Dengue and Malaria that affects large population in the region, increasing awareness among the physicians, increasing healthcare tourism, increasing number of hospitals and laboratories in the emerging countries.
Most of the players looking to expand their products to emerging markets owing to huge opportunities due to the presence of large patient base in the countries such as India and China. In China, the healthcare spending is expected to rise due to growing aging population, urbanization, growing chronic disease incidence and expanded access to health insurance.
Competitive Insight
The prominent players operating in the market are F. Hoffmann La-Roche Ltd., Drucker Diagnostics, Haemonetics Corporation, Sysmex Corporation, Siemens Healthineers, Chrono-log Corporation, Instrumentation Laboratory, Accriva Diagnostics, Matis Medical, Helena Laboratories Corporation, Sienco, Inc., Bio/Data Corporation, Tem Group, WerfenLife, S.A., Laboratory Corporation of America Holdings, Sentinel CH. S.p.A., and Aggredyne, Inc. Majority of these vendors are located in the US and Europe. These players are increasingly competing with strategic mergers and acquisitions, product advancements, development of new and innovative products to sustain their position in the market and to increase their market share.