The patient monitoring devices market was valued at USD 38.7 billion in 2021 and is expected to grow at a CAGR of 7.4% during the forecast period. The growing demand for patient monitoring devices is due to the rising usage of wearables for infants and continuously evolving sensor technology, the rapid expansion of IoT, and rising personal care and health consciousness.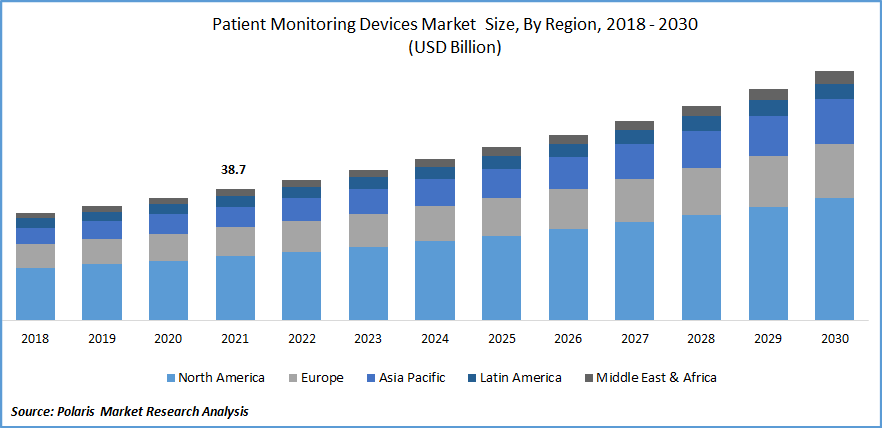 Know more about this report: Request for sample pages
Biometric parameters, including blood pressure, heart rate, temperature, SPO2, and others, are measured, via patient monitor devices for the purpose to be recorded, transferred, and displayed. Hospitals and clinics frequently use multi-function, high-capacity monitors to ensure top-notch care. Handy patient monitors are designed to be lightweight and low-power which makes it possible to be used by paramedics or people in remote areas to assist as well as to track and transmit data to healthcare providers in other regions.
The market is expanding at a faster rate due to the rising popularity of wearable patient monitoring technology. Continual temperature, glucose, blood pressure monitoring, and pulse oximetry are just a few examples of patient monitoring devices, biosensors, and smart implants.
Furthermore, the future generation of wearable technology includes IoT components. Vital indicators like blood sugar, blood pressure, weight, and electrocardiography (ECG) are measured by wearable biosensors and can easily be transferred using mobile wireless networks.
Governments worldwide are deeply concerned about the long-term viability of the current healthcare system. The emphasis on alternative treatment modalities, such as home healthcare, has shifted recently due to rising healthcare costs, particularly in hospital settings.
Furthermore, adopting devices also significantly reduced the number of hospital readmissions as patients are moving towards efficient home-use gadgets, including fetal and neonatal monitors, ECG recorders, temperature monitors, pulse oximeters, and event monitors.
The Covid-19 pandemic has positively influenced the targeted market as many people avoided regular hospital visits due to social segregation and quarantine procedure, which increased the demand for home routine temperature and oxygen monitoring, thereby demanding devices at home. This increased the sales and production of devices, influencing the market's growth during the pandemic.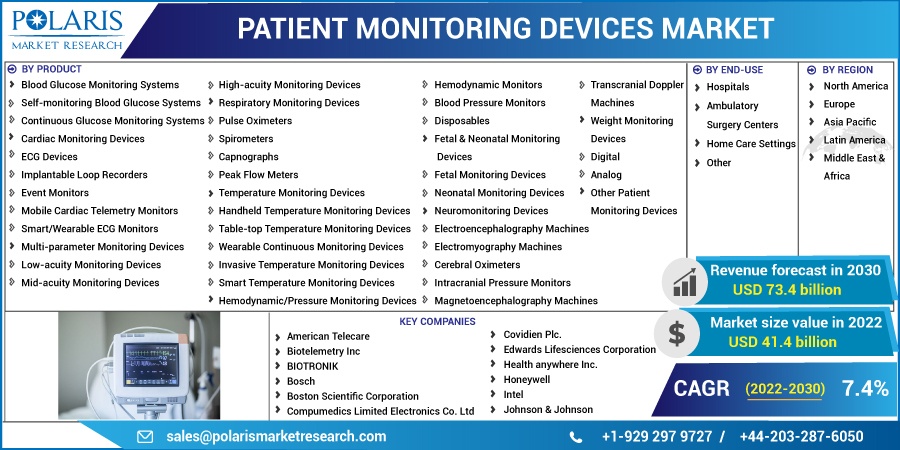 Know more about this report: Request for sample pages
Industry Dynamics
Growth Drivers
The key factor anticipated to propel the market growth is the spike in demand for the devices to be used in residential settings. Additionally, the market is expected to rise due to the rising prevalence of the cardiovascular disease worldwide, where patients need constant monitoring.
Additionally, the global increase in the elderly population is also driving the market. The older generation typically has chronic illnesses that require ongoing tracking of their health, which increases market demand. Furthermore, the development of technologically sophisticated equipment, including ventilators, nebulizers, oxygen monitors, and many others, is expected to propel market expansion since they bring comfort to the patients.
Moreover, the increasing adaption of wearable patient monitoring devices is influencing the market's growth. Platforms for telehealth and better patient monitoring will be easier to establish due to advancements and the growing possibility of wireless data transmission networks driving the targeted market.
Furthermore, modern wearable technology includes IoT capabilities. Wearable biosensors are used to assess vital indicators such the ECG, blood pressure, and blood sugar, and they transfer the data to a central server using mobile wireless networks.
For instance, In June 2022, GE Healthcare introduced a new wireless patient monitoring device, for pulse rate count and oxygen saturation capturing rate for post-surgery patients continuously.
Report Segmentation
The market is primarily segmented based on product, end-use, and region.
By Product

By End-Use

By Region

Blood Glucose Monitoring Systems

Self-monitoring Blood Glucose Systems
Continuous Glucose Monitoring Systems

Cardiac Monitoring Devices

ECG Devices
Implantable Loop Recorders
Event Monitors
Mobile Cardiac Telemetry Monitors
Smart/Wearable ECG Monitors

Multi-parameter Monitoring Devices

Low-acuity Monitoring Devices
Mid-acuity Monitoring Devices
High-acuity Monitoring Devices

Respiratory Monitoring Devices

Pulse Oximeters
Spirometers
Capnographs
Peak Flow Meters

Temperature Monitoring Devices

Handheld Temperature Monitoring Devices
Table-top Temperature Monitoring Devices
Wearable Continuous Monitoring Devices
Invasive Temperature Monitoring Devices
Smart Temperature Monitoring Devices

Hemodynamic/Pressure Monitoring Devices

Hemodynamic Monitors
Blood Pressure Monitors
Disposables

Fetal & Neonatal Monitoring Devices

Fetal Monitoring Devices
Neonatal Monitoring Devices

Neuromonitoring Devices

Electroencephalography Machines
Electromyography Machines
Cerebral Oximeters
Intracranial Pressure Monitors
Magnetoencephalography Machines
Transcranial Doppler Machines

Weight Monitoring Devices
Other Patient Monitoring Devices

Hospitals
Ambulatory Surgery Centers
Home Care Settings
Other

North America (U.S., Canada)
Europe (France, Germany, UK, Italy, Netherlands, Spain, Russia)
Asia Pacific (Japan, China, India, Malaysia, Indonesia, South Korea)
Latin America (Brazil, Mexico, Argentina)
Middle East & Africa (Saudi Arabia, UAE, Israel, South Africa)
Know more about this report: Request for sample pages
Multi-parameter monitoring devices to account for the largest market share in 2021
Multiparameter monitoring devices captured the most significant market share in 2021 due to the advantages such as low-cost, battery-powered, and highly integrated silicon systems that implement numerous parameters into a low-cost, low-power integrated solution.
For instance, silicon solutions, single chips with integrated ECG, respiration, pulse oximetry, and one or more computer units, and a Bluetooth low-energy radio, are now readily available. These two devices were combined to create a complete multiparameter solution with a low-cost, small-volume, and low-power solution.
In addition to clinics and hospitals, multiparameter monitoring is also becoming more important in-home settings. Home care and senior care are becoming more and more important for lower the costs of care. Multiparameter monitoring technologies make it easier to assess patients' health before they are taken to the hospital. These aforementioned factors are responsible for the segment's growth.
Hospitals accounted for a significant market share in 2021
The hospital segment acquired the largest market revenue in 2021 due to the growing significance of precise and fast disease diagnosis and the increasing number of treatments carried out in hospitals.
The rising number of admissions in hospitals due to accidents, chronic illnesses, and other circumstances driving the segment's growth. Multiparameter patient monitors are often used in wards and intensive care units to continuously look patients' health utilizing several human vital indicators, such as respiration rate, oxygen saturation, blood pressure, and heart rate.
Moreover, the home care settings segment is supposed to grow fastest over the forecast period due to the trend toward portability and the provision of therapy at home or by the bedside is pushing the development of next-generation therapeutic, display, diagnostic, and monitoring technologies that are more adaptive, precise, and tiny.
North America dominated the regional market
North America dominated the regional market due to rising R&D for developing novel sensor-based patient monitoring systems, increasing prevalence of infectious diseases, safety concerns, and technological advancements in inpatient monitoring device items.
Additionally, the majority of the most well-known corporations in the world, like Natus Medical, GE Healthcare, Edward Lifesciences, and Masimo Corporation, have their headquarters or a sizable presence in the region. Others have focused on development to increase their reach and skill set. This is yet another crucial factor fueling the market's explosive growth.
Competitive Insight
Some of the major players operating in the global market include American Telecare, Biotelemetry Inc, BIOTRONIK, Bosch, Boston Scientific Corporation, Compumedics Limited Electronics Co. Ltd, Covidien Plc., Edwards Lifesciences Corporation, Health anywhere Inc., Honeywell, Intel, Johnson & Johnson, Masimo Corporation, Natus Medical Medtronic plc, OMRON Corporation, Philips Healthcare, Roche, SCHILLER, Shenzhen Mindray Bio-Medical, and Welch Allyn
Recent developments
In January 2020, NantHealth's linked care business was acquired by Masimo Corporation, for improving patient care through connectivity, hospital automation, and novel noninvasive monitoring technologies.
Patient Monitoring Devices Market Report Scope
| | |
| --- | --- |
| Report Attributes | Details |
| Market size value in 2022 | USD 41.4 billion |
| Revenue forecast in 2030 | USD 73.4 billion |
| CAGR | 7.4% from 2022 - 2030 |
| Base year | 2021 |
| Historical data | 2018 - 2020 |
| Forecast period | 2022 - 2030 |
| Quantitative units | Revenue in USD billion and CAGR from 2022 to 2030 |
| Segments covered | By Product, By End-Use, By Region |
| Regional scope | North America, Europe, Asia Pacific, Latin America; Middle East & Africa |
| Key companies | American Telecare, Biotelemetry Inc, BIOTRONIK, Bosch, Boston Scientific Corporation, Compumedics Limited Electronics Co. Ltd, Covidien Plc., Edwards Lifesciences Corporation, Health anywhere Inc., Honeywell, Intel, Johnson & Johnson, Masimo Corporation, Natus Medical Medtronic plc, OMRON Corporation, Philips Healthcare, Roche, SCHILLER, Shenzhen Mindray Bio-Medical, and Welch Allyn |