The global polybutadiene market size was valued at USD 4.98 billion in 2018 and is expected to grow at a CAGR of 5.9% from 2019 to 2026. Polybutadiene primarily referred to as Polybutadiene rubber is closely targeted in manufacture of synthetic tires. Polybutadeine is the second largest compound used in synthesis of synthetic rubber.
It is a synthetic rubber produced by polymerization of 1, 3 butadiene. It has three bonding structures in the microstructure, 1, 4-cis, 1, 4-trans and 1, 2 vinyl. Polybutadiene is classified into high cis BR (HBR) and low cis BR (LBR) on basis of its 1, 4 cis content. High cis Br content is with their 1, 4 cis content more than 94% and has features such as high abrasion resistance, high elasticity, aging resistance and water resistance going for it. Exceptional rolling resistance and low glass transition temperature which assist in better fuel economy makes polybutadiene hand-picked for manufacture of tires. Almost 70% of polybutadiene manufactured is used up in manufacture of tires. Due to its excellent resiliency, polybutadiene finds itself a perfect fit in manufacture of soft toys and golf balls.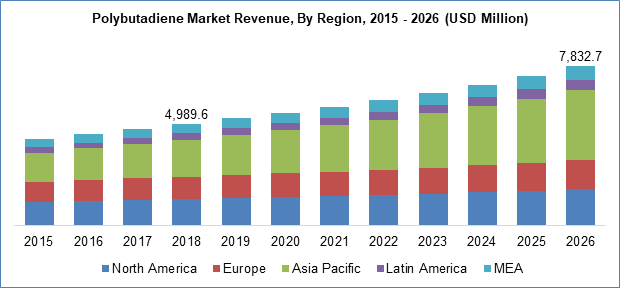 Know more about this report: request for sample pages
High cis derivative is expected to be the fast-growing product segment in the market registering uniform growth due to compact demand from tire manufacturing industry. Polymer modification application is expected to grow unlimitedly due to increased growth of modified polymers and golf balls.
The endless trot of applications drives growth in market. It is used in plenty of applications such as tire, polymer modification, chemical, industrial rubber manufacturing and others. It however taps greatest application in production of automotive tires. Therefore, high demand in automotive industry and rise in production of motor vehicles draws upon high growth in pooluybutadiene industry. Furthermore, rapid evolution of industry, increasing demand in luxury vehicles segment and sophistication of industrial machinery also boosts market growth. An increasing demand for a low-cost substitute to natural rubber with superior properties is expected to drive its consumptions.
The lesser known growth factors include increase in polystyrene and ABS in production of consumer goods coupled with thriving demand for industrial rubber. But the market may be downsized by environmental hazards and questions regarding health findings in polybutadiene market. Price volatility is an upcoming issue in Polybutadiene market causing a restraint in the market. A staggering demand from developing economies and leanings towards eco-friendly tires are going to create an upward market swing for polybutadiene in forecast period.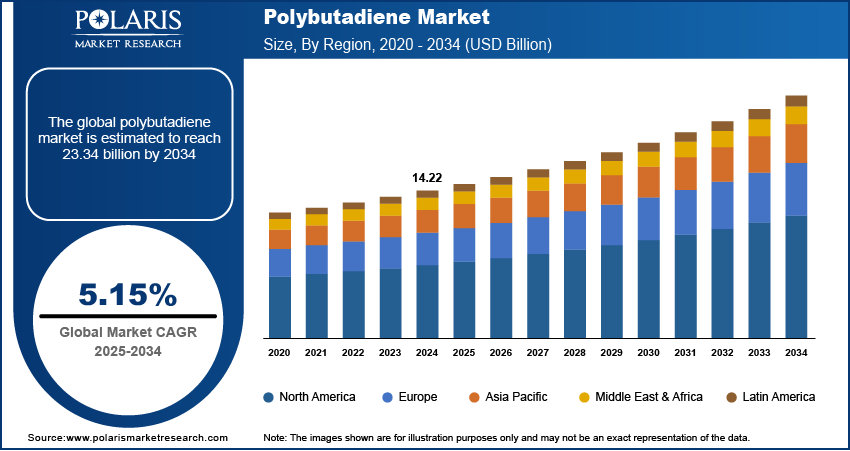 Know more about this report: request for sample pages
Polybutadiene Market Report Scope
By Product Type

By End-Use Type

By Region

Solid Polybuatdiene Rubber
Liquid Polybutadiene Rubber

Automotive
Chemical
Industrial
Others

North America (U.S., Canada, Mexico)
Europe (UK, Germany, France, Italy)
Asia Pacific (India, China, Japan)
Latin America (Brazil)
MEA
Know more about this report: request for sample pages
Product Type Analysis
The global market is segmented into type, end-user and region. Based on type, market is segmented into solid polybutadiene rubber and liquid polybutadiene rubber. The solid polybutadiene rubber segment dominated growth in 2017 because of growth in demand from tire manufacturing. The extensive demand for luxury vehicles and increasing growth of motor vehicles by production numbers has become automatic growth factors for solid polybutadiene rubber market segment. Manufacturers are also experimenting with downstream applications as price in these applications remains constant.
End-Use Analysis
The end-user segment is characterized by growth of automotive segment accounting for highest share in global market in 2018. This growth accrues from increasing sophistication of vehicles and enhanced driving experience contributing to high growth. The leading players are catering to consumers whims and introducing new and innovative products in the market. Global players are venturing into market space with enhanced customer base and strong market presence. Thailand is a fast-growing market for polybutadiene during forecast period while China remained first in terms of both value and volume. In 2018, India, South Korea and Japan were greatest consumers of polybutadiene market.
North America alone accounted for considerable share of the market because of presence of major players in the continent including Goodyear, Cooper Tires and Pro-line. Demand in MEA will be hit because of price volatility in crude oil prices as result of reduced crude oil production.
Butadiene prices have to cope with large fluctuations due to fluctuations in volatile crude oil prices and global instability. Volatile crude oil prices and currency fluctuations will hamper growth. Furthermore, manufacturers are turning backs from petroleum-based products and adopting bio-based butadiene to counter adverse environmental effects of polybutadiene.
Manufacturers have switched sides from nickel-butadiene rubber facility to neo-dymium rubber facility due to high- running demand for cis derivatives used in manufacture of tires. The market is segmented across North America, Europe, Asia Pacific, Latin America and MEA. Asia Pacific dominated market share in the region due to manufacturing growth in car segment and production of cars beating market volatility. An upcoming economy, mushrooming of manufacturing industries, foreign investment and availability of low-cost labor in Asia are factors boosting growth of polybutadiene in Asia Pacific. Demand in Asia Pacific is high owing to presence of robust high-key players with companies such as JSR Corporation and Reliance Industries Ltd.
Competitive Analysis
The leading players in market include China Petroleum and Chemical Corporation, JSR Corporation, Reliance Industries Ltd., Lanxess AG, Kumho Petrochemical Co. Ltd, The Goodyear Tire and Rubber Company, UBE Industries Ltd., Synthos S.A, Evonik Industries and Lyondel Basell Industries NV among others.