The global polyolefins market size was valued at USD 270.7 billion in 2018 and is forecasted to grow at a CAGR of 6.2% from 2018 to 2026. Polyolefins are amongst the largest synthetic polymer used for manufacturing different end-use products. Polyolefins are generally put to use in differing applications because they possess nimble mechanical properties such as being light-in-weight and having inherently high chemical resistance besides tapping low cost of production.
MNC's are constantly upgrading their portfolio mix to meet existing demand from numerous application sectors such as film and Sheet and injection molding which is expected to drive market growth in the coming years. A hastily expanding business towards the nearing end of value chain, especially in the developing countries has given impetus to the polyolefin products in manufacture of different commodity products. The growth of polyolefins is directly impacted by the increase in consumption of end-use products such as flexible packaging, commodity plastic products and bio-based products.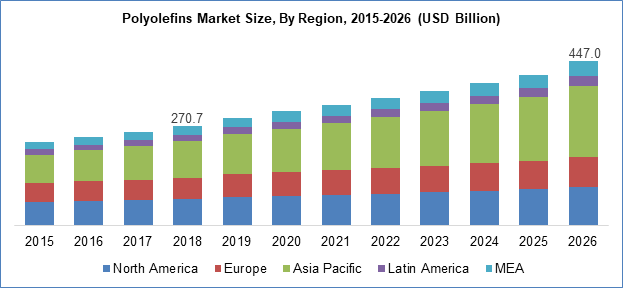 Know more about this report: request for sample pages
Feedstock Analysis
Polyolefins are of different types such as polypropylene, polypolyolefins, thermoplastic olefins and others. The global polyolefin market is driven by a colossal demand from the plastic industry. Plastics in the current scenario are the most nimble and worthy material of the modern economy due to its low cost and immaculate properties. Plastic packaging and commodity plastics are the most thriving segments of the plastic industry, hastily driving the demand for polyolefins.
Polyethylene is the fast expanding business in terms of volume during forecast period. High tenacity and high impact resistance of the product has been attributed to its product appeal. These end-use products have carved a name for it in growing middle-class population by urbanization, increasing disposable income of consumers, high brand equity and equally high optimizations in material science industry. This is propelled by many market players and their extensive thought-out network.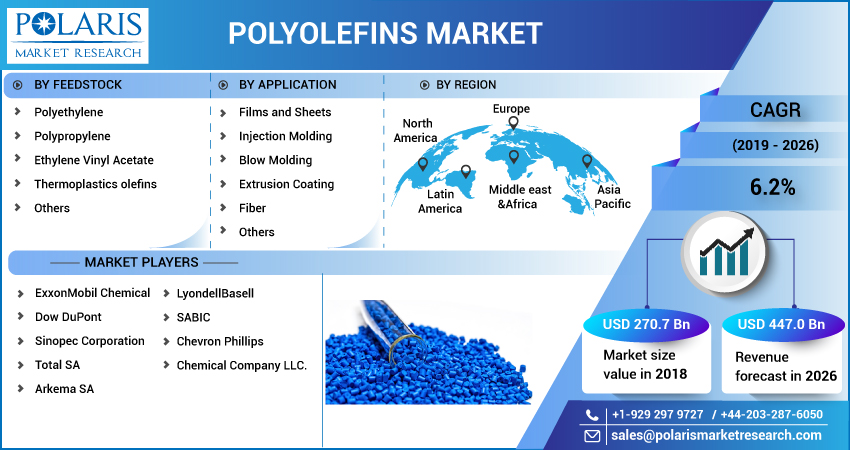 Know more about this report: request for sample pages
Polyolefins Market Scope
By Feedstock

By Application

By Region

Polyethylene
Polypropylene
Ethylene Vinyl Acetate
Thermoplastics olefins
Others

Films and Sheets
Injection Molding
Blow Molding
Extrusion Coating
Fiber
Others

North America (U.S., Canada)
Europe (Germany, UK, France, Italy, Spain, Belgium, Russia, Netherlands)
Asia Pacific (China, Japan, India, Australia, Korea, Singapore, Malaysia, Indonesia, Thailand, Philippines)
Latin America (Mexico, Brazil, Argentina)
MEA (UAE, Saudi Arabia, South Africa)
Know more about this report: request for sample pages
Favorable Government rules and strictures are driving food industry in Europe and U.S. where high-grade and innovative polyolefin are used to label and package the food products. Strict regulations by the Government bodies has driven growth by following directives such as waste disposal with innovations in polyolefins usage in plastics, thus driving market growth. The market restraints hampering growth of this market includes the hazardous impact of plastics a polyolefin derivative on the environment and its repercussions. Hence plastics are increasingly being avoided by environment friendly products that could seriously impact the growth of this market.
Polyolefins are subject to increasing fluctuations of prices, being a petrochemical derivative, so some degree of volatility is witnessed. In 2017, the high prices set back an uneconomical routine that would erode the profit margins including that of polyolefin derivatives and which would roll over into consecutive years. Polyolefins are still under fire by numerous unpredictable reasons that could severely impact growth of polyolefins even with majority of commodity polymers raking up growth on an even basis.
Polypolyolefins and polypropylene are largest product category for polyolefins. Polypolyolefins is one of the largest-volume petrochemicals produced on a global scale along with a flexible derivative portfolio both in resilient and non-resilient end-users. The polyolefin has three direct applications including HDPE-High density poly olefins, LDPE-Low density polyolefins and LLDPE -Linear low-density polyolefins. Polyethylene and Polypropylene are expected to drive market growth. LDPE and LLDPE are used widely in electrical insulations and HDPE is used in manufacturing household containers. Polyethylene has several end-use applications.
Ethylene Vinyl Acetate increases transparency, toughness and flexibility of the product and hence copiously used in processing and packaging industries. It is also used in footwear, automobile bumpers and athletic goods among others. The product also is used as a cold flow improver for applications to do with diesel. This EVA is finding many takers and unlimited growth by key players due to innovations in product technology.
Application Analysis
On the basis of applications, the overall market is segmented into firms and sheets, injection molding, blow molding, extrusion coating, fibers and few others. Films and sheets are expected to be the biggest market for polyolefin because of its applications in making of bags and flexible packaging.
Injection molding is a key application of polyolefin including LDPE, LLDPE and HDPE. The reason for this growth includes its light in weight characteristic, toughness and high chemical resistance. The polyolefins are used in pellet form for injection molding.
Regional Analysis
The emerging economies are seen having a delectable mix in terms of growth, while developed economies have witnessed growth in spite of slack conditions. Asia, Africa and Middle East are poised to witness fast growth in polyolefin market. China, India, Thailand, Vietnam, Indonesia and Malaysia have contributed to the growth of polyolefins market. The huge demand emanating from Asian countries is the speedy development of polyethylene and polypropylene market. The automotive sector including automotive goods, durable materials and packaging materials drives the polypropylene and polyethylene market in turn. The market is highly competitive and comprises a large number of domestic and international players.
Competitive Analysis
The polyolefins market is highly competitive and constitutes of large number of domestic and international market players. Some of the key players include ExxonMobil Chemical, Dow DuPont, Sinopec Corporation, Total SA, Arkema SA, LyondellBasell, SABIC, and Chevron Phillips Chemical Company LLC.