The global polysilicon market size was valued at USD 5,486.2 million in 2018 and is expected to grow at a CAGR of 7.4% from 2019 to 2026. Polysilicon is also known as poly-Si or polycrystalline silicon and is a polycrystalline form of silicon with high purity. It is obtained from metallurgical grade silicon via chemical purification process.
The product is characteristically identified by two grades. One is electronics and the other solar. The electronics grade is used to manufacture microelectromechanical systems, optics, power conversion devices and Integrated Circuits. The solar grade is used in manufacturing photovoltaic cell. Polysilicon is manufactured via different processes namely Siemens process, fluidized bed reactor and upgraded metallurgical grade (UMG). Siemens Process produces highest quality of polysilicon by distillation at high temperatures. These are employed in solar cells and electronic applications. Polysilicon produced in fluidized bed reactors is utilized in solar photovoltaic applications. Upgraded metallurgical grade is used in electronic applications.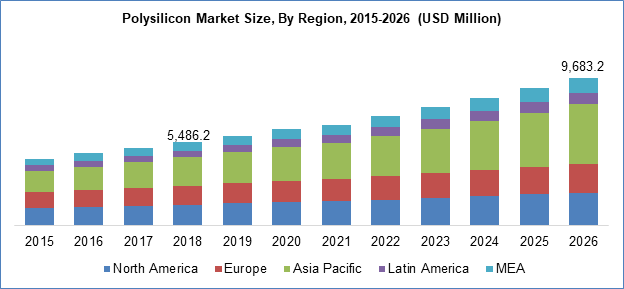 Know more about this report: request for sample pages
Application Analysis
Polysilicon is a high-purity silicon grade and a major raw material for the electronics and photovoltaic (PV) industries. Silicon has profuse abilities from which it is manufactured. The three commercial processes for extracting it from silicon are quite lucrative. Polysilicon consists of numerous small silicon crystals of larger than 1mm size. Polycrystalline is produced in ingot and wafer forms. The cost of polysilicon is low as compared to that of single crystal or monocrystalline silicon.
Both these end-use industries have significantly driven growth of polysilicon and are amongst largest end-use industries across the globe. Polysilicon finds itself useful in production of Photovoltaics (PV) wafers which is another strong growth factor for global market. Poly-Si is a unit building block for PV cells as it has characteristics similar to semiconductor-like materials.
The demand for polycrystalline silicon in PV sector has witnessed massive growth owing to tremendous growth in solar sector in almost all countries. Increasing demand for efficient and cleaner renewable energy has resulted in rapid rise in the solar installations. Favorable government initiatives are also helping the cause for growth of solar installations.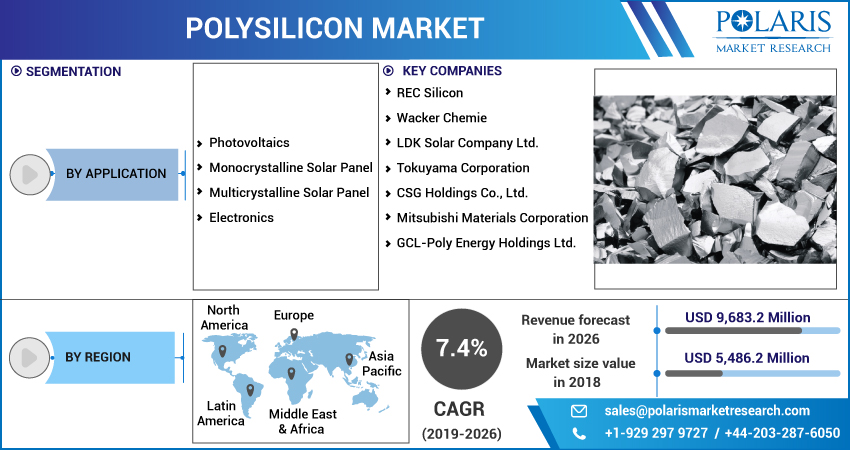 Know more about this report: request for sample pages
Polysilicon Market Scope
By Application

By Region

Photovoltaics
Monocrystalline Solar Panel
Multicrystalline Solar Panel
Electronics

North America (U.S., Canada)
Europe (Germany, UK, France, Italy, Spain, Belgium, Russia, Netherlands)
Asia Pacific (China, Japan, India, Australia, Korea, Singapore, Malaysia, Indonesia, Thailand, Philippines)
Latin America (Brazil, Mexico, Argentina)
MEA (UAE, Saudi Arabia, South Africa)
Know more about this report: request for sample pages
With consumer preference altered, and awareness of consumer for a cleaner and sustainable environment rekindled, a strong adoption of solar technology right from residential to industrial sector is enhanced. This has boosted the raw material industry such as that of polysilicon.
Polysilicon is also widely used in the electronics industry for manufacture of different electronics components. Polysilicon is used in Integrated Circuits and electronic gates (MOSFETS and CMOS), resistors and conductors and ohmic contacts for shallow junctions. Electronics and semiconductor industry are amongst the top five end-use industries for many regions in the world. Technical developments and stirring consumer demands has made electronic manufacturing industry more lucrative than ever.
Expanding population of the world, escalating economic growth of many nations and an inspiring demand for modern and durable products has given vent to consumer delight and indulgence in sophisticated modern-day gadgets. These gadgets and electronic components comprise applications for polysilicon in substantial quantities.
The global market is segmented into application and regional segment. On basis of application, polysilicon is segmented into photovoltaics and electronics industry. Furthermore, in photpvolatics sector, polysilicon is used in manufacture of monocrystalline solar panels and multicrystalline solar panels. The photovoltaics sector is expected to observe fast growth on account of development in solar sector.
Regional Analysis
Based on region, polysilicon market is divided into North America, Europe, Asia Pacific, Latin America and MEA. Asia Pacific is leader in market with China being largest contributor, accounting for substantially high PV capacity in 2017. Other significant countries in the region include Japan, India, South Korea and Taiwan. China dominates growth in polysilicon market with countries such as India, Australia and South East Asian countries witnessing rapid growth rate during forecast period.
Rising usage of renewable energy sources encourage solar photovoltaic cell production but production of polysilicon is not environment friendly. China accounted for largest market share attributing it to a large capacity plant in the country. China is followed by the U.S. The market in South Korea, Japan, Germany and Norway is anticipated to rise in the immediate future. 'Make in India 'policy will deepen market growth in India. Polysilicon growth is expected to rise in Asia Pacific and Europe during forecast period.
The global polysilcion market comprises of large multinational and domestic companies. The industry is evenly concentrated and highly competitive. The market players' main aim is to procure raw materials and export end-use products, especially solar which have witnessed uplifting changes in few major countries related to solar cells market.
The price of polysilicon has reduced significantly in the last few years but still likely to rise in the coming years due to rise in photovoltaic applications and surging electronics industry. Investments, driving expansions and renewable long-term contracts of companies are boosting market growth for polysilicon market.
Competitive Analysis
The global polysilicon market comprises of large multinational and domestic companies. The industry is moderately consolidated and highly competitive. Major focus of the market players currently is in the procurement of the raw materials and export of the end-use products, especially solar as the particular sector has witnessed demographic changes in few major countries concerning the solar cells market. Some of the major polysilicon market players include REC Silicon, Wacker Chemie, LDK Solar Company Ltd., Tokuyama Corporation, CSG Holdings Co., Ltd., Mitsubishi Materials Corporation, and GCL-Poly Energy Holdings Ltd.