The global polyurethane dispersions market size was valued at USD 1.84 billion in 2020 and is expected to grow at a CAGR of 7.2% during the forecast period. The market demand for polyurethane dispersions has increased from applications such as coatings, adhesives, paints, inks, and textiles, among others. They offer properties such as low viscosity, high molecular weights, and superior film-forming.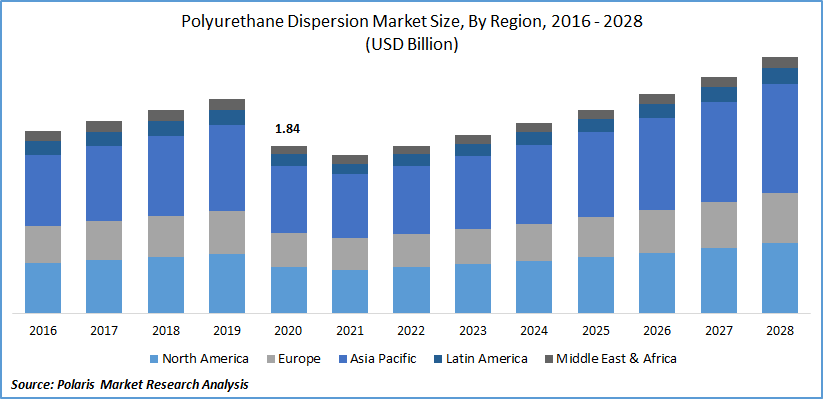 Know more about this report: request for sample pages
The COVID-19 outbreak has hampered the growth of the polyurethane dispersions market owing to operational challenges, transportation delays, and travel restrictions. The automotive, textile, and construction sectors have been severely affected by the pandemic and have experienced supply chain disruption and workforce impairment. Restrictions on imports of goods to curb the spread of the virus have further contributed to restricting the market growth. Manufacturing activities have also been halted due to various government regulations across the globe. The pandemic has resulted in declined economic activities, reduced infrastructure activities, and closure of local businesses.
Industry Dynamics
Growth Drivers
Polyurethane dispersions are increasingly being used owing to their wide range of film hardness, ease of handling, and shallow organic content. They are utilized in coatings and leather finishes due to high tensile strength, more excellent abrasion resistance, and superior temperature durability. Polyurethane dispersions are required in varied industries such as automotive, construction, industrial, furniture, and textile, among others.
The rise in disposable income of consumers, along with improving living standards, has resulted in greater market demand for textile and leather products. Increasing industrialization and urbanization across the globe, especially in the emerging economies, has given rise to the application of polyurethane dispersions in the interior and furniture sectors.
The economic growth in countries such as China, Japan, and India has led to growth in the construction and automotive industries resulting in increased demand for polyurethane dispersions. Increasing application in the fashion industry, growing development of public infrastructure, stringent emission policies, and increasing environmental awareness are some factors further expected to aid the market growth.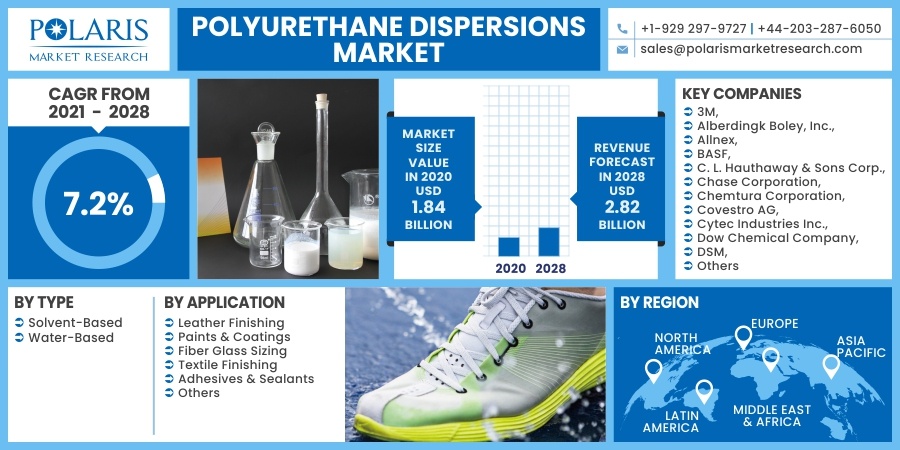 Know more about this report: request for sample pages
Technological advancements and rising investments in R&D have encouraged market players to launch new products. Global players are expanding into emerging countries to tap market potential, further boosting the market growth. The market demand for water-based polyurethane dispersions has increased owing to strict environmental legislation and increasing awareness. They are gaining popularity as environmentally friendly coating materials with low volatile organic content, versatility, and superior properties. Water-based polyurethane dispersions are increasingly used for manufacturing in the automotive industry.
The rise in market demand for passenger vehicles and the growing electrification of vehicles have increased the applications of polyurethane dispersions. The rise in demand for modernized vehicles coupled with the development of autonomous vehicles is expected to fuel the demand for polyurethane dispersions in the future.
Report Segmentation
The market is primarily segmented on the basis of type, application, and region.
By Type

By Application

By Region

Solvent-Based
Water-Based

Leather Finishing
Paints & Coatings
Fiber Glass Sizing
Textile Finishing
Adhesives & Sealants
Others

North America (U.S., Canada)
Europe (Germany, UK, France, Italy, Spain, Netherlands, Austria)
Asia-Pacific (China, India, Japan, South Korea, Indonesia, Malaysia)
Latin America (Brazil, Mexico, Argentina)
Middle East & Africa (Saudi Arabia, South Africa, Israel, UAE)
Know more about this report: request for sample pages
Insight by Type
The type segment has been divided into solvent-based polyurethane dispersions and water-based polyurethane dispersions. Water-based polyurethane dispersions are used in diverse industries owing to increasing environmental concerns and low VOC content. Water-based polyurethane dispersions are used to ensure low VOC emissions and meet emission regulations. They offer benefits such as weather resistance, high-blocking resistance, high abrasion resistance, and flexibility.
Insight by Application
On the basis of application, the market is segmented into leather finishing, fiberglass sizing, paints & coatings, adhesives & sealants, textile finishing, and others. The paints and coatings segment held for a majority of the share in the global polyurethane dispersions industry in 2020. In the construction sector, paints and coatings find a wide range of applications. Increasing construction activities, infrastructure development, and rising environmental concerns support the growth of this segment.
Regional Outlook
Asia-Pacific dominated the global polyurethane dispersions market in 2020. Increasing urbanization, growing research and development activities, and expansion of international players in this region drive the growth in this region. The industrial growth in countries such as China, India, and Japan, rising automotive penetration, and increasing construction and development activities have led to greater demand.
There has been a rising application of polyurethane dispersions in leather and textile finishing. Initiatives and regulations by the government to promote trade in the region, availability of cheap labor, and low production costs further support the growth in the region.
Competitive Landscape
The key players in the market include 3M, Alberdingk Boley, Inc., Allnex, BASF, C. L. Hauthaway & Sons Corp., Chase Corporation, Chemtura Corporation, Covestro AG, Cytec Industries Inc., Dow Chemical Company, DSM, Hauthaway Corporation., Huntsman Corporation, Lamberti, Lanxess, Lubrizol Corporation, Mitsui Chemical, Perstorp, Stahl Holding, and Wanhua Chemical Group.
These players are expanding their presence across various geographies and entering new markets in developing regions to expand their customer base and strengthen their presence. The companies are also introducing new innovative products in the market to cater to the growing consumer demands.
Polyurethane Dispersions Market Report Scope
| | |
| --- | --- |
| Report Attributes | Details |
| Market size value in 2020 | USD 1.84 billion |
| Revenue forecast in 2028 | USD 2.82 billion |
| CAGR | 7.2% from 2021 - 2028 |
| Base year | 2020 |
| Historical data | 2016 - 2019 |
| Forecast period | 2021 - 2028 |
| Quantitative units | Revenue in USD million/billion and CAGR from 2021 to 2028 |
| Segments covered | By Type, By Application, By Region |
| Regional scope | North America, Europe, Asia Pacific, Latin America, Middle East & Africa |
| Key Companies | 3M, Alberdingk Boley, Inc., Allnex, BASF, C. L. Hauthaway & Sons Corp., Chase Corporation, Chemtura Corporation, Covestro AG, Cytec Industries Inc., Dow Chemical Company, DSM, Hauthaway Corporation., Huntsman Corporation, Lamberti, Lanxess, Lubrizol Corporation, Mitsui Chemical, Perstorp, Stahl Holding, and Wanhua Chemical Group. |