The global power banks market was valued at USD 13.26 billion in 2022 and is expected to grow at a CAGR of 8.2% during the forecast period. Increased adoption of smartphones and other electronic devices. The proliferation of smartphones and tablets in emerging markets, such as China, Brazil, and India, has significantly contributed to the demand for power banks. As the costs of mobile technologies have decreased, more people in these emerging markets have gained access to smartphones. This has led to a surge in the number of smartphone users, creating a need for portable power sources to keep these devices charged and operational throughout the day.

To Understand More About this Research: Request a Free Sample Report
Additionally, technological advancements have resulted in mobile devices consuming more power due to higher processing capabilities, larger screens, and feature-rich applications. As a result, consumers require additional power sources to ensure their devices remain powered when traditional charging outlets are not readily available.
The increasing affordability of power banks has also played a significant role in their market growth. With advancements in battery technology and manufacturing processes, the cost of producing power banks has decreased, making them more accessible to a broader range of consumers. Furthermore, the extended reach of online retail platforms has made it easier for end-users to purchase power banks conveniently. Online marketplaces provide a wide range of options, competitive pricing, and the convenience of doorstep delivery, driving the growth of power bank sales.
Smartphones have become an integral part of modern lifestyles, providing access to a wide range of applications and services. The convenience and versatility offered by smartphones have led to an exponential growth in their adoption. As people rely more on their smartphones for various activities such as communication, entertainment, productivity, and online transactions, the need for a reliable power source to keep these devices charged has become crucial.
Despite advancements in technology, smartphone and tablet batteries still have limited capacities compared to the power demands of modern usage patterns. The increasing number of applications and services available on smartphones contributes to higher power consumption, leading to shorter battery life. Power banks offer a practical solution by allowing users to recharge their devices on the go, providing an extended power supply when traditional charging outlets are unavailable.
The demand for power banks is further fueled by the growing popularity of media devices with USB capability, such as tablets, e-readers, portable speakers, and wearable devices. These devices often have similar power limitations as smartphones, and users seek power banks as a portable and convenient charging solution. Proliferation of various applications on smartphones, including shopping, food delivery, navigation, social media, and more, has increased the reliance on these devices. These applications require constant connectivity and usage, which can quickly drain the device's battery. Power banks offer a practical way to ensure uninterrupted usage and address the limitations of low-capacity smartphone batteries.
As consumers become more conscious of environmental issues, they are seeking out sustainable alternatives for their power needs. Solar power banks offer a renewable and clean energy solution, allowing users to charge their devices using sunlight. This not only reduces reliance on traditional power sources but also minimizes the carbon footprint associated with charging electronic devices.
The popularity of outdoor activities and travel has also contributed to the growth of the power bank market. Whether it is hiking, camping, or simply spending time outdoors, people often require a reliable power source to keep their devices charged. Solar power banks provide a convenient solution in such scenarios, allowing users to harness solar energy to recharge their devices even in remote locations where access to electricity may be limited.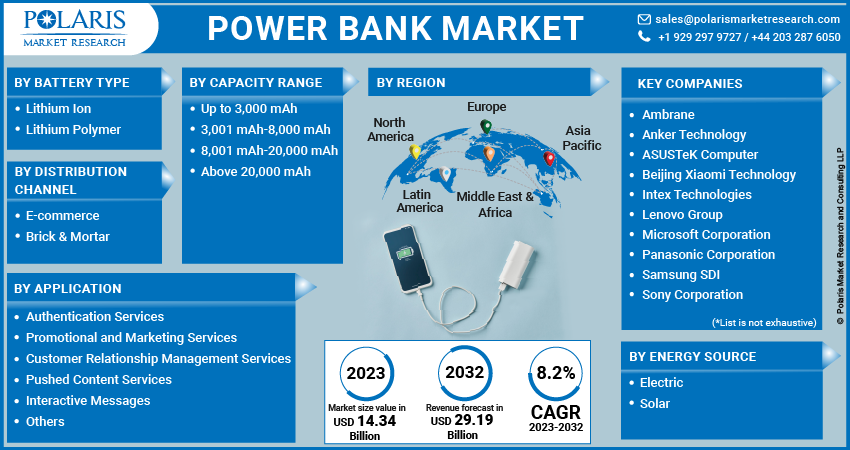 For Specific Research Requirements, Request for a Customized Report
Industry Dynamics
Growth Drivers
Increasing domestic production and assembly of power banks have led to cost savings. As more manufacturers establish production facilities in various regions, economies of scale come into play, reducing manufacturing costs. This, in turn, allows manufacturers to offer power banks at more competitive prices. Additionally, the entry of new vendors into the market has intensified competition. The power bank market has attracted a significant number of players, including both established companies and emerging startups. This competitive landscape compels manufacturers to differentiate themselves through factors such as product features, quality, and pricing. As a result, they strive to offer power banks at competitive price points to capture market share.
Furthermore, power banks require a lower capital investment for setting up a manufacturing facility compared to other consumer electronics products. The relatively lower barriers to entry enable new players to enter the market more easily, further increasing competition and driving down prices. As the market becomes more saturated with players, manufacturers are also driven to improve their production efficiency, optimize their supply chains, and streamline their operations to reduce costs. This allows them to offer power banks at more affordable prices without compromising on quality. The intense competition among manufacturers is expected to continue and potentially intensify over the forecast period. This competition benefits consumers as it leads to competitive pricing and a wider range of options in terms of features and specifications.
Report Segmentation
The market is primarily segmented based on capacity range, energy source, battery type, distribution channel, and region.
By Capacity Range

By Energy Source

By Battery Type

By Distribution Channel

By Region

Up to 3,000 mAh

3,001 mAh-8,000 mAh

8,001 mAh-20,000 mAh

Above 20,000 mAh

Lithium Ion

Lithium Polymer

E-commerce

Brick & Mortar

North America (U.S., Canada)

Europe (France, Germany, UK, Italy, Netherlands, Spain, Russia)

Asia Pacific (Japan, China, India, Malaysia, Indonesia. South Korea)

Latin America (Brazil, Mexico, Argentina)

Middle East & Africa (Saudi Arabia, UAE, Israel, South Africa)
To Understand the Scope of this Report: Speak to Analyst
8,001 mAh-20,000 mAh segment accounted for the largest market share in 2022
8,001 mAh-20,000 mAh segment dominated the market. The high-capacity power banks allow users to charge their devices multiple times without the need to recharge the power bank itself frequently. This feature has become increasingly important as consumers rely heavily on their smartphones, tablets, and other mobile electronic devices for various activities.
Smartphones have evolved into multi-purpose devices that offer a wide range of features and capabilities. With the availability of various applications and services, users rely on their smartphones for activities such as internet browsing, email communication, entertainment, messaging, gaming, and more. These activities require constant data connectivity and utilize the device's processing power, display, and other components, resulting in high energy consumption.
Electric segment expected to hold significant market share
Electric segment is projected to hold significant market share in terms of revenue over the study period. combination of easy availability, affordability, lightweight design, and compactness makes electric power banks suitable for charging movable electronic devices, such as smartphones, tablets, smartwatches, and other portable gadgets. These devices have become integral to our daily lives, and the need for a portable power source to keep them charged has increased significantly. Due to these features and benefits, electric power banks have experienced substantial demand and continue to dominate the market. As consumers increasingly rely on portable electronic devices, the demand for electric power banks is expected to grow further in the coming years.
Solar segment expected to witness the steady growth. With the increasing popularity of solar panels and renewable energy sources, there is a growing trend towards power banks that can be charged using solar energy. Solar power banks offer several advantages, particularly in terms of sustainability and environmental friendliness. They harness solar energy through built-in solar panels or external solar panels, allowing users to charge their devices using renewable energy. This reduces reliance on traditional electricity sources and helps decrease carbon emissions.
Asia Pacific

region dominated the global market in 2022
The growing population in the Asia Pacific region plays a crucial role in driving the demand for power banks. With a large and increasing number of individuals owning smartphones and other electronic devices, the need for portable power solutions becomes more prominent. Furthermore, the region has experienced rapid digitization across various industries. The adoption of digital technologies, internet connectivity, and mobile applications has become widespread, leading to increased power consumption by electronic devices. This, in turn, drives the demand for power banks as users seek to keep their devices charged and operational throughout the day.
Competitive Insight
Some of the major players operating in the global market include Ambrane, Anker Technology, ASUSTeK Computer, Beijing Xiaomi Technology, Intex Technologies, Lenovo Group, Microsoft Corporation, Panasonic Corporation, Samsung SDI, and Sony Corporation.
Recent Developments
In May 2022, Zendure, a power bank manufacturing company based in the United States, unveiled the SuperMini GO, a wireless power bank featuring magnetic docking that is designed to be compatible with MagSafe technology. This innovative device offers the capability to deliver up to 15W of wireless power, allowing users to conveniently charge Qi-compatible mobile devices such as smartphones and tablets without the need for cables.
Power Banks Market Report Scope
| | |
| --- | --- |
| Report Attributes | Details |
| Market size value in 2023 | USD 14.34 billion |
| Revenue forecast in 2032 | USD 29.19 billion |
| CAGR | 8.2% from 2023 – 2032 |
| Base year | 2022 |
| Historical data | 2021 – 2022 |
| Forecast period | 2023 – 2032 |
| Quantitative units | Revenue in USD million/billion and CAGR from 2023 to 2032 |
| Segments covered | By Capacity Range, Energy Source, Battery Type, Distribution Channel, By Region |
| Regional scope | North America, Europe, Asia Pacific, Latin America; Middle East & Africa |
| Key companies | Ambrane, Anker Technology, ASUSTeK Computer, Beijing Xiaomi Technology, Intex Technologies, Lenovo Group, Microsoft Corporation, Panasonic Corporation, Samsung SDI, and Sony Corporation. |