The global precision fermentation market was valued at USD 1,674.57 million in 2022 and is expected to grow at a CAGR of 46.0% during the forecast period. The rising awareness towards animal welfare and the increasing vegan population drive the precision fermentation market. The production of animal-free meat and seafood companies focused on cultivating and producing a precursor for this product. A startup by Meet Future in Estonia uses mycoprotein to develop chicken and fish alternatives. Alternative proteins and fats are becoming a part of the product offerings of an increasing number of businesses primarily concerned with precision fermentation. For instance, the Dutch business Fooditive, which makes sweeteners, declared in 2021 that it is branching out into alternative proteins by introducing a casein product made via precision fermentation.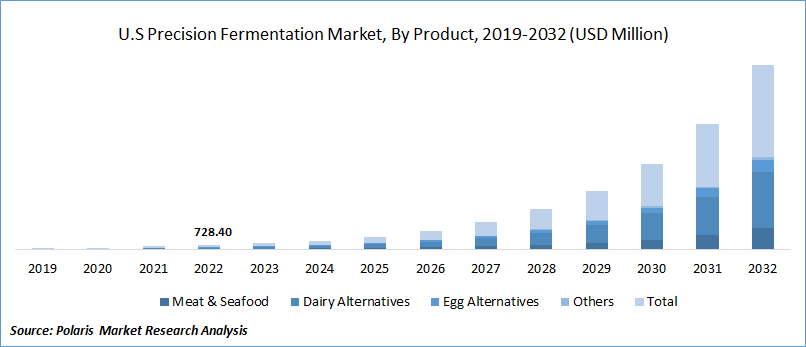 Know more about this report: Request for sample pages
The precision fermentation process is crucial, particularly in the current environment, since it decreases greenhouse gas emissions into the atmosphere and reduces water and land use. A significant portion of the worldwide population is becoming more inclined to consume vegan meals, which has increased the availability of meat substitutes globally.
Furthermore, people are considering a meat-free diet after awareness through animal welfare organizations became more aware of the unethical and cruel treatment of animals in the food industry, increasing the number of vegans in the population. Precision fermentation creates components like animal proteins using the vast and mostly unexplored range of yeasts, fungi, mycelium, and microalgae as hosts.
The COVID-19 pandemic caused a severe public health crisis that impacted various industries, and its long-term repercussions are expected to impact industry growth over the forecast period. The pandemic most severely impacted the food and beverage industry. Social distancing and shutting down industrial operations affect the food supply chain and agribusinesses. The pandemic significantly impacted both the demand and supply side of the food industry. Production and distribution of food were severely affected by the restrictions imposed by governments across the globe. In contrast, the demand for precision fermented-based products has increased since the pandemic due to raising awareness of healthy diets. The primary factor driving sales during the pandemic is the market's shortage of beef and pork.
For instance, U.S.-based player Impossible Foods witnessed about a 500% increase in the sales of their Impossible burgers in 2020. Further, Beyond Meat, another player in the precision fermentation market, has also reported an increase in revenue of 141% in the first quarter of 2020, as per news by "The Hill."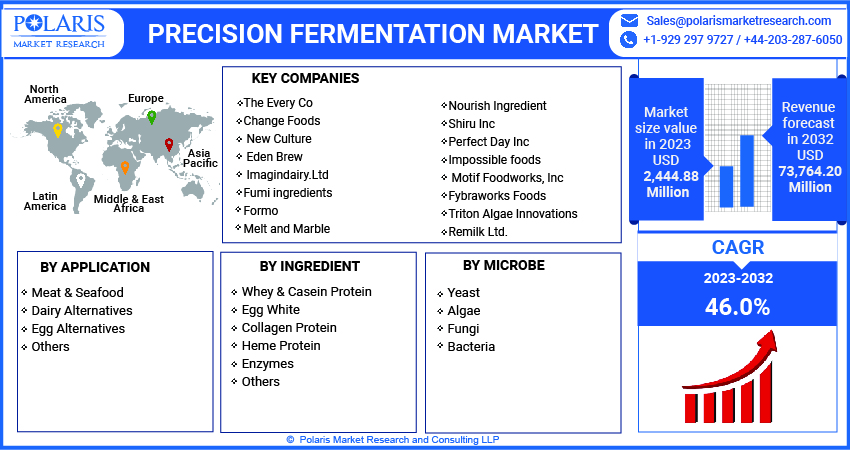 Know more about this report: Request for sample pages
Industry Dynamics
Growth Drivers
Consumer preferences are shifting towards plant-based animal protein, leading to changes in eating patterns. Precision fermentation is a process that enables the creation of animal-free, plant-based, and environmentally friendly products using bioreactors as microbial hosts. The bacteria in these bioreactors produce various functional elements such as enzymes, flavorings, vitamins, pigments, and pure forms of protein that are more potent and are assimilated at lower concentrations. The precision fermentation industry is experiencing growth due to increasing funding and investment.
For instance, In 2021, fermentation companies focused on alternative protein raised $1.69 billion, representing 60% of all-time sector funding and a third of 2021 alternative protein industry funding.
Raising cattle for animal food items leads to the production of huge amounts of greenhouse gases, such as carbon dioxide and methane, which harm the environment. Producing plant-based goods using green chemistry is a practical strategy to reduce the greenhouse effect. The Environmental Protection Agency (EPA) and the European Union have developed strict restrictions anticipating increasing demand for environmentally friendly products. The vegan population is growing, with an estimated 79 million vegans globally by 2021. As a result, food and beverage companies are launching vegan and plant-based products, which have increased by 21% and 58% between 2019-2021.
Report Segmentation
The market is primarily segmented based on application, ingredient, microbe, and region.
By Application

By Ingredient

By Microbe

By Region

Meat & Seafood

Dairy Alternatives

Egg Alternatives

Others

Whey & Casein Protein

Egg White

Collagen Protein

Heme Protein

Enzymes

Others

Yeast

Algae

Fungi

Bacteria

North America (U.S., Canada)

Europe (France, Germany, UK, Italy, Netherlands, Spain, Russia)

Asia Pacific (Japan, China, India, Malaysia, Indonesia, South Korea)

Latin America (Brazil, Mexico, Argentina)

Middle East & Africa (Saudi Arabia, UAE, Israel, South Africa)
Know more about this report: Request for sample pages
Dairy alternatives segment holds the largest market share in 2022
The dairy alternatives segment holds the largest share in 2022 and is anticipated to maintain its dominance over the forecast period. Dairy alternatives are produced by imprinting milk protein DNA sequences into yeast or fungi, fermented with nutrients and sugar in fermentation vessels. The particular bacteria used to produce proteins during the fermentation mimics the nutritional values in dairy products made by cows. These proteins are purified into a pure milk protein isolate and utilized to make plant-based- dairy goods, including cheese, ice cream, and yogurt.
Dairy proteins are produced due to fermentation and are utilized as the foundation for dairy products. The proteins are functionally identical to dairy manufactured from cows and have the same flavor, texture, and nutritional value as that dairy. Like milk products, they can also be melted, whipped, and frothed.
Whey and Casein protein segment growing at fastest market CAGR rate
The whey and Casein protein segment is growing at the fastest precision fermentation market CAGR rate during the forecast period. Protein contents in milk are one of the essential nutritional factors for its broader demand among its consumers, along with other elements like calcium, vitamin B12, vitamin A, and amino acids. Casein and whey are the major protein constituents in milk which provide benefits including improving muscle content and lowering the risk of cardiovascular illnesses.
The precision fermentation-based process allows industry players to produce whey proteins without involving a single cow. Players use Microflora (microorganisms like yeast, bacteria, or fungi) fed with the genetic code for the protein found in cow's milk to produce animal-free protein. Microflora provides plant-based inputs while blending with the genetic makeup of cow's milk, turning the flora food into whey and casein proteins. The animal-free proteins produced by precision fermentation are found to be replicas of those present in animal milk and provide all the essential amino acids and other nutrients. Further, the microbially fermented milk proteins provide lactose-free dairy that lactose-intolerant consumers can easily digest. For instance, Betterland Food released the WOO candy bar in March 2022. The new chocolate bar has organic chocolate, peanuts, caramel, cow-free nougat, and Perfect Day's precisely fermented animal-free whey protein.
Yeast segment has dominated the market in 2022
Based on the Microbe category, the yeast segment has dominated the market in 2022 and will continue its dominance over the forecast period. Yeast species such as Kluyveromyces maximum, Candida utilis, and Saccharomyces cerevisiae are widely used as microbial stains in forming alternative proteins through the precision fermentation process. These organisms grow in sulphite liquor, milk whey substrate, cheap carbon, and energy sources. For ages, yeast has been fermented in food and beverages, including wine, bread, and beer, due to its higher digestible properties and containing all the 20 essential amino acids.
With modern technology with the century-old fermentation process, various players have now used different yeast species in the precision fermentation process to make animal-free egg and meat proteins without involving the chickens. The EVERY Company, an American biotechnology company, has introduced the world's first animal-free egg white proteins, identical to real animal-based eggs' texture, taste, and culinary functionality.
North America dominated the global market in 2022
North America dominated the global industry in 2022 and will likely maintain its dominance over the anticipated period. The rising investments in precision fermentation-based companies and rapid innovations in precision fermented foods in the context of taste, accessibility, and price has been driving the market in the North America region.
In the last few years, many precision fermentation players were set up in the U.S. to commercialize animal-free products in various hypermarkets, convenience, and restaurant chains. For instance, the retail market for plant-based foods in the U.S. was worth around 7.4 billion USD in the year 2021, as per Good food institute.
However, Europe is expected to grow over the forecast period. The rising demand for meat consumption from European countries such as Spain, Austria, and France has created a profitable market for precision-fermented-based meat in Europe. Further, the data by GFI shows that the retail sales of plant-based foods in Europe reached 3.9 billion USD in 2020, additionally supporting this niche market in European countries. The data further indicates that plant-based meat contributed to around 1.52 billion USD of total plant-based sales in Europe.
Competitive Insight
Key player handling the global market of precision fermentation which may include The Every Co, Change Foods, New Culture, Eden Brew, Imagindairy.Ltd, Fumi ingredients, Formo, Melt and Marble, Nourish Ingredient, Shiru Inc, Perfect Day Inc, Impossible foods, Motif Foodworks, Inc, Fybraworks Foods, Triton Algae Innovations, and Remilk Ltd.
Recent Developments
In August 2022, Impossible Foods launched its plant-made Impossible Chicken nuggets in Hong Kong grocery stores.

In October 2022, Change Foods has a deal with KEZAD Group to develop a specialized commercial manufacturing plant in Abu Dhabi for the manufacture of its animal-free dairy, with backing from the UAE Ministry of Economy under the NextGen FDI initiative.

In December 2022, Bel Brands USA partnered with Perfect Day to launch of Nurishh Incredible Dairy Animal Free Cream Cheese Spread Alternative.
Precision Fermentation Market Report Scope
| | |
| --- | --- |
| Report Attributes | Details |
| Market size value in 2023 | USD 2,444.88 million |
| Revenue forecast in 2032 | USD 73,764.20 million |
| CAGR | 46.0% from 2023 – 2032 |
| Base year | 2022 |
| Historical data | 2019 – 2021 |
| Forecast period | 2023 – 2032 |
| Quantitative units | Revenue in USD million and CAGR from 2023 to 2032 |
| Segments Covered | By Application, By Ingredient, By Microbe, By Region |
| Regional scope | North America, Europe, Asia Pacific, Latin America; Middle East & Africa |
| Key Companies | The Every Co, Change Foods, New Culture, Eden Brew, Imagindairy.Ltd, Fumi ingredients, Formo, Melt and Marble, Nourish Ingredient, Shiru Inc, Perfect Day Inc, Impossible foods, Motif Foodworks, Inc, Fybraworks Foods, Triton Algae Innovations, and Remilk Ltd. |