The global precision fermentation market was valued at USD 1.30 billion in 2021 and is expected to grow at a CAGR of 48.3% during the forecast period. The growth of the precision fermenting market has been fueled by the adoption of vegan diets along with the increasing supply of meat alternatives.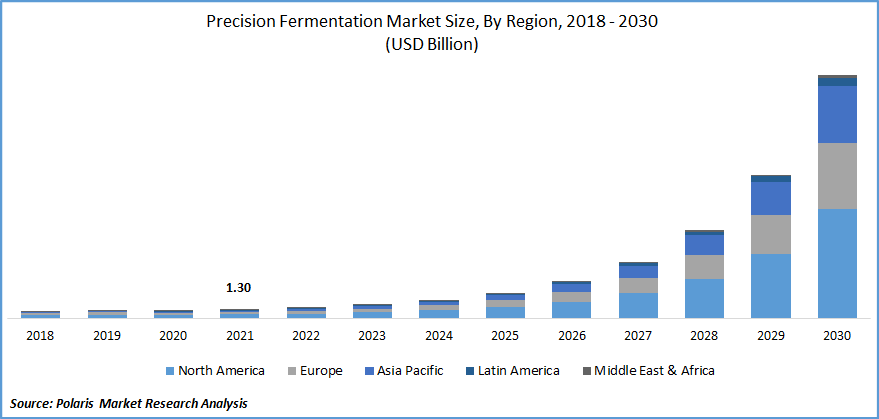 Know more about this report: Request for sample pages
By using the large untapped variety of yeasts, fungi, mycelium, and microalgae as hosts, precision fermentation produces components that are exactly similar to animal proteins. The majority of the important vitamins, such as A, C, D, E, and K, are produced using precision fermentation technology and are used to fortify foods or supplement daily diets.
Precision fermentation aid in developing several desired end products, which can be used in a wide range of industries, including food, agriculture, pharmaceuticals, and biologics, among others. In addition, precision fermentation has seen a major increase in commercial applications in the past years.
Specialized components, including casein, gelatin, and vitamins, can be produced with less water and land consumption; precision fermentation also provides for a lower carbon footprint. Additionally, the market for precision fermentation has expanded because it is not affected by any weather conditions. The process is carried out in bioreactors under precise conditions to manufacture dairy products, proteins, and other items on a large scale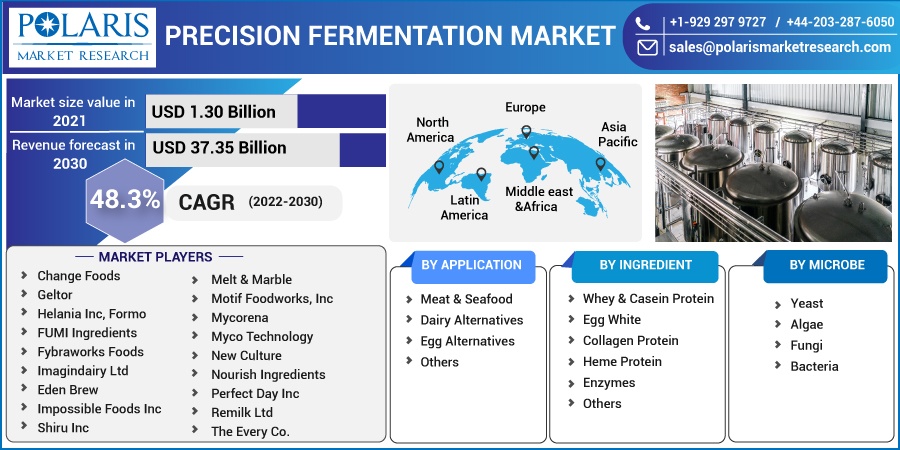 Know more about this report: Request for sample pages
Industry Dynamics
Growth Drivers
Precision fermentation supports a large-scale synthesis of specialized functional components to enable the production of diverse food. Precision fermentation is used in the manufacturing of food products to decrease the emission of greenhouse gases. Furthermore, Precision fermentation methods increase the production of proteins, and they are cost effective and environment friendly.
Proteins and other organic compounds produced through precision fermentation are more effective. Additionally, precision fermentation facilitates the production of pure forms of protein because of its distinctive manufacturing properties. Furthermore, enzymes, flavoring substances, proteins, vitamins, and natural colors can be produced through precision fermentation.
Report Segmentation
The market is primarily segmented based on application, ingredient, microbe, and region.
By Application

By Ingredient

By Microbe

By Region

Meat & Seafood
Dairy Alternatives
Egg Alternatives
Others

Whey & Casein Protein
Egg White
Collagen Protein
Heme Protein
Enzymes
Others

Yeast
Algae
Fungi
Bacteria

North America (U.S., Canada)
Europe (France, Germany, UK, Italy, Netherlands, Spain, Russia)
Asia Pacific (Japan, China, India, Malaysia, Indonesia, South Korea)
Latin America (Brazil, Mexico, Argentina)
Middle East & Africa (Saudi Arabia, UAE, Israel, South Africa)
Know more about this report: Request for sample pages
Meat & seafood are expected to spearhead the market growth
The meat & seafood segment is predicted to experience the fastest growth over the coming period. Plant-based meat is purposely made to resemble regular meat in terms of flavor, aesthetics, and texture. More customers prefer plant-based meat alternatives, including crumbles and even burger patties.
The egg alternatives segment is anticipated to experience the second highest growth owing to consumer preference for egg substitutes on account of food allergies, food safety, and health advantages. Certain egg substitutes may be particularly helpful in bakery and confectionery applications due to their improved binding, emulsification, foam stabilization, and flavor enhancing capabilities.
Egg white market segment accounted for the highest revenue
Vegan eggs have several benefits associated with them. Eggs made from plants are made using natural substances without any kind of animal/poultry intervention. They are also free of cholesterol and allergens. For people with allergies to albumin and eggs, this is particularly helpful driving their market growth.
One of the essential sources of protein for the food sector is egg white. The production of the egg white protein ovalbumin, which is synthesized by precision fermentation, consumes between 31 and 55 percent less land and emits fewer greenhouse gases than the production of its chicken-based equivalent.
Algae market segment accounted for the largest share in 2021
The algae market segment held the highest share in 2021. Food manufacturer can develop products with minimum water and carbon footprints by utilizing microalgae in fermentation technologies. In addition, precision fermentation utilizes yeast to make an egg or dairy proteins such as whey and casein, delivering the familiar texture and taste of foods, including cheese and milk, instead of using animals.
Additionally, the processes in which bacteria are used in anaerobic fermentation, which produces organic acids and alcohols, and aerobic fermentation, which produces enzymes. As a result of this, the bacteria market segment is anticipated to grow significantly over the coming years.
North America held the largest market share in 2021
The increased need for protein products produced through precision fermentation processes for uses such as dairy alternatives, meat extenders, and meat analogs is also contributing to the growth of North America precision fermentation market. Furthermore, the increasing popularity of vegetarian diets is the main reason driving the demand for precision fermented egg substitutes in Asia.
The health benefits offered by egg substitute protein ingredients, including lower cholesterol and high content, are also significant drivers of the product demand in Asia Pacific. Asia Pacific is expected to grow during the forecast period. In developing countries such as India, China, and Japan, the need for high quality fermented foods is increasing as with an increase in the consumer disposable income; high population, and growing demand for plant-based products.
Competitive Insight
Some of the major market players operating in the global precision fermentation market include Change Foods, Geltor, Helania Inc, Formo, FUMI Ingredients, Fybraworks Foods, Imagindairy Ltd, Eden Brew, Impossible Foods Inc, Melt & Marble, Motif Foodworks, Inc, Mycorena, Myco Technology, New Culture, Nourish Ingredients, Perfect Day Inc, Remilk Ltd, Shiru Inc, The Every Co., Triton Algae Innovations.
Recent Developments
In January 2022, To improve the flavor and nutrient content of plant-based foods, Solar Biotech and food technology company, Motif Foodworks are expanding their development and manufacturing partnership.
In May 2022, The Impossible Foods, California-based fastest growing plant-based meat company has launched its European debut in the United Kingdom; With the introduced of its two newest products, Impossible Chicken Nuggets Made from Plants and Impossible Sausage Patties Made from Plants.
In May 2022, A non-animal fat with the properties of beef fat has been launched by the Swedish Business Melt & Marble using precision fermentation for the plant based sector.
In July 2020, Vow, that manufactures cell-based meat, is partnering with Nourish Ingredients, a company that uses precision fermentation to produce animal fats. The two Australian firm will combine their products, integrating fats into cell-based meat to provide the final product a flavor and texture similar to that of meat from an animal.
Precision Fermentation Market Report Scope
| | |
| --- | --- |
| Report Attributes | Details |
| Market size value in 2021 | USD 1.30 billion |
| Revenue forecast in 2030 | USD 37.35 billion |
| CAGR | 48.3% from 2022 - 2030 |
| Base year | 2021 |
| Historical data | 2018 - 2020 |
| Forecast period | 2022 - 2030 |
| Quantitative units | Revenue in USD billion and CAGR from 2022 to 2030 |
| Segments covered | By Application, By Ingredient, By Microbe, By Region |
| Regional scope | North America, Europe, Asia Pacific, Latin America; Middle East & Africa |
| Key companies | Change Foods, Geltor, Helania Inc, Formo, FUMI Ingredients, Fybraworks Foods, Imagindairy Ltd, Eden Brew, Impossible Foods Inc, Melt & Marble, Motif Foodworks, Inc, Mycorena, Myco Technology, New Culture, Nourish Ingredients, Perfect Day Inc, Remilk Ltd, Shiru Inc, The Every Co., and Triton Algae Innovations. |