The global precision swine farming market was valued at USD 377.01 million in 2022 and is expected to grow at a CAGR of 11.5% during the forecast period.
Government initiatives are driving the market of precision swine farming. For instance, Agriculture and Agri-Food Canada Minister, the Honourable Marie-Claude Bibeau, announced to invest $45.4 million in 2022 to prevent and prepare for the potential impacts of African swine fever (ASF). This is crucial not only for safeguarding the Canadian pork industry but also for driving the growth of the precision swine farming market. The Canadian Pork Council (CPC), representing 7000 pork producers nationwide, recognizes the catastrophic consequences ASF could have on an industry that contributes USD 24 billion annually.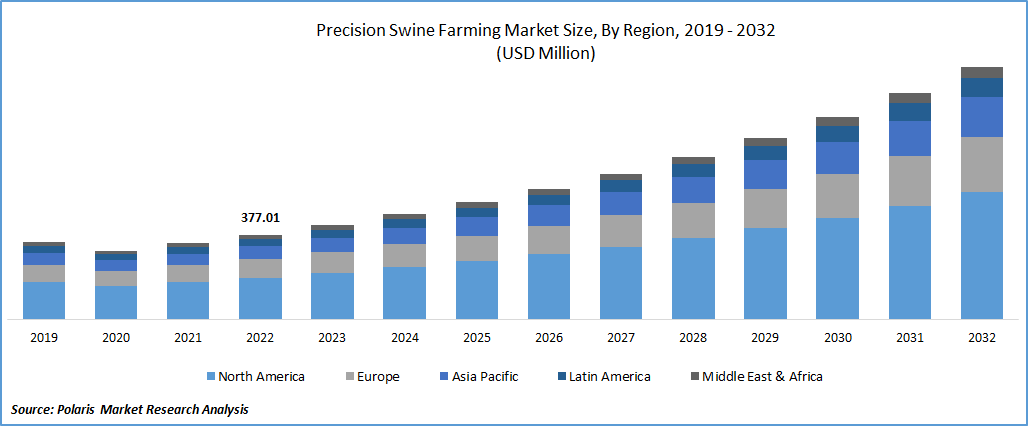 To Understand More About this Research: Request a Free Sample Report
There is a pressing need for advanced and data-driven disease prevention and management approaches. This investment emphasizes the importance of adopting precision swine farming techniques, such as advanced monitoring systems, data analytics, and biosecurity measures, which can enhance disease prevention, improve productivity, and bolster the industry's resilience. As pork producers strive to protect their livelihoods and mitigate the risks associated with ASF, the demand for precision swine farming solutions is expected to increase, driving the growth of Canada's precision swine farming market.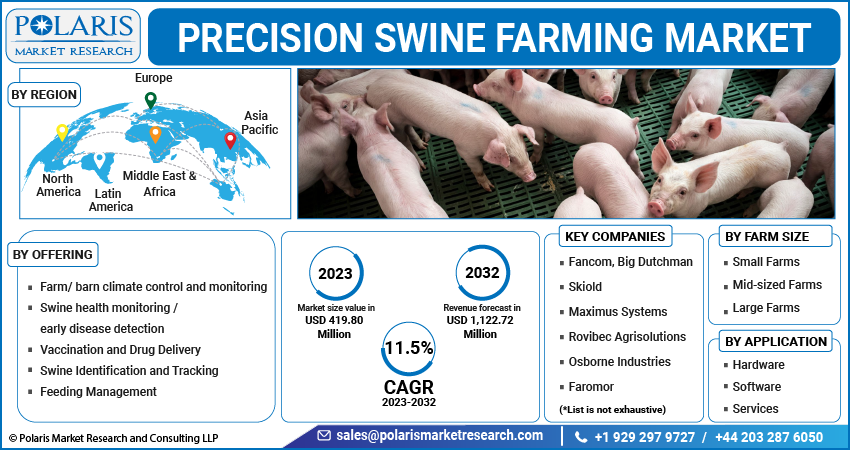 For Specific Research Requirements, Request for a Customized Report
Industry Dynamics
Growth Drivers
The continuous development and advancement of technology play a crucial role in the growth of precision swine farming. Innovations such as IoT sensors, data analytics, automation, and artificial intelligence enable farmers to monitor and manage their swine operations more effectively. The swine business has access to emerging technologies, including augmented reality, artificial intelligence, three-dimensional (3D) printing, and the Internet of Things (IoT). These technologies provide real-time data and insights, allowing farmers to optimize production processes, improve animal welfare, and make informed decisions. Researchers at the University of Missouri are working on prolonging the lifespan of boar semen and utilizing artificial intelligence to detect sows in heat. Growing research and development (R&D) activities are playing a significant role in driving the growth of the precision swine farming market.
Report Segmentation
The market is primarily segmented based on application, offering, farm size and region.
By Application

By Offering

By Farm Size

By Region

Hardware

Software

Services

Farm/ barn climate control and monitoring

Swine health monitoring / early disease detection

Vaccination and Drug Delivery

Swine Identification and Tracking

Feeding Management

Small Farms

Mid-sized Farms

Large Farms

North America (U.S., Canada)

Europe (France, Germany, UK, Italy, Netherlands, Spain, Russia)

Asia Pacific (Japan, China, India, Malaysia, Indonesia. South Korea)

Latin America (Brazil, Mexico, Argentina)

Middle East & Africa (Saudi Arabia, UAE, Israel, South Africa)
To Understand the Scope of this Report: Speak to Analyst
Software segment is projected to witness faster growth in the study period
The software segment is expected to have faster growth in the market. Precision swine farming involves collecting and analyzing vast amounts of data on various aspects of swine production, such as animal health, feed management, environmental conditions, and genetic information. Software solutions enable efficient data management, integration, and analysis. Advanced analytics tools and algorithms help farmers gain valuable insights from the collected data, leading to informed decision-making and improved farm management practices. Software solutions facilitate precision breeding and genetic selection in swine farming. These tools help farmers analyze and manage genetic data, track pedigrees, and make informed decisions regarding breeding programs and the choice of superior genetic traits. This contributes to enhanced breeding efficiency, improved production performance, and the development of genetically superior swine populations, driving the growth of the precision swine farming market.
Swine Health Management/Early Disease Detection segment accounted for the largest market share in 2022
The Swine Health Management segment held the largest market share in 2022. These solutions are crucial in preventing and managing diseases in swine farms. These offerings utilize various technologies such as sensors, artificial intelligence, and data analysis to monitor vital parameters, detect deviations from normal health conditions, and identify potential disease outbreaks at an early stage. By enabling timely intervention and preventive measures, these solutions help farmers reduce the impact of diseases on swine populations and improve overall herd health. Early disease detection and timely treatment can significantly reduce the economic impact of conditions on swine farms. This will further fuel the growth of the market in the coming years.
Mid-sized Farms segment is expected to hold the larger revenue share during forecast period
The mid-sized Farms segment will witness a larger revenue share in the coming years. These farms typically have a moderate scale of operations, which allows them to invest in advanced technologies and precision farming solutions. These farms have the resources and capacity to effectively implement precision swine farming technologies. They are often more open to adopting innovative solutions to optimize their production processes, improve efficiency, and enhance farm management. These farms often have the advantage of being more flexible and adaptable than larger farms. They can readily embrace new technologies and adjust their operations to incorporate precision swine farming practices. These farms have the potential to scale up their operations in the future, and adopting precision solutions early on positions them for growth and expansion.
APAC registered with the highest growth rate in the study period
APAC is projected to witness a higher growth rate for the market. In this region many countries have been implementing government initiatives and policies to promote sustainable agriculture and enhance food security. These initiatives often include support for the adoption of advanced farming technologies, including precision swine farming, through incentives, subsidies, and research funding. Government support acts as a catalyst for the growth of the precision swine farming market in the region.
The establishment of a vaccine bank for foot-and-mouth disease and the support for the growth of the biofuels industry in the federal budget (2023) have positive implications for Canada's pork industry. It also drives the growth of precision swine farming in the region as these developments offer valuable lessons and opportunities for countries in this region, where the swine industry plays a significant role in the economy and food security. As countries strive to enhance their biosecurity measures and protect their pork industries from devastating disease outbreaks, they are likely to look to Canada as a model. This can drive the adoption of precision swine farming practices, including advanced monitoring systems and biosecurity measures, throughout the region.
North America is expected to witness a larger revenue share for the market. It is known for its advanced agricultural technology and innovation. North America has a well-established and substantial swine industry. The region is a major producer and exporter of pork products, and swine farming is a significant sector within the agricultural industry. The presence of a robust swine industry provides a strong foundation for the adoption of precision swine farming technologies, driving revenue growth in the market. The USDA Economic Research Service anticipates that because of the country's trade agreements in existence, Japan's imports of pork will rise by 3.6 to 13.9% by 2028. The researchers predict that this increase might result in an additional $281 million worth of U.S. pork exports to Japan, according to the Global Trade Analysis Project model. This will further fuel the growth of the market in coming years.
Competitive Insight
Some of the major players operating in the global market include Fancom, Big Dutchman, Skiold, AP, Hog Slat, Maximus Systems, Rovibec Agrisolutions, Osborne Industries, Faromor, Porcitec, Farmweld, Schauer Agrotronic, Rotecna, Cormall, Agrologic, Hotraco, CTB, Agromatic, ACO Funki, SwineTech, Nedap Livestock Management.
Recent Developments
In November 2022, Holscher + Leuschner chose Big Dutchman as its global distribution partner for the OptiMarker & OptiScan weighing solutions. The two companies have formally agreed to collaborate on distributing these innovative solutions.

In November 2022, PIC invested a minority stake in SwineTech. PIC & SwineTech will leverage their combined expertise and resources to explore innovative approaches and technologies for the swine industry through this collaboration.
Precision Swine Farming Market Report Scope
| | |
| --- | --- |
| Report Attributes | Details |
| Market size value in 2023 | USD 419.80 million |
| Revenue forecast in 2032 | USD 1,122.72 million |
| CAGR | 11.5% from 2023 - 2032 |
| Base year | 2022 |
| Historical data | 2019 - 2021 |
| Forecast period | 2023 - 2032 |
| Quantitative units | Revenue in USD million and CAGR from 2023 to 2032 |
| Segments covered | By Application, By Offering, By Farm Size, By Region |
| Regional scope | North America, Europe, Asia Pacific, Latin America; Middle East & Africa |
| Key companies | Fancom, Big Dutchman, Skiold, AP, Hog Slat, Maximus Systems, Rovibec Agrisolutions, Osborne Industries, Faromor, Porcitec, Farmweld, Schauer Agrotronic, Rotecna, Cormall, Agrologic, Hotraco, CTB, Agromatic, ACO Funki, SwineTech, Nedap Livestock Management. |