The global Ready-to-Drink Cocktails market was valued at USD 886.35 million in 2022 and is expected to grow at a CAGR of 13.2% during the forecast period. The growth of the ready-to-drink cocktails industry is primarily driven by the changing consumer lifestyle choices to enhance health and the ongoing trend of ready-to-drinks, coupled with the robust penetration of e-commerce for fulfilling the market demand for drinks through the online sales channel. Furthermore, the continual rise in the accessibility of natural, keto-friendly, and gluten-free RTD cocktails is promoting consumers to opt for such products, which, in turn, is expanding the implementation of ready-to-drink cocktails globally.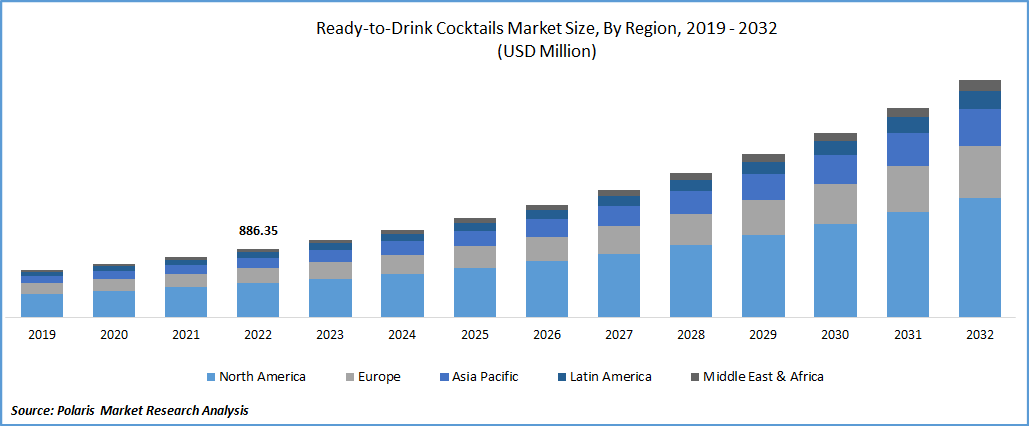 Know more about this report: Request for sample pages
Consumers now have more options for ready-to-drink cocktail tastes, and alternate containers for these drinks, like cans, boxes, and tetra packs, are becoming more and more common. Another important aspect fueling the market's expansion is the growing young population. While all consumers frequently consume ready-to-drink beverages at social gatherings, outdoor events like picnics and beach parties, and while traveling or on vacation, more youthful folks are increasingly favoring these types of drinks.
Alcohol-related health problems, high taxes and duties on ready-to-drink cocktails, and different religious views around the world can present difficulties for market participants in this industry. Despite this, the market for ready-to-drink cocktails may continue to expand due to the introduction of more flavors in alcopops and the numerous health advantages of these drinks.
Ready-to-drink cocktails have become extremely popular in recent years thanks to social media ads that promote them as "healthier" alcohol options. In addition, the market for ready-to-drink cocktails worldwide is expanding faster as several manufacturers enter the market, provide a wide range of products, and launch new products frequently. For instance, a Swedish company called Kopparberg introduced a line of cocktails drinks available in the United Kingdom in May 2020.
The COVID-19 epidemic has had a favorable effect on the market. The segment took off after the COVID-19 pandemic hit the globe, although demand for them was already growing. The rise in demand is due to several reasons, including the expansion of the culture of mixing cocktails at home, rising health and convenience concerns, and improved quality and variety of ready-to-drink cocktails.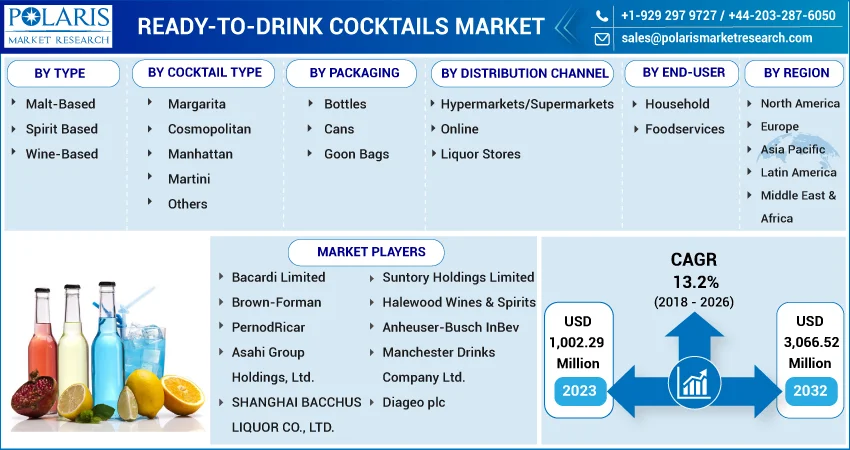 Know more about this report: Request for sample pages
Industry Dynamics
Growth Drivers
The proliferation of ready-to-drink cocktails is rising at a significant pace rate considering the global scenario. Consumers around the world, particularly in developed countries, have now become more health-conscious, thereby demanding a convenient form of a ready-to-drink alcoholic. These typically include alcopops and ready-to-drink cocktails. During 2019-2020, the 10-key market operating in ready-to-eat drinks (includes the U.S., the U.K., South Korea, Canada, China, Japan, Brazil, Mexico, South Africa, and Spain) has gained nearly 2,000 new RTD products. These include FABs, premix cocktails, long cocktails, and hard seltzers. As the RTD industry continues to expand, category evolution is primarily driven by factors like developments in alcohol bases and first-class product offerings.
Among them, RTD cocktails are considered the ultimate convenience as they are available in varied flavors, like cranberry, orange, lemon, and passionfruit. These ready-to-drink cocktails have low alcoholic content, usually ranging from 4-7%. Therefore, low Alcohol by Volume (ABV) beverages have been gaining considerable traction over the coming years, which, in turn, supports the development of the global ready-to-drink cocktails industry. Food & beverage manufacturers are further supporting the adoption of ready-to-drink cocktails by making substantial innovations in the tastes of such drinks and ethnic flavors, predominantly used by a larger customer base mainly for taking health benefits.
Report Segmentation
The market is primarily segmented based on type, cocktail type, packaging, distribution channel, end-user, and region.
By Type

By Cocktail Type

By Packaging

By Distribution Channel

By End-User

By Region

Malt-Based

Spirit Based

Wine-Based

Margarita

Cosmopolitan

Manhattan

Martini

Others

Hypermarkets/Supermarkets

Online

Liquor Stores

North America (U.S., Canada)

Europe (France, Germany, UK, Italy, Netherlands, Spain, Russia)

Asia Pacific (Japan, China, India, Malaysia, Indonesia. South Korea)

Latin America (Brazil, Mexico, Argentina)

Middle East & Africa (Saudi Arabia, UAE, Israel, South Africa)
Know more about this report: Request for sample pages
Spirit-based type is anticipated to hold the largest market share in 2022
In the ready-to-drink type segment, the spirit-based type holds the largest position in the global ready-to-drink cocktails industry in 2022 and is likely to uphold its dominance in the forecasting years. The spirit-based cocktails generally contain up to 5% alcohol combined with additional ingredients such as juices, and these are presented with a range of flavors in the packaging for single-serve. Flavors like rum, tequila, vodka, rum, and gin are the frequent savors often used in the preparation of spirits. Increasing health concerns among the population is also a major driving factor that leads to the market demand for low alcoholic-based flavored beverages, creating segment growth globally.
Whereas the wine-based type segment is anticipated as the fastest-growing segment during the forecast period. Numerous populations remark wines to be better than malts and spirits in terms of health benefits, which drives the segment growth. As wines contain fruit juices such as lemon, oranges, grapefruit, mango, berries, and many others, that may attract large groups of individuals in the near future. It also resonates with the varying lifestyle trends among the consumers that move towards a healthy routine by swapping to drinks containing low ABV content.
Cans are anticipated to hold the highest market share in 2022
Metal cans retain the largest market share by packaging type for ready-to-drink cocktails worldwide. Due to their numerous business benefits, such as durability, multi-color printing, marketing support, convenience, and sustainability, metal cans are widely used as containers in the beverage industry. Additionally, metal packaging beverages don't need additives to maintain their nutritional value and long-lasting taste.
Supermarket/hypermarket accounted to witness highest significant market share in 2022
Among the ready-to-drink distribution channel segment, the segment supermarket/hypermarket is likely to hold the highest position in the global ready-to-drink cocktails market because of the high inclination of consumers for grocery shopping from convenience stores, specialty stores, and supermarkets. The significant distribution channels of supermarkets and hypermarkets across the globe, such as Walmart and Target, are leading the segment, which further boosts the segment growth.
The online store's segment of ready-to-drink cocktails is expected to proliferate at a lucrative rate due to the shifting behavior of consumer shopping in the forecasting period. Registration of national chains like Kroger's in the U.S. and local grocery stores leads to increasing consumer preference for online platforms and may encourage segment development. As well as shifting behavior of consumers shopping is a key driving factor for segment growth in the forecasting years.
North America is projected to dominate the market in 2022
Geographically, North America dominated the global industry for the ready-to-drink cocktails market and accounted for the largest share in terms of revenue due to the rising consumer preference towards flavored drinks and growing innovations by manufacturers concentrating the taste of flavored drinks in the region.
Additionally, the growing trend of retailing ready-to-drink cocktails through online distribution channels, particularly e-commerce platforms such as Walmart, Amazon, and others, is expected to drive market industry regional growth. According to the U.S. Census Bureau, in 2020, the total retail sales through online platforms of food & beverage products are valued at USD 3,347 million in Q1, 2020, and are expected to increase to USD 6,912 in the forecast period. Thus, the market demand for ready-to-drink cocktails from this region is continually growing at a rapid pace considering the global scenario.
In Europe, the global market has apprehended a considerable share of the total ready-to-drink cocktails market. Increasing taste & preference for ready-to-drink cocktails among millennials and a growing health-conscious consumer base towards healthy drinks are the few factors supporting the regional growth. In addition, a few leading companies concerned with such low-alcoholic drinks are further making significant innovations through collaboration and production expansion strategies. For instance, in June 2020, Molson Coors (U.K.) completed a collaboration with a Miami cocktail company for expanding the sales of their drinks and other products in the U.S. market. Such an initiative bolsters the market region's growth.
Moreover, Asia Pacific is projected to observe the fastest CAGR in the total cocktails industry. This is primarily attributed to the rapid growth in the distribution of alcoholic and non-alcoholic drinks through online channels, coupled with swift changes in consumer lifestyles towards healthy products. Furthermore, the extensive presence of prominent market players coupled with their focus to meet the innovations in such cocktails offered by the developed market is further likely to aid the market to grow at a significant rate in the upcoming days, followed by the Latin and South American countries.
Competitive Insight
The company operates some of the major players in the market including SHANGHAI BACCHUS LIQUOR CO., LTD., Diageo plc, Bacardi Limited, Brown-Forman, Pernod Ricard, Asahi Group Holdings, Ltd., Suntory Holdings Limited, Halewood Wines & Spirits, Anheuser-Busch InBev, Manchester Drinks Company Ltd.
Recent Developments
In April 2022, the ready-to-drink cocktail O'Be Sauve Gin and Tonic was launched by

O'Be cocktails.

In March 2022, the brand

constellation introduced its next cocktails round, marking the company's entry into the market of ready-to-drink boxed wine cocktail market.

In February 2022, BEAT Cocktails introduced enticing new carbonated gin-based drinks.
Ready-to-Drink Cocktails Market Report Scope
| | |
| --- | --- |
| Report Attributes | Details |
| Market size value in 2023 | USD 1,002.29 million |
| Revenue forecast in 2032 | USD 3,066.52 million |
| CAGR | 13.2% from 2023 - 2032 |
| Base year | 2022 |
| Historical data | 2019 - 2021 |
| Forecast period | 2023 - 2032 |
| Quantitative units | Revenue in USD million and CAGR from 2023 to 2032 |
| Segments covered | By Type, By Cocktail Type, By Packaging, By Distribution channel, By End-ser, By Region |
| Regional scope | North America, Europe, Asia Pacific, Latin America; Middle East & Africa |
| Key companies | SHANGHAI BACCHUS LIQUOR CO., LTD., Diageo plc, Bacardi Limited, Brown-Forman, PernodRicard, Asahi Group Holdings, Ltd., Suntory Holdings Limited, Halewood Wines & Spirits, Anheuser-Busch InBev, Manchester Drinks Company Ltd. |