The global recombinant proteins market was valued at USD 1.74 billion in 2021 and is expected to grow at a CAGR of 12.0% during the forecast period. The growing demand for the recombinant proteins market is expected to be driven by the increasing industry-academia collaborations and rising government funding.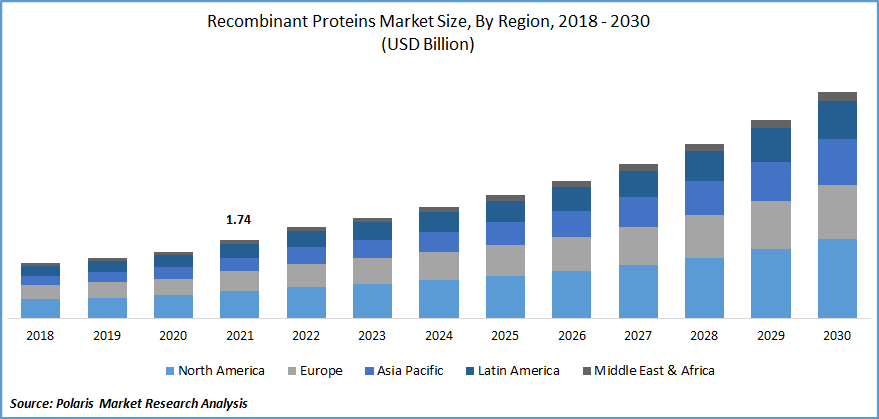 Know more about this report: Request for sample pages
The production procedure of recombinant protein requires a technology called recombinant DNA (rDNA) technology which then produces a large number of proteins and other commercial products. Increasing levels of chronic diseases and markets focusing more on protein curatives can also be considered to drive market growth. Furthermore, the rise in demand for biological products, production of recombinant DNA from various sources, and alternatives of basic proteins is likely to complement market growth.
The COVID-19 pandemic had a positive impact on the market growth for the proteins. With the rise in COVID infection, it was suggested that recombinant protein vaccines might come up with a combination of subunits of various adjuvants and antigens, which will be more effective on SARS-CoV-2 infections and will be easily available in the center.
As the rise in several chronic diseases such as cancer, HIV/AIDS, and many more led to heavy demand for recombinant protein in countries such as India and China. It is believed that companies operating in Asia Pacific would also be expanding in this area due to an increase in government funding.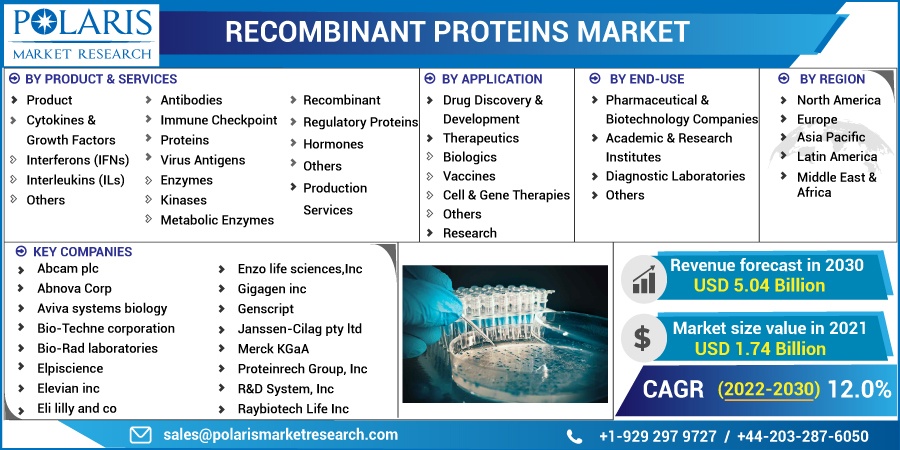 Know more about this report: Request for sample pages
Industry Dynamics
Growth Drivers
The recombinant proteins market is expected to be dominant in North America because there are more chronic disease incidences, more R&D programs, and favorable funding from the government. It is also expected that Europe will be the second most productive market due to new products and innovative biotechnology activities in the forecast period. On the other hand, Asia Pacific is projected to witness significant growth over the coming years as it has the potential to spend on R&D programs and develop new healthcare technologies. According to a recent report, the market for proteins is expected to witness a huge influx of R&D expenditure and favorable funding, with India and China facing several untreated diseases, will have the advantage of expanding and coming up with new solutions of recombinant protein.
Report Segmentation
The market is primarily segmented based on product & services, application, end-use, and region.
By Product & Services

By Application

By End-Use

By Region

Product

Cytokines & Growth Factors

Interferons (IFNs)
Interleukins (ILs)
Others

Antibodies
Immune Checkpoint Proteins
Virus Antigens
Enzymes

Kinases
Metabolic Enzymes
Others

Recombinant Regulatory Proteins
Hormones
Others

Production Services

Drug Discovery & Development
Therapeutics

Biologics
Vaccines
Cell & Gene Therapies
Others

Research
Others

Pharmaceutical & Biotechnology Companies
Academic & Research Institutes
Diagnostic Laboratories
Others

North America (U.S., Canada)
Europe (France, Germany, UK, Italy, Spain, Russia, Netherlands)
Asia Pacific (Japan, China, India, Indonesia, Malaysia, South Korea)
Latin America (Brazil, Mexico, Argentina)
Middle East & Africa (Saudi Arabia, UAE, Israel, South Africa)
Know more about this report: Request for sample pages
The enzymes segment accounted for the largest share in 2021
Among all the products, the enzymes segment accounted for the largest share in 2021, owing to enzymes' usage in several research domains. It is also expected to witness fastest growth over the forecast period. Several research initiatives, such as wound repair, transplantation, oncology, and even COVID-19, are the primary disease that will require attention, and enzymes have the advantage of growing in this sector.
Furthermore, due to their potential, cytokines & growth factors are expected to garner importance in cancer research. Many chronic diseases could be considered such as diabetes which would have heavy scope to develop insulin and research on speeding up wound healing in diabetic patients. Similarly, in cancer, recombinant protein can be helpful and improve chemotherapy.
Therapeutics is expected to spearhead the revenue growth
The therapeutics is segmented into vaccine, biologics, and gene & cell therapy. The demand for protein therapeutics is driven by the rising demand for convenient and effective treatment of any disease. It is expected to show lucrative growth over the forecast period due to the rising incidence of targeted disease and improved protein-based solutions.
Furthermore, biotechnological research is expected to show significant growth in the forecast period owing to the adoption of various inorganic strategies, improving research activities on recombinant proteins.
The pharmaceutical & biotech companies segment is expected to account for the largest share in 2030
The pharmaceutical & biotech companies segment is expected to dominate the industry over the forecast period owing to the rise in demand for recombinant proteins in predicting, prognosis, and diagnosing drug research which acquires a major portion of the market. Furthermore, the rising competition in the market, accurate measurements in drugs in research & development, and multiple collaborations have resulted in proliferating the growth of recombinant protein.
North America accounted for the largest revenue share in 2021
North America dominated the global recombinant proteins market and is expected to account for a significant share in 2030. It is expected to keep its position due to more infectious and chronic diseases, a rising number of patients, and increased R&D expenditure. In addition, Asia Pacific has also seen an expansion owing to increasing chronic illness in particular countries.
Competitive Insight
Some of the major players operating in the global market include Abcam plc, Abnova Corp, Aviva systems biology, Bio-Techne corporation, Bio-Rad laboratories, Elpiscience, Elevian inc, Eli lilly and co, Enzo life sciences, Inc, Gigagen inc, Genscript, Janssen-Cilag pty ltd, Merck KGaA, Proteinrech Group, Inc, R&D System, Inc, Raybiotech Life Inc, Stemcell Technologies Inc, Sino Biological Inc, Thermo Fisher Scientific, U Protein Express.
Recent Developments
In January 2022, Alamar Biosciences announced a strategic partnership with Abcam plc to understand the fundamental biology of human health and diseases, which enables innovation in therapeutics and research. In August 2022, Thermo Fisher Scientific will expand its cells and gene therapy capabilities with viral vector manufacturing, which are important in gene therapies.
Recombinant Proteins Market Report Scope
| | |
| --- | --- |
| Report Attributes | Details |
| Market size value in 2021 | USD 1.74 billion |
| Revenue forecast in 2030 | USD 5.04 billion |
| CAGR | 12.0% |
| Base year | 2021 |
| Historical data | 2018 - 2020 |
| Forecast period | 2022 - 2030 |
| Quantitative units | Revenue in USD Billion and CAGR from 2022 to 2030 |
| Segments covered | By Product & Services, By Application, By End-Use, and By Region |
| Regional scope | North America, Europe, Asia Pacific, Latin America; Middle East & Africa |
| Key companies | Abcam plc, Abnova Corp, Aviva systems biology, Bio-Techne corporation, Bio-Rad laboratories, Elpiscience, Elevian inc, Eli lilly and co, Enzo life sciences,Inc, Gigagen inc, Genscript, Janssen-Cilag pty ltd, Merck KGaA, Proteinrech Group, Inc, R&D System, Inc, Raybiotech Life Inc, Stemcell Technologies Inc, Sino Biological Inc, Thermo Fisher Scientific, U Protein Express |