The global refurbished medical imaging equipment market was valued at USD 11.7 billion in 2019 and is expected grow at a CAGR of 7.7% during the forecast period. Increasing demand for cost-effective and efficient medical imaging equipment by small and mid-level hospitals and healthcare centres, rising private healthcare sector are the major drivers of boosting the market growth.
Considering the lack of resources for adopting new devices the focus towards adoption of refurbished medical imaging equipment is increasing in smaller hospitals, clinics and diagnostic centers. In environmental standpoint, adoption on refurbished medical devices leads to reduction of pollution by decreasing e-waste and lowering landfill. As refurbished medical equipment is an economical and environment-friendly option, many vendors are increasingly focusing on the process refurbishment of these equipment and commercialization.

Know more about this report: request for sample pages
Industry Dynamics
Growth Drivers
A new imaging equipment such as MRI scan, CT scan consumes lot of budget in the hospitals settings. The technology is advancing at a high rate, and many new equipment are being introduced into the market. The larger and government hospitals and big healthcare facilities always focuses on acquiring the new and advanced imaging equipment by replacing it with the older one. However, due to lack of budget and escalating number of medical procedures, the need for cost effective advanced equipment which offers quality services similar to new advanced devices is increasing.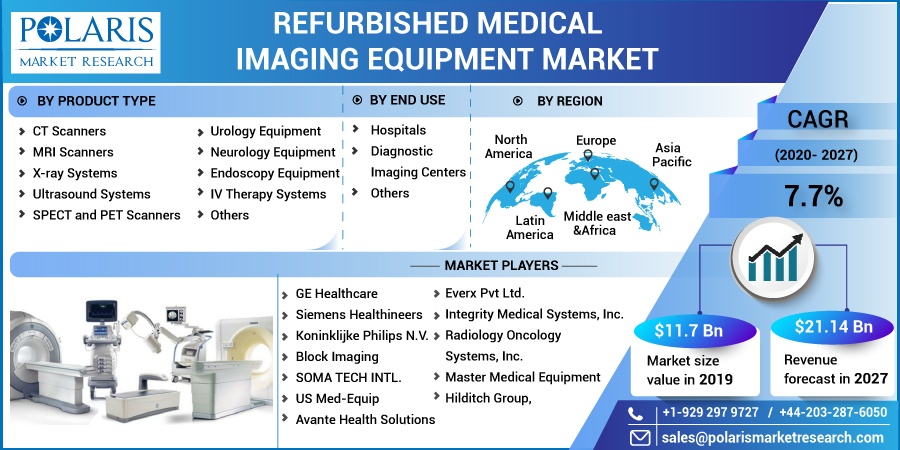 Know more about this report: request for sample pages
There is an increasing demand for cost-effective and efficient diagnosis in developing countries due to limited budgets to invest in new equipment. The refurbished devices help these regions to be equipped for lower cost. Growth of the private healthcare sector and increased medical tourism in Asian countries is driving the demand for this market. Due to elevated demand for refurbished medical imaging devices in developing countries such as India and China many domestic and international players are increasingly focusing on APAC.
Challenges
The global refurbished medical imaging equipment market is hindered with few limitations. The negative perception among end user towards refurbished apparatus and the concerns regarding the quality, safety, and efficacy are hurdles in adoption of these equipment. Many hospitals and diagnostic centers are reluctant to buy old and refurbished equipment because of the fear on vendor un-reliability. In some cases, the original equipment manufacturers (OEMs) restricts hospitals from buying refurbished equipment by warning them that they won't support older models.
Refurbished Medical Imaging Equipment Market Report Scope
The market is primarily segmented on the basis of Product Type, By End Use, and geographic region.
By Product Type

By End Use

By Region

CT Scanners
MRI Scanners
X-ray Systems
Ultrasound Systems
SPECT and PET Scanners
Urology Equipment
Neurology Equipment
Endoscopy Equipment
IV Therapy Systems
Others

Hospitals
Diagnostic Imaging Centers
Others

North America (U.S., Canada)
Europe (France, Germany, UK, Italy, Spain, Netherlands, Austria)
Asia Pacific (Japan, China, India, Malaysia, Indonesia. South Korea)
Latin America (Brazil, Mexico, Argentina)
MEA (Saudi Arabia, UAE, Israel, South Africa)
Know more about this report: request for sample pages
Insight by Product Type
Based upon the product type, the global market is categorized into CT Scanners, MRI Scanners, X-ray Systems, Ultrasound Systems, SPECT and PET Scanners, Urology Equipment, Neurology Equipment, Endoscopy Equipment, IV Therapy Systems, and Others. In 2019, the CT scanners segment hold the maximum share in the global market, followed by the ultrasound systems. This high segmental share is attributed to high cost of purchase, installation and maintenance of CT and ultrasound devices. In addition, technical advancements and increasing application of CT scanners in primary diagnosis of coronary artery diseases are boosting the demand in the global market.
Insight by End Use
On the basis of end use, the global market is categorized into Hospitals, Diagnostic Imaging Centers, and Others. In 2019, the hospitals segment accounted for the largest share among all the segments. The focus towards acquiring the low-priced medical imaging equipment to save the budgets, increasing medical imaging procedures due to the increase in the number of chronic disease conditions such as orthopaedic and cardiovascular diseases, increasing number of breast cancer cases across the globe and increasing number of tuberculosis in the developing countries such as India and China are the supporting factors for the hospitals segment to be in the top.
Many small and mid-level hospitals with limited budgets can't afford new and advanced medical imaging devices due to their high cost. The streamlined budgets and escalating number of medical procedures are increasing demand for the global as cost-effective and efficient alternatives for new devices.
Geographic Overview
Geographically, the global refurbished medical imaging equipment market is bifurcated into North America, Europe, Asia Pacific, Latin America, and Middle East & Africa (MEA). North America region is the largest revenue contributor followed by Europe and the Asia Pacific region. In 2019, the North American region accounted for more than 40% of the global market.
The major share of Americas is attributed to increasing prevalence of cardiovascular diseases, musculoskeletal disorders and cancer, favorable regulatory policies for refurbished medical imaging devices and reduction in insurance coverage for few medical imaging procedures. The US has significant revenue generating from refurbished medical devices and Canada follows to occupy the second place.
Moreover, due to Affordable Care Act, the demand for options that offer quality healthcare services for low cost is increasing by the healthcare providers. In addition, Consolidated Appropriations Act of 2016, imposed reimbursement cuts on the X-rays performed conventional analog equipment, beginning from 2017 results in increasing demand for cost-effective solution for the adoption of advanced X-ray systems. This estimated to support the growth of the global market.
According to the study published in the Journal of the American Medical Association (JAMA), showed the U.S. was the highest healthcare spender among all the high-income countries. The biggest contributor in this was medical imaging services, including CT scans. The U.S performed 245 CT scans per 1,000 populations, as compared to 151 in other countries. The average cost of a CT scan in the U.S. was around USD 896 per scan in comparison with USD 97 in Canada, USD 500 in South Korea, and USD 279 in the Netherland.
Europe is the second largest regional market. With lack of budgets and increasing number of medical procedures wants to spend less on advanced technologies while getting the maximum benefit from those is escalating the demand for these devices. Furthermore, the private healthcare sector is increased in the Europe. The private hospitals majorly focus on return of investment. Hence the demand for refurbished medical imaging equipment is increasing among private hospitals. The UK, Germany, France, Spain, Italy and Russia were the major contributors to the regional market.
However, due to single payer and socialized medicine health care system in the Europe, it generally consists of larger medical institutions which are budget driven. This limits the adoption of refurbished medical devices. The refurbished medical devices must obtain a CE mark like new medical device, to sell them anywhere in the Europe. Moreover, reimbursement laws in few European countries such as France, impose reimbursement cut by half on the equipment older than five years. Regulations in few countries such as Romania and Bulgaria restrict hospitals to buy old equipment using state funded loans.
Competitive Insight
The global market is highly concentrated with very few players operating in the field. The prominent players operating in the market GE Healthcare, Siemens Healthineers, Koninklijke Philips N.V., Block Imaging, SOMA TECH INTL., US Med-Equip, Avante Health Solutions, Everx Pvt Ltd., Integrity Medical Systems, Inc., Radiology Oncology Systems, Inc., Master Medical Equipment, Hilditch Group, Fair Medical Co. Ltd., Future Health Concepts, US Medical Systems, LLC., Nationwide Imaging Services, Pacific Healthcare Imaging, LLC, Venture Medical ReQuip, Inc., Desert Tech Medical Systems, and Hi Tech International Group, Inc.
These players are competing to increase their market share by offering a wide range of CT systems at cheaper costs, extended service offerings and warranty to the products purchased, strategic partnerships and agreements and expanding presence to untapped markets.