The global Restaurant POS Terminals market size was valued at USD 12,161 million in 2017 and is anticipated to grow at a CAGR of 11.05% during the forecast period. POS terminals are devices primarily used for processing card payments, processing sales, inventory management, customer data management, and analyzing sales data. Additional services offered by POS terminals in restaurant industry include table reservation, menu & order management, employee management, and delivery management features. These terminals are used in fine dining restaurants, bars and pubs, casual eateries, cafes, and food trucks among others. Integration of POS terminals in restaurants increases productivity by saving time per transaction, and decreasing human errors. The hardware for a POS system in restaurants includes a tablet and stand, a cash drawer, and a receipt printer. Cloud-based POS terminals, which store data on remote servers and provide access through internet browsers, are increasingly being used in restaurants. Cloud-based tablet systems are less expensive, more space efficient, and permit greater customization.
The increasing popularity and ease of cashless transactions primarily drives the growth of this market. The rising need of restaurant owners to increase productivity coupled with acceptance of advanced technology in developed nations also supports market growth. Mobile POS offers mobility and enables restaurant owners to conduct financial transactions at customer tables thereby enhancing overall customer experience. Additionally, low initial costs associated with mobile POS terminals have encouraged small restaurant owners to adopt POS terminals. Other factors driving the growth of this market include technological advancement, rising internet penetration, and decrease in costs of mobile devices. However, security and privacy concerns regarding sensitive customer data limits the growth of the market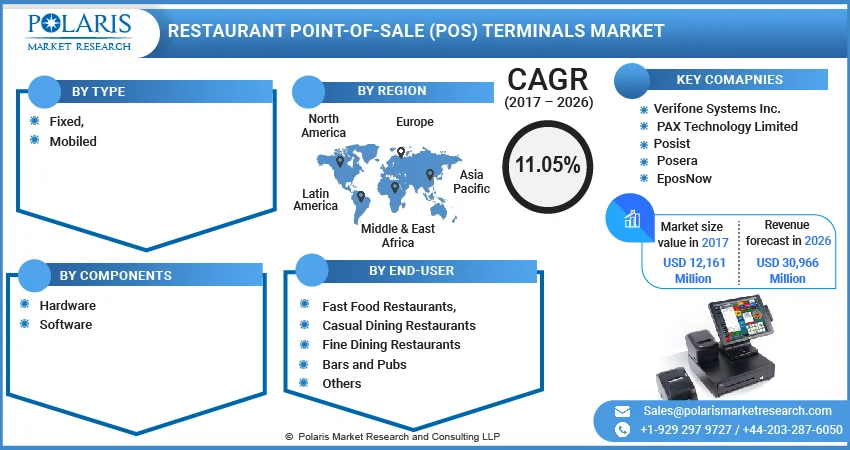 .
Segment Analysis
The global restaurant POS market is segmented on the basis of type, component, end-user and region. Based on type of POS, the market is segmented into fixed and mobile. The component segment is categorized into hardware, and software. On the basis of end-users, the market is segmented into fine dining restaurants, casual dining restaurants, bars and pubs, fast food restaurants, and others. This report comprises a detailed geographic distribution of the market across North America, Europe, APAC and South America, and MEA. North America is further segmented into U.S., Canada, and Mexico. Europe is divided into Germany, UK, Italy, France, Russia, and Rest of Europe. Asia-Pacific is bifurcated into China, India, Japan, and Australia, and Rest of Asia-Pacific. Fixed POS terminals accounted for the largest share in the global Restaurant POS Terminals market in 2017
Competitive Landscape
Restaurant owners are constantly looking for additional features and upgrades, which encourages vendors in the market to innovate and introduce new products and services to meet the growing consumer needs. A variety of POS solutions for restaurant owners is available in the market. A few of them include TouchBistro Restaurant POS, Toast POS, Breadcrumb POS, Lavu iPad POS, and Lightspeed Restaurant among others. The leading companies in the market are acquiring and collaborating with top companies in the market to enhance their offerings in the market and expand their customer base. For instance, in June 2017, TouchBistro collaborated with Square to enable users of TouchBistro iPad mobile point-of-sale (mPOS) solution in UK to process payments using Square. The TouchBistro iPad mPOS assists restaurants in increasing their sales, and enhancing customer experience by simplifying tasks and deceasing serving time. The solution also provides business insights through analytics and enables effective decision making. In November 2016, Upserve introduced its Breadcrumb EMV solution. This solution enables hassle free payment through chip-enabled cards, while reducing fraudulent chargebacks. This solution offers chip-and-signature support, on-screen signature support, split and mixed payments, post transaction, tipping support, and Bluetooth pairing between Breadcrumb EMV readers and terminals. In May 2016, Upserve acquired Breadcrumb from Groupon. This acquisition combined Breadcrumb's mobile Point of Sale with Upserve's smart management assistant to offer POS solutions to restaurants to reduce costs, increase profitability, and enhance dining experience. Other leading players in the market include Verifone Systems Inc., PAX Technology Limited, Posist, Posera, and EposNow among others.