The global retinal vein occlusion (RVO) market was valued at USD 12.17 billion in 2021 and is expected to grow at a CAGR of 8.8% during the forecast period. The most frequent vascular condition of the retina and the leading cause of vision loss worldwide is retinal vein occlusion (RVO). Diabetic retinopathy is the most frequent cause of blindness from retinal vascular disease. There is no medicine specifically treating occluded retinal arteries. Most of those affected by this illness might experience long-term abnormalities in their vision. By plugging up leaky blood vessels, eyesight stabilization is one of the key goals of therapy.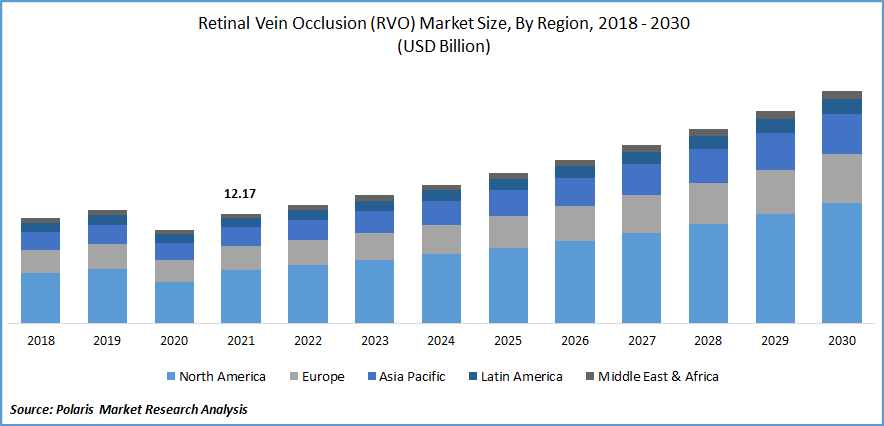 Know more about this report: Request for sample pages
Retinal veins cannot be unblocked specifically. However, the doctor can manage any health issues that appear to be associated with RVO. In some eyes with an RVO, vision may return. It takes a year or longer to learn the results, but around one-third experience, some improvement, one-third experience no change, and one-third see progressive improvement. In a few instances, the blocked capillaries cause fluid to build up in the retina, much like sponges do when they absorb water. And in certain people, certain circumstances can lead to the growth of new blood vessels.
The growth of the worldwide retinal vein occlusion market may be impacted by the increase in ophthalmic disease on a global scale, the rise in the elderly population with eye disease, and the growing awareness of eye disorders.
The COVID-19 pandemic outbreak has brought about a number of unexpected changes in the world economy, and its repercussions have been felt across all industries. However, a retinal vascular blockage has not been recorded with COVID-19, just faint cotton wool patches and microhemorrhages.
The timing of the COVID-19 infection, which was confirmed by antibody testing in this patient, and the appearance of visual symptoms and a CRVO point to a connection between the two diseases. A hypercoagulable condition brought on by COVID-19, which can result in CRVO, is consistent with the pathophysiology. Clinicians should be aware that COVID-19 infection puts patients' eyes at risk for vascular occlusive events and that even milder types of systemic viral infection can cause visual symptoms. This might aid in separating COVID-19 from other prevalent upper respiratory illnesses not known to cause hypercoagulability.
Industry Dynamics
Growth Drivers
The rising incidence of diabetes and atherosclerosis is anticipated to fuel market expansion. The International Diabetes Federation (IDF) estimates that around 537 million adults worldwide will have diabetes in 2021, and that figure will rise to 643 million by 2030 and 783 million by 2045. As a result, rising secondary ailment prevalence may also rise RVO prevalence, supporting market expansion.
RVO cannot yet be reversed with medication. To reduce RVO-related problems, numerous medicinal treatments are available. Anti-VEGF injections, corticosteroid medications, focused laser therapy, and pan-retinal photocoagulation therapy are some of these treatments. Patients with either BRVO or CRVO macular edema are thought to benefit most from anti-VEGF injection therapy.
Patients with macular edema receiving anti-VEGF treatment have shown notable improvements. For individuals with persistent macular edema, corticosteroids like dexamethasone implant (OZURDEX) are regarded as second-line treatment. Bevacizumab is also employed off-label to treat neovascularization and macular edema in individuals with BRVO and CRVO. The market is also expected to rise as more medications are approved to treat RVO patients.
The number of instances of retinal illnesses, such as diabetic retinopathy, diabetic macular edema, etc. is increasing as a result of the increased incidence of diabetes in emerging economies. During the projected period, the market for retinal disease treatments is anticipated to rise as more skilled experts become available around the globe that specialize in the treatment of retinal diseases.
Furthermore, it is expected that by the end of 2026, the rise of the retinal disease therapeutics market will be aided by better reimbursement policies in various nations for the pricey treatment of retinal disorders.
Report Segmentation
The market is primarily segmented based on disease type, treatment and region.
By Disease Type

By Treatment

By Region

Central Retinal Vein Occlusion (CRVO)
Branch Retinal Vein Occlusion (BRVO)

Anti-vascular Endothelial Growth Factor (Anti-VEGF)
Corticosteroid Drugs
Others

North America (U.S., Canada)
Europe (France, Germany, UK, Italy, Netherlands, Spain, Russia)
Asia Pacific (Japan, China, India, Malaysia, Indonesia, South Korea)
Latin America (Brazil, Mexico, Argentina)
Middle East & Africa (Saudi Arabia, UAE, Israel, South Africa)
Know more about this report: Request for sample pages
The central retinal vein occlusion segment dominated the market share in 2021
CRVO is considered non-ischemic if there are no spots where capillaries aren't getting enough blood.
Baseline visual acuity in BRVO and CRVO eyes ranges from 20/40 to 20/200, which is considered relatively poor. Without therapy, the visual acuity of CRVO eyes normally deteriorates with time. The majority of patients with CRVO have macular edema symptoms upon presentation, while 5-15% of eyes with BRVO acquire macular edema over the course of a year. In around 40% of eyes with BRVO over an ambiguous time period and in 10% of eyes with CRVO within nine months of presentation, vitreous hemorrhage occurs.
Anti-VEGF drugs segment held the largest market share in 2021
A class of drugs known as anti-VEGF can slow the development of new blood vessels in the retina of the eye. In angiogenesis and vasculogenesis, it is crucial. It is used to treat a number of eye diseases that result in swelling under the retina's macular region. Ranibizumab and Bevacizumab are the two medications most frequently utilized as anti-VEGF injections in the medical field. Both medications have characteristics with monoclonal antibodies, which are molecules that bind to all types of VEGF. A tiny molecular compound called Lucentis aids in more effective VEGF binding to the eye. Ranibizumab, however, is used to treat both BRVO and CRVO.
North America has anticipated the largest market in 2021
North America would continue to maintain a sizable proportion over the projection period. The USFDA's approval of innovative anti-VEGF medicines in the United States, the pharmaceutical industry's large ophthalmology pipeline, and ongoing clinical studies for retinal illnesses are all factors in the dominance.
However, it is projected that the proactive governments of nations like India, which are taking part in the prevention and management of retinal disorders and blindness, would boost the growth of the Asia Pacific retinal disease treatments market with a spectacular CAGR during 2019–2026.
Additionally, an effective distribution network of important regional manufacturers is anticipated to support growth in the Asia Pacific area.
Competitive Insight
Some major global players operating in the global market include Ellex Medical Lasers, Bristol-Myers Squibb, Bayer, Allergen PLC, GlaxoSmithKline PLC, IRIDEX Corporation, Regeneron Pharmaceuticals, BioMedical Technologies, Carl Zeiss AG, NIDEK Co., LTD, Topcon Corporation.
Recent Developments
in September 2021, Samsung Bioepis received FDA approval to treat patients with macular degeneration illness and other eye disorders, including RVO. This clearance is anticipated to accelerate market expansion.
Retinal Vein Occlusion (RVO) Market Report Scope
| | |
| --- | --- |
| Report Attributes | Details |
| Market size value in 2022 | USD 13.13 billion |
| Revenue forecast in 2030 | USD 25.8 billion |
| CAGR | 8.8% from 2022 - 2030 |
| Base year | 2021 |
| Historical data | 2019 - 2021 |
| Forecast period | 2022 - 2030 |
| Quantitative units | Revenue in USD billion and CAGR from 2022 to 2030 |
| Segments Covered | By Disease Type, By Treatment and By Region. |
| Regional scope | North America, Europe, Asia Pacific, Latin America; Middle East & Africa |
| Key Companies | Ellex Medical Lasers, Bristol-Myers Squibb, Bayer, Allergen PLC, GlaxoSmithKline PLC, IRIDEX Corporation, Regeneron Pharmaceuticals, BioMedical Technologies, Carl Zeiss AG, NIDEK Co., LTD, Topcon Corporation. |