The global reusable period panties market was valued at USD 95.03 million in 2022 and is expected to grow at a CAGR of 17.5% during the forecast period.
By making a modest investment in such products, it is possible to mitigate the negative environmental effects. The market expansion primarily stems from growing consumer demand, the introduction of new products, and continuous advancements in design and functionality. To enhance features such as seamless designs, odor control, moisture-wicking abilities, and leak-proof barriers, manufacturers are dedicating resources to research and development. These improvements are making reusable period panties more popular as they enhance both the overall performance of the product and the user experience.

To Understand More About this Research: Request a Free Sample Report
Emergence of reusable period panties as an effective and environmentally conscious alternative aligns with these principles. The manufacturing and disposal of disposable menstrual products have a substantial negative impact on the environment. This is primarily due to the extensive use of non-biodegradable materials like plastic and synthetic fibers, leading to pollution and endangerment of ecosystems. Furthermore, the sheer volume of menstrual waste generated each year exacerbates the problem. In contrast, reusable period panties offer a washable and reusable solution that significantly reduces waste production.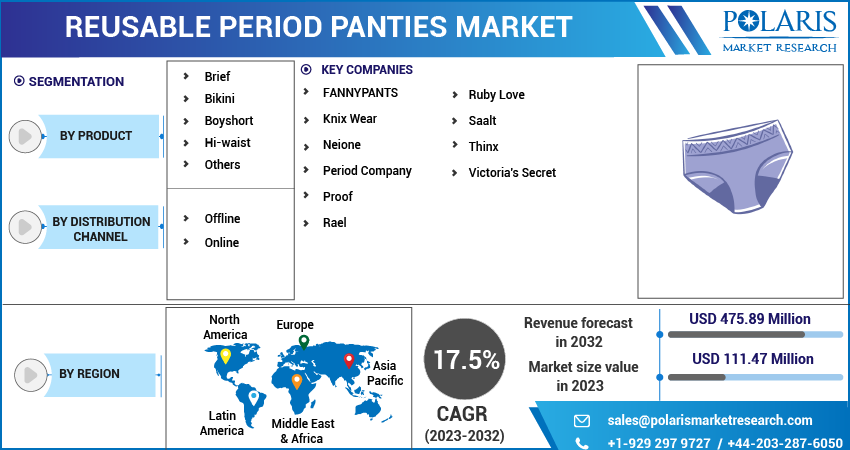 For Specific Research Requirements, Request for a Customized Research Report
Industry Dynamics
Growth Drivers
Increasing global awareness about menstrual hygiene and the rising demand for eco-friendly products
The reusable period panties market is experiencing growth due to heightened consumer demand, an increase in the introduction of new products, and continuous enhancements in design and functionality. Additionally, there is growing global recognition of the negative environmental impact caused by disposable menstrual products like pads and tampons, which is expected to drive the market expansion in the foreseeable future. The environmental awareness movement highlights the importance of sustainable alternatives, placing a significant emphasis on this aspect.
In line with this, companies have recently introduced innovative products.
For instance, in May 2023, Proof recently revealed its plans to expand the availability of its affordable collection, 'Unders by Proof,' to CVS Health Corporation, a major retail pharmacy chain in the United States. By partnering with CVS, Proof aims to broaden its distribution across more than 3,000 physical stores as well as online at cvs.com. This strategic move aims to enhance access to reusable period care and other related products, allowing a wider range of customers to benefit from sustainable menstrual solutions.
Similarly, in April 2023, Saalt recently introduced its 'Comfort Collection' of period underwear at Target, expanding its offline channel. The Comfort Collection offers customers a variety of options, including thongs, bikinis, boy-shorts, & briefs, each available in 3 different absorbency levels. By diversifying its distribution through collaboration with Target, Saalt aims to make its sustainable period underwear more easily accessible to a wider audience.
Report Segmentation
The market is primarily segmented based on product, distribution channel, and region.
By Product

By Distribution Channel

By Region

Brief

Bikini

Boyshort

Hi-waist

Others

North America (U.S., Canada)

Europe (France, Germany, UK, Italy, Netherlands, Spain, Russia)

Asia Pacific (Japan, China, India, Malaysia, Indonesia. South Korea)

Latin America (Brazil, Mexico, Argentina)

Middle East & Africa (Saudi Arabia, UAE, Israel, South Africa)
To Understand the Scope of this Report: Speak to Analyst
By Product Analysis
Briefs segment accounted for the largest market share in 2022
Among reusable period panties, briefs have experienced significant growth in recent times. These panties are renowned for their comfortable fit and excellent leak-proof properties, providing full coverage. They are favored by individuals who prefer a traditional underwear style and seek optimal protection during menstruation. Period briefs typically incorporate multiple layers of absorbent fabric & water-proof barrier to prevent the leakage effectively. They are available in various sizes & absorbency levels to cater to diverse flow intensities.
Bikini segment is projected to grow at the fastest rate. These bikinis have gained popularity among individuals who desire a blend of style and functionality. Designed to be comfortable, light-weight, and discreet, bikini period panties offer reliable leak protection. They often incorporate a combination of moisture-wicking & absorbent fabrics to ensure dryness and comfort all day. It provides several absorbency options to accommodate various flow levels. These panties are particularly appealing to younger consumers, who value fashion & self-expression, to choose from diverse selection of trendy designs & patterns.
By Distribution Channel Analysis
Offline segment held the significant market share
Offline segment held the maximum market share in terms of revenue in 2022. Reusable period panties are readily available in physical stores, encompassing specialty stores, wellness stores, pharmacies, & clothing retailers. Customers can see and touch the products before making a purchase, try them on for size, and seek guidance from informed staff. The offline distribution channel offers a more interactive shopping experience with immediate product availability, which proves advantageous for customers who prefer in-person shopping or have specific needs and preferences.
For instance, in May 2022, Proof, a leading company in feminine wellness known for its meticulously designed and expertly crafted menstrual products, partnered with Walmart stores to introduce a more affordable collection.
Online segment is anticipated to grow at fastest growth rate over the anticipated period. Several factors contribute to the increasing popularity of online sales for reusable period panties. Convenience and accessibility stand out as primary drivers. With online shopping, consumers can easily browse and purchase products from the comfort of their homes, at their preferred time. This eliminates the necessity of visiting physical stores and provides a hassle-free shopping experience. Moreover, online sales offer a discreet and private shopping environment, enhancing the overall appeal for customers.
Regional Insights
North America region dominated the global market in 2022
North America dominated the global market. The region has witnessed a substantial increase in demand for the menstrual products. The growing emphasis on sustainability and eco-friendliness, coupled with a desire for more comfortable & convenient options, has fueled the popularity of the re-usable inner-wear products, including re-usable panties in these countries. These brands offer a diverse range of styles, absorbency, & availability in different sizes to cater varied preferences & needs. To expand their consumer base and enhance accessibility, these brands are forming partnerships with the retail channels.
Asia Pacific is projected to be the fastest emerging region. Region experiences significant demand for menstrual products due to its large population. However, the accessibility and affordability of these products can vary across different countries within the region. In certain areas, such as remote regions and low-income communities, menstrual products may be expensive or challenging to obtain. To address this issue, governments, NGOs, and social enterprises are actively working to enhance the availability and affordability of these products, particularly in marginalized communities.
Kotex, a well-known brand, provides a diverse selection of reusable period underwear as a sustainable alternative to disposable menstrual products. Their product line-up encompasses Bikini Period, Full Brief Period, High Waisted Period, & Thinx Overnight Period Undies. These options are conveniently accessible in India through popular online retailers like Amazon & Nykaa, ensuring greater availability of eco-friendly period solutions.
Key Market Players & Competitive Insights
To tap into the rapidly expanding customer base, prominent market players are anticipated to concentrate on expanding their businesses worldwide. In doing so, these key participants are likely to invest in research and development activities to maintain their competitiveness in the market. By focusing on innovation and development, these companies aim to meet evolving customer needs and stay ahead in the highly competitive landscape.
Some of the major players operating in the global market include
FANNYPANTS

Knix Wear

Neione

Period Company

Proof

Rael

Ruby Love

Saalt

Thinx

Victoria's Secret
Recent Developments
In November 2022, Victoria's Secret successfully acquired the Adore Me brand for a significant sum of USD 400 million. This strategic acquisition provides Victoria's Secret with direct access to Adore Me's extensive customer base of 1.2 million active users.

In May 2022, Thinx recently unveiled its "Moist Panties" campaign, coinciding with the expansion of its product range called "Thinx air collection". This new line of period underwear is crafted using a specialized micromesh fabric that offers breathability, moisture-wicking properties, & an ultra-thin design.
Reusable Period Panties Market Report Scope
| | |
| --- | --- |
| Report Attributes | Details |
| Market size value in 2023 | USD 111.47 million |
| Revenue forecast in 2032 | USD 475.89 million |
| CAGR | 17.5% from 2023 – 2032 |
| Base year | 2022 |
| Historical data | 2019 – 2021 |
| Forecast period | 2023 – 2032 |
| Quantitative units | Revenue in USD million and CAGR from 2023 to 2032 |
| Segments covered | By Product, By Distribution Channel, By Region |
| Regional scope | North America, Europe, Asia Pacific, Latin America; Middle East & Africa |
| Customization | Report customization as per your requirements with respect to countries, region and segmentation. |