The global scientific data management system (SDMS) market was valued at USD 24.2 million in 2019 and is expected to grow at a CAGR of 44.1% from 2020-2027. The growth of this market is driven by increasing scientific studies and research that has boosted the count of technologically superior research laboratories requiring key software applications to store substantial amount of data, share and securely manage large quantities of crucial scientific data and information, thus, resulting in SDMS market expansion.
Moreover, the ongoing COVID-19 pandemic worldwide has forced people to maintain social-distancing, governments to implement longer lockdowns. The lockdown implemented by the governments has resulted in notable shortage of employees or scientists doing research at the laboratories. This situation has driven the need for the deployment of an advanced scientific data management system to securely store the scientific data thereby, contributing to market growth.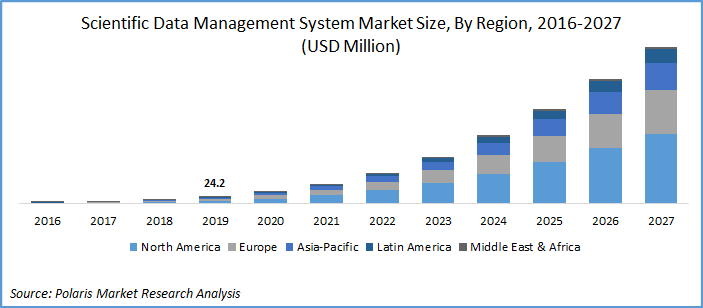 Know more about this report: request for sample pages
Industry Dynamics
Growth Drivers
Substantial clinical trials for development of novel and effective medicines used to treat chronic diseases such as diabetes, cancer, asthma, etc. also generates huge amount of crucial scientific data that demands for secure data storage solutions, thereby, boosting market growth. For instance, according to the U.S. National Library of Medicine in March 2020, Shanghai General Hospital, Shanghai Jiao Tong University School of Medicine, initiated a phase-4 clinical trial to determine the pathogen and efficacy evaluation of Metagenomics second generation sequencing technology for precision therapy on the infected patients. The study is estimated to be completed on September 30, 2023. In addition, in April 2020, Medical University Innsbruck initiated a phase-3 clinical trial to determine the effectiveness of daflon drug in the treatment of proctitis radiation. The study is estimated to be completed on August 26, 2023. These clinical trials also generate significant amount of crucial scientific data that requires secure storage solutions thereby, driving the demand for the market.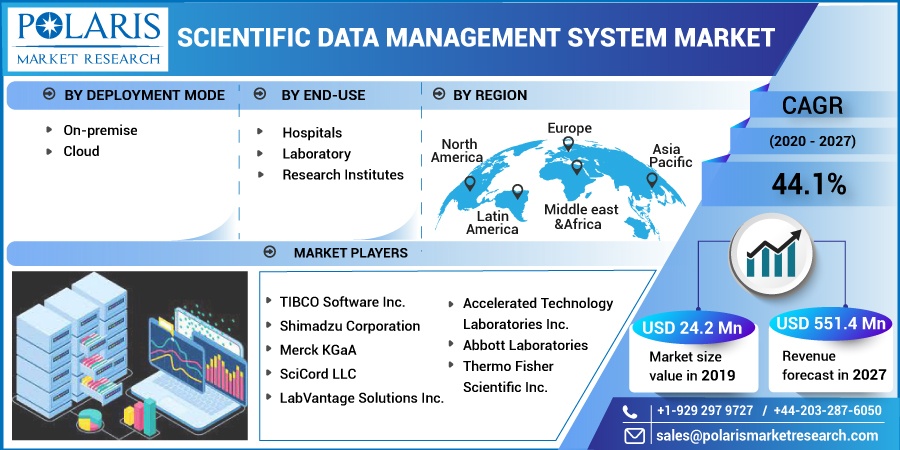 Know more about this report: request for sample pages
In addition, high prevalence of contagious diseases including, COVID-19 pandemic has encouraged the laboratory researchers and scientists to proactively implement SDMS solutions for securing the key scientific data generated during their ongoing laboratory researches. This stored scientific data can later be used by the scientists for future reference or continuing their research after COVID-19 pandemic calms down.
Scientific Data Management System Market Report Scope
The market is primarily segmented on the basis of Deployment Mode, By End-Use, and geographic region.
By Deployment Mode

By End-Use

By Region

Hospitals
Laboratory
Research Institutes

North America (U.S., Canada)
Europe (France, Germany, UK, Italy, Netherlands, Spain, Austria)
Asia Pacific (Japan, China, India, Malaysia, Indonesia, South Korea)
Latin America (Brazil, Mexico, Argentina)
MEA (Saudi Arabia, UAE, Israel, South Africa)
Know more about this report: request for sample pages
Insight by Deployment Mode
Based upon deployment mode, the global market is categorized into on-premise and cloud. Of the two, cloud-based deployment mode is expected to dominate in the deployment mode segment. The dominant share of cloud deployment mode is attributed to extensive advancements in cloud-based solutions for SDMS and notable investment by the companies in development of novel cloud-based SDMS solutions. In addition, there's substantial adoption of cloud-based SDMS solutions across the research laboratories due to their ease of implementation, low implementation cost as compared to the on-premise SDMS solutions, high security among others that also contributes to the market growth.
Insight by End-Use
Based upon end-use, the global market is categorized into hospitals, laboratory and research institutes. Of all, laboratory segment is anticipated to have a dominant market share primarily attributed to the increasing number of day-to-day laboratory-based experiments that results in huge generation of key scientific data. The notable amount of crucial scientific data requires effective SDMS solutions to securely store the data to be used by the researchers and scientists in their ongoing laboratory-based researches.
Additionally, there's significant demand for high-end SDMS solutions all through the research laboratories globally since they usually exchange key scientific data with their partner institutions. The SDMS allow to capture strategic scientific data from a number of remote locations and uniquely imports, securely save data into the common data repositories. The secure storage of scientific data into the common repository makes it easy for the scientists and other research professionals to conveniently extract the data for their ongoing research.
Moreover, the implementation of SDMS across the hospitals worldwide has further boosted the market growth. Technologically-advanced SDMS solutions securely store medical records, patient current medical information and patient's health history. Furthermore, SDMS also develops a highly customized workflow while enabling the healthcare professionals to timely review the patient's medical records and administer the relevant medicines for the treatment of disease.
Geographic Overview
Geographically, North America is anticipated to dominate the global market which is followed by the European and Asia-Pacific regions. North American scientific data management system market growth is attributed to favorable government policies that support the use of scientific data management system and high level of digital literacy among the individuals in the region. Also, amid ongoing COVID-19 pandemic the government of United States has proactively focused on maintaining safe-distancing even across the scientific research laboratories. This is expected to drive the demand for scientific data management system in order to securely and properly store and manage the scientific data while eliminating the need for working in laboratories and thus, maintaining social-distancing.
Europe SDMS market growth is mainly driven by governments in the countries such as United Kingdom (UK), Germany, and France focusing on implementing social-distancing rules to prevent the spread of COVID-19 coronavirus-driven disease. Such a policy adopted by the governments in the region is expected to fuel the demand for scientific data management system in the region in order to securely exchange the scientific data between the research institutions and the researchers or scientists, while avoiding the requirement to visit research laboratory. Furthermore, the ongoing research on development of highly effective and low-cost medicine to treat COVID-19 spread across Europe also generates a huge amount of crucial scientific data that needs to be stored securely. This is also expected to boost the demand for region's growth.
Asia-Pacific SDMS market growth is attributed to high incidence of chronic diseases such as cancer, diabetes, asthma, among several others. The large occurrence of these diseases generates huge amount of data across the research laboratories that are involved in developing effective medicines for the treatment of the disease. This requirement is expected to boost the demand for scientific data management system in Asia-Pacific region while contributing to regional market growth.
Competitive Insight
Some of the major players operating the scientific data management system market include, TIBCO Software Inc., Shimadzu Corporation, Merck KGaA, SciCord LLC, LabVantage Solutions Inc., Accelerated Technology Laboratories Inc., Abbott Laboratories, and Thermo Fisher Scientific Inc.
Players in the market are focusing on product development and acquisition strategies to strengthen their market position while also boost their product portfolio. For instance, in August 2019, Merck has acquired ProcessPad platform, a key data analysis and data management platform that is used for monitoring and strategic reporting of key scientific processes in the real-time from Simplyfeye Software Private Ltd.