The global sensitive toothpaste market was valued at USD 1.63 billion in 2022 and is expected to grow at a CAGR of 5.5% during the forecast period. The global market for sensitive toothpaste is experiencing growth due to a combination of factors, including frequent product advancements, increasing awareness of dental issues, and a rise in cases of dental caries. Additionally, the market is being driven by changes in lifestyle and an increase in the adoption of tobacco and alcohol, which have led to a greater need for sensitive toothpaste.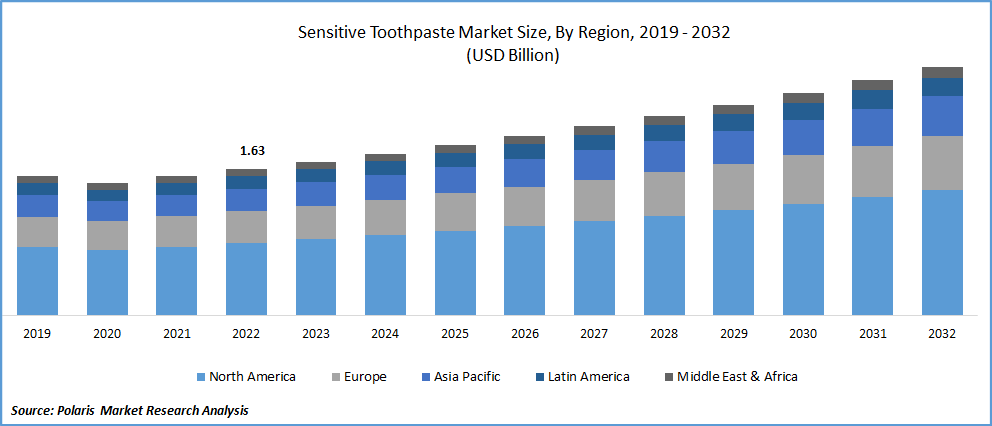 Know more about this report: Request for sample pages
Sensitive toothpaste is a type of toothpaste that is designed to prevent tooth sensitivity and provide a refreshing breath. It is typically used to treat oral sensitivity that results from exposed dentine. Oral sensitivity can cause short, sharp pain when eating or drinking, indicating underlying dental issues such as recessed gums, cavities, or weakened enamel. Sensitive toothpaste helps to alleviate this pain by forming a protective layer over the sensitive area.
Furthermore, Increased awareness of personal health and dental hygiene has resulted in a growing demand for organic toothpaste for treating tooth sensitivity. Using natural and organic products in the beauty and personal care market is rising. Consumers increasingly seek organic oral care products to prevent dental issues such as tooth decay and oral or throat cancer. Some sensitive toothpaste options contain harmful ingredients, leading to a greater demand for natural and organic toothpaste from peppermint, coconut oil, herbs, and minerals.
The COVID-19 pandemic has had a mixed impact on the market. There has been an increased focus on personal hygiene and health during the pandemic, leading to a rise in demand for oral care products, including sensitive toothpaste. However, supply chains have been disrupted due to restrictions on transportation and manufacturing activities, leading to shortages of raw materials and delayed production. Additionally, economic uncertainties and reduced consumer spending power have affected the overall sales of oral care products, including sensitive toothpaste. The market will likely face challenges and opportunities as the pandemic evolves.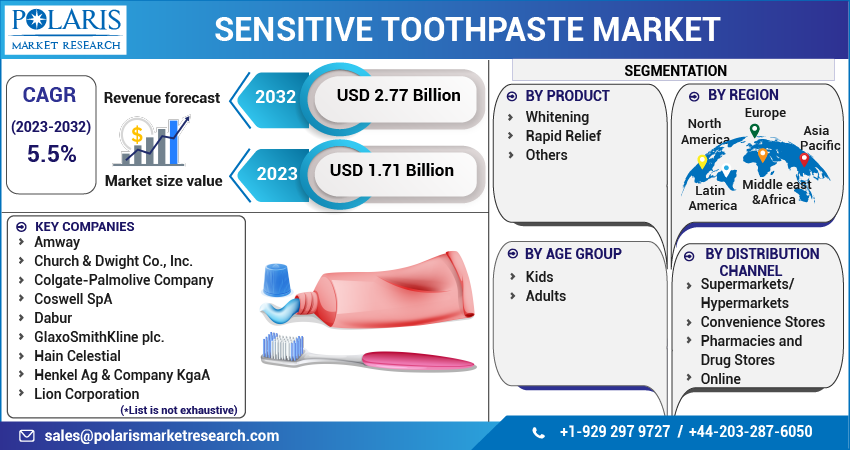 For Specific Research Requirements, Request for a Sample Report
Industry Dynamics
Growth Drivers
The increasing prevalence of dental problems, rising consumer awareness, and advancements in product formulations are growing the sensitive toothpaste market. Dental problems such as tooth decay, gum recession, and enamel erosion are becoming more common, leading to a greater need for preventative measures such as sensitive toothpaste. The rising awareness among consumers about the benefits of using sensitive toothpaste for oral care is also driving demand. Moreover, with ongoing technological advancements and ingredient formulations, manufacturers are developing more innovative and effective products to cater to the increasing demand.
Increasing disposable income as disposable income levels rise, consumers are more likely to invest in high-quality oral care products, including sensitive toothpaste. In addition, the growing demand for natural and organic products in the personal care market is driving demand for sensitive toothpaste made from natural ingredients. Consumers are becoming increasingly conscious about using chemicals daily and are turning towards organic alternatives, which is expected to boost the demand for sensitive toothpaste from natural ingredients.
Furthermore, the aging population is expected to contribute significantly to the growth of the market. As the population ages, there is a higher prevalence of dental issues and a greater need for oral care products such as sensitive toothpaste. The older demographic is more aware of the benefits of using oral care products and is more likely to invest in high-quality products. With the increasing prevalence of dental problems, the aging population is expected to drive demand for sensitive toothpaste as a preventative measure for maintaining oral health.
Report Segmentation
The market is primarily segmented based on product, age group, distribution channel, and region.
By Product

By Age Group

By Distribution Channel

By Region

Whitening

Rapid Relief

Others

Supermarkets/ Hypermarkets

Convenience Stores

Pharmacies and Drug Stores

Online

North America (U.S., Canada)

Europe (France, Germany, UK, Italy, Netherlands, Spain, Russia)

Asia Pacific (Japan, China, India, Malaysia, Indonesia, South Korea)

Latin America (Brazil, Mexico, Argentina)

Middle East & Africa (Saudi Arabia, UAE, Israel, South Africa)
Know more about this report: Request for sample pages
Whitening segment accounted for the highest revenue shares in 2022
The whitening segment holds the highest revenue shares in the market. This trend is expected to continue in the upcoming years due to the numerous benefits whitening toothpaste offers. These benefits include calming the tooth's nerves, guarding against damage caused by dietary acid erosion, and lightening stains on teeth. As a result, the whitening segment is expected to experience positive growth.
The rapid relief segment is expected to witness the highest CAGR. This is because fast relief sensitive toothpaste relieves sensitivity to pain in just a few minutes, protecting teeth from decay and providing refreshing breath. Including potassium nitrate, fluoride, Penta-sodium Triphosphate, and stannous fluoride create a protective layer on exposed dentin, which aids in providing quick relief to sensitive areas. These benefits are expected to drive the growth of the rapid relief segment in the coming years.
Adult segment dominated the market in 2022
The adult segment dominated the market and is anticipated to experience substantial growth at a notable CAGR throughout the projected period. This segment encompasses individuals aged 15 years and above and toothpaste products containing various chemicals, including fluoride and other substances. These chemicals are sought after by consumers for purposes such as teeth whitening, gum, and enamel care, cavity and tooth decay prevention, and bacteria elimination. Additionally, a wide range of toothpaste options are available in the market to cater to the growing consumer demand.
Supermarkets/hypermarkets segment dominated the market
The supermarkets/hypermarkets segment dominated the market, which offers easy access to a wide range of products. Furthermore, the growth of the medical sector and increased recommendations of toothpaste by dental professionals may also contribute to the segment's expansion. Additionally, a growing awareness of dental care and tooth sensitivity among the population further fuels segment growth, ultimately driving the overall development of the sensitive toothpaste industry.
The online segment is expected to grow rapidly in the coming years. This is attributed to factors such as the growing preference for E-commerce sites and the availability of various offers and discounts. Moreover, the increasing number of working professionals who prefer online shopping due to its convenience and time-saving benefits are significant factors that will drive the demand for this segment and contribute to the overall growth of the market.
North America dominated the global market in 2022
North America dominated the market with the largest market share. Vendors in the region are using various marketing strategies to increase demand, and the adoption of alcohol contributes to this growth. The region's rising disposable income and health awareness are also factors.
The Asia Pacific region is expected to have the highest CAGR in the global sensitive toothpaste market. This is due to the rising demand for dental care products, particularly in India and China, where a significant portion of the population suffers from sensitivity and dental issues. Many oral care products in India are made from Ayurvedic and natural substances. The Chinese government supports dental care through policies that promote oral hygiene and cover dental clinics and hospitals. These factors are expected to drive the region's demand for sensitive gel dentifrice.
Competitive Insight
Some of the major players operating in the global sensitive toothpaste market include Amway, Church & Dwight Co., Inc., Colgate-Palmolive Company, Coswell SpA, Dabur, GlaxoSmithKline plc., Hain Celestial, Henkel Ag & Company KgaA, Lion Corporation, Procter & Gamble, Science Arts (Yunnan Baiyao), SQUIGLE, Inc., Sunstar Suisse S.A., Tom's of Maine, Inc., and Unilever.
Recent Developments
In April 2022, GSK Consumer Healthcare has unveiled Sensodyne® Nourish, a new range of toothpaste designed to fortify and nourish teeth with bio-active minerals for a healthy, sensitivity-free mouth.

In March 2023, TePe launched a new line of toothpaste options for patients with specific oral care requirements. The two new choices, TePe Daily and TePe Pure have been specifically formulated to assist individuals with dry mouth and sensitive gums.
Sensitive Toothpaste Market Report Scope
| | |
| --- | --- |
| Report Attributes | Details |
| Market size value in 2023 | USD 1.71 billion |
| Revenue forecast in 2032 | USD 2.77 billion |
| CAGR | 5.5% from 2023 – 2032 |
| Base year | 2022 |
| Historical data | 2019 – 2021 |
| Forecast period | 2023 – 2032 |
| Quantitative units | Revenue in USD million/billion and CAGR from 2023 to 2032 |
| Segments Covered | By Product, By Age Group, By Distribution Channel, By Region |
| Regional scope | North America, Europe, Asia Pacific, Latin America; Middle East & Africa |
| Key Companies | Amway, Church & Dwight Co., Inc., Colgate-Palmolive Company, Coswell SpA, Dabur, GlaxoSmithKline plc., Hain Celestial, Henkel Ag & Company KgaA, Lion Corporation, Procter & Gamble, Science Arts (Yunnan Baiyao), SQUIGLE, Inc., Sunstar Suisse S.A., Tom's of Maine, Inc., and Unilever |