The global shaving market was valued at USD 3.22 billion in 2022 and is expected to grow at a CAGR of 4.3% during the forecast period.
The market covers a diverse range of shaving products, including razors (both manual and electric), shaving creams, gels, foams, after-shave products, pre-shave products, and accessories such as shaving brushes, mirrors, and stands. It caters to both men and women, with specific products and brands designed for each gender's unique shaving needs and preferences.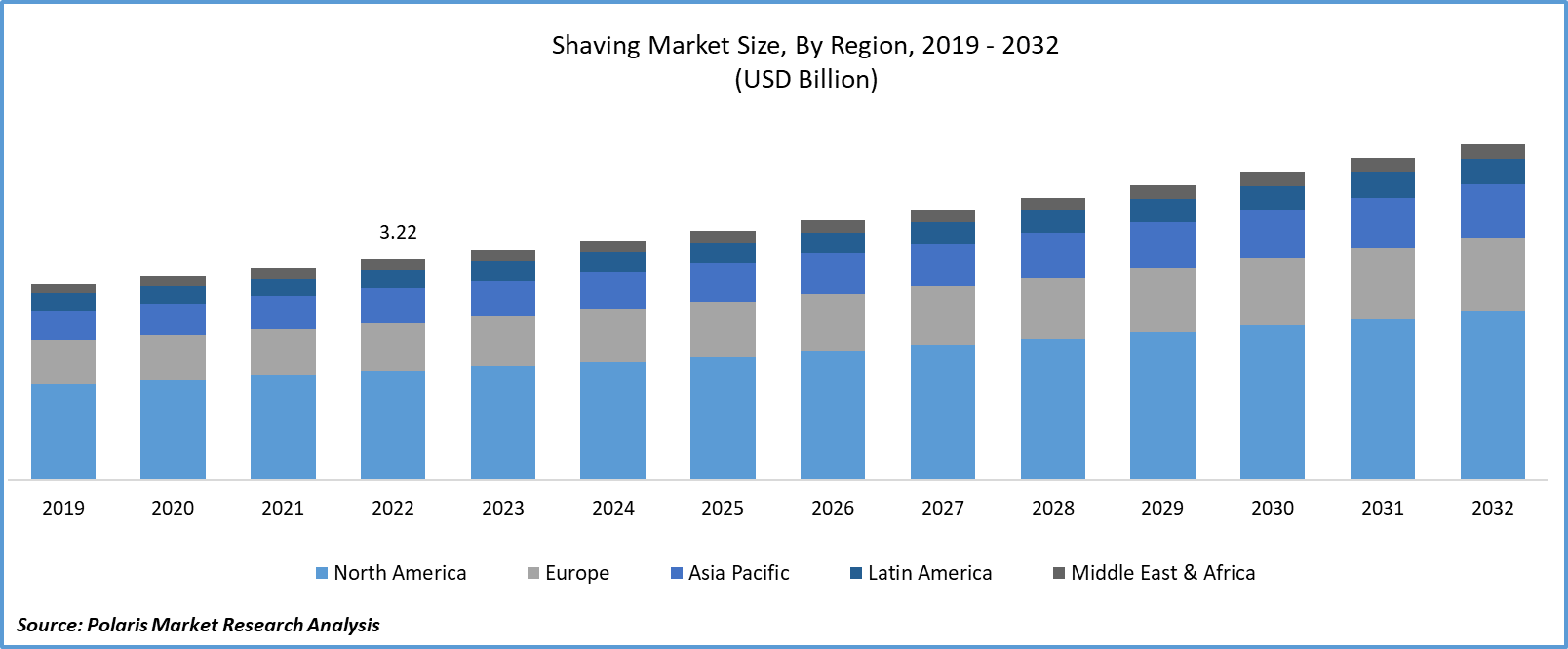 To Understand More About this Research: Request a Free Sample Report
Shaving products are used by people of all age groups, from adolescents who are just starting to shave to older adults. The market offers products for various age-related shaving concerns. These are distributed through a variety of channels, including retail stores, e-commerce platforms, supermarkets, drugstores, specialty shaving stores, and subscription-based services.
The market is primarily boosted by the booming cosmetic industry, with a significant push from the increasing demand for razors and blades. Personal care items constitute a rapidly growing sector within the cosmetics industry, becoming integral to fashion. The global market is expanding due to more people engaging in corporate culture and emphasizing personal grooming. Consequently, the surge in spending on personal care products is anticipated to drive shaving market growth.
Manufacturers are shifting their focus towards organic and natural ingredients, replacing excessive chemicals to prevent adverse effects on the skin. Additionally, products infused with remarkable ingredients and aromas like activated carbon and cocoa butter are being introduced to enhance the shaving experience, driving demand. The market is also benefiting from growing awareness about the significance of shaving care products, due to innovation in the industry. However, the market might need help in the form of the growing trend of maintaining full beards and the popularity of electronic trimmers, potentially hindering its growth in the forecast period.
Additionally, the growth is expected to be supported by an improved quality of life and increasing disposable incomes. The closure of factories during the COVID-19 pandemic led to a decline in the manufacturing of shaving products, impacting the industry. With the global shutdown, online platforms, retailers, and physical stores were all closed, limiting the trade of these items and subsequently affecting global sales of shaving products. However, the global market is anticipated to experience robust growth after the pandemic as shaving by-products have become essential household items.
Industry Dynamics
Growth Drivers
Increasing Demand for Chemical-Free and Organic Shaving Products
The pandemic significantly impacted logistics providers and farmworkers, due to widespread closures of shops and industries and a subsequent decline in sales. A notable trend reshaping the global market is the growing demand for chemical-free and organic shaving products. Consumers are becoming more aware of the harmful effects of certain chemical compounds found in shaving creams and grooming products, driving the preference for organic, clean-label, and natural alternatives in the global market. Additionally, the rise of premium organic shaving products and the increasing influence of clean-label ingredients are further fueling shaving market growth.
Report Segmentation
The market is primarily segmented based on product, distribution channel, and region.
By Product

By Distribution Channel

By Region

Razors & Blades

Beard Moisturizer, Pre-shave Cream

After-shave Emulsion

North America (U.S., Canada)

Europe (France, Germany, UK, Italy, Netherlands, Spain, Russia)

Asia Pacific (Japan, China, India, Malaysia, Indonesia. South Korea)

Latin America (Brazil, Mexico, Argentina)

Middle East & Africa (Saudi Arabia, UAE, Israel, South Africa)
To Understand the Scope of this Report: Speak to Analyst
By Product Analysis
The razors & blades segment held the largest market share in 2022
In 2022, the razor & blades segment held the largest market. Increased consumer awareness regarding personal hygiene is a key factor propelling the growth of this segment throughout the forecast period. Within this segment, disposable razors held a notable share. Shaving has become a routine part of daily life for many individuals, especially those in corporate settings, due to a consistent demand for razor blades.
The beard moisturizers and pre-shave creams segment will grow at a substantial pace. Segment's growth is primarily due to increasing consumer awareness and changing lifestyles in urban areas. This growth is also supported by a growing global population, particularly in the target demographic. Additionally, the rising trend of personal grooming among men is expected to boost the demand for these products. Beard moisturizers and pre-shave creams, which often contain glycerin, function as emollients, softening the beard, ensuring smooth and hydrated skin, and reducing the likelihood of shaving cuts. Aftershave creams aid in faster skin recovery and help minimize bleeding caused by shaving.
By Distribution Channel Analysis
Offline segment held the highest market share in 2022
In 2022, the offline segment held the highest market share primarily due to the increasing sales observed in offline channels. Customers prefer offline stores for their shaving product needs due to the sustainability factor compared to other channels. Major industry players are actively promoting their products through diverse offline avenues, including mass retail stores, hypermarkets, and supermarkets, aiming to attract more consumers and boost overall sales. This strategy is anticipated to propel the growth of the offline distribution channel segment.
The online segment will grow at a substantial pace. This is primarily due to the increasing usage of mobile devices and smartphones worldwide. Online shopping has become a prominent global platform due to shifting consumer preferences and a growing number of suppliers venturing into online sales. E-commerce and online portals have become vital avenues for the trade and sale of shaving products. These products are widely available on various e-commerce platforms such as Amazon, eBay, and Flipkart, as well as specialized websites catering to specific geographic regions. Many businesses also operate online portals, further facilitating the sale of shaving products.
Regional Insights
North America region held the largest market in 2022
In 2022, the North American region held the largest market. This dominance is primarily attributed to the escalating demand for shaving care items within the region. The bustling and dynamic lifestyle of consumers in the region has driven a heightened interest in personal care products. This surge in demand can be attributed to a shift in consumer preferences, where many individuals are adopting holistic approaches to beauty care. In this context, shaving care products have gained significant traction, becoming an integral part of the daily grooming routines of a vast consumer base.
The convenience, effectiveness, and diverse offerings in the shaving care sector have resonated particularly well with North American consumers, fueling the region's market dominance. This trend underscores the region's pivotal role in shaping the global landscape of shaving care products, driven by the evolving lifestyle choices and preferences of its populace.
APAC will grow at the fastest pace. This robust growth can be attributed to a surge in demand for shaving items within the region. One of the driving factors behind this demand is the rising disposable income levels in countries such as China & India. As individuals in these nations have more disposable income, they are increasingly investing in personal grooming products, including shaving items.
Furthermore, the growing awareness about personal hygiene practices is playing a significant role in propelling the market forward in the region. As awareness campaigns and educational initiatives emphasize the importance of personal hygiene, consumers are becoming more conscious of their grooming habits due to an uptick in the purchase of shaving products. It heightened awareness not only enhances personal grooming but also contributes to the overall growth of the shaving products market in the region.
Key Market Players & Competitive Insights
Companies are actively engaged in innovating new products to cater to the rising demand in the market. Due to relatively low entry barriers and substantial market potential, new players are entering the industry. This growing demand presents a valuable opportunity for product development and expansion. Men have developed a stronger affinity for grooming products and have become increasingly health-conscious. This trend has given rise to the establishment of small-scale, private-label firms in response to the evolving preferences of consumers.
Some of the major players operating in the global market include:
Beiersdorf AG

Church & Dwight Co, Inc.

Reckitt Benckiser Group plc

Procter & Gamble

Oriflame Holding AG

GiGi

Koninklijke Philips N.V.

Syska India Ltd.

Harry's Inc.

Societe BIC S.A. (BIC)
Recent Developments
In January 2023, Zlade has entered an exclusive partnership with the BIC. This collaboration aims to introduce a comprehensive range of men's and women's shaving razors to the Indian market.

In July 2021, BIC introduced the Hybrid 5 Flex razor for men and the Click 3 Soleil razor for women in Europe. These innovative razors are designed to be refillable, reducing their environmental impact, and are available at an affordable price.

In April 2019, Procter & Gamble's brand, Gillette Venus, collaborated with Vera Bradley to develop a razor collection specifically designed for women.
Shaving Market Report Scope
| | |
| --- | --- |
| Report Attributes | Details |
| Market size value in 2023 | USD 3.36 billion |
| Revenue forecast in 2032 | USD 4.91 billion |
| CAGR | 4.3% from 2023 – 2032 |
| Base year | 2022 |
| Historical data | 2019 – 2021 |
| Forecast period | 2023 – 2032 |
| Quantitative units | Revenue in USD billion and CAGR from 2023 to 2032 |
| Segments covered | By Product, Distribution Channel, By Region |
| Regional scope | North America, Europe, Asia Pacific, Latin America; Middle East & Africa |
| Customization | Report customization as per your requirements with respect to countries, region and segmentation. |