The global sinus dilation devices market was valued at USD 2.68 billion in 2021 and is expected to grow at a CAGR of 6.50% during the forecast period.
The increasing focus of research and academic institutes on developing key surgical procedures and novel devices to treat sinusitis and relative medical conditions owing to the growing prevalence of respiratory disorders is expected to drive the demand for these devices in the market. For instance, according to an article published by the CDC, in January 2022, the total number of adults diagnosed with sinusitis was estimated to be 28.9 million. Moreover, the number of patients primarily diagnosed with chronic sinusitis was estimated to be 2.7 million. Therefore, the increasing number of patients suffering from sinusitis, supported by increasing awareness of surgical management of these conditions, is expected to drive the growth of the market.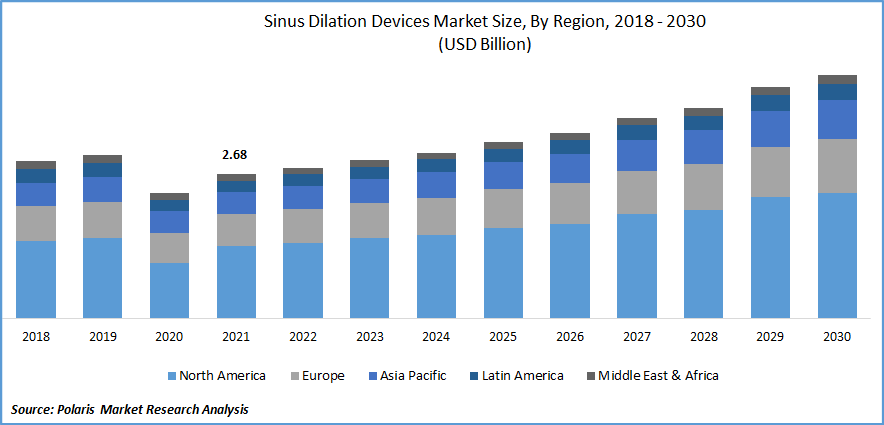 Know more about this report: Request for sample pages
Sinusitis is the inflammation of nasal cavities and passages around and in the face. The inflammation is diagnosed as sinusitis if the sinus continues to be swollen for more than twelve weeks. The cause of sinusitis could be allergic due to growth of nasal polyps, an infection, or idiopathic. Sinusitis has a higher prevalence among adults and is anticipated to drive the demand for sinus dilation procedures as a key solution with a high success rate among patients.
This, coupled with an increasing number of product launches focused on catering to the device requirements for sinus dilation, is expected to drive market growth. For instance, in 2022, SPIGGLE & THEIS Medizintechnik announced an update of the dilation device TubaVent shortwide, a single-use insertion instrument with an added catheter.
Covid-19 pandemic impacted the market adversely due to a high risk of concomitant infections to non-Covid patients undergoing surgeries to contract the coronavirus. The exposure to sinus dilation apparatus among surgical settings and respiratory contact of affected patients increased the risk of causing a health violation during the pandemic and reduced sinus dilation procedures by multifold.
This further reduced the uptake of sinus dilation devices, deeming the growth of the market unfavorable. Due to this, major market players reduced production and cut R&D expenditure, further slowing down the economic market space.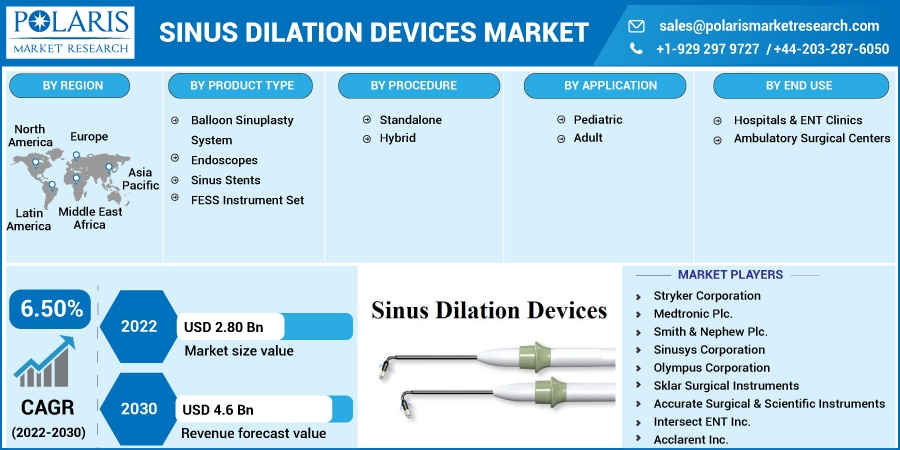 Know more about this report: Request for sample pages
Industry Dynamics
Growth Drivers
The market is a technology-driven competitive landscape, which as a market is expected to diversify its product offerings further. For instance, an article published by NHS England, in March 2022, announced the sanction of a novel technique to treat chronic sinusitis through XprESS procedure. The method involves inflating a tiny balloon in the nose to open blockages, relieving the patient from sinus-associated headaches and pain. The approval of this procedure enables the NHS to deploy the therapy on a larger scale, and be accessible to patients with NHS medical coverage.
Such initiatives undertaken by various regulatory bodies across key countries to improve the affordability of innovative surgical techniques promote progressive competition among market players to innovate and diversify their product portfolio. The recognition and regulation of this market by various organizations such as the FTC and the U.S.FDA to support and maintain fair competition among competitors alongside promotion of technological advancements time and again are some of the primary reasons for the market to foster during the forecast period.
The rising popularity of minimally invasive surgeries such as balloon sinuplasty among key surgical centers and healthcare providers owing to surgical novelty and ease of operation are expected to drive the commercialization of sinus dilation devices. For instance, Alexiou Hearing & Sinus Center in the U.S. offers rehabilitation of blocked sinus pathways through minimally invasive procedures such as balloon sinus surgery.
The surgical center provides these services by using Medtronic's NuVentTM EM Sinus Dilation System, which is enabled with its proprietary image guidance system technology. The increasing adoption of such innovative surgical systems to cater to the increasing demand for sinus procedures is anticipated to drive the growth of the market.
Report Segmentation
The market is primarily segmented based on product type, procedure, application, end user and region.
By Product Type

By Procedure

By Application

By End Use

By Region

Balloon Sinuplasty System
Endoscopes
Sinus Stents
FESS Instrument Set

Hospitals & ENT Clinics
Ambulatory Surgical Centers

North America (U.S., Canada)
Europe (France, Germany, UK, Italy, Netherlands, Spain, Russia)
Asia Pacific (Japan, China, India, Malaysia, Indonesia, South Korea)
Latin America (Brazil, Mexico, Argentina)
Middle East & Africa (Saudi Arabia, UAE, Israel, South Africa)
Know more about this report: Request for sample pages
FESS Instrument Set segment is expected to witness fastest growth
Functional endoscopic sinus surgery (FESS), is a minimally invasive surgery recommended to treat chronic refractoryrhino sinusitis, and acute recurrent rhinosinusitis among other conditions. The FESS instrument set segment is estimated to register the fastest growth through the study period owing to the surgeon's preference for these devices over other devices combined with a rising number of FESS procedures.
Balloon sinuplasty system segment is anticipated to grow through the forecast period owing to increasing popularity of these devices among category experts along with various advantages such as reduction in tissue ablation, higher success rates and better patient acceptance.
Hybrid accounted for the second-largest market share in 2021
Hybrid procedures are a combination of traditional FESS and balloon sinuplasty systems. The hybrid segment is expected to grow through the forecast period owing to the advantages of the balloon method to restore the openings of sinus passages aided by conventional endoscopic tools on the same harness to enable better surgical reach. The standalone procedure segment is expected to grow through the forecast period, owing to reduced bleeding, faster post-operative recovery, and better conservation of organic tissue. Moreover, lesser operational accidents due to fewer moving parts and ease of access are additional advantages augmenting the adoption of standalone procedures.
Adult is expected to hold the significant revenue share
The adult segment is anticipated to clutch the larger market share among the application segment. The growth of the segment is anticipated due to a higher incidence of allergic rhinitis in adults and the growing necessity of clinical management for these sinus disorders. Moreover, faster turnaround rates of key procedures such as hybrid sinus dilation, among other novel therapies, are estimated to drive the uptake of sinus dilation devices market.
A pediatric segment is expected to grow faster than the adult segment during the forecast period, owing to a high prevalence of respiratory complications in children and increasing awareness of specialized therapy tailored for children. Moreover, increasing investments in technological innovations by key market players to build effective surgical systems to cater to the rising demand for sinus dilation devices is expected to augment the growth of the market segment.
Ambulatory surgical centeris projected to exhibit bolstering growth
Ambulatory surgical centers (ASCs) are expected to register a higher CAGR during the study period, owing to institutional advantages of ASCs over others, such as better accessibility to patients, early discharge post-surgery, cost saving, deployment of tailored reimbursement programs aided by the government, and a growing preference among surgeon community to practice through these settings.
The demand in North America is expected to witness significant growth
The rising incidence of respiratory disorders such as sinusitis, along with improving awareness of innovative respiratory procedures to relieve these conditions is expected to drive the growth of the market in the North American region. For instance, in August 2022, the "National Health Interview Survey" reported sinusitis to be one the most common reason for clinic visits in the U.S., with annual spending of USD 2.4 billion in medical expenditure. Moreover, 14.7% of the population in the U.S. was reported to suffer from sinusitis in 2021.
Europe is estimated to grow through the forecast period owing to the strategic presence of major market players launching key products such as the XprESS multi-sinus dilation system and regional reimbursement plans to cater to the rising demand for sinus surgeries, which is expected to drive the region's growth.
For instance, in May 2022, the NHS announced its MedTech funding mandate to improve product availability of selected medical devices and keep them affordable for patients. The XprESS multi-sinus dilation system by Stryker, is one of the key products supported in the plan to promote the adoption of this technology. This provides the company a competitive advantage in the European market owing to enhanced distribution of its dilation devices along with further strengthening its brand presence.
Asia Pacific is expected to be the fastest-growing in global market over the forecast period. The growth of the market is due to an increasing number of regional populations diagnosed with chronic sinusitis and rising awareness of surgical management of these conditions for long term relief.
For instance, The National Institute of Allergy and Infectious Diseases (NIAID), reported an estimated 134 million adults suffering from chronic sinusitis. The disease is among the more widespread conditions as compared to others, such as diabetes and coronary heart disease among others. Moreover, one in eight Indians is suffering from chronic sinusitis. This increases the patient population and subsequent rise in surgical sinus procedures to treat this condition.
Competitive Insight
Some of the major players operating in the global market include Stryker Corporation, Medtronic, Smith & Nephew, Sinusys Corporation, Olympus Corp., Sklar Surgical Instruments, Accurate Surgical, Intersect ENT, Acclarent, Erbe Elektromedizin, among others.
Recent Developments
In June 2022, the Federal Trade Commission (FTC) announced an order directed towards the divesture of Medtronic's subsidiary Fiagon, a developer of ENT navigation systems and Balloon sinus dilation technology. The FTC approved the order in regard to trade competition and keeping market price volatility at bay. Moreover, the development is also focused at keeping product innovations consistent owing to healthy competition in the sinus dilation devices.
In March 2022: Medtronic launched NuVent Eustachian tube, a manual-based catheter system. The product launch aims to commercialize a novel balloon system to treat the rising prevalence of chronic, obstructive "eustachian tube dysfunction".
Sinus dilation devices Market Report Scope
| | |
| --- | --- |
| Report Attributes | Details |
| Market size value in 2022 | USD 2.80 billion |
| Revenue forecast in 2030 | USD 4.6 billion |
| CAGR | 6.50% from 2022 – 2030 |
| Base year | 2021 |
| Historical data | 2018 – 2020 |
| Forecast period | 2022 – 2030 |
| Quantitative units | Revenue in USD billion and CAGR from 2022 to 2030 |
| Segments Covered | By Product type, By Procedure, By Application, By End Use and By Region |
| Regional scope | North America, Europe, Asia Pacific, Latin America; Middle East & Africa |
| Key Companies | Stryker Corporation, Medtronic Plc., Smith & Nephew Plc., Sinusys Corporation, Olympus Corporation, Sklar Surgical Instruments, Accurate Surgical & Scientific Instruments, Intersect ENT Inc., Acclarent Inc., Erbe Elektromedizin GmbH among others. |